We do a lot of domestic traveling personally and professionally, so the concept of packing the essentials into a small volume and heading out exploring was familiar. I'll mention it now, although it will likely become apparent, that the detail of planning for our trips is typically quite granular. We know many that want to pursue the proverbial get away via an omnibus approach to trip planning, our approach is different for a couple reasons:
recognition of natural characteristics for having anxiety when not in direct control.
planning can be enjoyed for weeks, months, or even years prior to executing on the trip.
measurements of execution against planning helps to modulate the approach/expectations for the next trip plan.
life is more enjoyable when working towards a shared goal with travel partners.
However, this being our first trek overseas, we approached planning and execution with more gravity than usual.
Destination Choice, Flights #
It's human nature to react more strongly to larger perceived changes from baseline, and international flight costs are typically the first barrier to overcome in planning. Realistically, flights were an evenly proportional cost when looking at the entire trip, considering in-theater transportation, lodging, food. Flight choice is important as it provides the logistical bounds for the trip, and is the first financial obligation towards going.
With Scotland as the objective, we began investigating flights. We found google flights to be a really useful first pass for narrowing down what would make the most sense to dig deeper into. We started doing this many months out so that we could get a feel for what sort of design space we should be considering. Google made life pretty easy for you with their url crafting, for example look at this:
https://www.google.com/flights/#search;f=DTW,YQG,GRR,YTO;t=EDI;d=2017-02-28;r=2017-03-04

Which can be broken down into:
f=DTW,YQG,GRR,YTO a list of airports you would be willing to depart from
t=EDI a list, in this case one element, of airports you want to arrive to
d=2017-02-28 departure
r=2017-03-04 return (if you're selecting round trip)
There are more tricks internal to this though, like the use of YTO, which is an aggregate for all airports around Toronto. Google Flights offers more advanced querying via their web interface than what is described above, however the simplicity of what is above gives you a really powerful tool for educating yourself as well as working towards managing your cost expectations for this aspect of the trip.
After examination of many different departure and arrival combinations we realized that we had the following objectives:
find a reasonable balance between comfort and cost, realizing that sitting in a confined space for many hours isn't made more comfortable by most of the things flights ply as comfort parameters.
fly during our natural night cycle to maximize the likelihood of sleeping, or being in a near sleep state during the transition.
always arrive in the morning, so that you can navigate in an entirely new place with the assistance of daylight.
We then built up a bunch of different url combinations and put them in a text file, then spent about a half hour every couple days examining a deviation from what felt normal. This resulted in many paths to chase, and really… this is a computationally difficult problem that we were not throwing computational power at. We were using all of this as a guide to dig up what might be a meaningful set of reduced paths to pursue.
One of those paths came from noticing that if we wanted to go to Scotland, there was a flight offered from WOW Air twice a week between Reykjavík and Edinburgh that was both inexpensive and at a reasonable time to accommodate our objectives. Following that line if inquiry we looked for flights from airports around us to Reykjavík and found that the costs were acceptable, but at a cost that we'd not fully accepted yet. We expanded the search to airports that we could get to easily from DTW, notably BWI, which has multiple carriers operating multiple flights daily.
So the loose idea formed, can we inexpensively fly from DTW to BWI, then from BWI to KEF, then from KEF to EDI, and onwards. Eventually we had several combinations that looked like:
1DTW->BWI, BWI->KEF, KEF->EDI, EDI->LGW, STN->KEF->BWI, BWI->DTW
Where we would annotate approximate costs for that entire string, build another, etc. The string above is actually what we landed on. By starting with the objective of Scotland, and anchoring ourselves to the KEF->EDI flight, we "middled out" the trip and built Iceland and England on either side.
Hindsight on anchoring ourselves to Iceland for reducing the search space:
Iceland is an awesome gateway to Europe logistically, however it is currently attractive likely due to their financial crisis several years ago, interestingly presented in this documentary.
Iceland is otherwordly, but incredibly welcome to a young American traveler with fantastic roads, incredible infrastructure, and an affinity for technology adoption.
Iceland, for me, was very hard to place as the first objective in the trip, as you're enveloped in indescribable natural beauty, where travel to both Scotland and England have a cultural focus. Despite my affinity for Speyside Whisky, Scotland was naturally underwhelming after stepping off a flight from Reykjavík.
So, if we were to do these three countries again I'd likely advocate for reverse order, which would have been accomplished by attempting BWI->KEF->LGW initially. Iceland would be a good country to finish a journey on, because your enjoyment is almost entirely self paced as you experience nature. As it was our first trip the ease of the BWI-KEF seven hour flight, without tacking on a multi-hour layover, was likely a good choice.
Lodging #
We found every one of our lodgings through Airbnb, which was a first time using the service for us. We opted, for the most part, to choose instant bookings rather than have a back-and-forth request process for a location. This narrowed our options, but we felt like it would narrow us to the more experienced lodging owners.
The novelty of Airbnb is the attempt to provide a scaffolding for what is essentially a measure of trust between two parties over a shared resource. When you do make a request for a booking, there will be an examination of your profile. Although I'd consider myself to be quite presentable, my spartan approach to creating an Airbnb profile resulted in being turned away initially due to not having any reviews or recommendations. My wife however, was able to make the same inquiries to the same hosts and was responded to where I was ignored. I believe that rejection for being overtly hairy might be against the Airbnb nondiscrimination agreement, but we got all the bookings we requested so I wasn't too hurt.
The downside to Airbnb is that you're using a very convenient means of booking and interaction that is much less personable than what already exists with the entire Bed & Breakfast community. We found that in both Scotland and England the places we were staying were occupied by repeat travelers coming back along similar routes to be with familiar faces and lodgings. There is a certain whimsical romance of the extended traveler who reconnects with their travel family regularly. With Airbnb we felt we were a bit on the outside of this community, however it provided for a means to get our feet wet in these places and form connections that we can leverage upon return.
There is another downside to Airbnb that isn't quite formally understood yet, where its existence has potentially created a different market for real estate in some cities. There is a worry that the cost of living will be drastically driven up by Airbnb not enforcing their policies on required residency. This would likely be a good starting point if you'd like to read further.
Day to Day #
Two incredibly important tools for laying out the day to day activities was a collaborative multi-user calendar, and map. Google really dominates in this space, the 'My Map' sub-product within maps proved to be incredibly valuable. When you're laying out day to day activities you have to consider several factors simultaneously. Some of them that were in my mind at the time were:
location of activity
type of physical duress an activity requires (e.g. do you need to walk six miles after driving a tiny European vehicle for three hours)
order of activities (e.g. primarily for travel, secondarily for physical duress)
state change due to activity (e.g. likelihood of the ocean getting inside your shoes)
physical demands (e.g. access to food/water or bathrooms at regular intervals)
For this it felt like you needed two primary levels of information: one for laying out the traversal of all of these activities, the other for tracking the temporal aspect and other details (e.g. notes, confirmations, bits of language). Maps were the primary tool for laying out the logistics, seen here: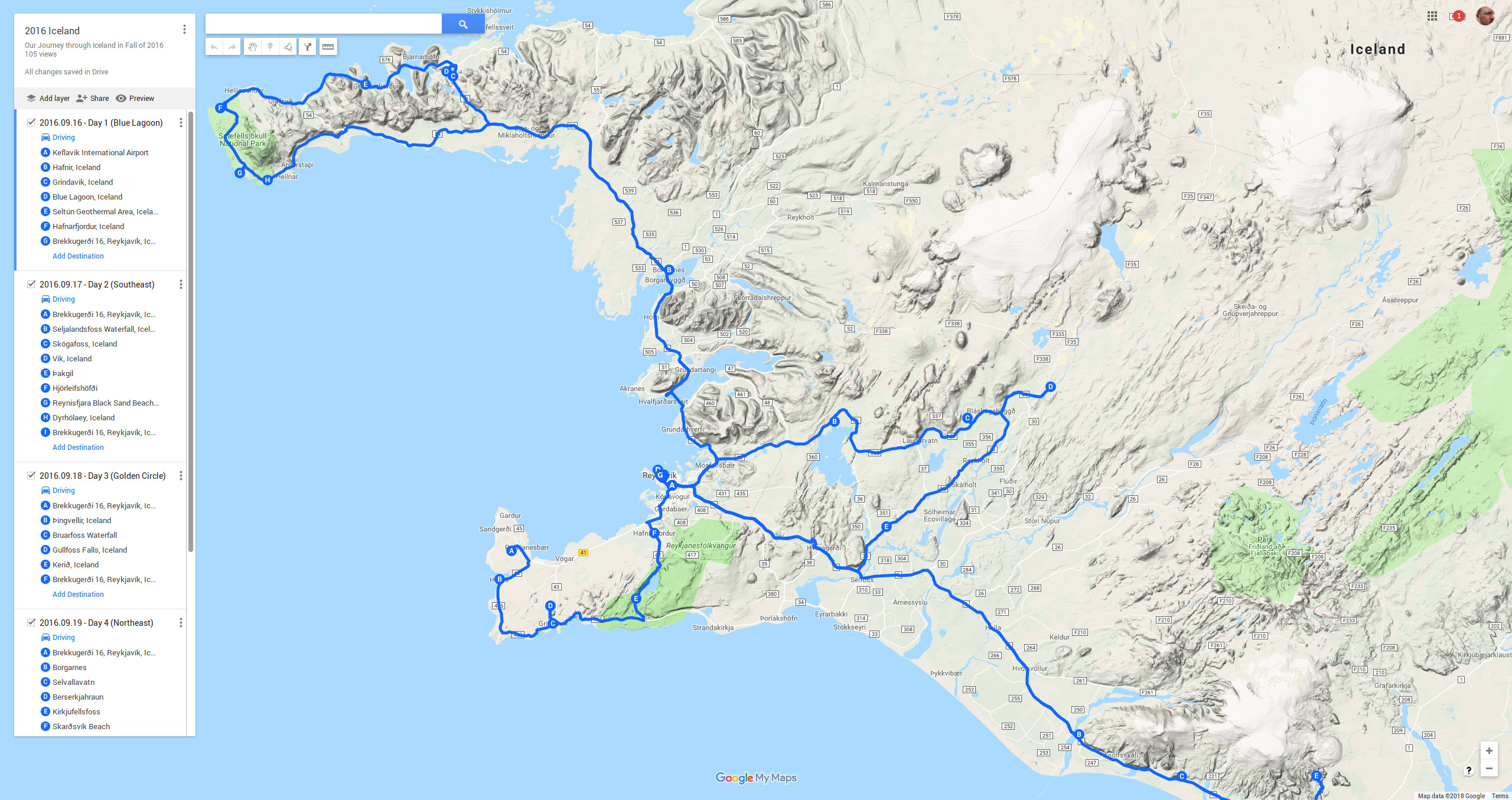 Then we would attempt to create a corresponding schedule with other rich information within the calendar: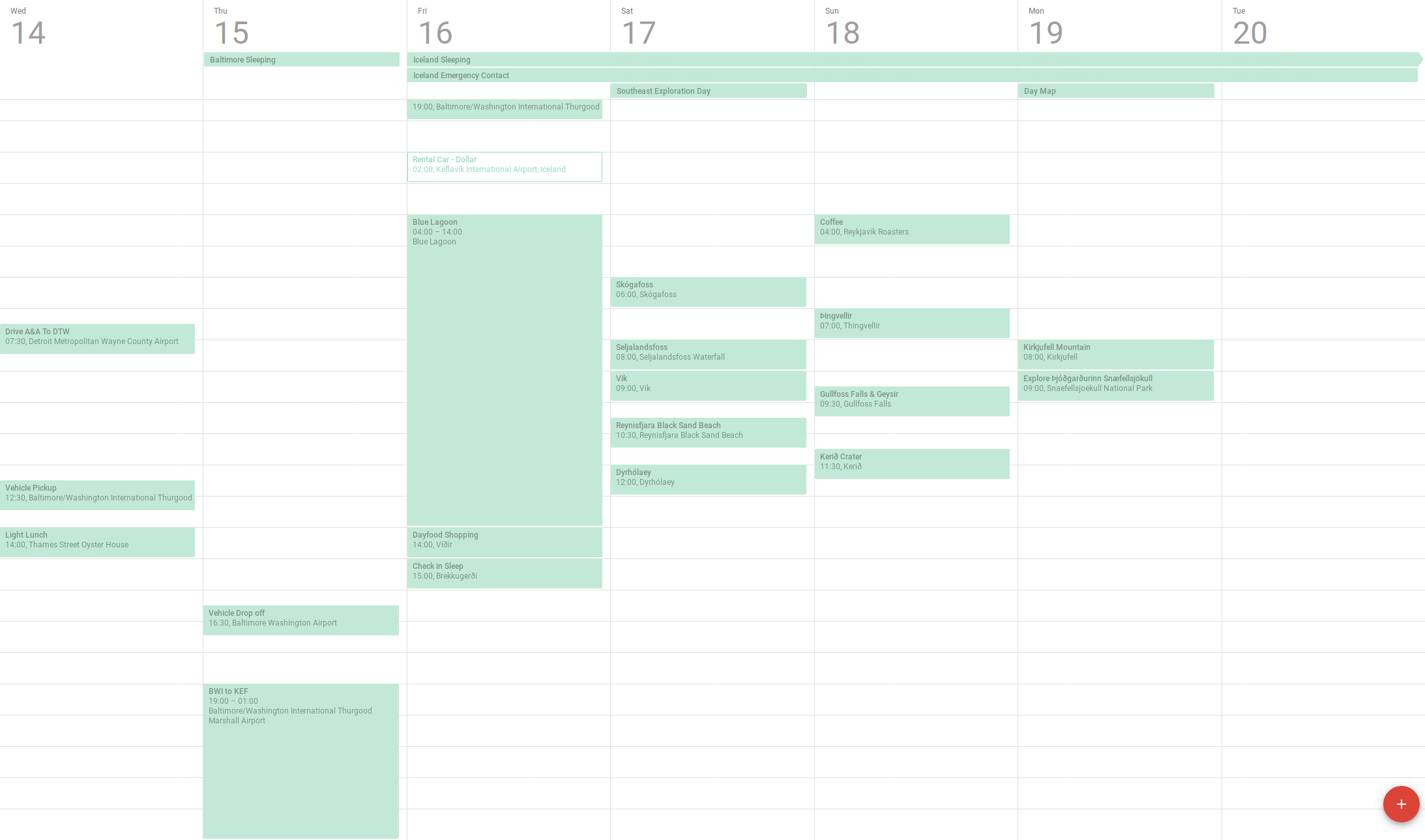 Downside to this is being on vacation and having your phone alerting you to the next amazing thing you're supposed to see before you've drank in the amazing thing you're currently at. It was incredibly useful to us to have everything enumerated in both places. Adding new entries as we met other travelers was quite simple, checking suggestions against our existing logistics was possible via maps, and recording detailed notes like trail directions was accommodated by the calendar.
Insurance #
We saw all over that it was imperative to secure travel insurance,the phrase that stuck was "if you cant afford insurance, you cant afford to travel". We didn't secure "travel insurance" via the conventional means, we sought coverage via:
booking all aspects of the trip with a trustworthy travel card, for this trip we used chase sapphire preferred.
verification of medical coverage via our primary carrier while overseas, our existing plan had international coverage and could be further supplemented if we desired.
Obtaining riders for costly items to replace, in our case we secured an itemized rider for all electronics and optics (10,000USD was ~50USD/year).
In the end, we had no alterations to our plans, no health issues, and no damage to any possessions… so, none of this was actually tested.
We felt that the posture was adequate for the level of risk we anticipated. However we went to great length to design in many fail safe mechanisms, specifically to flight choice, allowing for us to catch a backup flight if it ever became necessary.
Before you go #
We had a little checklist of final things to sort out before we went:
exchange password databases
register with STEP
identify the emergency numbers for the country (not always 911)
email each host directly to ensure you understand the key pickup protocol
identify possible grocery spots near each lodging
pick a single source for contacts and itinerary information (shared calendar)
Of these, probably the only one that might be weird is the password databases entry. We both maintain password databases for login credentials, financial records, and identifying information. You can get really complex with key exchange protocols, and intervention based time delivery systems. However, in our case we had identified a technically competent third party and dumped the gravity of our potential death on them.
Anecdotes #
Plan to the level of execution you think you can handle. For some the exercise can fester anxiety, we found that it drove down out anxiety.
Anticipate spending more than you initially expect. Costs are naturally hard to track as they accrue at both large and small intervals. Using a singular travel card provides a single information stream to audit.
Find tools that work for you an your travel partners. Many times we reached for a whiteboard, or a text file.
Split what is financially possible at the time of transaction with your travel partners. Over a several week trip it's hard to remember which parties wanted an appetizer on day nine.
Pack lighter than you think you can. With global shipping from places like Amazon, it isn't a failure to have to ship yourself something in theater.
Resources #
We found Reddit to be an aggregation for other people writing about planning and executing trips, these sub-reddits were where we found useful resources most often:
Instagram was quite useful prior to our trip, finding photographers that were willing to mark their posts with geographic information allowed us to assemble lists of things we wanted to see. We also met photographers along the way that we exchanged notes with, giving us more ideas for plan modifications in theater.
Talk with as many people as you can about the trip. We found some of the best advice was obtained from other travelers at nearby tables during meals.