As mentioned in a previous post we visited Iceland, Scotland, and England in September of 2016. I wanted to make larger, more media focused posts for each country, so here goes Iceland! Unlike other posts where I try to have an impartial tone, I'll attempt to drop that and be more personable about this journey. Explained in the post about planning this trip we produced a map for each country, which upon request I'd be happy to share. There are some numerical limits on destinations within maps that prevented me from recording the journey at the granularity as I wanted to, so this write up will provide more locations and context than other resources.
We had three different cameras during the trip, which means you'll see quite a variation in luminosity and saturation in our photos, I didn't attempt to edit things to be homogeneous between captures. I'll take time to write more about the choice of gear once I feel like I can take a decent photograph on purpose rather than mostly on accident. Iceland has such extreme fluctuations in natural light, as well as its imbued drastic contrast, automatic HDR really blew a lot of our shots out in ways that make them appear comically extreme. Most of what is in this post comes from the Sony raw capture, which allowed me, despite my disabilities and infatuation with under exposure, to recreate what we saw to the best of my abilities.
Again mentioning the post about planning, we needed to get to Baltimore to catch our international flight. We were graciously hosted by our friends in North East Baltimore who provider a wonderful dinner in their dreamy backyard setting: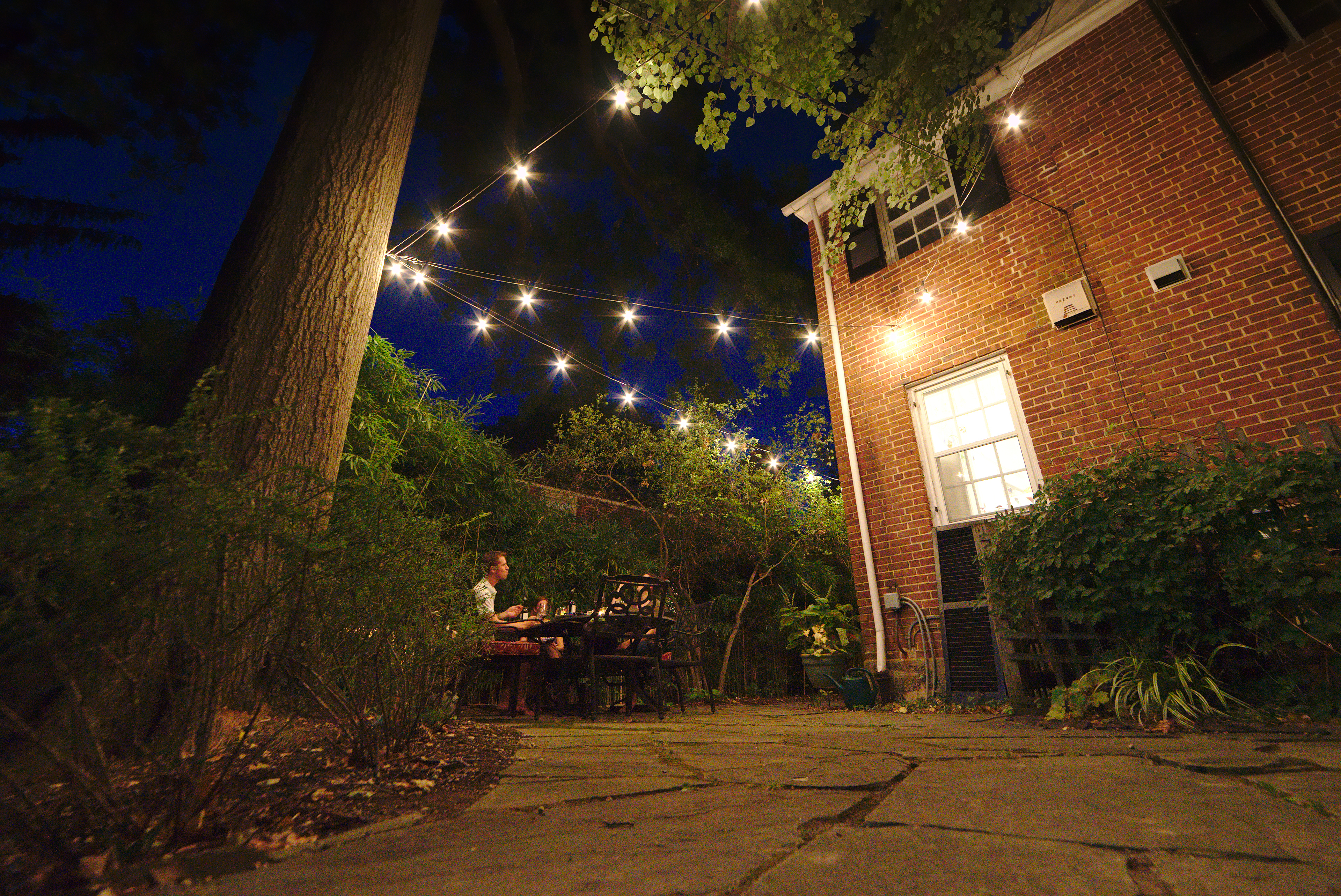 Day One: Keflavík, Bláa Lónið, Reykjanesfólkvangur, Reykjavík #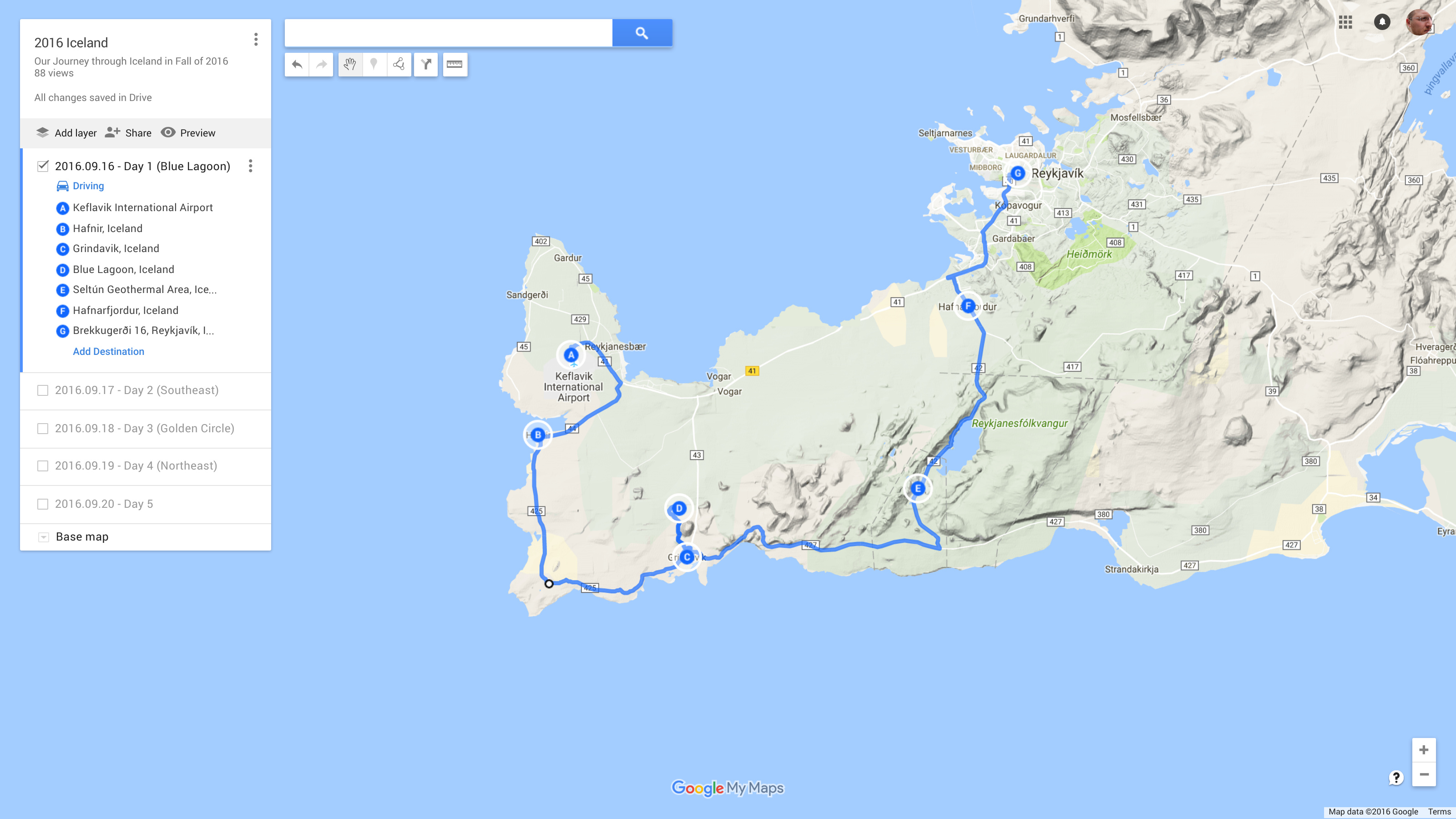 We flew in on the WOW Air flight between Baltimore and Keflavík that arrives at 0515 Keflavík time. Our desire was to hit the ground early and get to Bláa Lónið as soon as they were open, so the arrival time combined with our necessary body change wasn't terribly scary. Sleeping wasn't easy on the flight, but we got into some sort of a meditative restful state enough that it didn't feel like an all night marathon. Upon arrival we were incredibly impressed with the design and construction of the Keflavík International Airport. Living close to DTW with their costly McNamara terminal, we typically feel like airports are crowded and dingy. Keflavík stood apart, so much so that if you can have a layover you should really experience it.
Iceland is an insanely modern country, and a huge benefit of travel there is the excellent connectivity you have on even the most remote locations of the island. We were early adopters of Google's Project Fi and were delighted to be welcomed to the country immediately after taking our devices out of airplane mode.
We didn't know that our car rental agency was open 24 hours a day, and many of our fellow travelers were waiting in the bus area. We lazyd that we should wait until the buses started moving people, which was unfortunately at 0700. This gave me enough time to explore the local fare, and have some breakfast. I chose to make sure my first meal was decidedly Icelandic: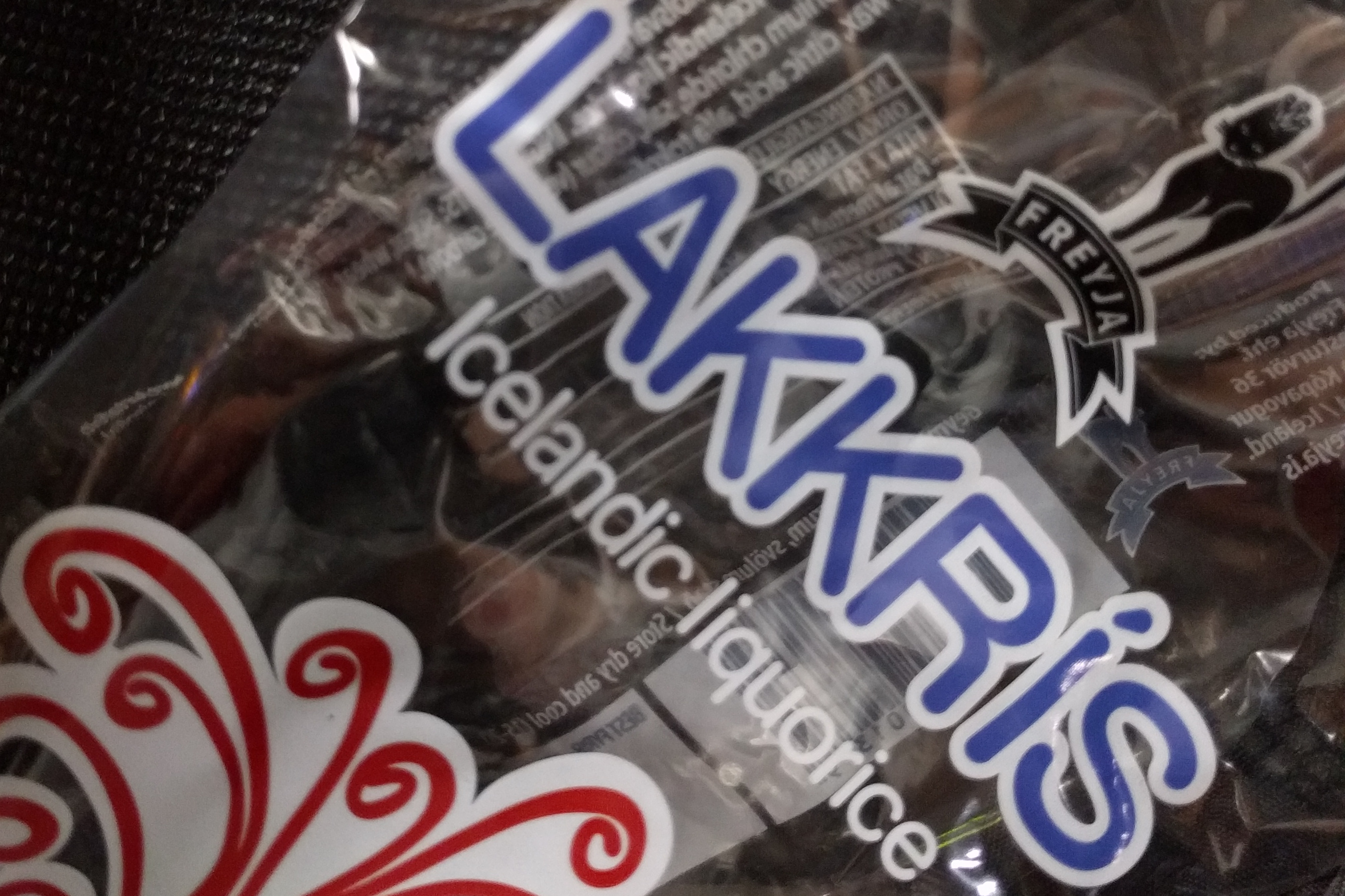 Where my traveling companions were much more responsible and chose to have some juice made for them at a particularly loud shop for five in the morning. We eventually searched for the rental agency and realized it was a trivial distance to cover on foot, so we set out to breath in our first sight of the country. At this time in the morning with the cloud cover as it was, there wasn't much to see other than the strangely geometric fixture at the entrance to the facility. We had no idea what type of vehicle we'd ultimately need, so we were fiscally conservative and landed in a Peugeot 308. After so many years of Top Gear discussing the best "Hot Hatch", it was our turn to try out something we couldn't get back home. I'll likely mention it several times, being fiscally conservative with your rental in Iceland is a silly idea. While we were sporting in a platform with 110 mm of ground clearance, we kept seeing more utility focused vehicles and came to realize the practical Icelandic citizen would own nothing less functional than a Hilux.
When a country has volcano, gravel, and fording options commonly offered within its vehicle rental insurance… you should assume that to get a proper experience you're likely going to need that coverage and a capable vehicle. We survived in our wallowing 308, and somehow managed not to lose major sections of the undercarriage during the explorations. It was foreboding to leave the rental agency noticing that there we pamphlets instructing you how to best cross flash rivers with your vehicle. You don't see that commonly in the states.
All of the vehicle banter being stated, Icelandic roads are fantastic. However, you'll be off road any time you want to get reasonably close to points of interest.
After having a bit of a bicker about automatic and manual options, and watching an attendant crash a rental into someones returned vehicle, we packed into our vehicle and scooted off to explore the coastline between Keflavík and Bláa Lónið. We had about two hours to burn still before we would be able to enter Bláa Lónið, so we took some time to stop and soak up our first impressions of the strange landscape.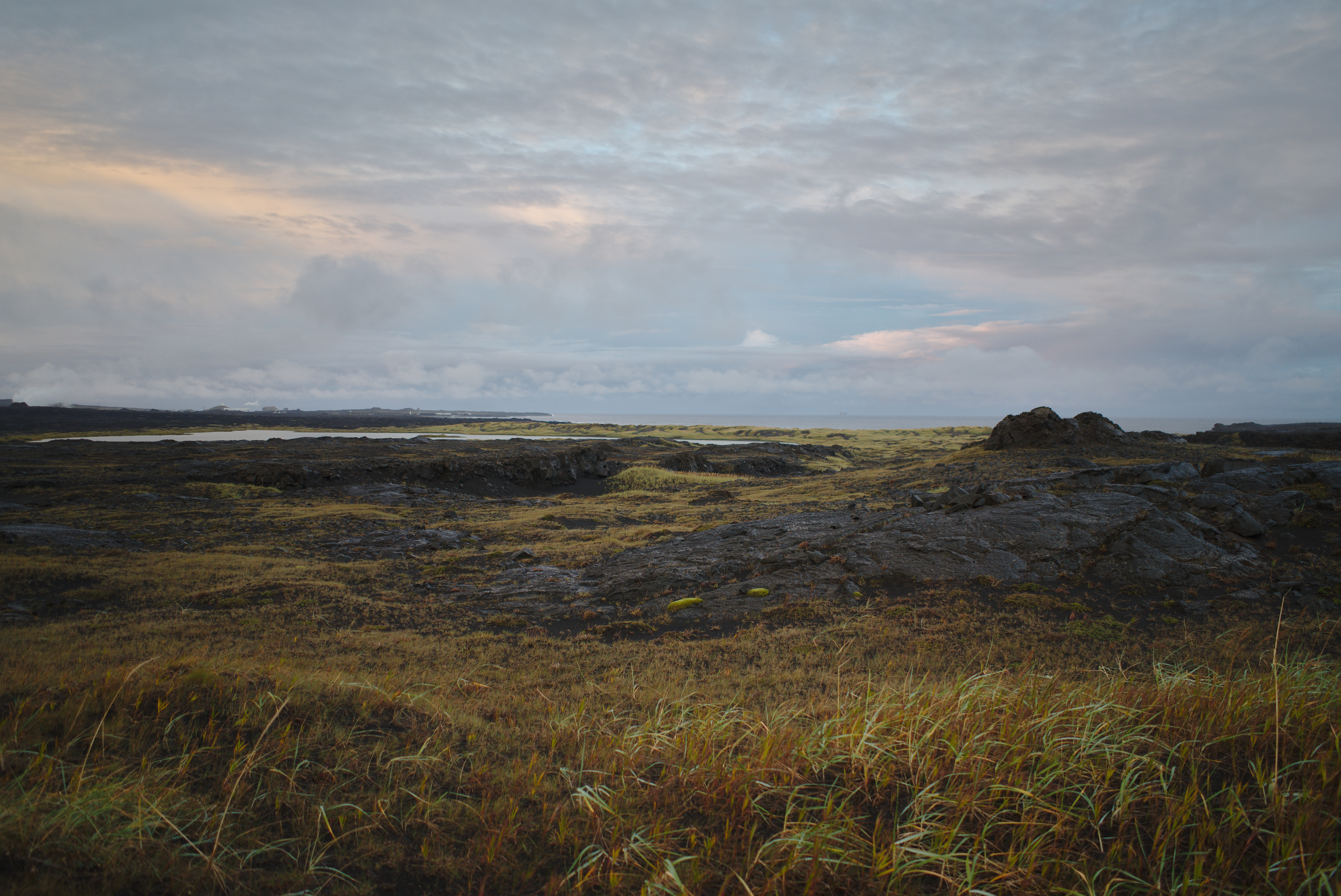 You can just notice some of the steam in the background coming from a power station. As we approached, we came across a tiny monument of Uranus and stopped to walk around. It turns out that the Icelandic energy company HS ORKA hf at some point set up a model of the solar system as an art installation called "Power Plan(e)t Earth" near the Reykjanesvirkjun power plant. The geothermal power plant itself was interesting enough, but the lava fields, hills, and craters around that area were an excellent primer for what we'd see during the rest of our journey.
Bláa Lónið #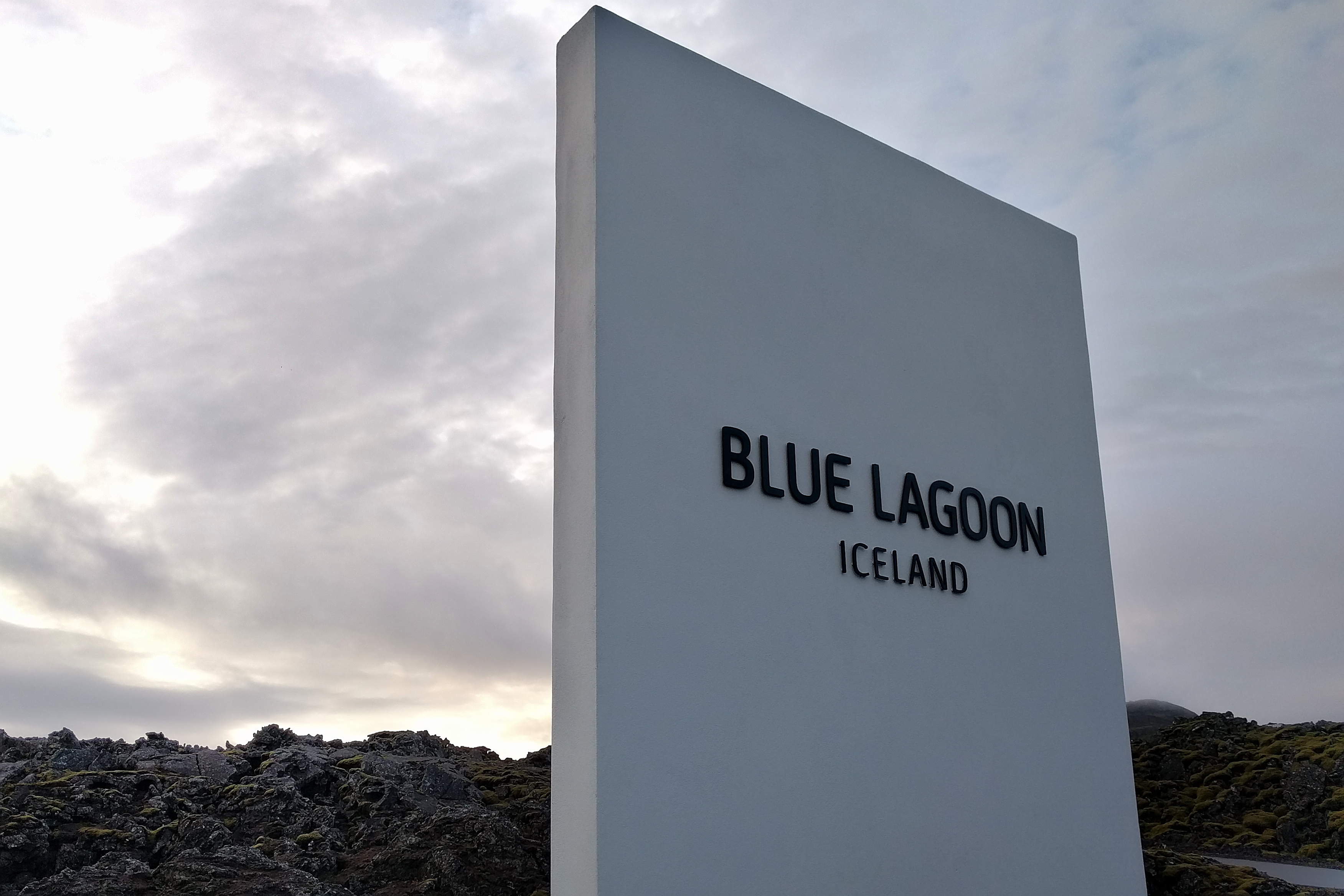 Undoubtedly a very touristy thing to do, we wanted to get ourselves in as soon as we could so that we could tire out before the rush of bodies eventually arrived. We chose the "Premium" package, which cost around 85 USD, primarily because we wanted some footwear and a reservation for potential lunch at Lava. With how we packed we didn't have the ability to bring along water footwear and our own towels. So we were at the mercy of purchasing more luxury from our hosts.
We left as much of what we could in the vehicle, which is advisable, as the locker area is easier to interact with if you've got minimal possessions to manage. The dressing and locker area was very well managed, with ample staff to attend to any inquiry you'd have. Everything is tied to a wireless bracelet, your locker and all financial transactions occur with a convenient scan of the wrist.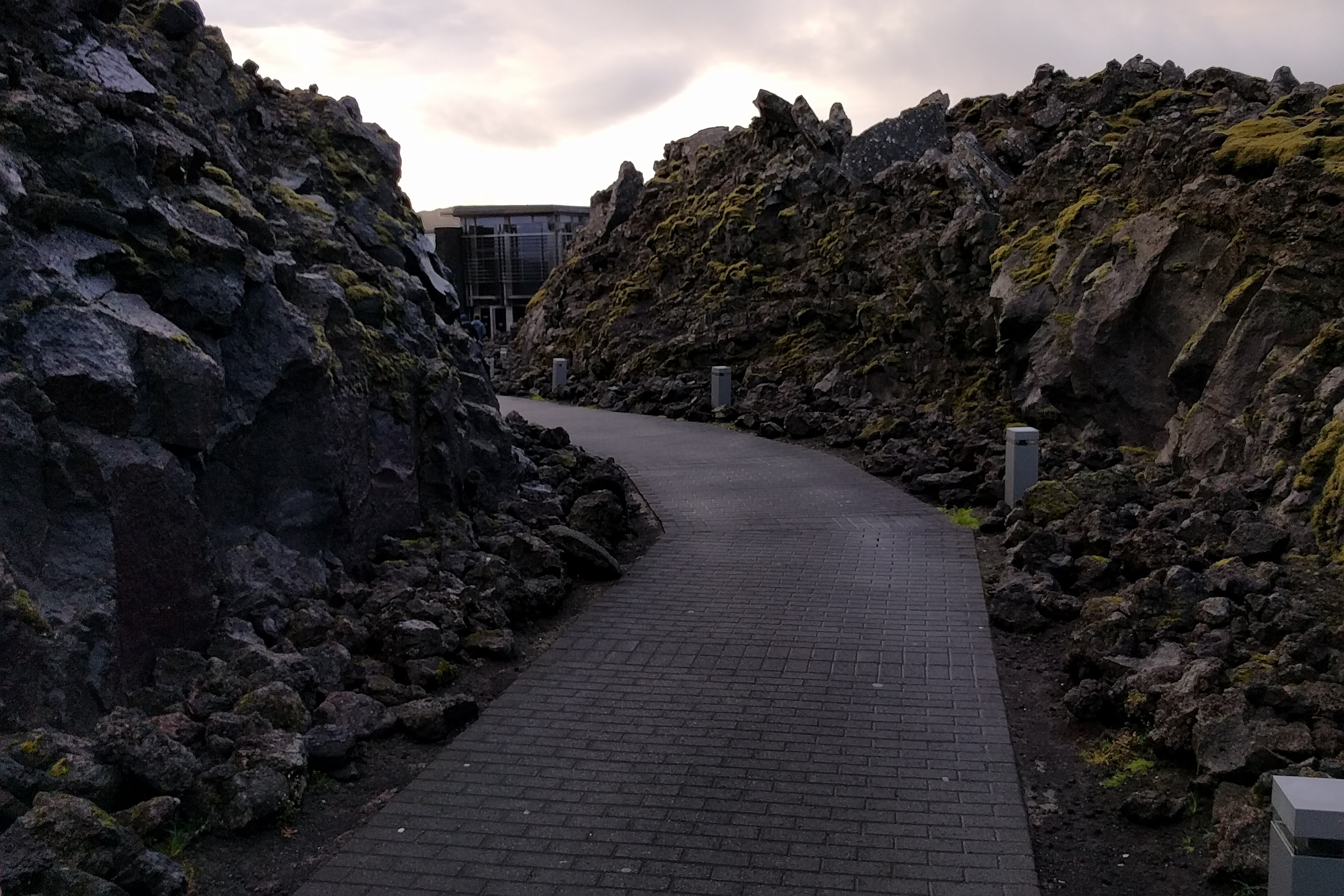 The experience in the pool was otherworldly. We were lucky to have it be raining lightly while we were there, which accentuated the temperature contrast between the open air and immersion in the pool.
The early entry crowd was equal parts quiet reverence and excited discussion about where they had journeyed from. We learned of peoples intent over the next several day, or what they had explored before they were leaving the country. We explored the outer edges, pausing and comfortably floating while trying to rectify the amazing phenomena of leaving Baltimore several hours earlier and ending up in this strange place.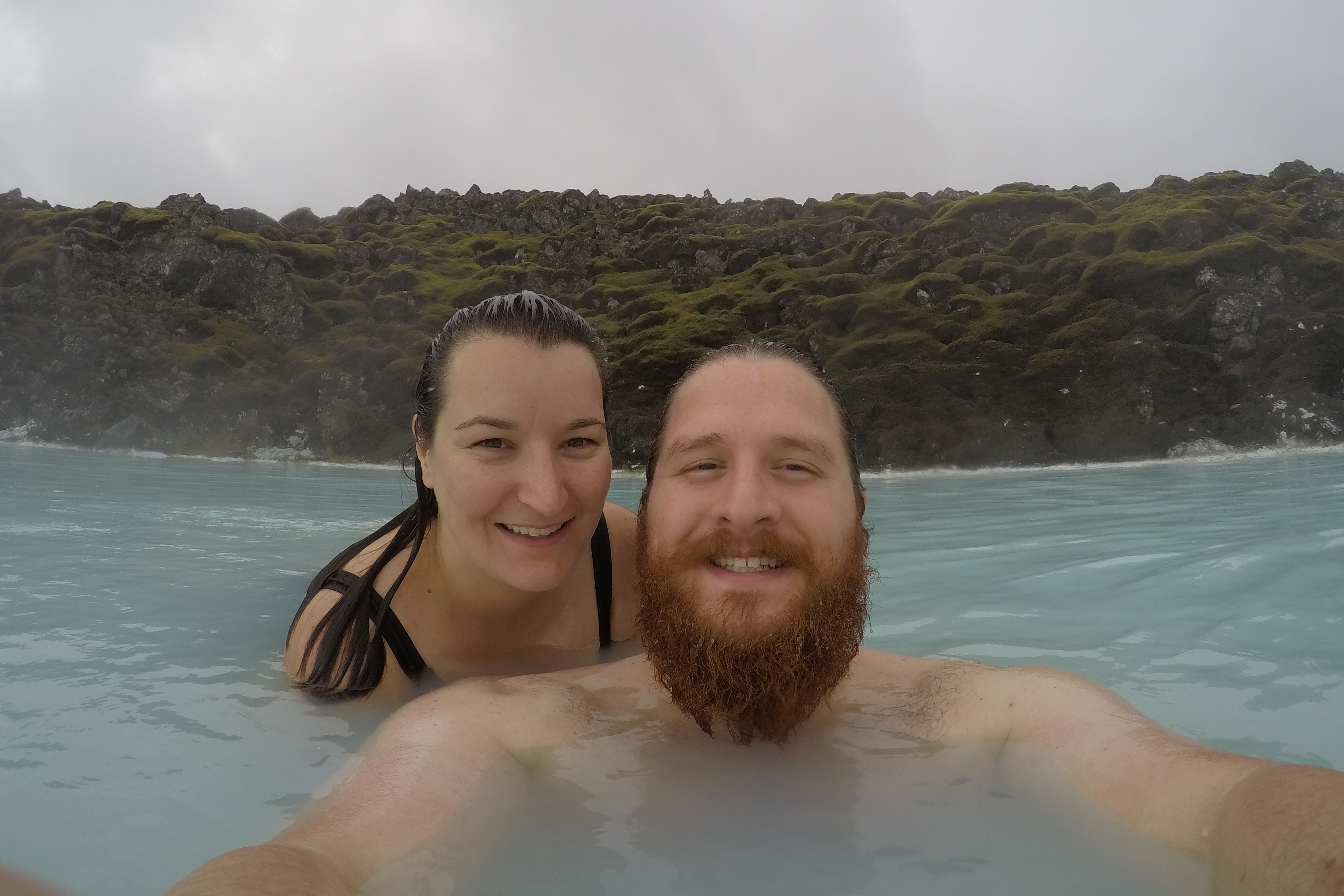 Eventually we made our way to the reservoirs of silica mud, which despite the apprehension for smearing a strange compound on your body, was quite interesting. Where the water composition seems to draw all moisture out of your hair, the silica mud provided the impression of restoring your skin to a state that you've never achieved before. Near the main facility was an artificial waterfall that was powerful enough to remove the silica from your skin after drying. We spent some time in the saunas and steam rooms, then took a final meandering circuit through the main pool before washing and entering the restaurant for Lunch.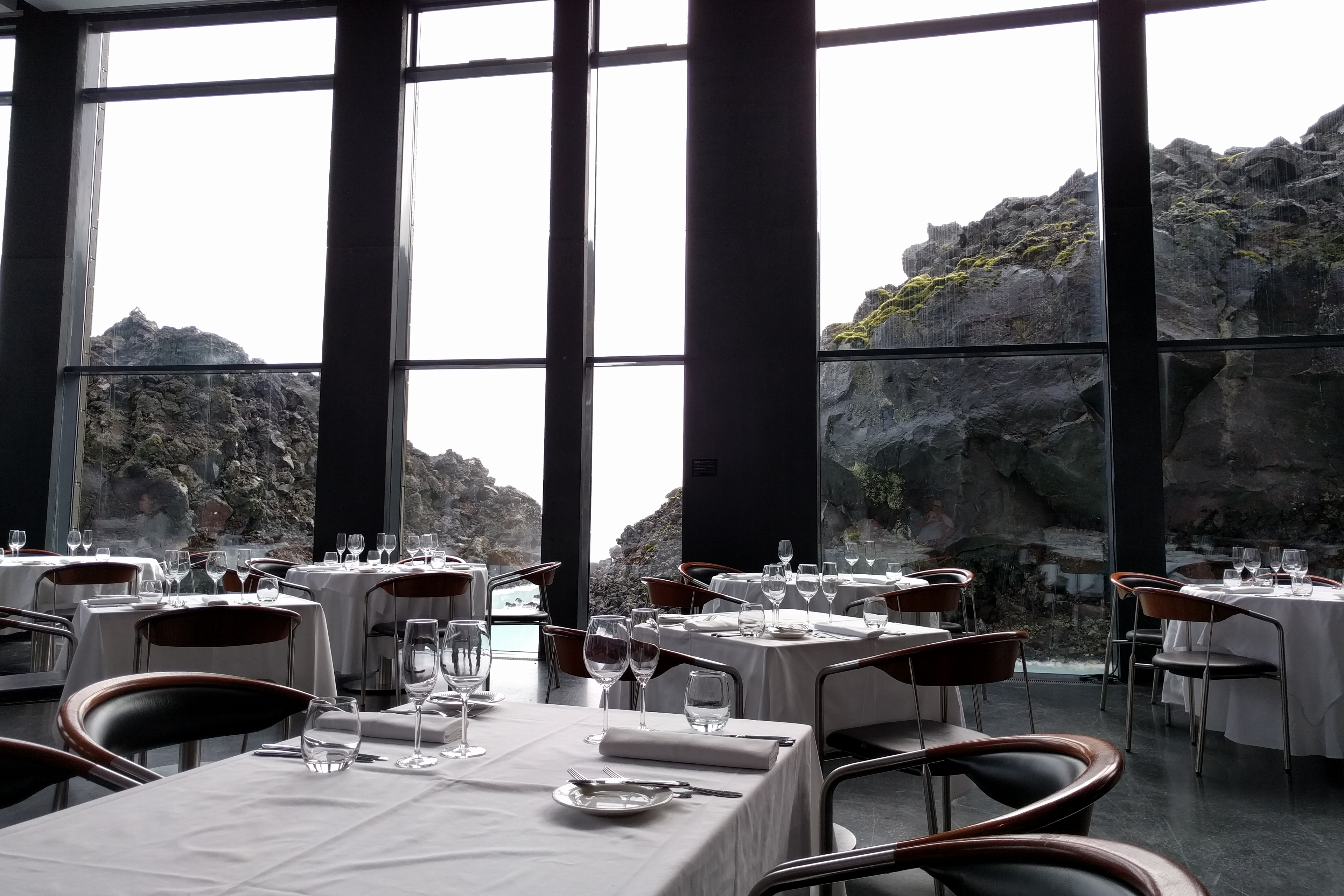 Food in Iceland was incredible, despite my first choice being salted black licorice. We were immediately infatuated with skyr butter and the consistency of their bread. We all tried their cod for our main dish, and, it surpassed our expecations. We've explored many revered coastal fares in the states, just a day prior eating fresh catch in Fells Point, and this meal was on par or better than our memory of fantastic dishes we'd had before. This turned out to be one of the least impressive meals in Iceland, which was entirely unexpected. Food in Iceland is a higher cost than what you'd expect in the states, but every dish we had was incredibly unique and memorable.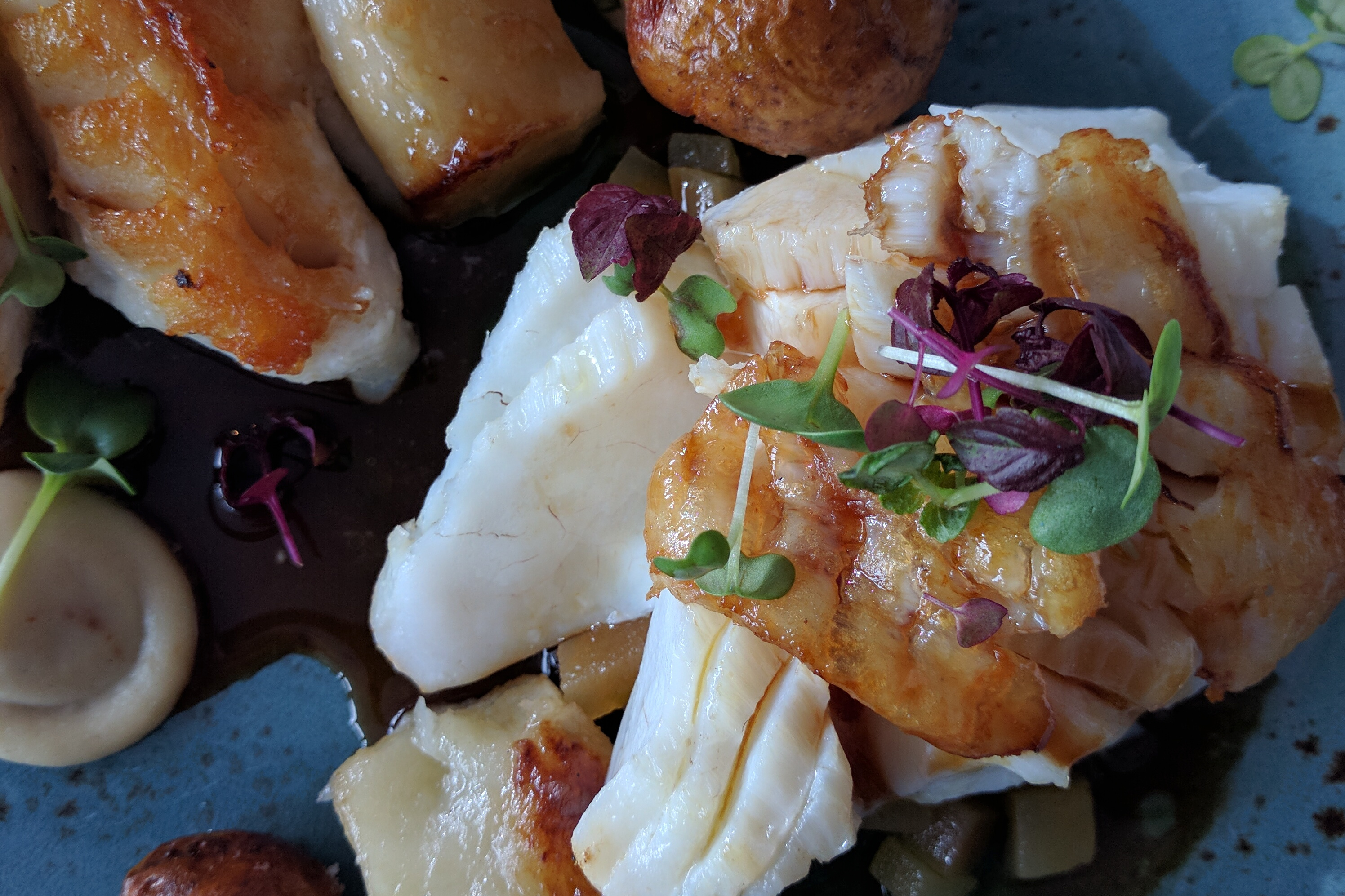 The value of the Bláa Lónið experience compared to the cost is interesting. If I were to bring family or friends back I would certainly want them to try it once. Recovering from an international flight by immersing yourself in the unique water of the pool is a wonderful experience. We had read a bit on /r/travel about how aggressively touristy the experience would be, so we were prepared. Eventually, as the morning wore on, more people showed up and the initial excitement and discussion between the early entry crowd became drown out. When we return, if we're not with first timers to Iceland, we'll be seeking out the less managed image, but more culturally intimate hot springs available closer to Reykjavík. If you enter early and plan to wear yourselves out by Lunch, you'll depart as the major influx occurs. We were able to anticipate this thanks to google adding a histogram for the relative popularity throughout the day.
Reykjanesfólkvangur #
After departing Bláa Lónið we lazyd we had enough energy to explore a national park on the way to Reykjavík. The terrain starts changing amazingly as you move east of Grindavik via the 427. We saw interesting coastline right until we turned north on the 42.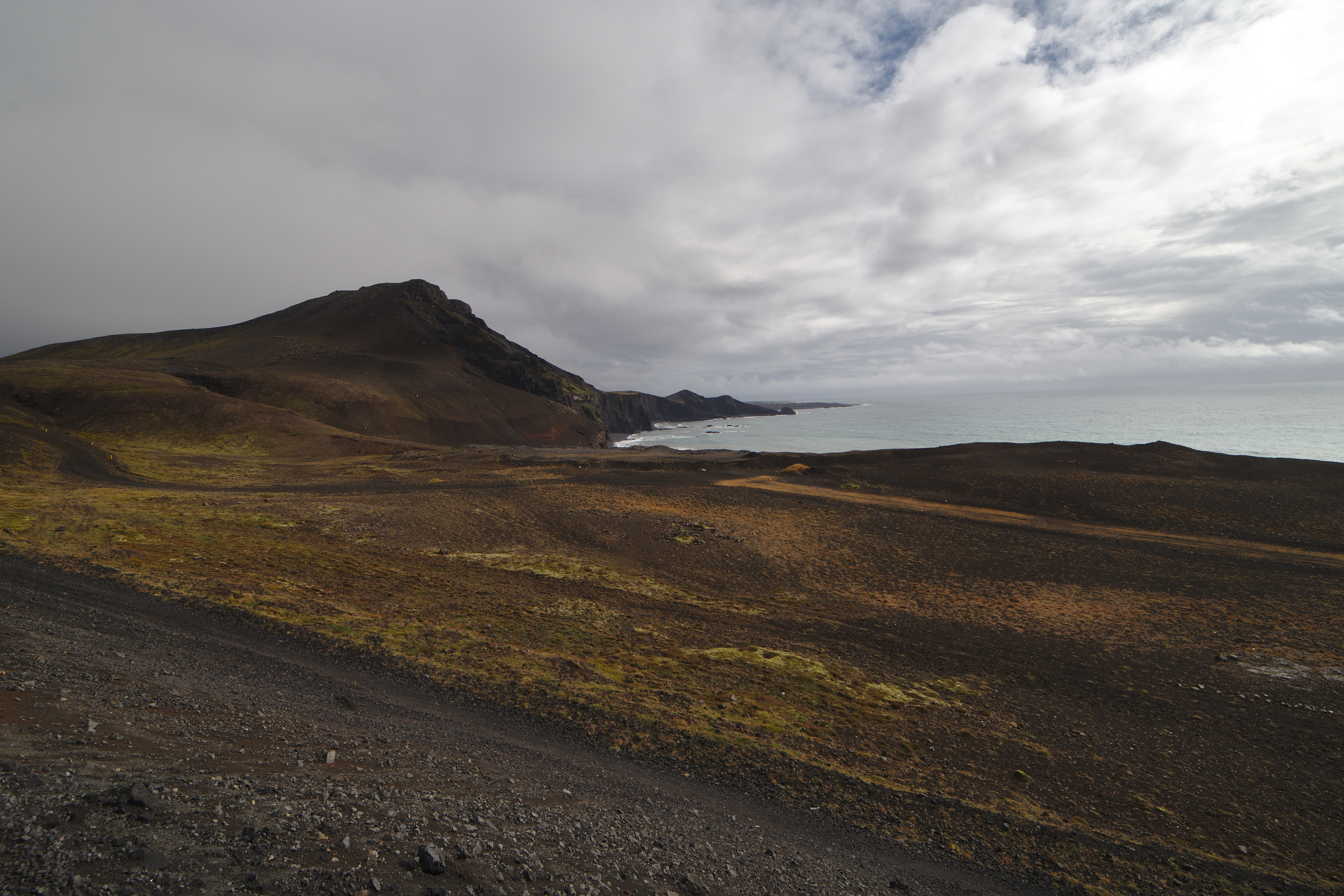 Traveling northwards we came across the Krýsuvík geothermal fields and stopped to soak in the the amazing contrast of colors, as well as the olfactory assault.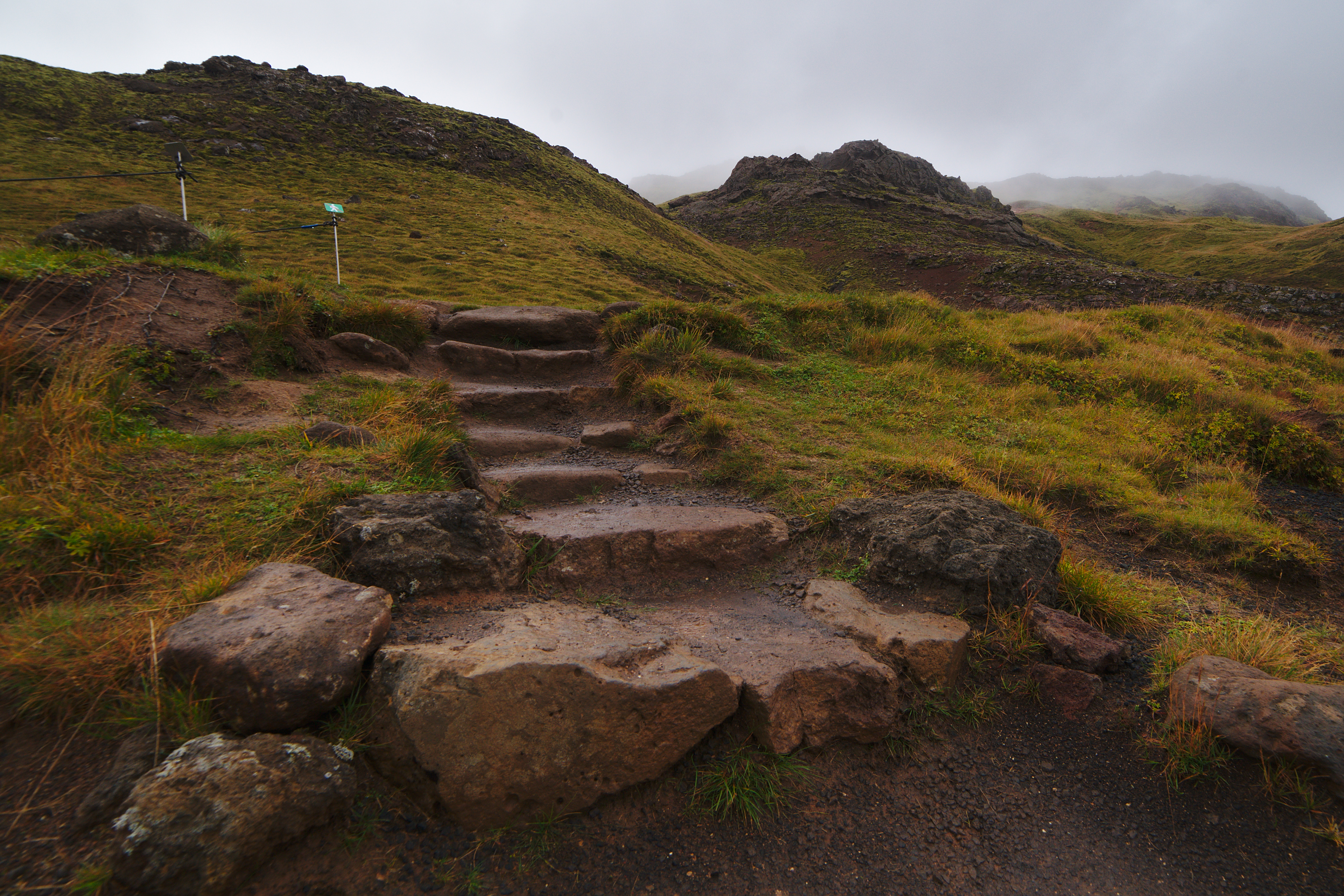 This was also the first time that I was experimenting with an ultra wide angle lens, and the rain was quite oppressive, but some of the wideness in that perspective added to the alien feeling of the fields. We moved northward to Indjánahöfði and explored some really interesting soft structures that others had written their names or drawn pictures on with their bare hands.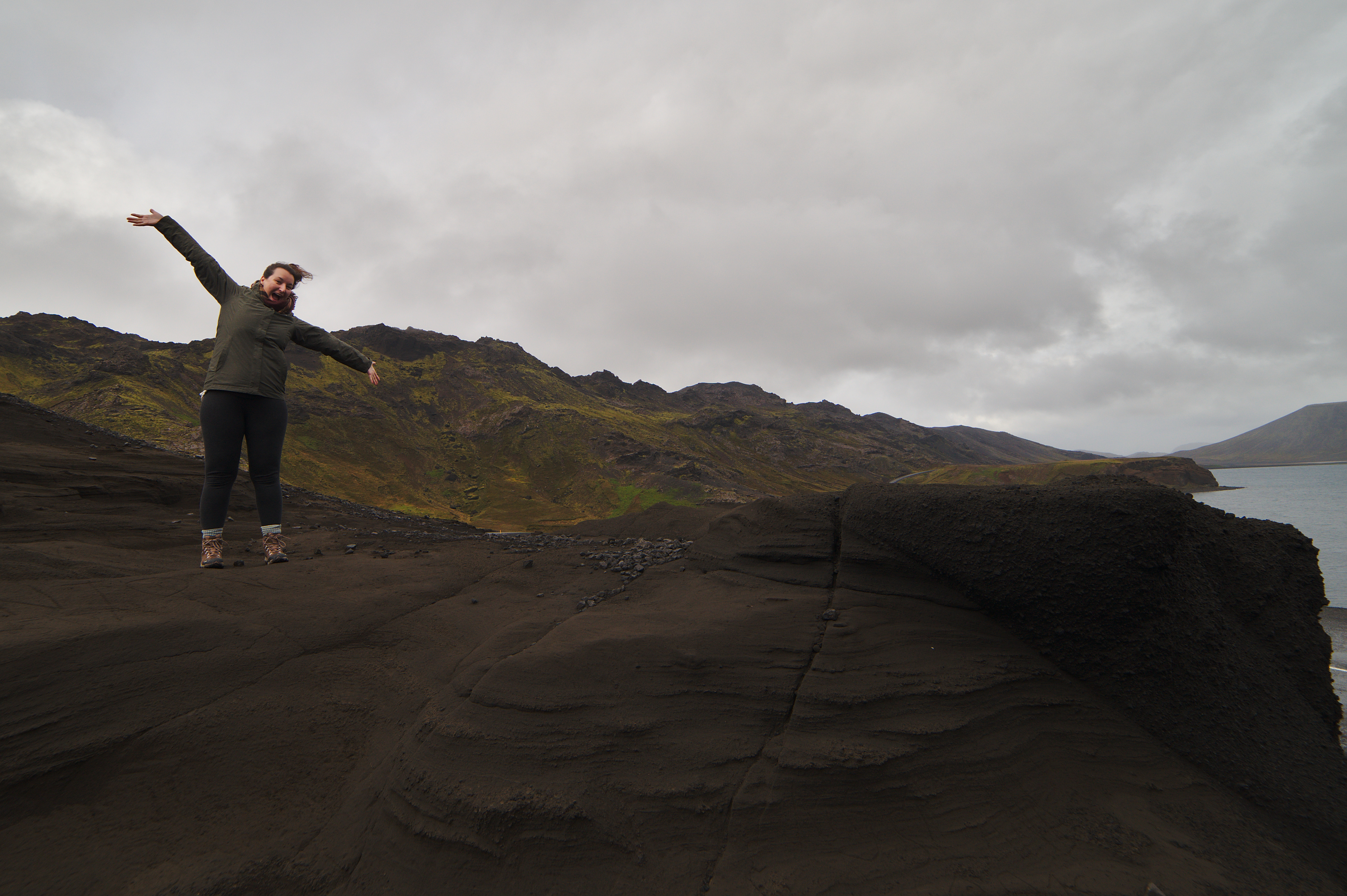 We spent some time watching the rolling storm clouds over the Kleifarvatn lake.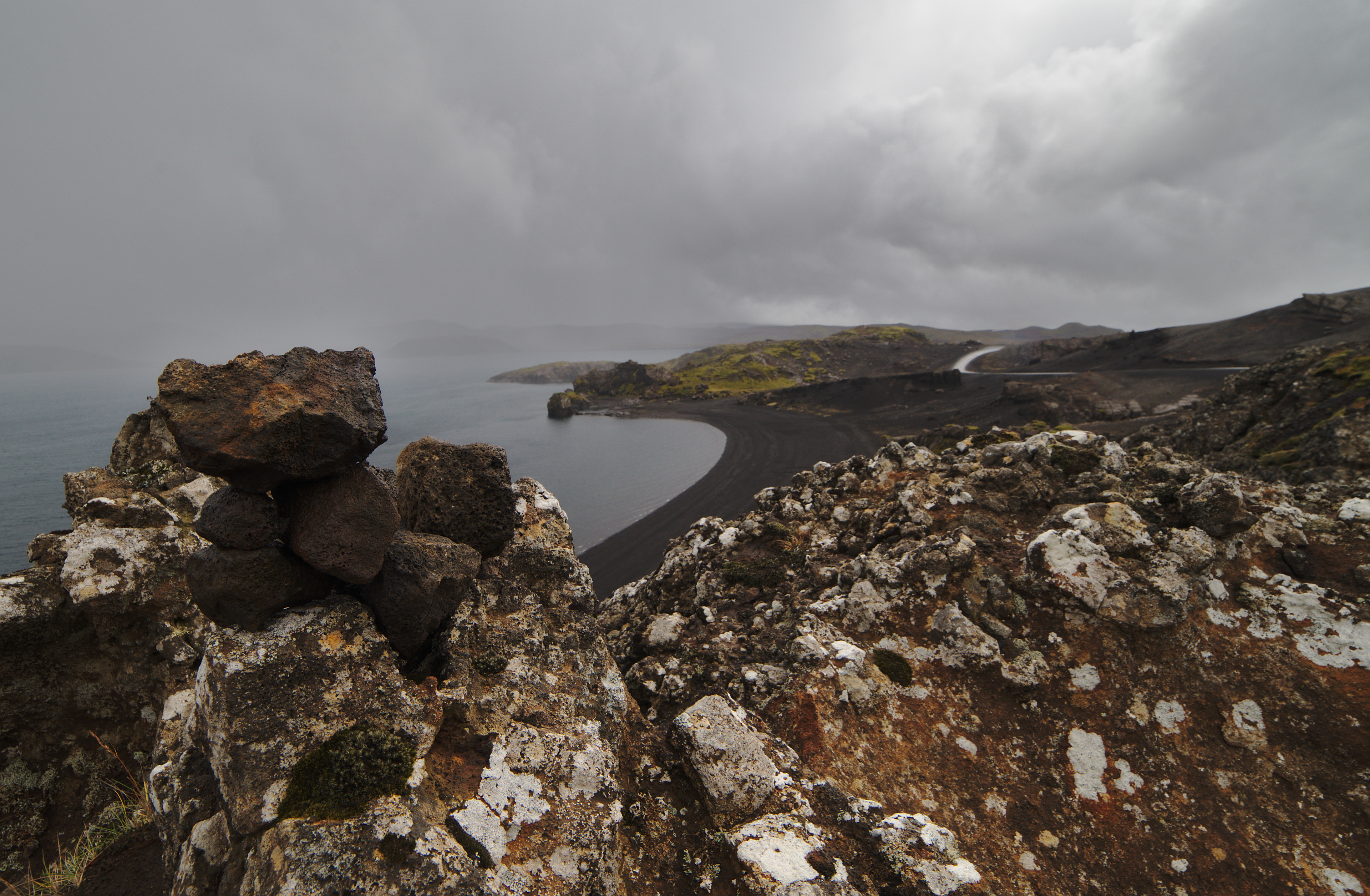 Eventually we realized that we were getting exhausted, even if it was only around 1400 local time. We wanted to find the location we'd planned to sleep, as well as gather some supplies from grocery stores for the next days. We cut out from the park and headed north into the capital.
First night in Reykjavík #
We located our residence for the trip, and during the warm welcome we gathered notes on food options. The first thing that was recommended was late night hot-dogs, which was an unknown phenomena to us. As we didn't think we were going to make it that late we inquired about other options and confusingly ended up on another local infatuation… Domino's Pizza. Now, we are the type of travelers that deeply scoff at the idea of eating something that is available to us in our local environment, but as the banter went back and forth we were assured that obtaining the Icelandic version of Domino's Pizza would be a must before we departed the country.
We had scoped out reviews and write ups about the different grocery stores in country, and had decided that Víðir was likely the most unique and interesting to try. Thanks to our magic squares we quickly found that there was a Dominos in Skeifan near a Víðir. We tried calling our order in as we rotated through through showering off the flight, lagoon, and geothermal fields. However the descriptions of toppings were so confusing that we lazyd it was necessary to go look at a menu in person. We placed the order to some expectantly dismissive late teens, devastated that not every Icelandic person we met was going to be as excited to meet us as our hosts. Then tiredly shambled over to the grocery store to explore.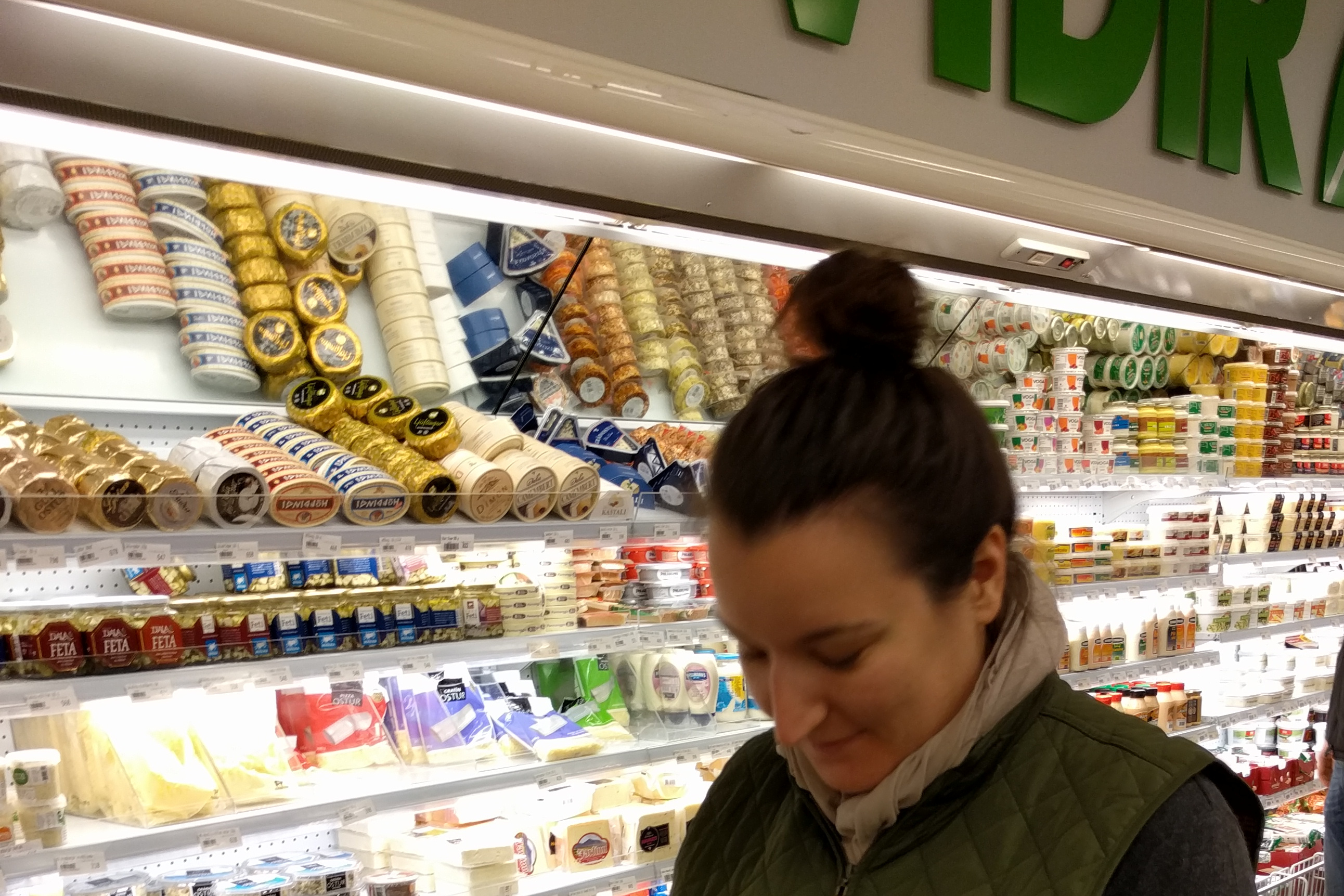 While Ashley and I perused the unique and interesting dairy options, Greg managed to locate extremely high energy density options for his treks. We were tempted by the familiarity of "American" offerings, but soon realized that this almost universally meant an unhealthier version of normal food.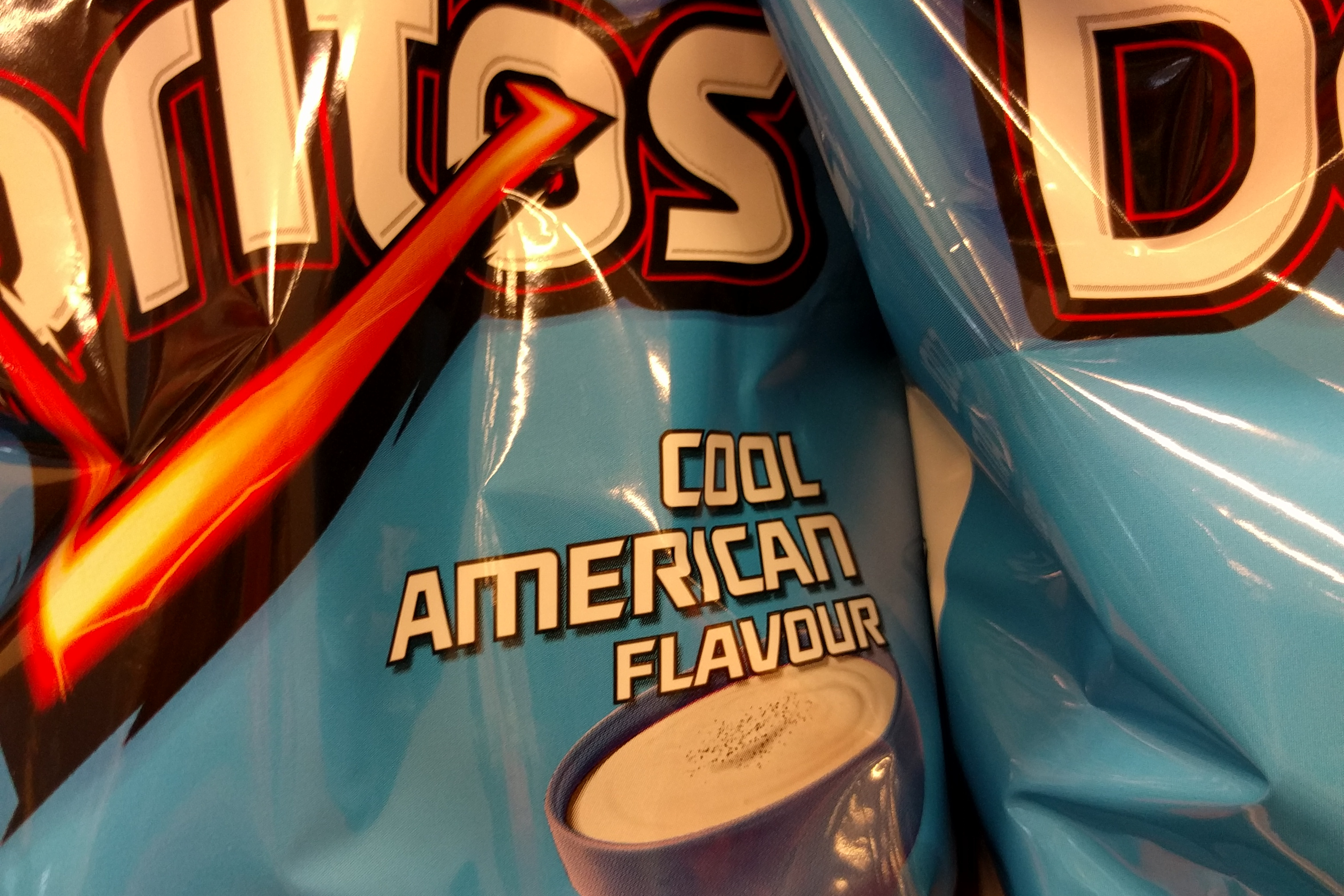 We got back a little early to the Domino's location, and listened to a bunch of Icelandic teenagers (male and female) enthusiastically sing friday. At first we thought it was a joke, but then realized that they were pretty into the whole thing, we were happy to obtain an excessive amount of pizza and be on our way.
The pizza was great. Not quite life changing, but we'd recommend it to anyone who was in a pinch in Reykjavík for the first time. We plugged into our host provided internet and immediately became envious of the residential fiber adoption. During the day, despite what few photos and videos we captured that we'd consider "good", we managed to record about 26GiB of data. With this light pipe between us and the states, we were able to write all of our newly captured memories safely to our home server before we took to an early slumber. This was an amazing repeat option every other evening before bed, where, when we got to Scotland we'd have been lucky to see 1Mbit speeds in the rural areas.
Day Two: Seljalandsfoss, Skógafoss, Hjörleifshöfði, Reynisfjara Beaches, Dyrhólaey #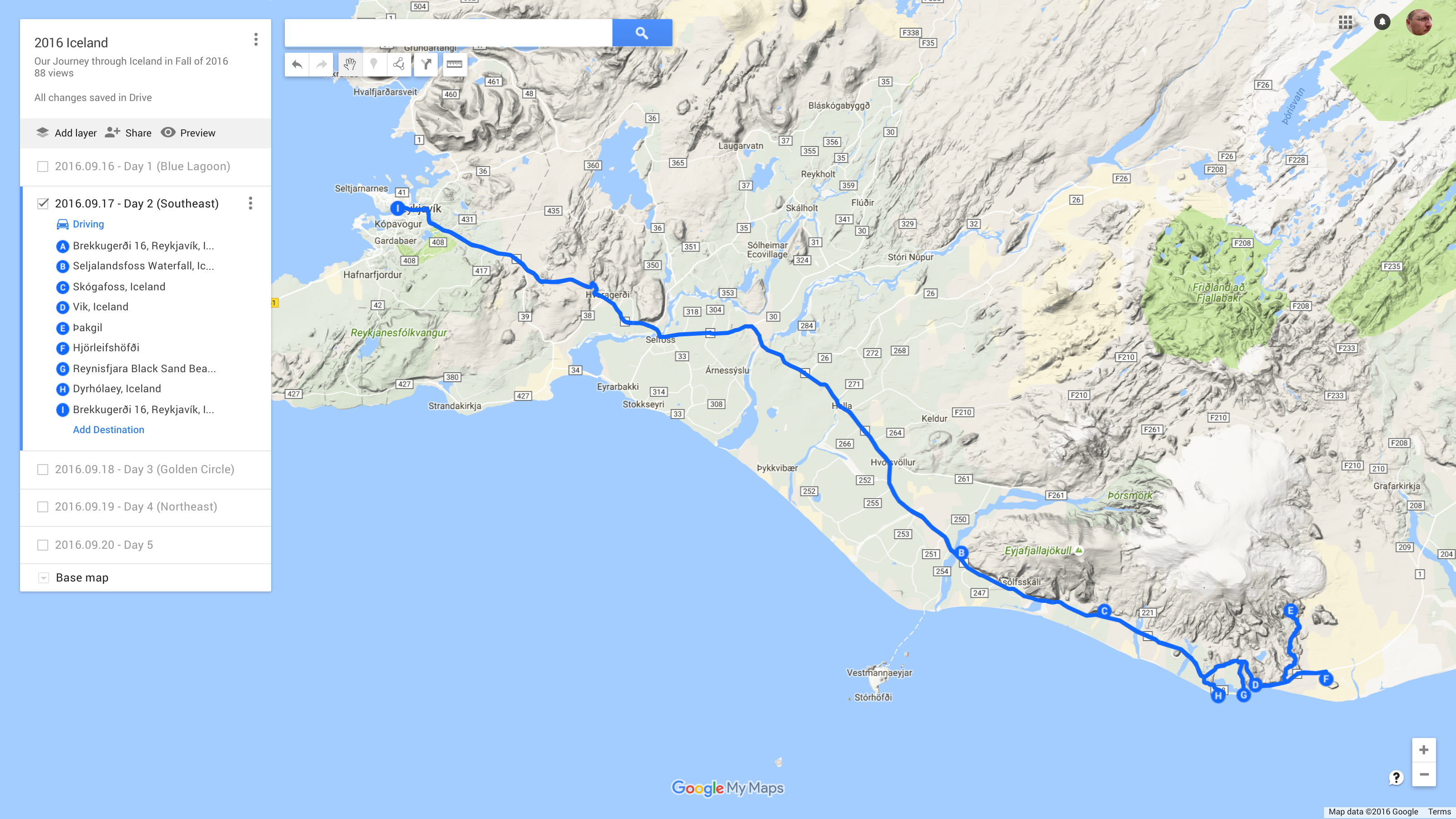 Sleeping early and waking early was our plan between day one and two, this was a hugely enabling idea. The things we saw on this day were life changing. Even more life changing when we could get an early start and obtain the experiences and photos before a tour bus of vibrantly colorful rain ponchos could clatter into the frame. If you're thinking of taking a trip to Iceland, we would strongly recommend this leg be chosen as your day two. You'll necessarily go to sleep very early local time, and wake up correspondingly early on your second day. Use the natural time adjustment to your advantage.
We headed out east before sunrise down the southern coastline. We were struck as we crested the elevation south east of Reykjavík on highway 1 and saw the greenhouses of Hveragerði. In the darkness and the cold it, the powerful warmth of the lamps shone for a long distance. We continued on and eventually took a break at a very well lit gas station with fiber optic lights all over the interior roof. This is where I discovered Egill Appelsín, which, with crippling depression, I had to admit this Iceland exclusive product was my new favorite carbonated beverage. It should also be mentioned that this was the cleanest and most well appointed gas station restroom I'd ever seen in my life.
Seljalandsfoss #
As the sun rose we were greeted with extremes of colors we had not seen before. Even in the muted light of rain and clouds, the contrast you experience in Iceland can cut through any type of gloom. We were seeking Seljalandsfoss first, and out of the morning light it seemed to sneak up on is.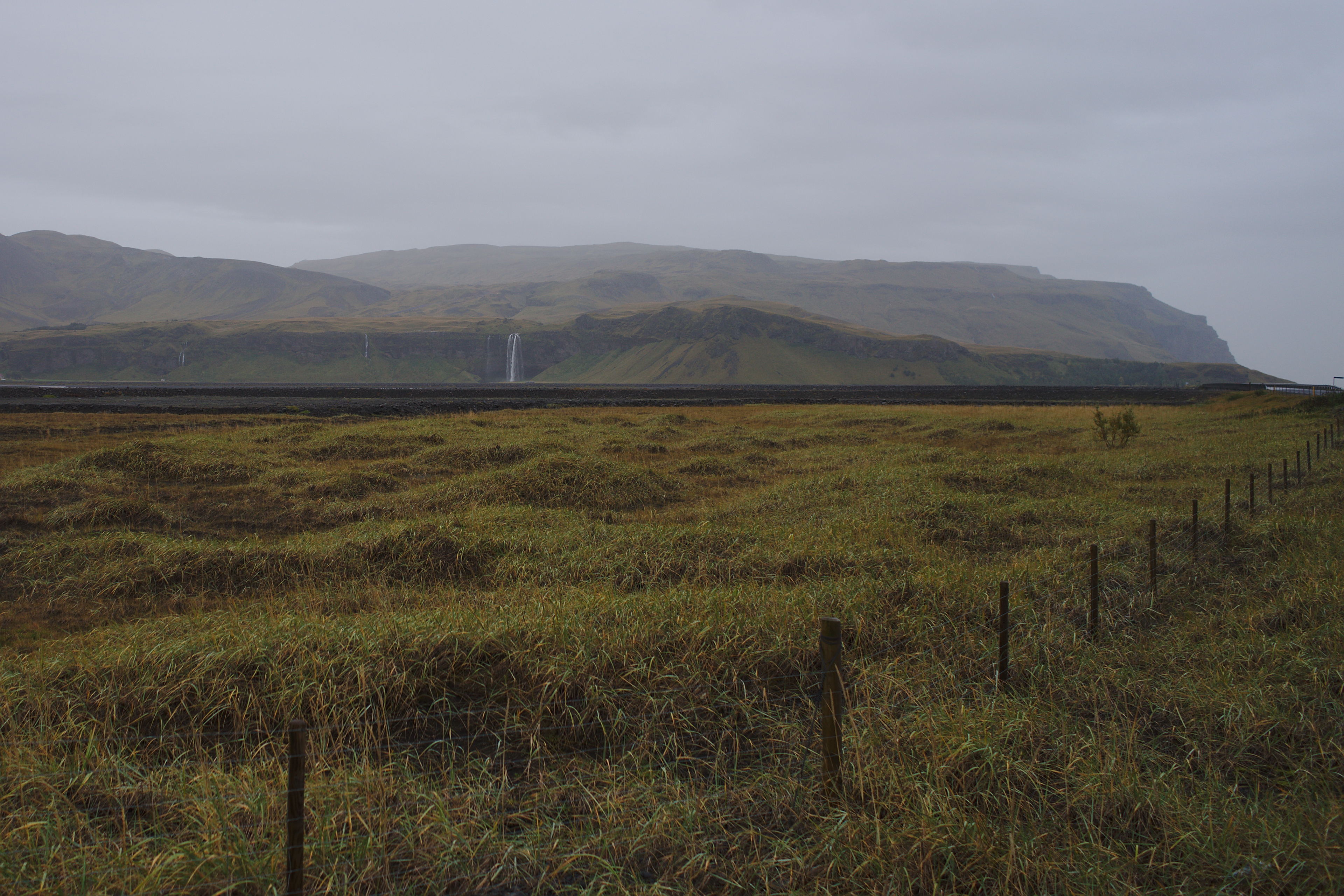 We shared the falls with only two other people for about an hour, and spent that time exploring behind the falls. I will simply run out of words to describe how incredible it is to see, hear, feel these natural formations so I'll minimize description and share photos instead.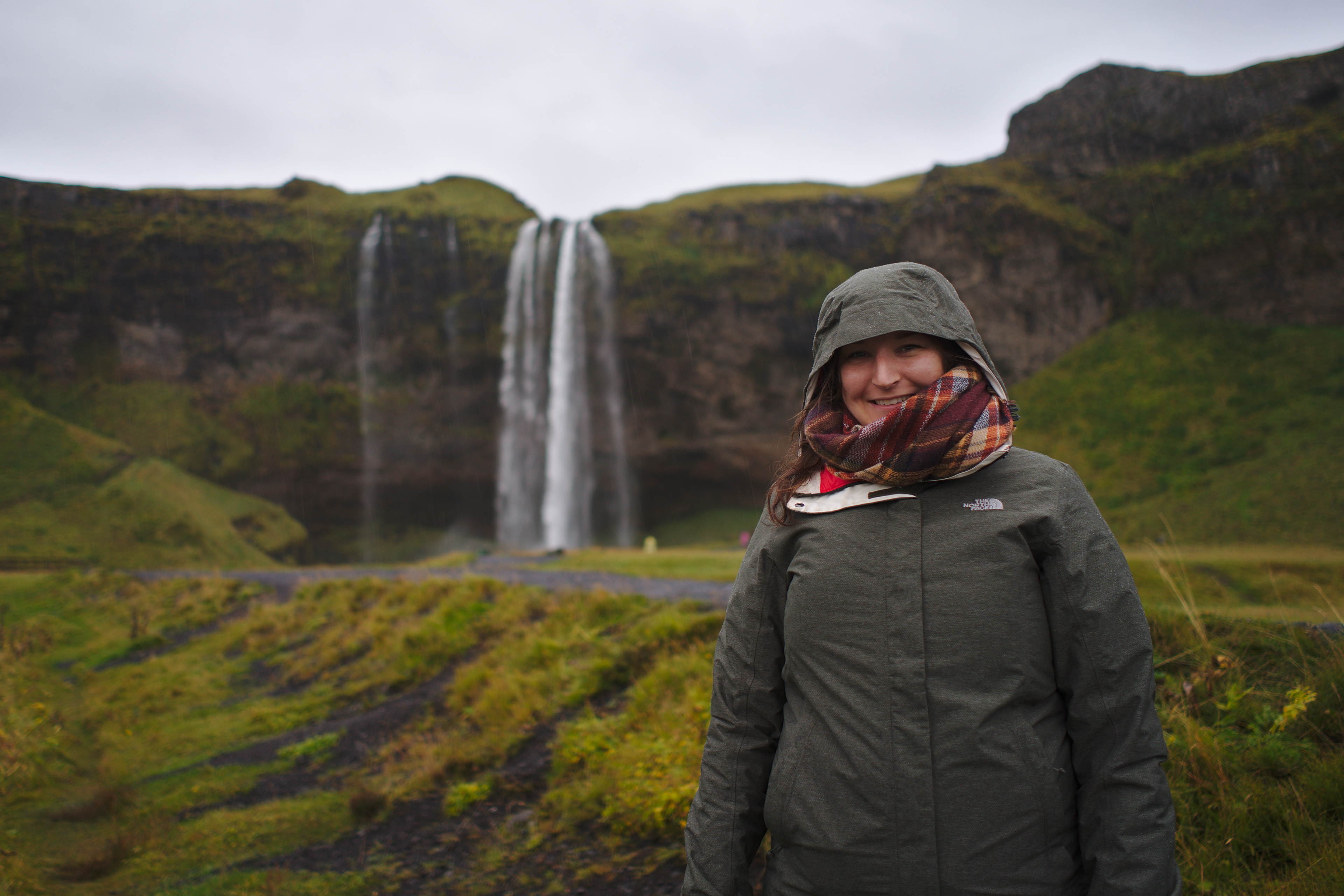 There were trails all around the falls, we explored them for a short duration but wanted to get on to Skógafoss as early as we could. As it rained it seemed as if there were new tiny waterfalls forming each time you'd re-examine the landscape.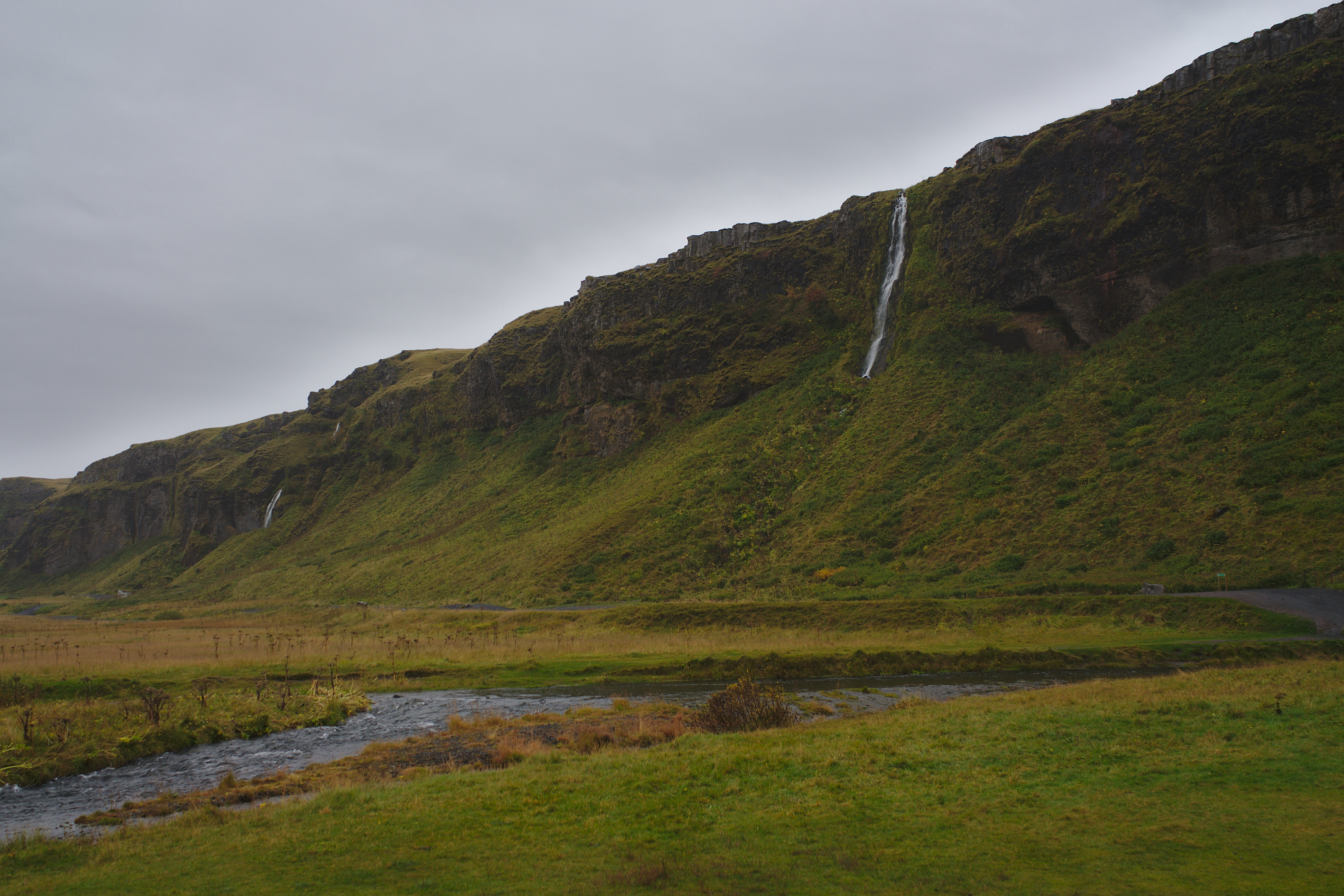 Skógafoss #
From a distance you can hear Skógafoss. We arrived and immediately hustled up the Skógafoss stairs, for an incredible view. We listened to an obstinately loud ram belt out insults at the people viewing the falls from a cliff opposite for a while. Then observed that hikers were several kilometers inland and elevated from the position we'd climbed to. We then explored the falls: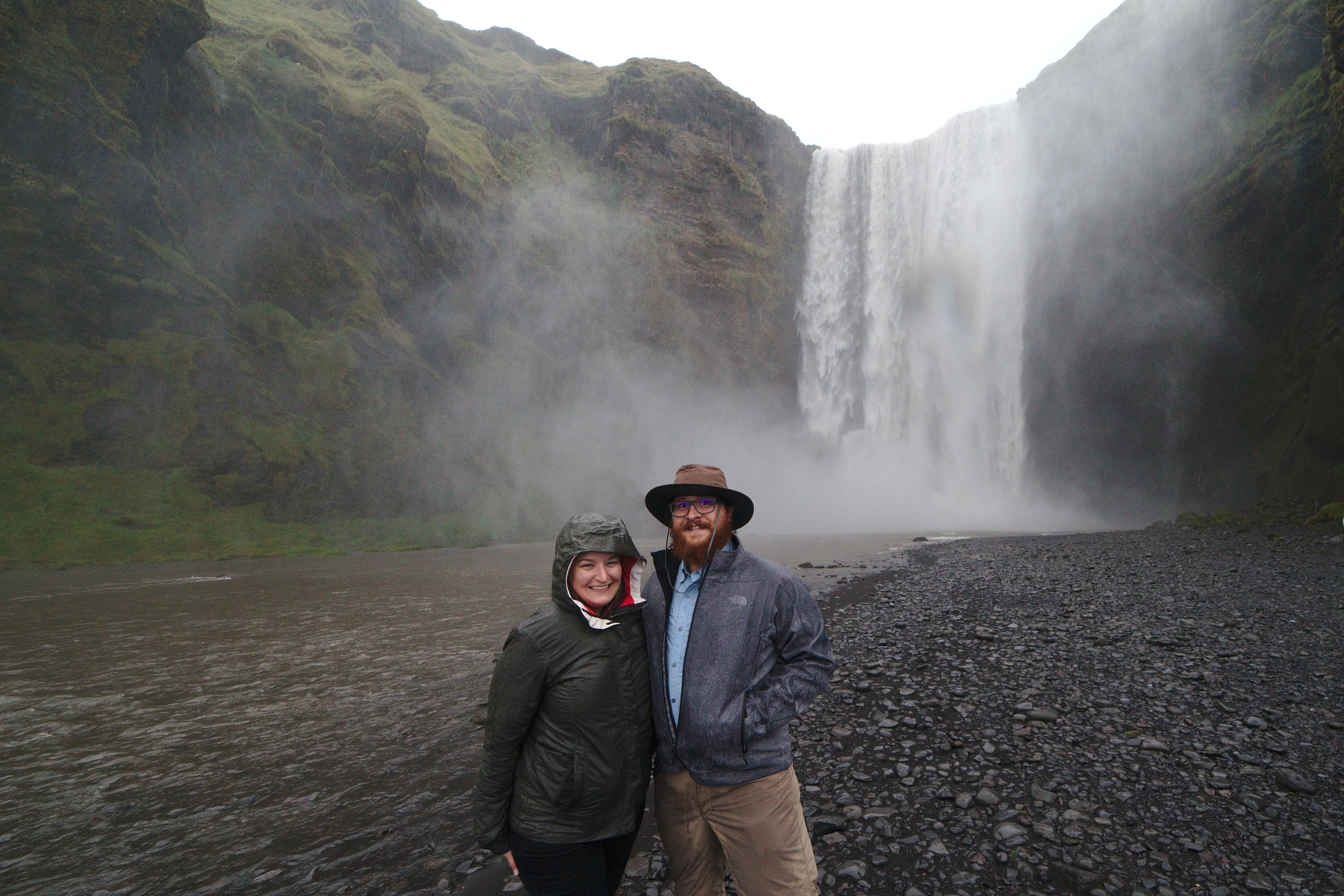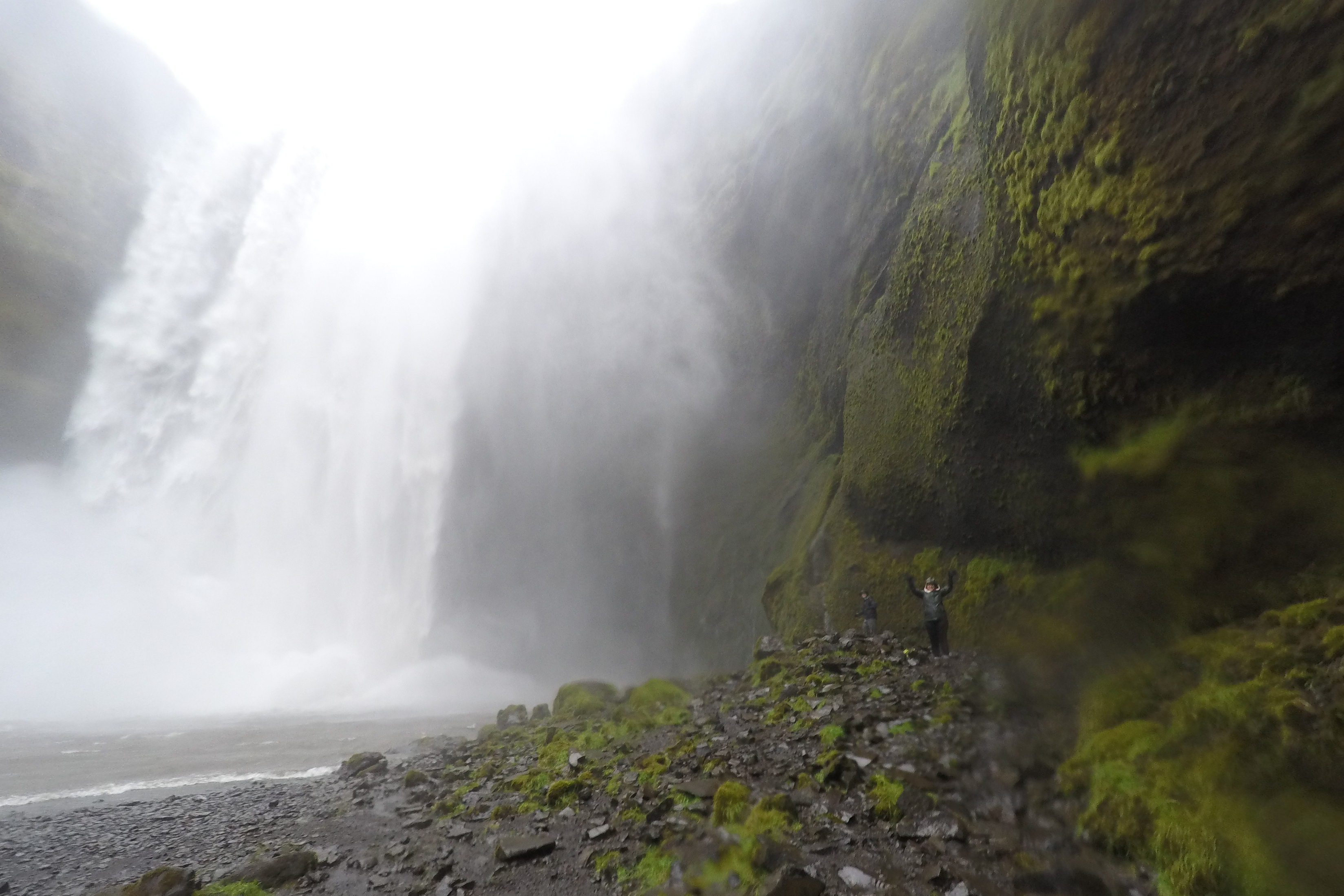 Vik #
We then drove into Vik and had a pretty good meal at Halldorskaffi. In talking to other explorers we heard about two interesting spots east of Vik, and were easily swayed to update our plans and explore a little further east than what we'd first anticipated. Before leaving town we stopped into Vik Wool and Ashley has experienced "not buyers regret" ever since for not committing to this 450 USD wearable blanket: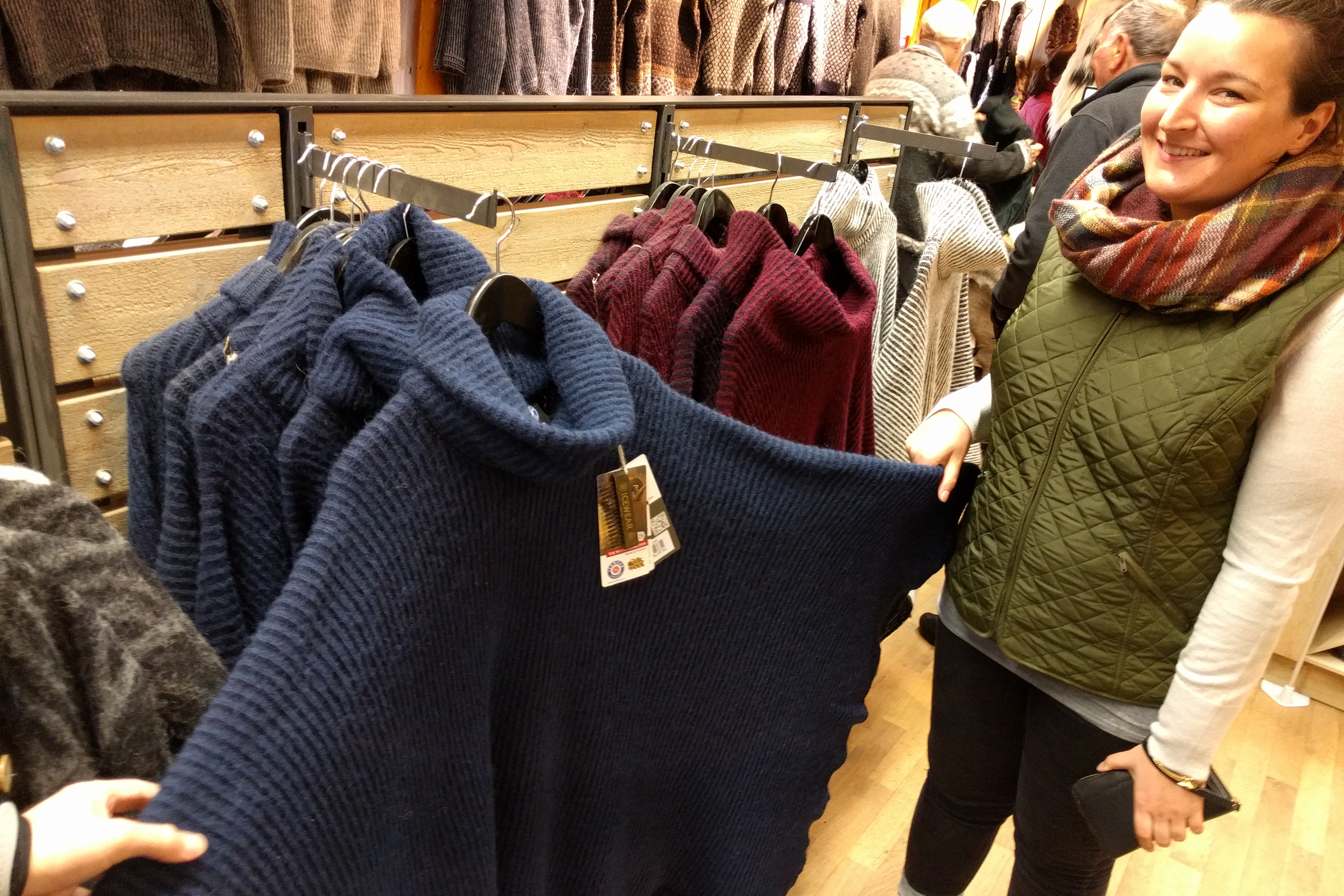 Hjörleifshöfði #
After stocking up on more Appelsín we began on our first eastward suggestion. We took kerlingardalsvegur north towards the Þakgil campgrounds, where we found out HBO filmed Game of Thrones the "Fist of the First Men" near the Höfðabrekkuheiði hiking trail at the Mýrdalsjökull glacier. Our little 308 was struggling so hard to deal with the terrain as we ventured north that we didn't get as far as the Þakgil campgrounds. As we turned around and ventured south I captured one of my favorite and most simplistic photos during the trip: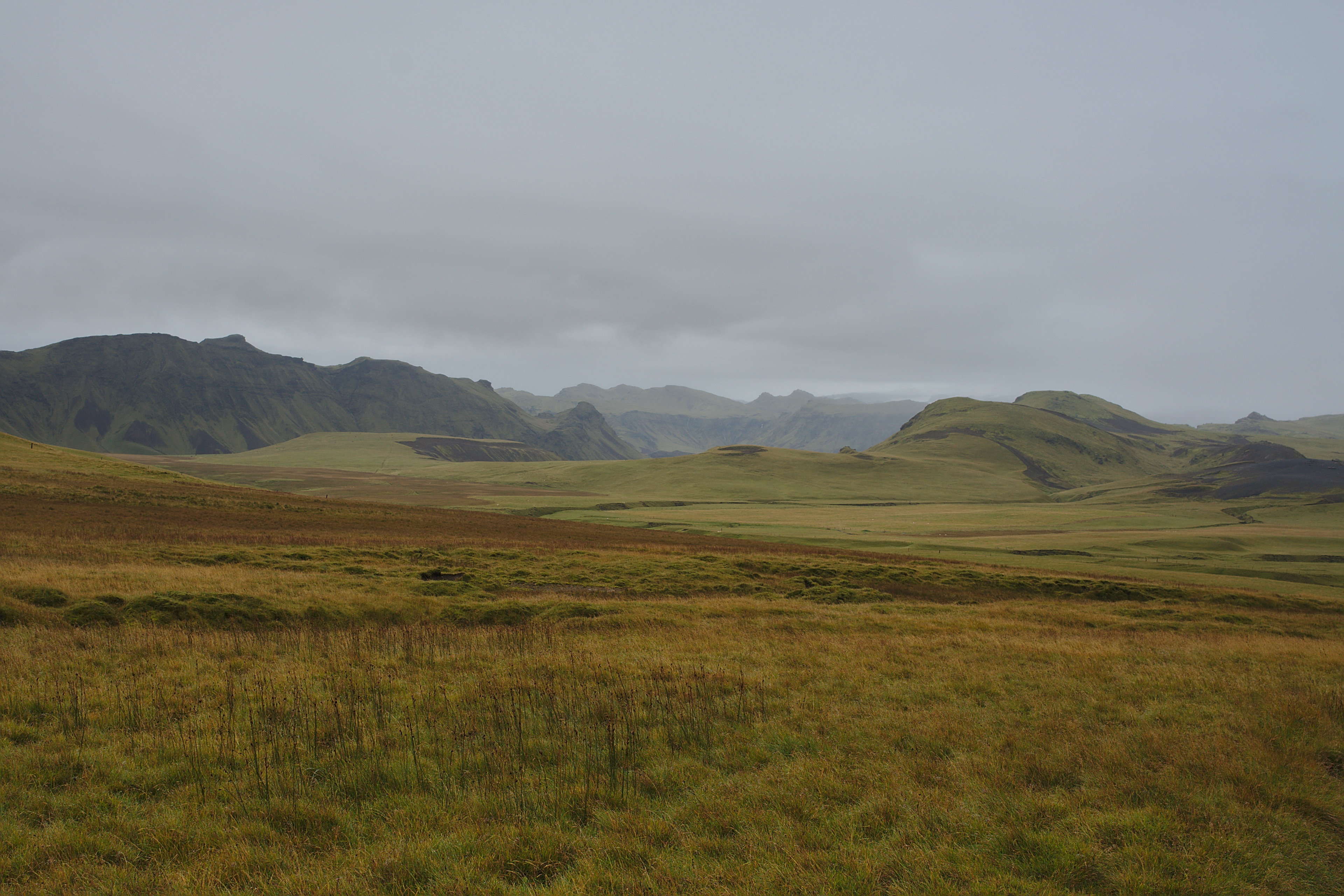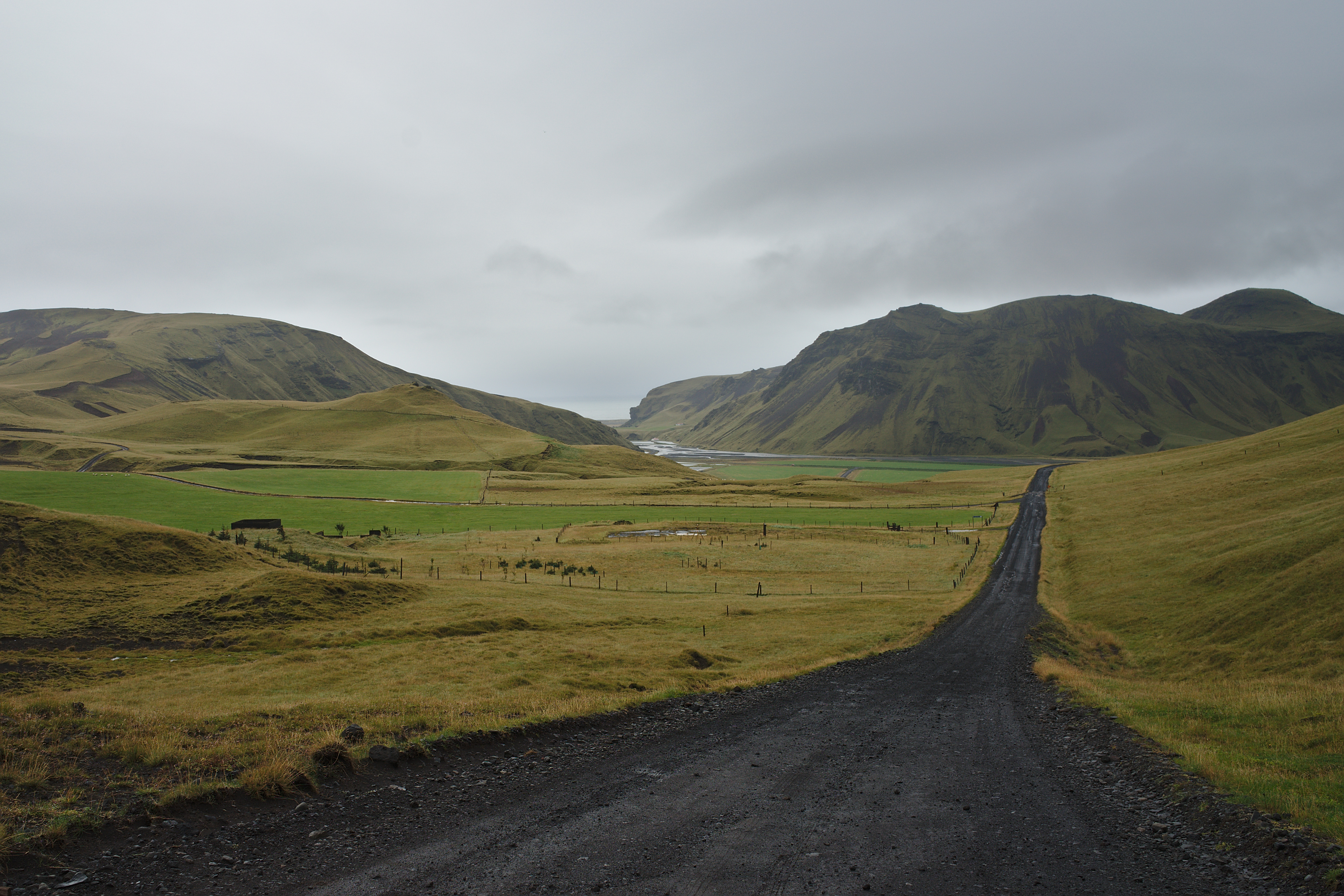 Heading a little farther east we explored the second suggestion from our lunch gathering. This was Hjörleifshöfði, a large rise on the coastline that contained caves and other strange things to explore. Again our little 308 could not handle fording over the several inches of flowing water required to get close to the mass, so we parked and walked our way around. We saw a lot of wild sheep that seemed preposterously far from any farm that we'd seen before. Even being this far away from mainland we had excellent service and discovered Iceland's interesting policy on free roaming sheep, as well as their annual roundup called Réttir.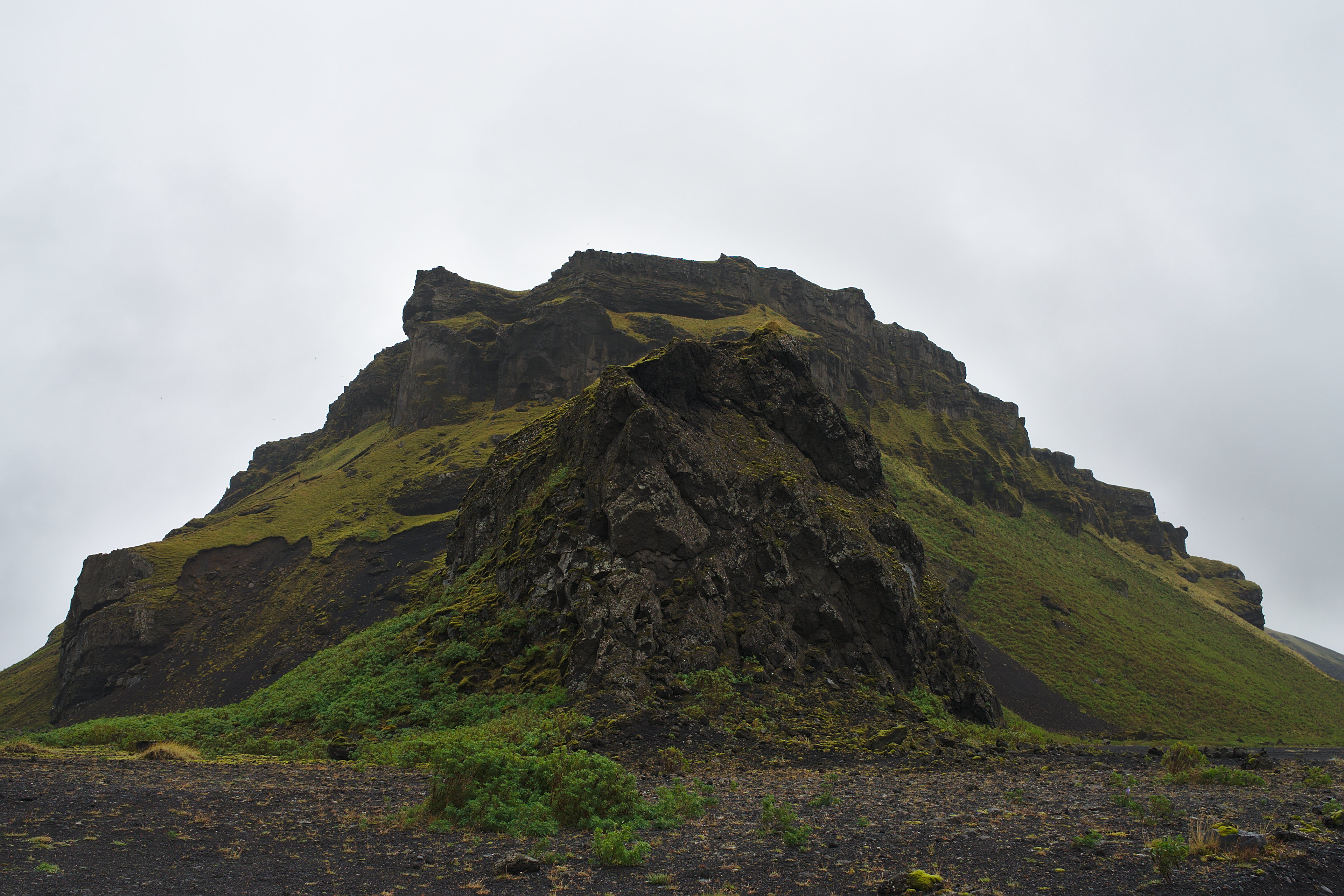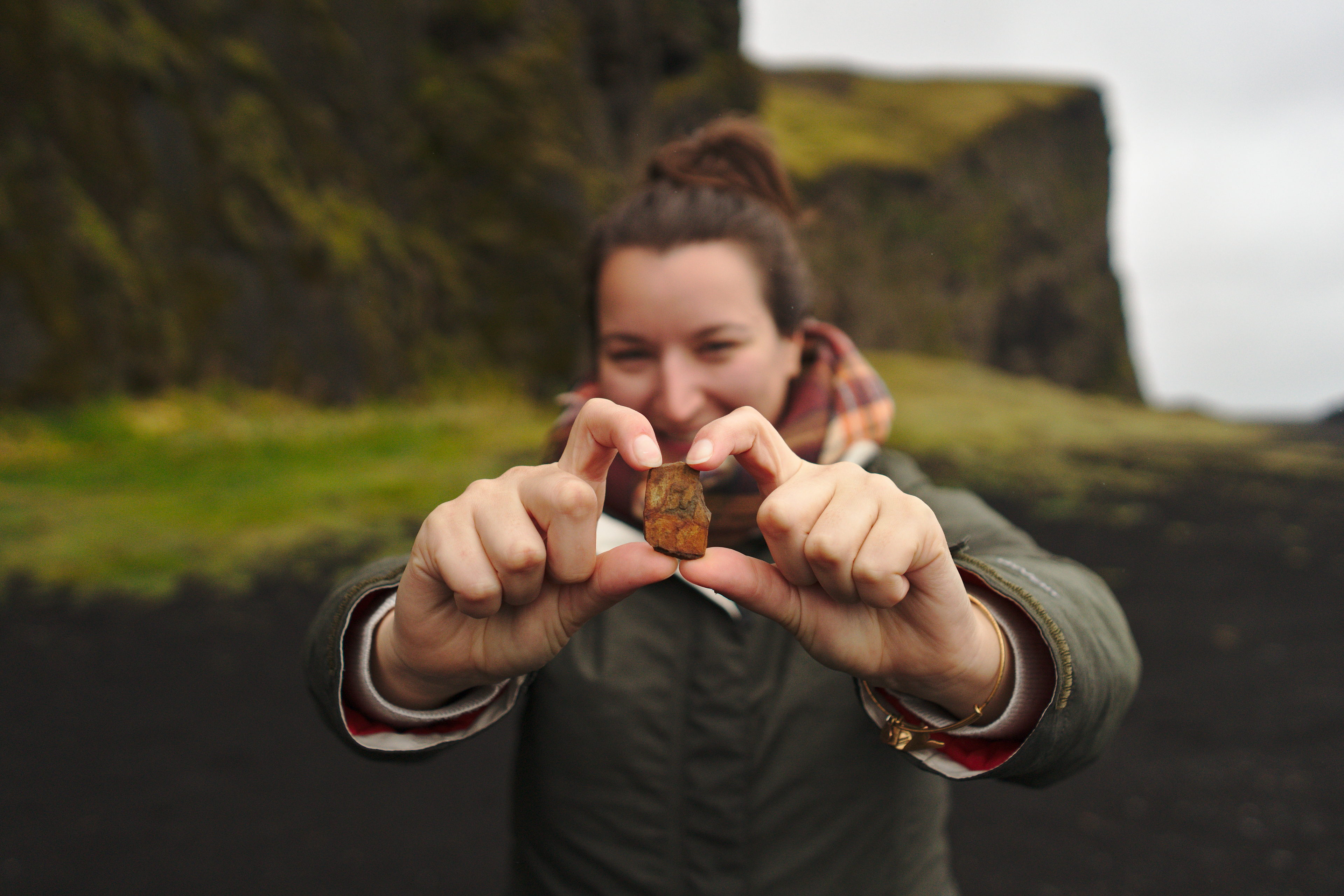 We were intrigued to find that the caves on Hjörleifshöfði were clean of refuse and had stacks of wood drying out for people to burn. It seemed like an incredibly cool place to spend the evening with a group around the fire. The cave was certainly spacious enough for a large gathering: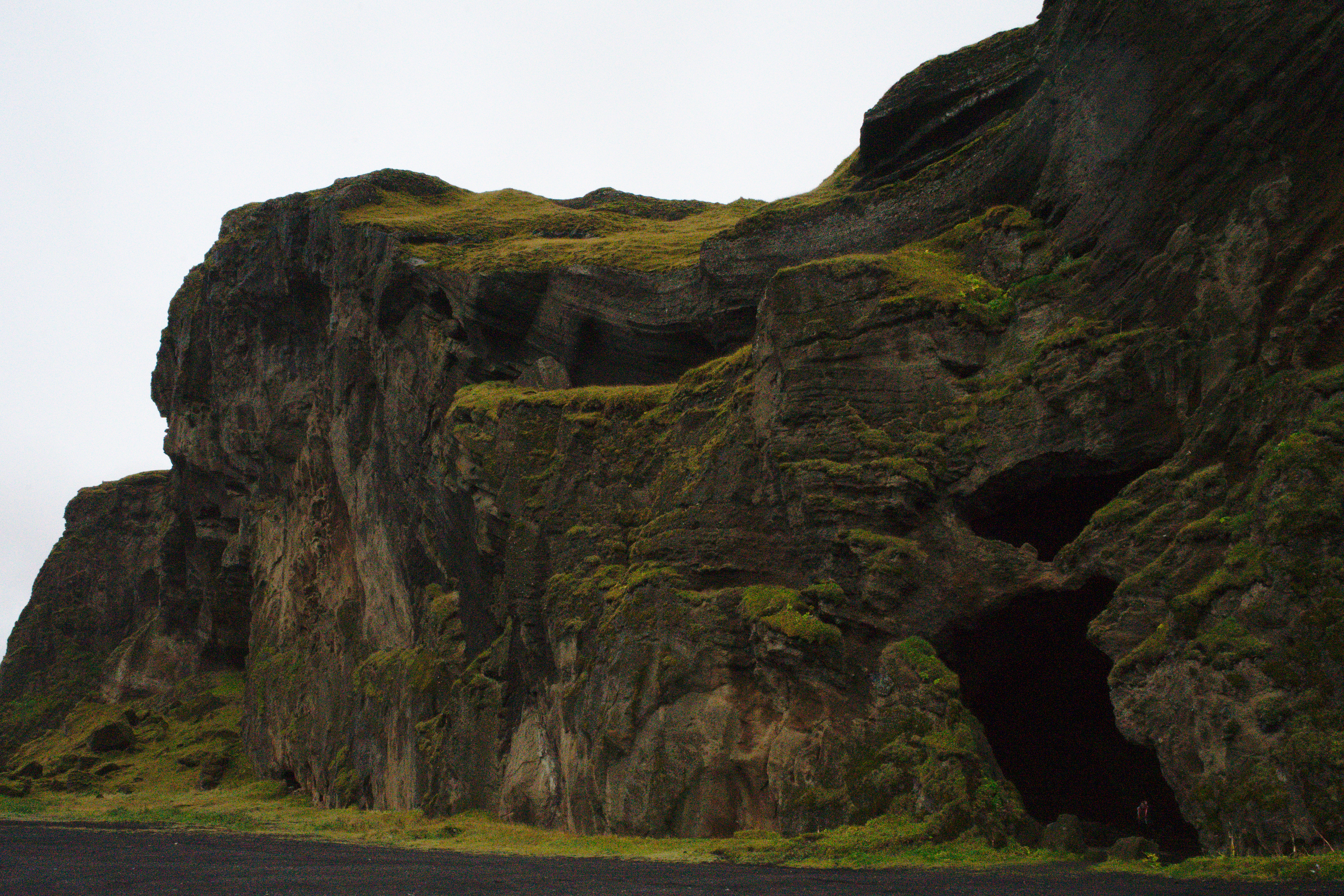 Vik Beaches #
As this was as eastward as we'd planned to explore, we headed back towards Vik so that we could experience the famed black sand beaches. I'll try to avoid posting photos of Ashley's handwriting (because she keeps saying she's going to blog), but as a small mention, she had pre-made tiny labels for many of the places we'd planned to see. We found it was a lot of fun to try to find an iconic frame to capture the labels within:
The church parking lot above town was exceptionally enjoyable to observe from. The highlands of this area surround Vik, making the entry to the city an impressive delta in elevation. We watched as clouds rolled around the deeply contrasting greens and blacks, while listening to the waves crash ashore. We then moved downwards in elevation to explore the beaches themselves:
Watching the water crash against the black sand, which was fairly coarse, kicked up black pebbles to form a mesmerizing rain of monochrome conflict. We stood and watched for a long time.
Reynisfjara Beaches #
Then we made our way to the Reynisfjara Beaches, which are just insanity. The things that mesmerized us a Vik were all more extreme, and there was a compliment of many more interesting formations (basalt stack columns):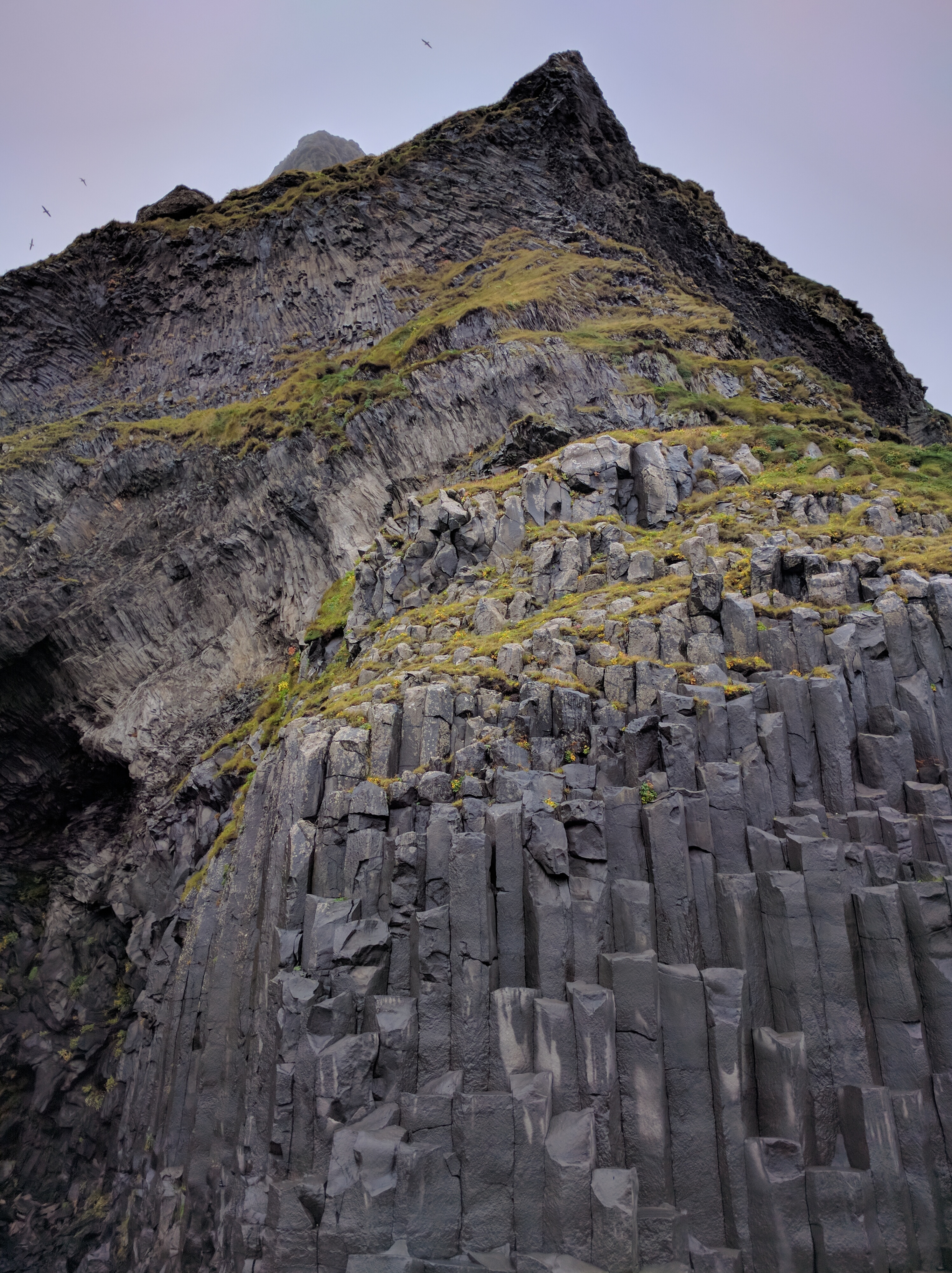 And again, the mesmerizing waves throwing rocks in the air as the lapped the shoreline:
Unfortunately, despite being warned about "sneaker waves":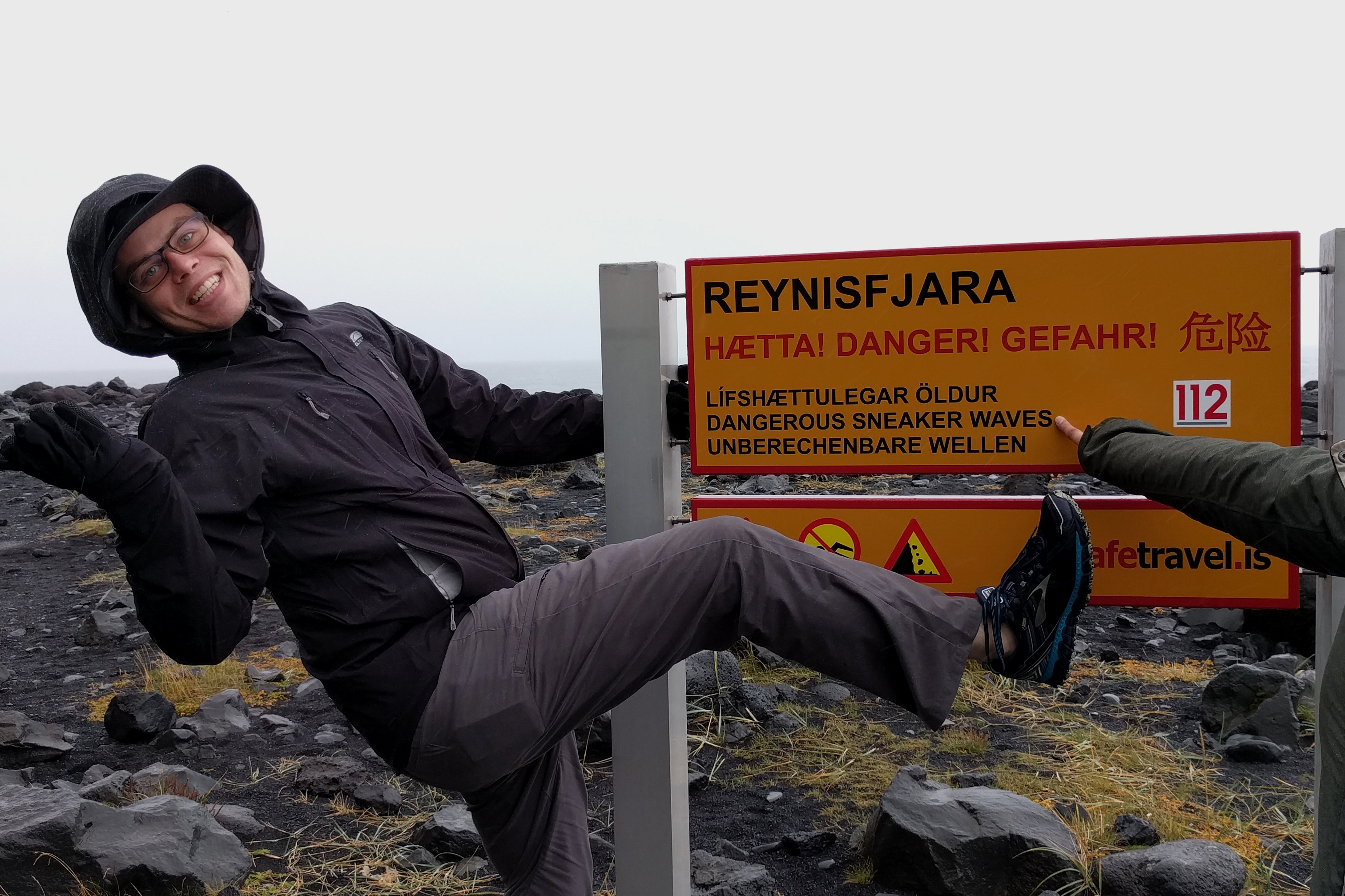 Both Greg and I managed to fully submerge ourselves up to our knees: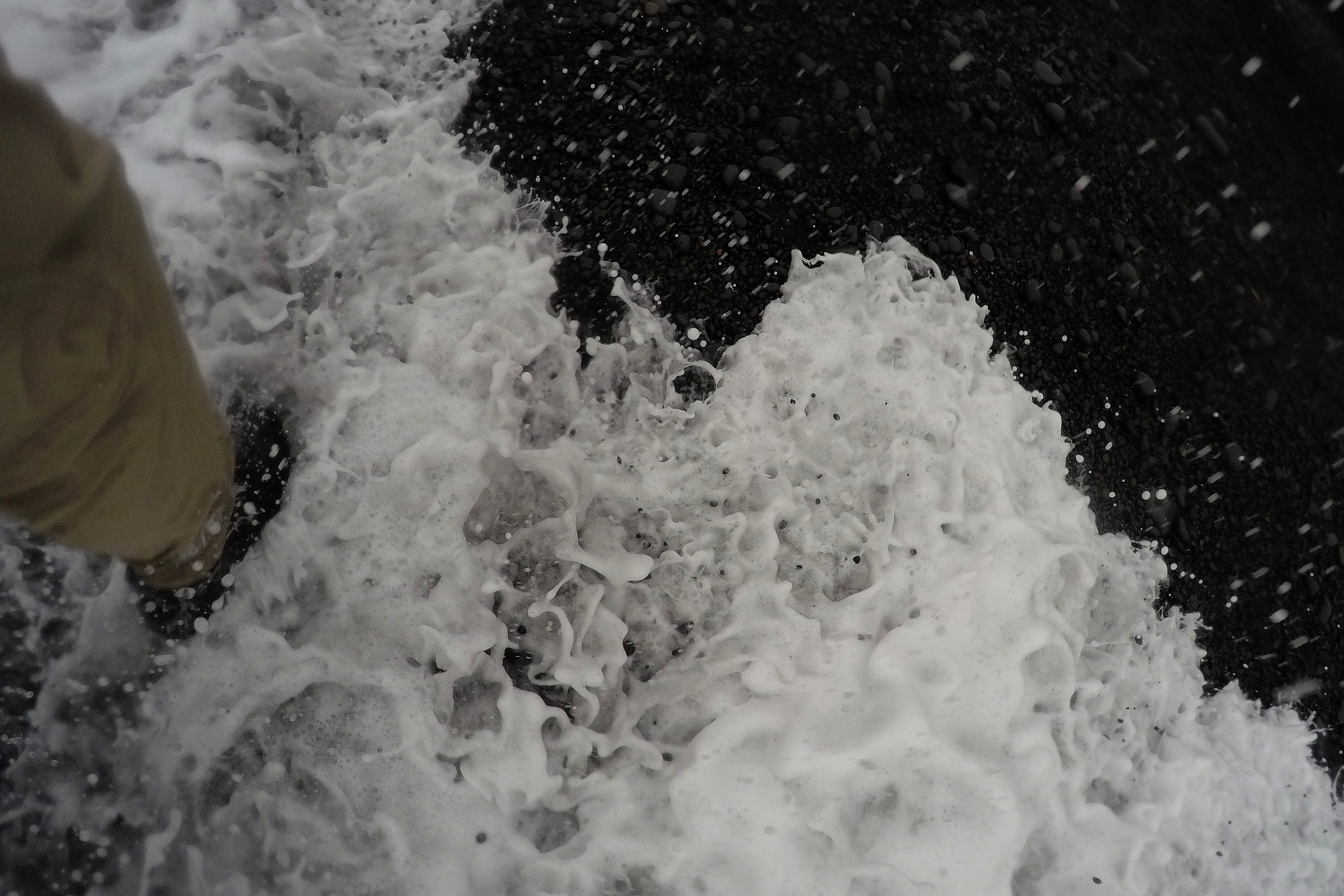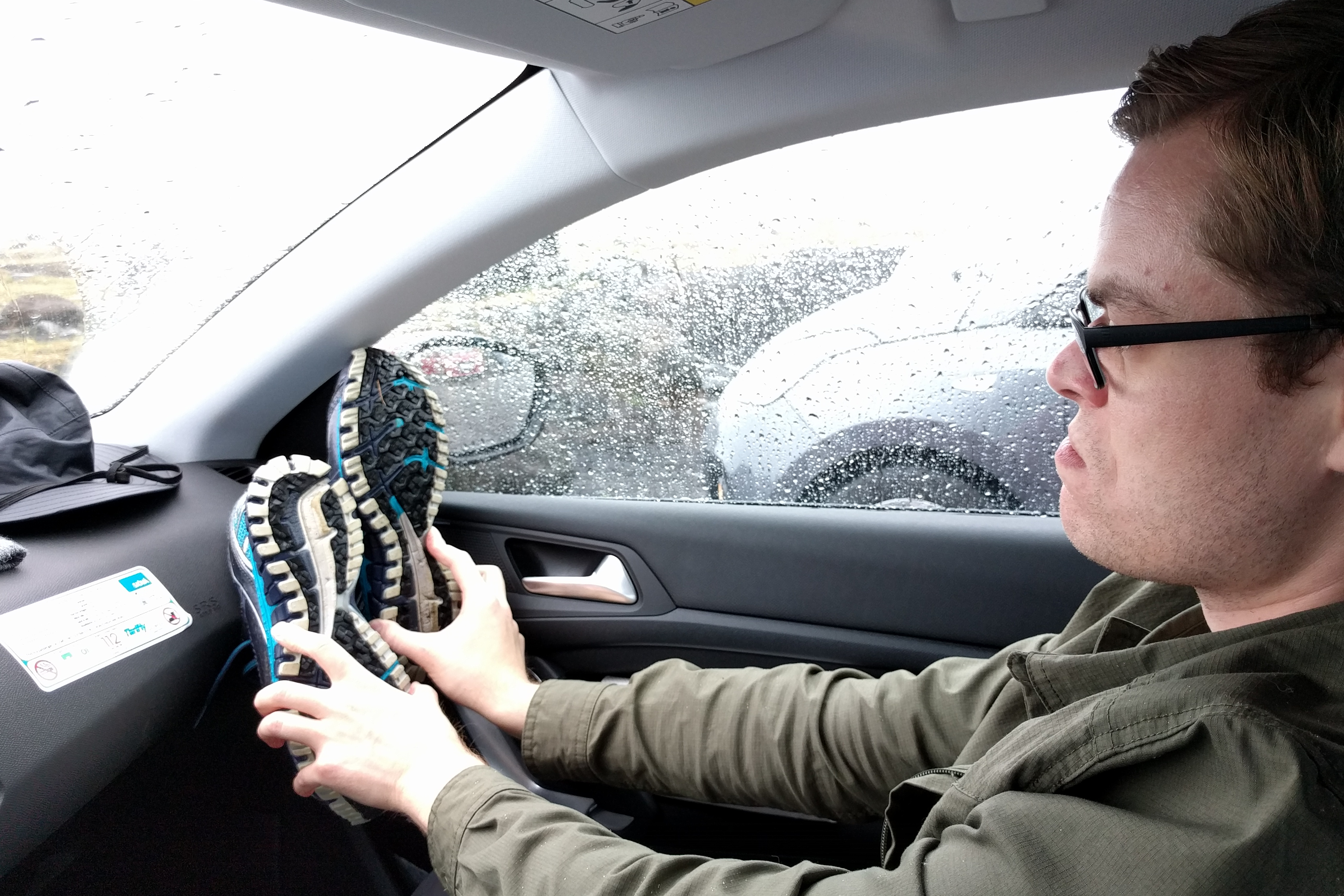 Dyrhólaey #
We moved on from the beaches once our footwear was dry enough to manage. We had seen photos of Dyrhólaey but nothing prepared us for how incredible it would be to explore. You take this incredible drive along Dyrhólavegur and there are multiple points to stop and look out from. We started on the east most portion of the coastline, looking back towards the Reynisfjara Beaches. When we were parking we could hear this loud periodic whump, when we got up to the edge we saw this solitary stone jutting out of the water that the sea was slapping over and over again. Here we all scrambled up and over many large rocks, getting close to the surging ocean waters: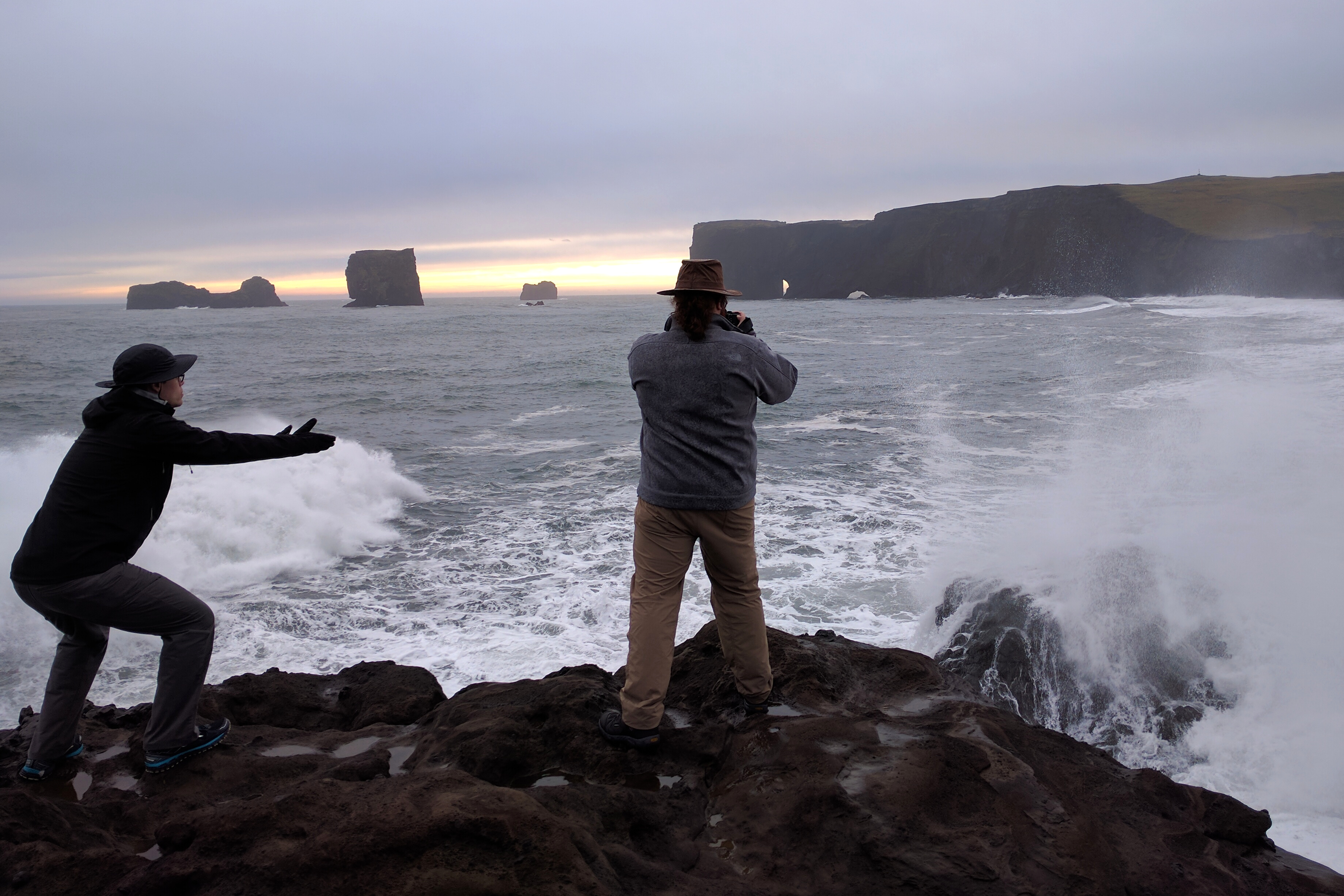 You can see Greg is conjuring a big one. It was the first time that we really started acknowledging that Iceland lets you explore its wonders without any frill for reminding you to be safe. We'd never have been able to get as close to the waters in the states, you'd have been barred from going anywhere near something this raw, beautiful, and dangerous. In the states this would likely be locked off, or covered in handicapped accessible ramps and soft-drink machines. It was wild to be able to park a vehicle conveniently and meander towards your death without any neon signs, klaxons, or waivers being handed out by lawyers.
I got too close and a gigantic wave threw salt water all over me and the camera, so I scurried back to the vehicle to wick away any salted moisture from the electronics I could.
After drying the salt water, and my own tears of fear for fear of ruining our new camera. We set out for the Dyrhólaey arch. The sun was setting on our day of exploration, and we'd hoped to get one more look at some breathtaking nature before trekking all the way back to the capitol. Turned out that looking west from Dyrhólaey at the end of the day, with the sun setting, is one of the most breathtaking things we've every seen in our lives: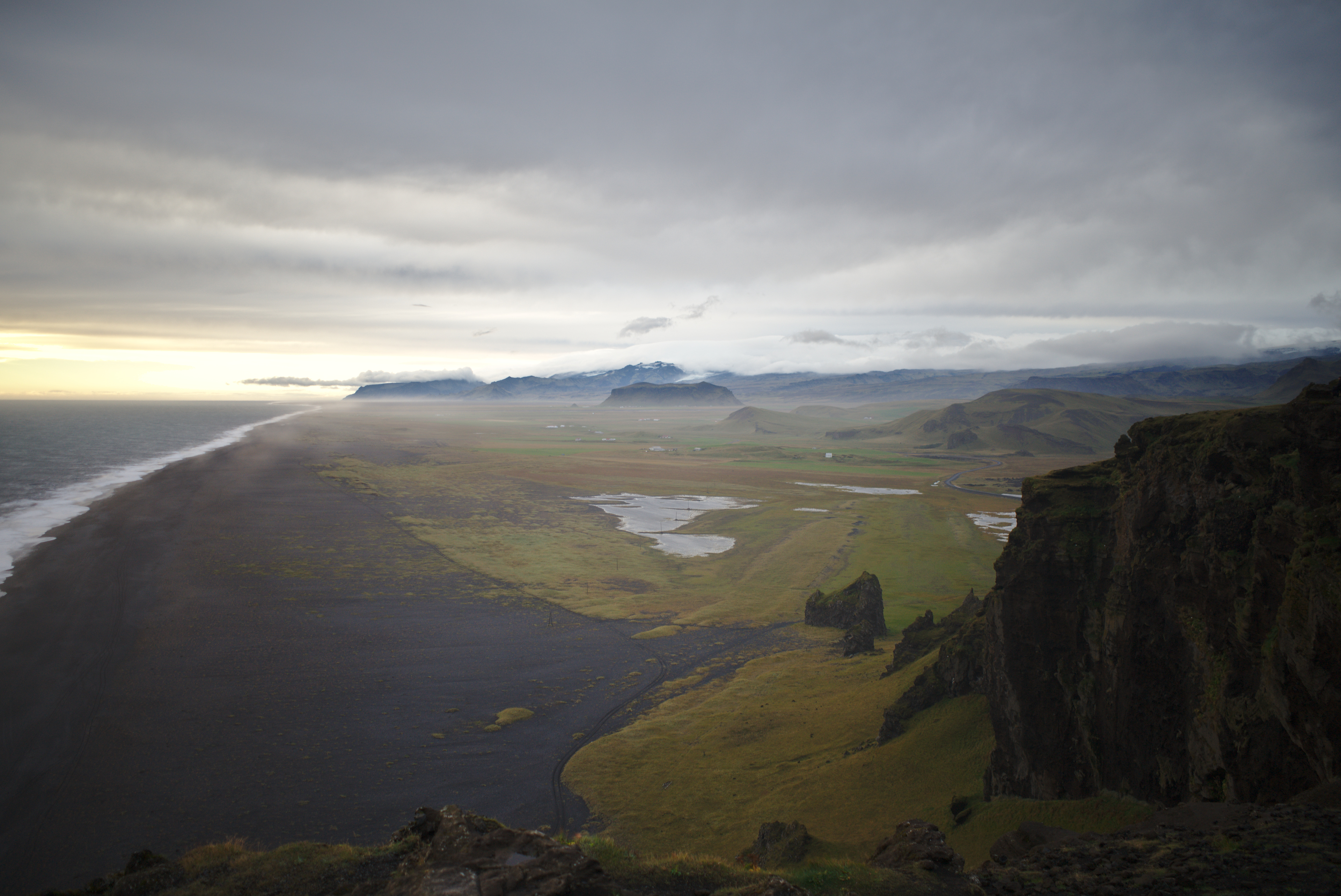 I'd come somewhat prepared with camera gear, bringing a strong neutral density filter for what I was expecting to be an incredible all around prime lens only to be betrayed by the lowly quality of my tripod. I tried a couple long relatively long exposure shots while I watched enviously as another photographer was doing the same thing with far superior stabilization. The shot above was done by holding as steady as possible onto a concrete pillar, but try as I might there was no way to damp vibrations enough.
Turned out that the photographer was really fun to talk to, and we ran into each other a couple more times during the journey. His skill and dedication for hauling that heavy gear paid off quite well for his journey, as well as his long exposure of the same scene. Pardon the really warped depiction, this was the only capture we had of both of us, at the time we lazyd he or his gear were going to spill off the cliff in the high winds. Thinking we'd commemorate his brave existence by including him in the periphery of a shot. Correcting the GoPro lens removes a lot of edge content, in this case would remove him entirely. So enjoy the fishbowl effect:
Once I stopped trying to capture the moment and noticed what this moment actually was, I was taken aback at how insanely beautiful and unique this opportunity was. We had perfect light, fantastic visibility, could see for miles as the mist rolled along the coastline. It was truly a breathtaking experience to watch as the sun set.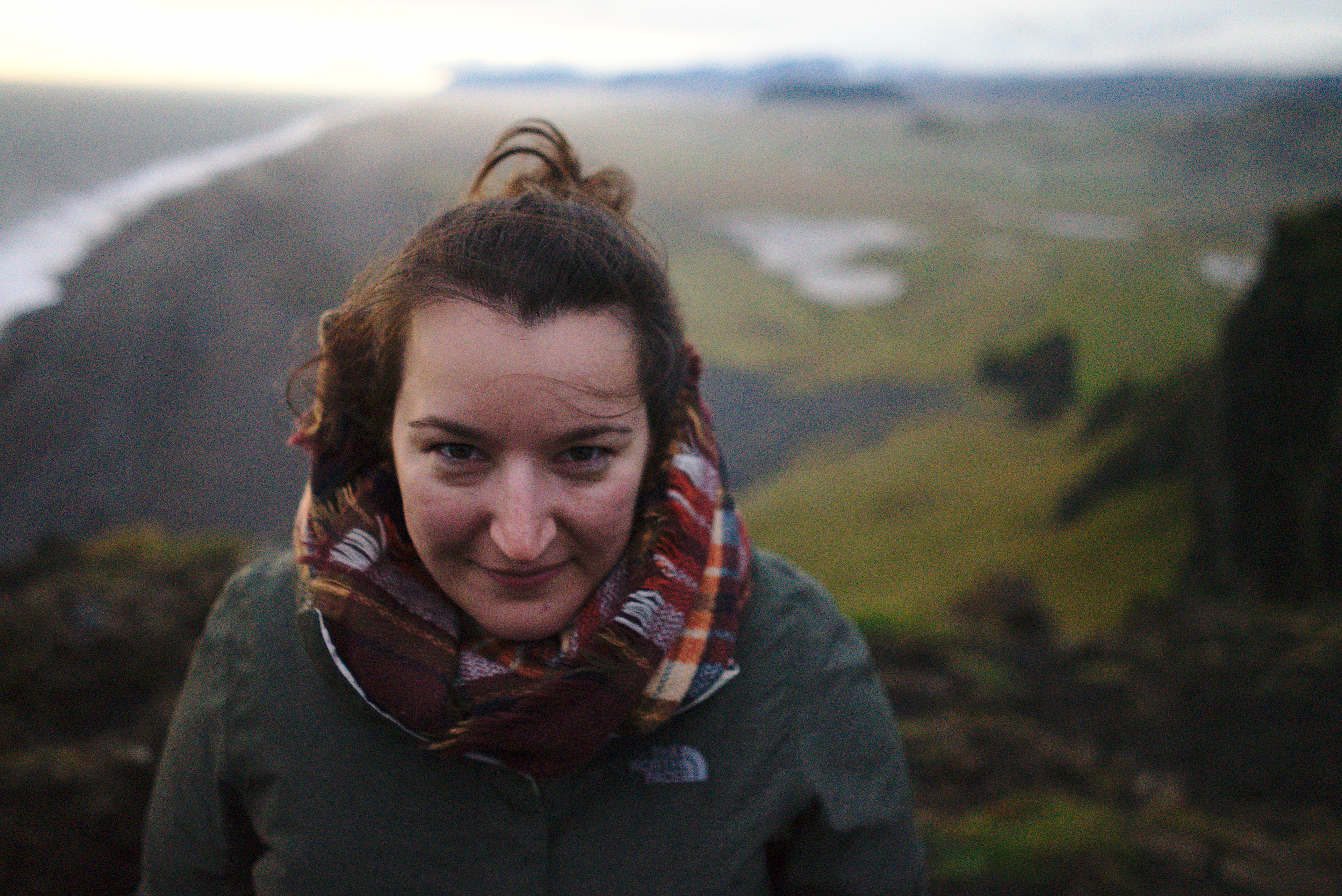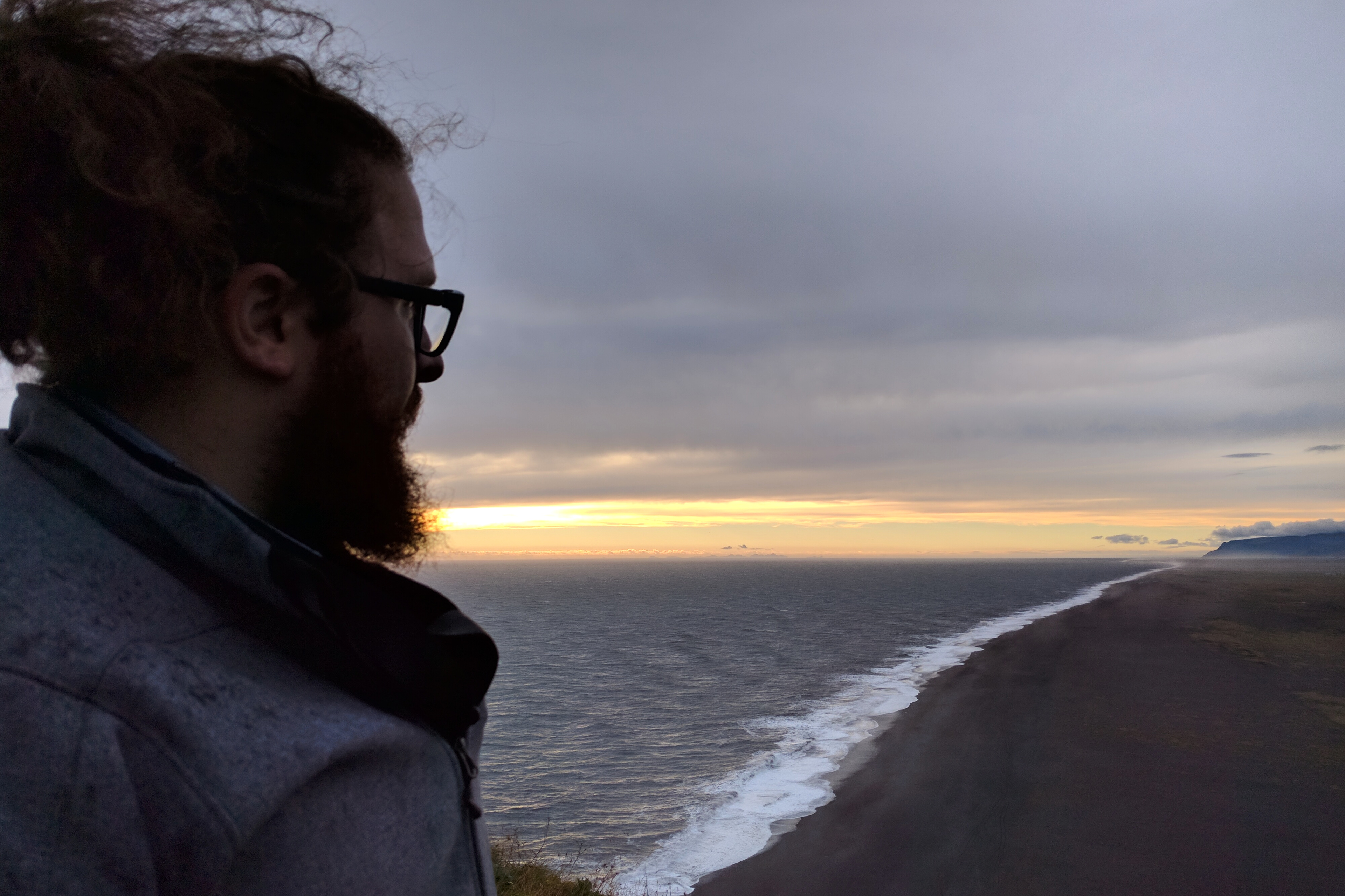 Not wanting to leave, but realizing that there was so much coastline we had scurried past on our way east. We lazyd the best way to experience the Icelandic highlands was with the sun shining directly on the west face of the coastline as it set.
We stopped many times, catching long exposure photos in the waning light like these:
And drove along catching videos like these (pardon the noise, might want to turn down your volume):
Eventually finding some friendly some horses:
And ending up back at Seljalandsfoss to watch the sun finally set. However all my pictures have impractically dressed Asian women wearing neon ponchos, so you'll have to trust me vouching for the beauty in the waning day.
If ever you get a chance to spend a day in Iceland, we'd heartily suggest this route. In the states we would have driven twenty hours to see just one of the wonders we experience several times in this single day. There was so many incredible sights packed into just a single day of exploration, we'd only been in the country for 36 hours and it had far surpassed any of our expectations.
Day Three: Þingvellir, Bruarfoss, Gullfoss, Kerið #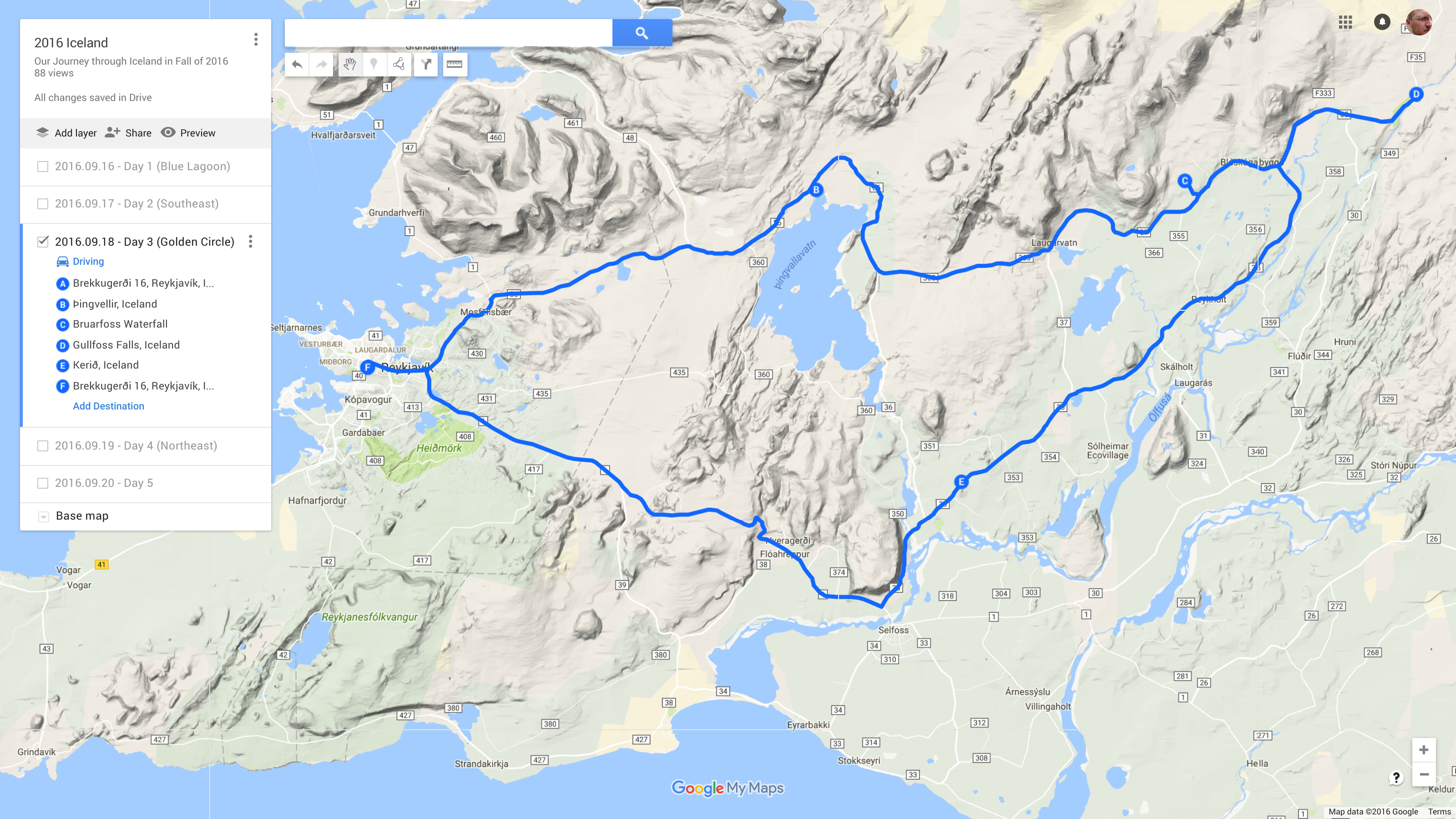 We decided to take it easier this morning than our very early rise the day prior. We headed into Reykjavík to find The Grey Cat. It looked quite lovely, with a fun menu, but seated so few that wouldn't have gotten to eat in a reasonable time. We walked on to Lækjarbrekka and were glad we did. It was a complete change of atmosphere, but was well worth it. The Arctic char was incredible, and there was a lamb dish not listed on menu that was the best dish of our time in country. Afterwards we explored a bit, walking around the shopping area along Laugavegur. This part of the city is really trendy with all kinds of unique places to eat and acquire goods. We then hopped in the vehicle and started heading north east towards the popular Golden Circle. This interestingly required the traversal of a preposterous amount of roundabouts on the way out of town (I think 13).
You immediately see why the Golden Circle gained its name, the plant life is low to the ground and the rolling hills provide a depth of texture for the golden reflections. There was a stark difference between the mainland area compared to the highlands of the day prior. We hadn't seen many trees the day before, and the only trees we began to see now were in the distance of the national park.
Þingvellir #
The entry from Reykjavík for Þingvellir National Park is precariously on what appears to be a rift line that cuts for a long distance. The entry is free, with only minimal cost to purchase a parking pass. There are several parking spots throughout the park, and it is wide enough that to cover it in a single day you'll want to move from place to place in your vehicle. We took some time to look out over the park from the platform at the park entrance, it was interesting to examine from an elevated perspective before you go deeper into the park.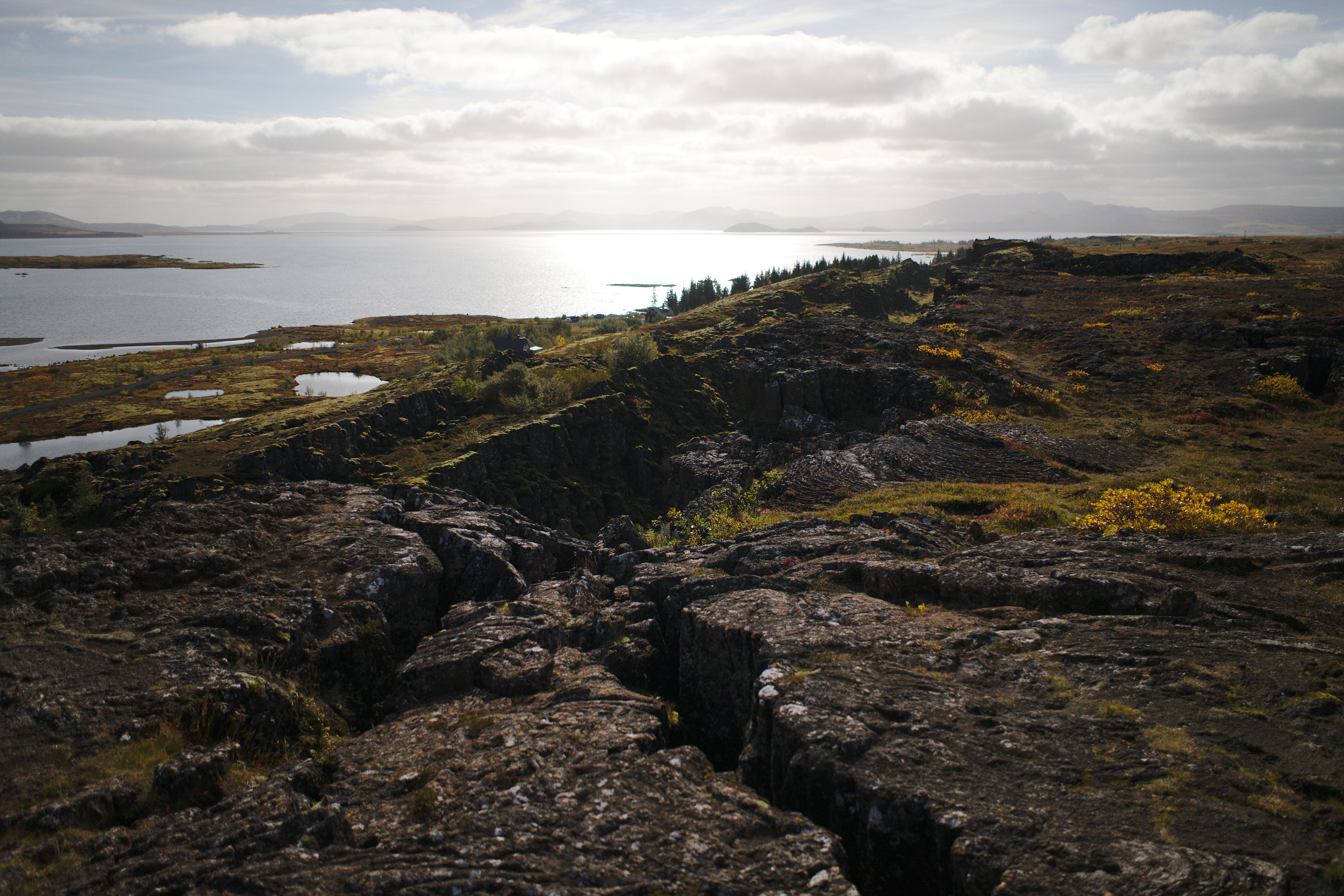 We explored the park for a little while, looking at Öxarárfoss, which was much smaller than the falls of the day before but surrounded by jutting stones and beautiful, thick, and golden colored foliage: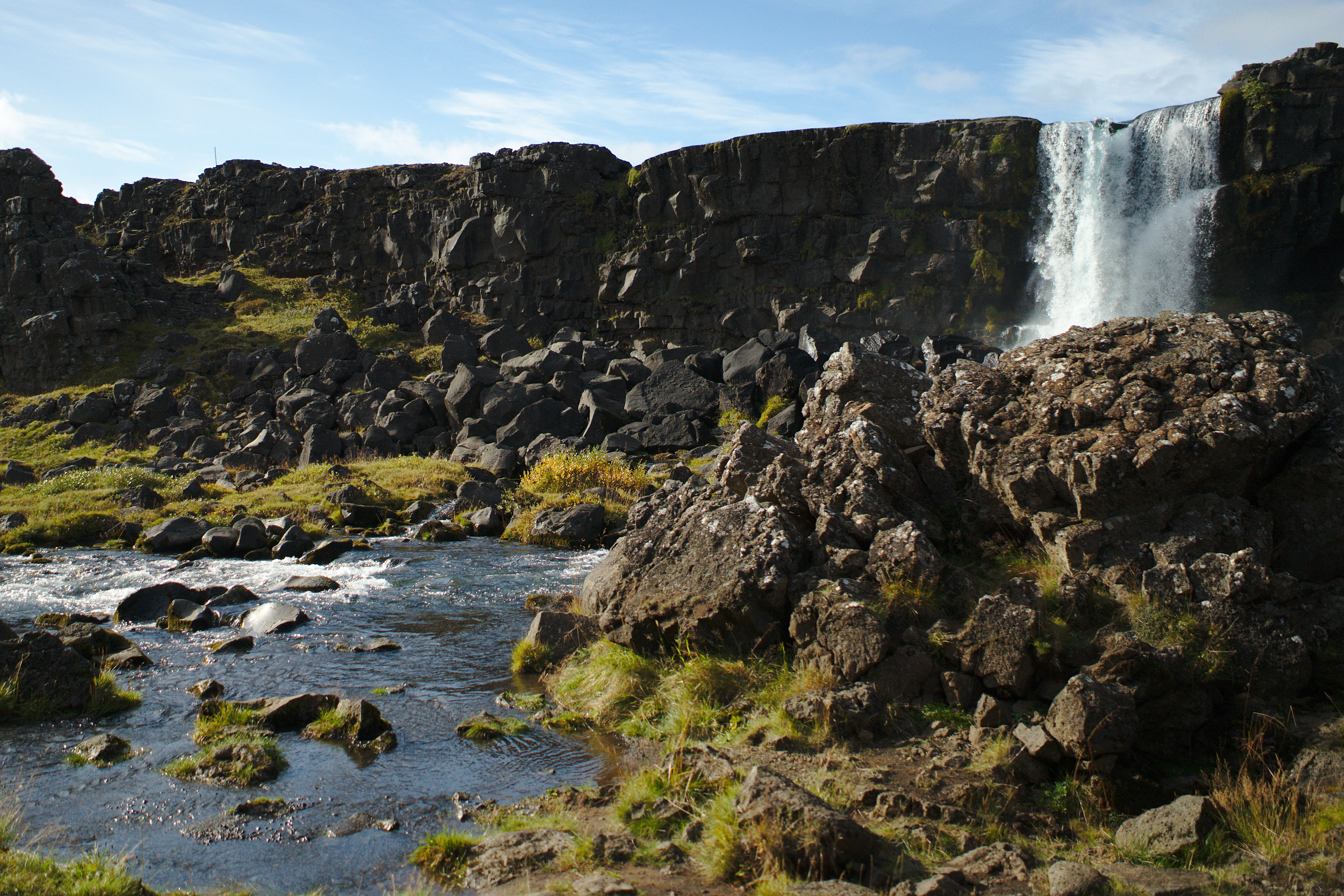 Þingvellir is considered a rift valley, and is unique in that you can observe the continental drift between the North American and Eurasian plates. Þingvallavatn is the largest natural lake in Iceland, and as you venture towards the northern tip of the lake you find the Silfra fissure where you can actually dive between the plates. We felt we were on a time crunch to see other things before the sun set so we opted not to dive, however upon return plan to participate. We explored alone the north eastern lake shore and found several spots that we thought were really interesting. The color of the foliage is so surprisingly gold, despite what you've read. You'd think that the aggregation of the plants from a distance gives the gold effect, but when you get down and close it seems every component has its own unique and vibrant contribution.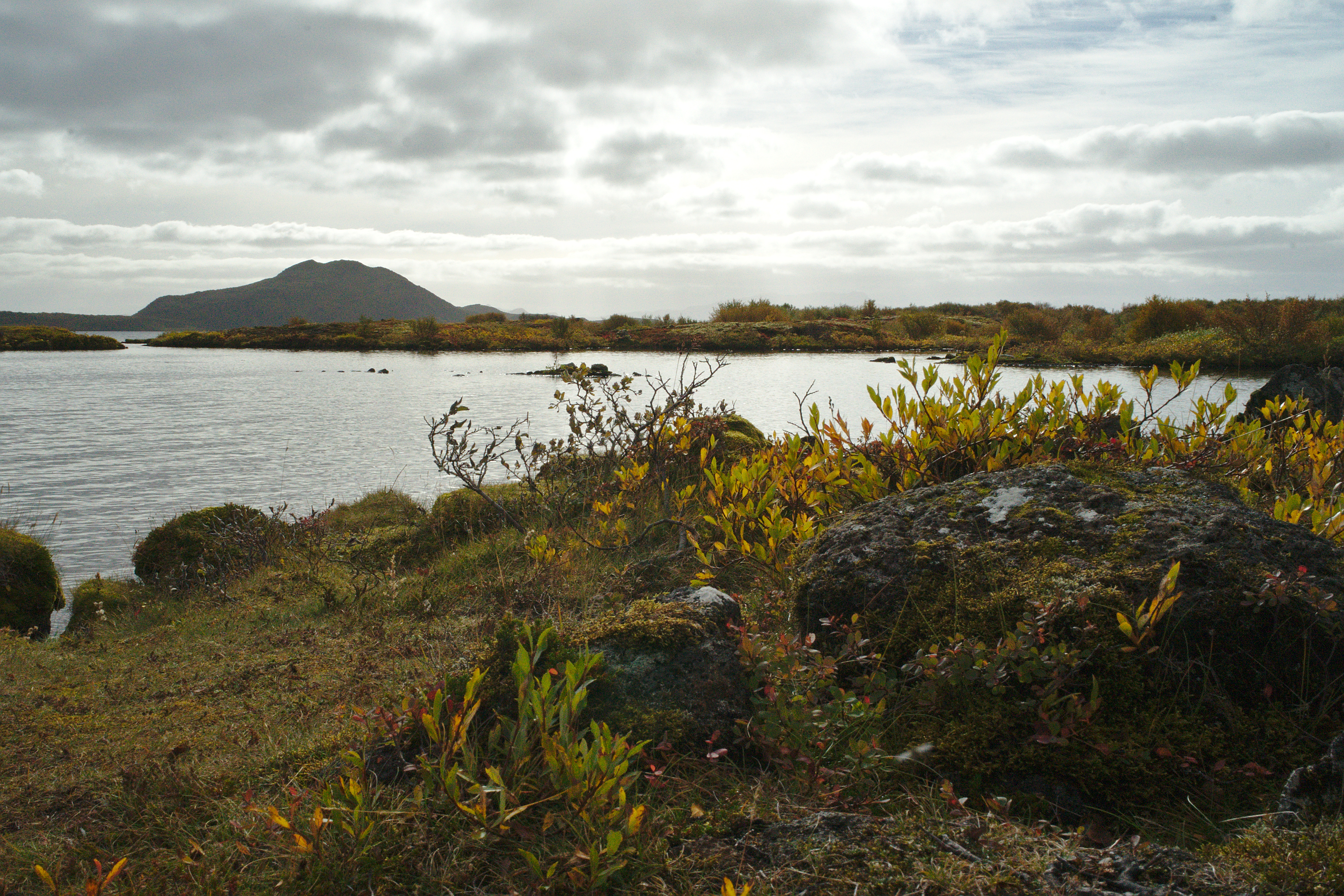 I made Ashley hold still for a longer exposure shot, which resulted in a car full of German men excitedly yelling at us to inquire about the quality of the fish she was catching. Once we let them know we were not fishing they scooted off embarrassed for yelling.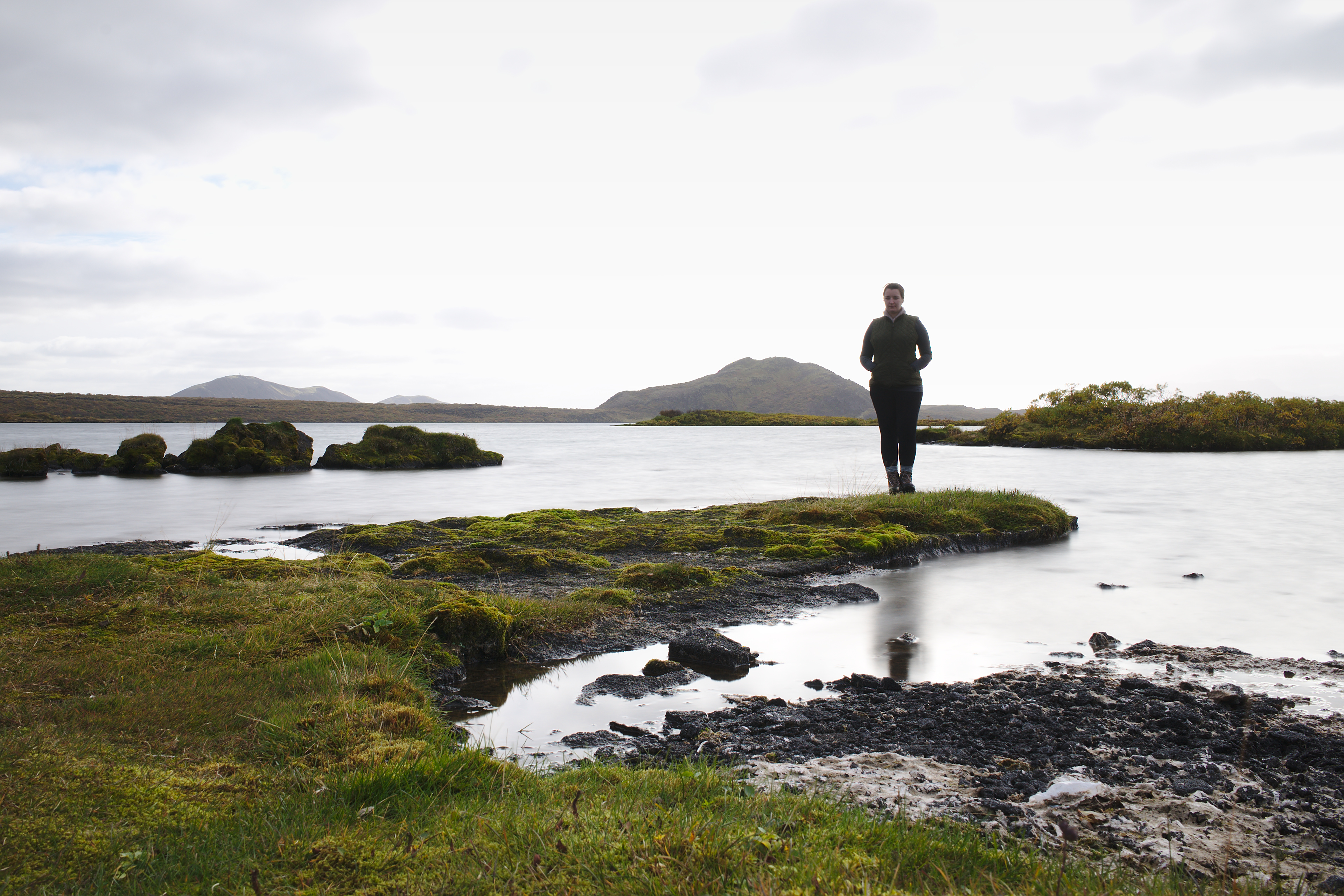 We meandered around the park a little while longer before exiting south east from 361 onto 36. From here we had our sites set on a waterfall that we'd heard would be incredible if we'd be willing to search for it a bit.
Bruarfoss #
Bruarfoss, unlike many other popular falls, doesn't have a parking spot right in front of it. We'd seen a picture of it from another instagram users feed days prior, with a reference to thanking an Elizabeth Knopf. Turns out that it wasn't very easy to find the falls and Elizabeth had written a series of instructions on her review that really enabled us. We were awkwardly driving around these fairly rugged roads for vacation homes and passing another couple in a camper van over and over. Eventually we both stopped and realized that we were following the same review guidance, then decided to head out together, following the sound of falling water: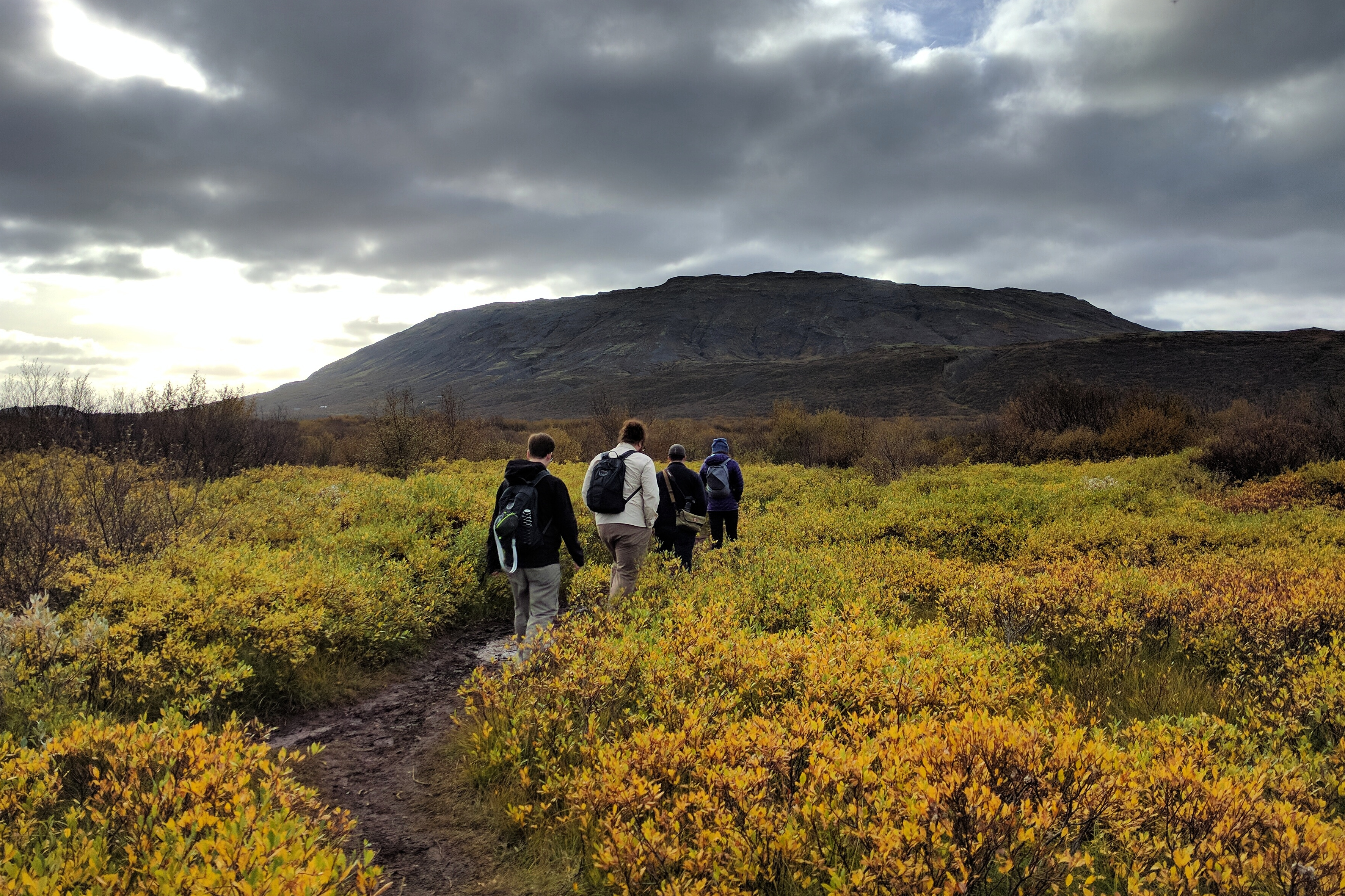 After a short but incredibly muddy distance we burst forth from the foliage to this: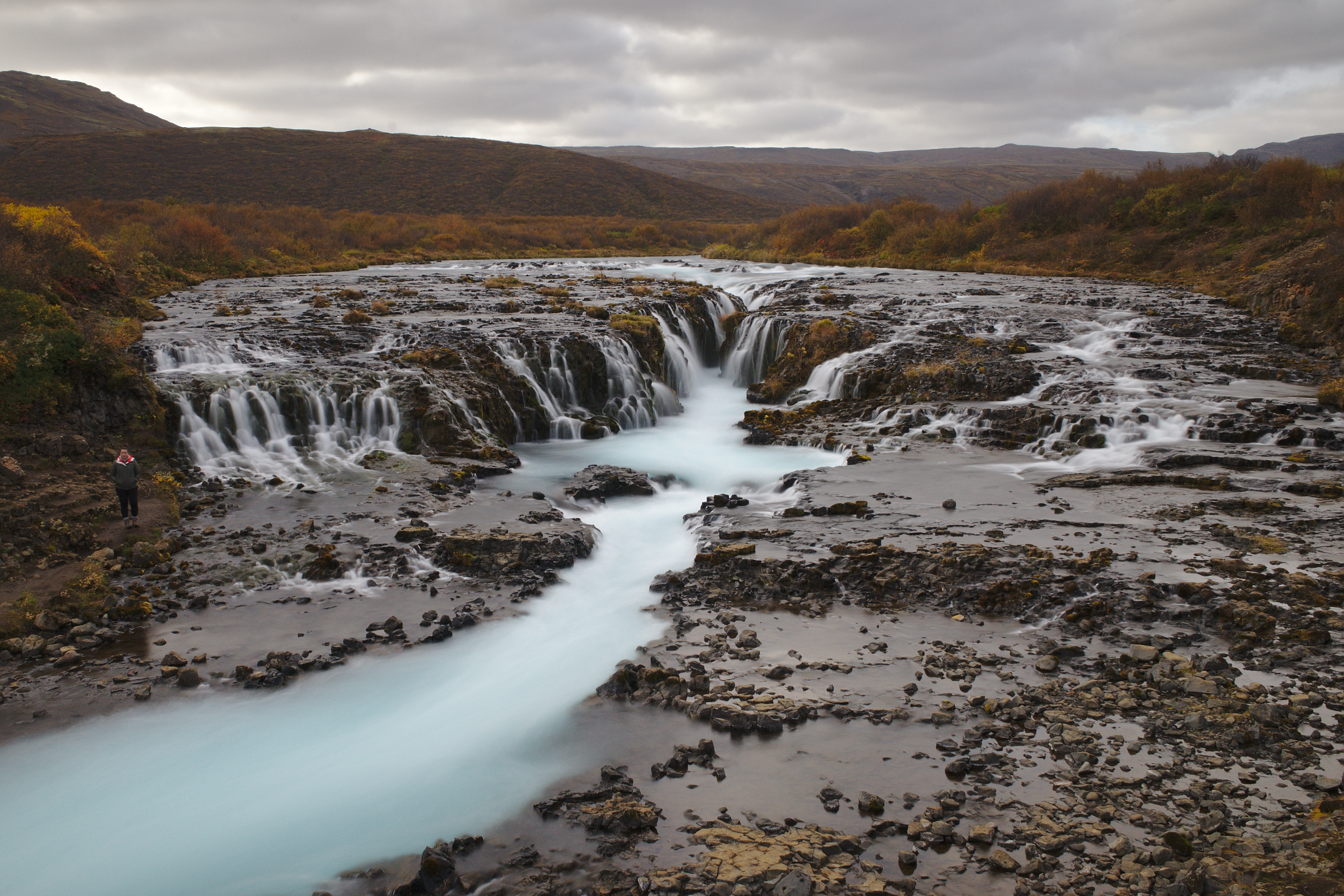 While we were geeking out of what was the most impressive and most private waterfall we'd came to so far, our family was having a reunion back in the states. Iceland, with its incredible infrastructure, allowed us to have a full HD hangout with the family back home to show them our find.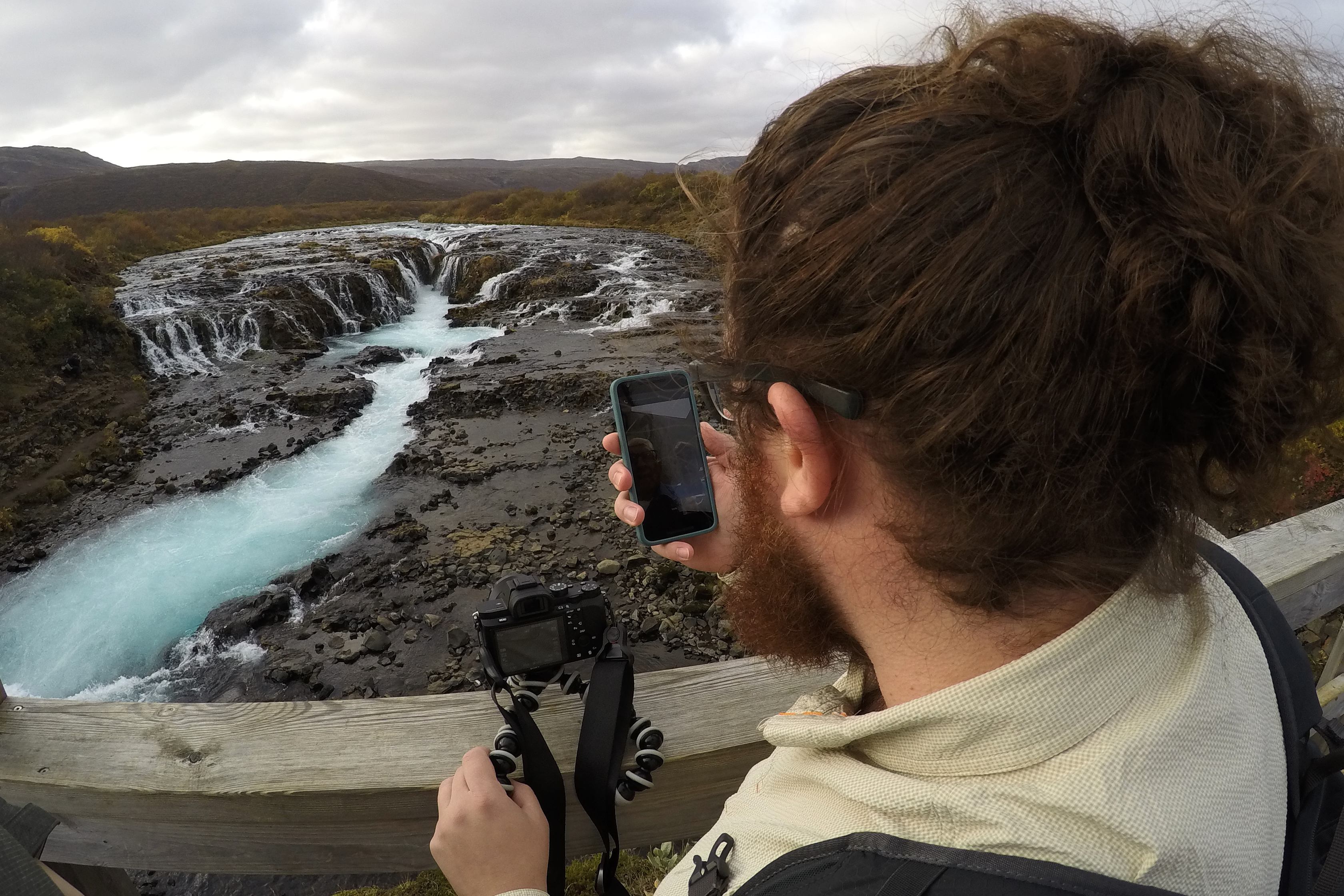 If you look very closely you can see my grandfather (94) and grandmother (87) peering back through our phones from the states at this amazing natural formation. We climbed around the falls for a little over an hour, just soaking up the noise of the falls and the absence of human sounds.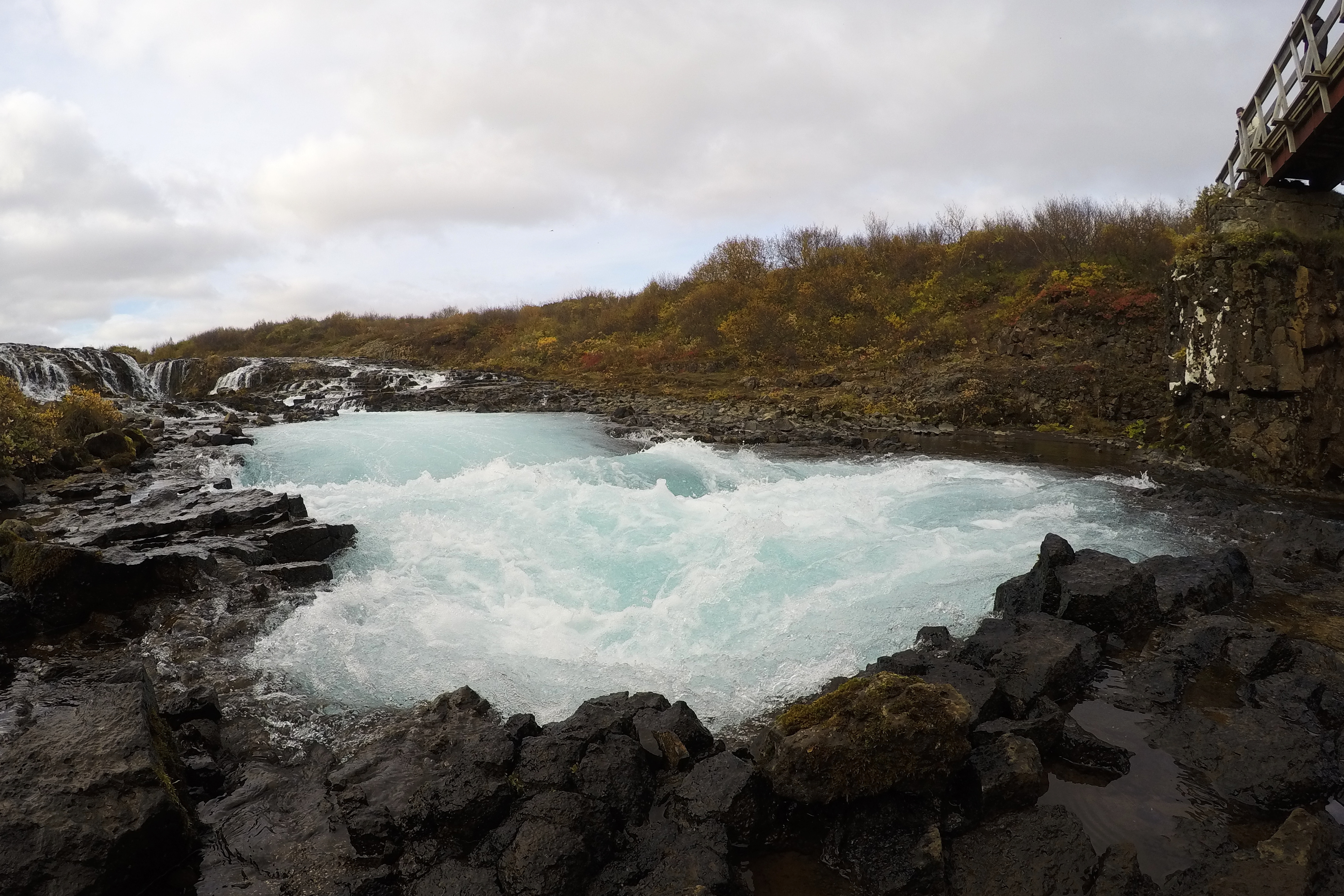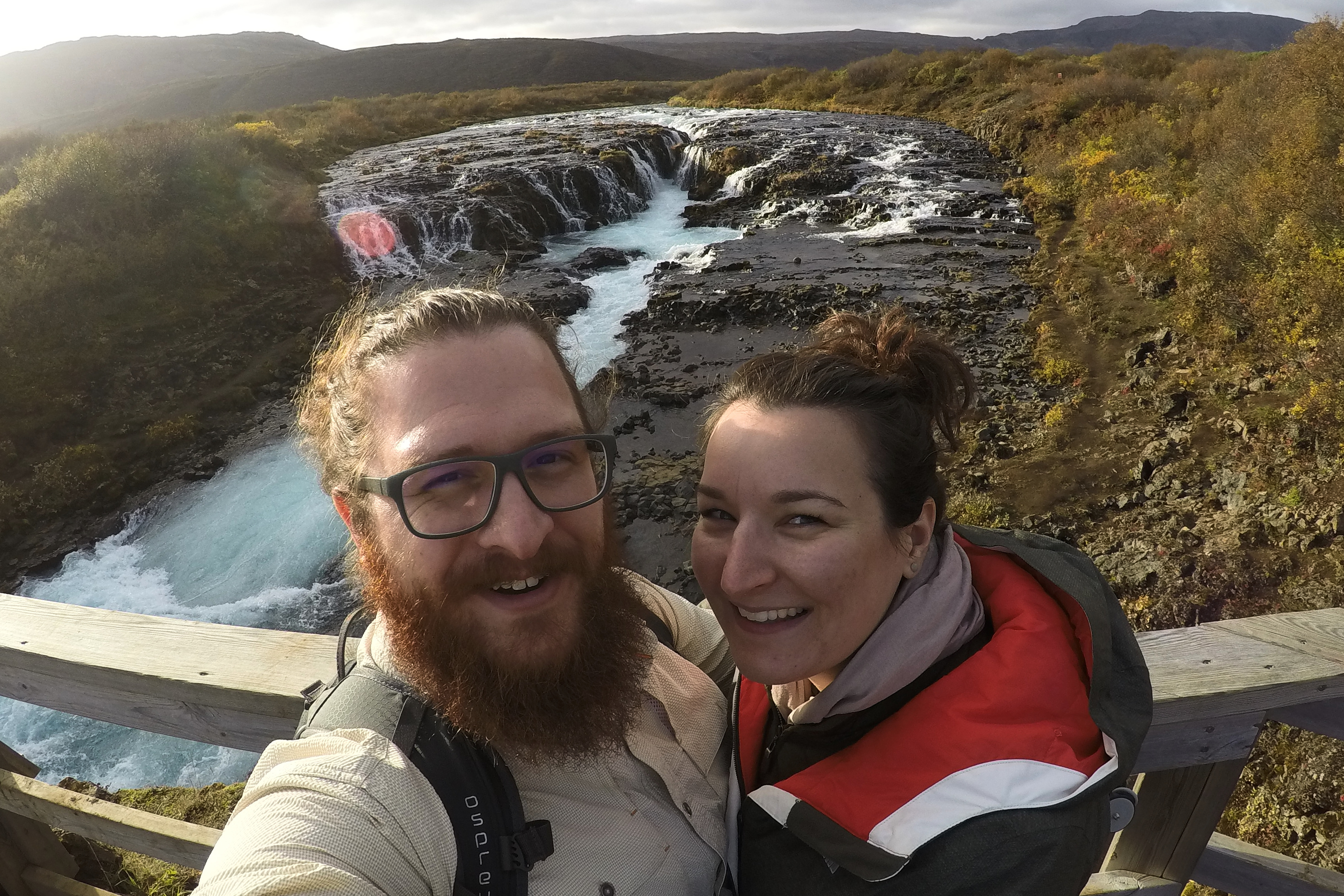 Knowing we'd not reached our east most point yet, we hustled back to the car to venture forth to the mighty Gulfoss.
Gullfoss #
Gullfoss was incredibly busy, a stark contrast to Bruarfoss. However, Gullfoss being so much bigger, with so much more bombastic of an effect, it was still an incredibly exciting experience.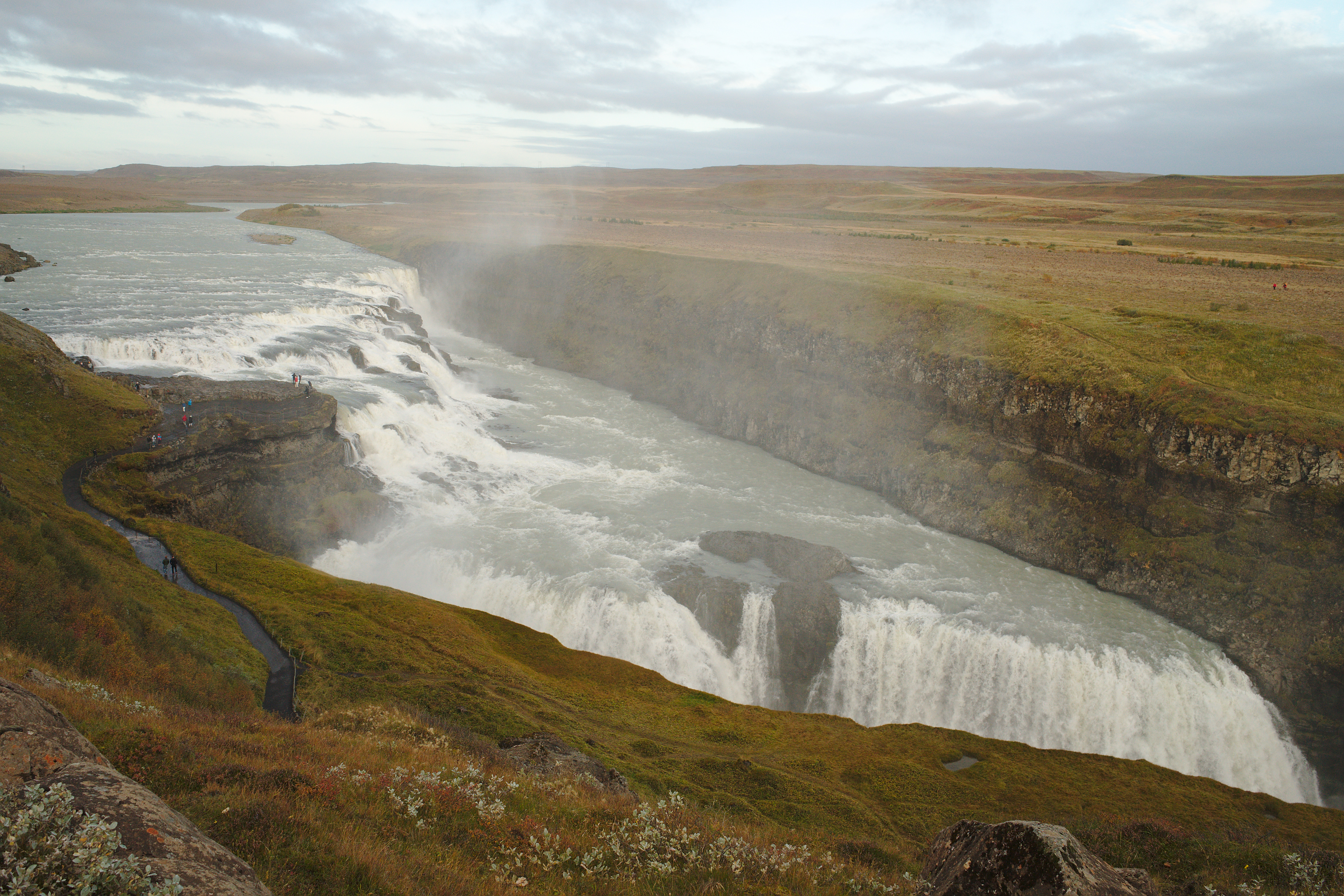 The steps of the falls, with an abrupt plunge into a drastically smaller crevice than the other steps, created a lofty mist that could be seen from a far distance. Niagara, even from a boat below, cannot compete with the power and beauty of Gullfoss.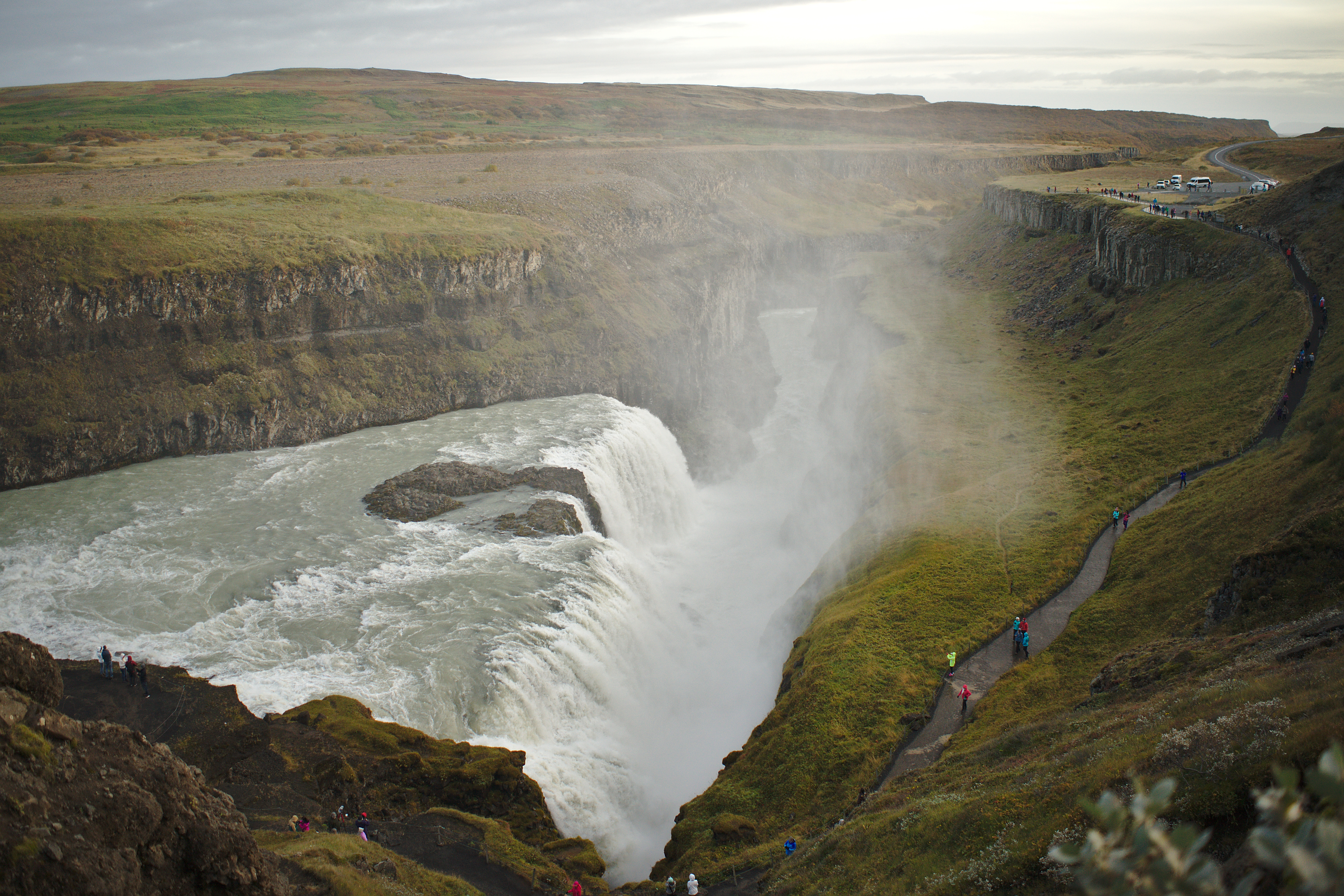 Someone had constructed a tiny cairn that we couldn't pass up.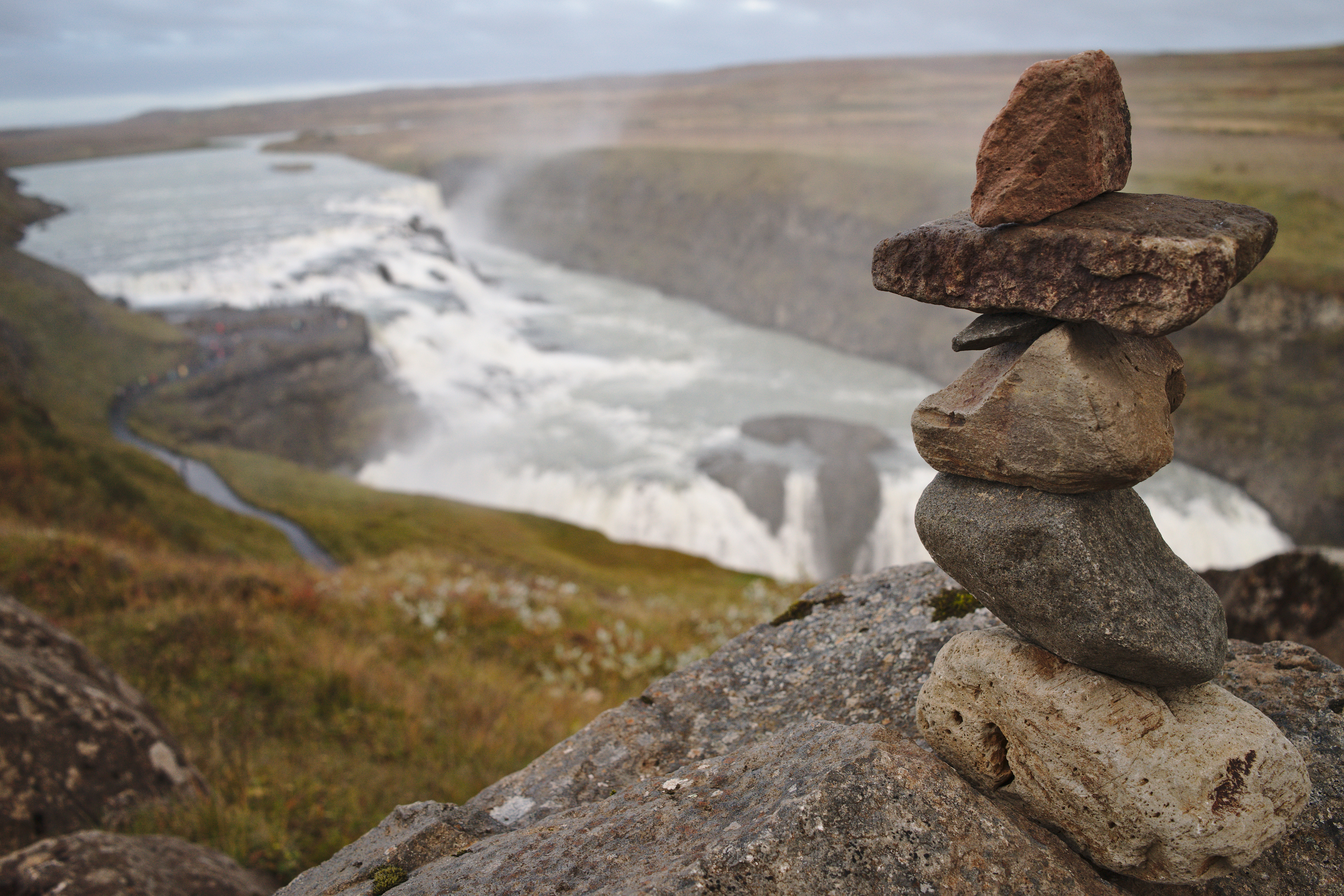 Due to the later start we were quickly approaching sunset, however we took the 35 to the 37, back to the 35 on our way south west. There was quite a bit to see coming east on the 37 and we wanted to observe it in different light. There is a geyser location as you approach the 37, it seemed quite active so we watched and smelled it erupt in our passing vehicle as the sun started to set.
Kerið #
This was the coldest day we'd trekked so far on the trip, and the winds had picked quite a bit. The Kerið crater is an awesome site, however we were so cold that we hustled around the crater with our hands in our pockets instead of taking any great photos. Walking around the rim of the crater was interesting with the wind blowing. The acoustics changed rapidly and unexpectedly, worth experiencing in any weather. We struck off for Reykjavík realizing that we'd been consuming Greg's high energy food options for most of the day, and needed something more substantial to cap the day off.
Reykjavík #
We ended back on Lækjarbrekka, where we'd ventured in the morning, and found public house gastropub. This was much more of the trendy/hip big city style food we were using to seeing on travels, but decidedly unique with their own twists. The table-side company was wonderful, people of all ages on similar exploration sharing the notes from their journeys. One enigmatic group was having their final meal in Iceland and were recanting the highlights of their trip. Dyrhólaey was listed with high marks, but everyone in the group kept bringing up their love for the north western vector. Coincidentally that was our next days plans, so we rushed home to turn in for hopes of an early start.
Day Four: Borgarnes, Selvallavatn, Kirkjufell, Skarðsvík Beach, Beruvíkurbæir, Londrangar #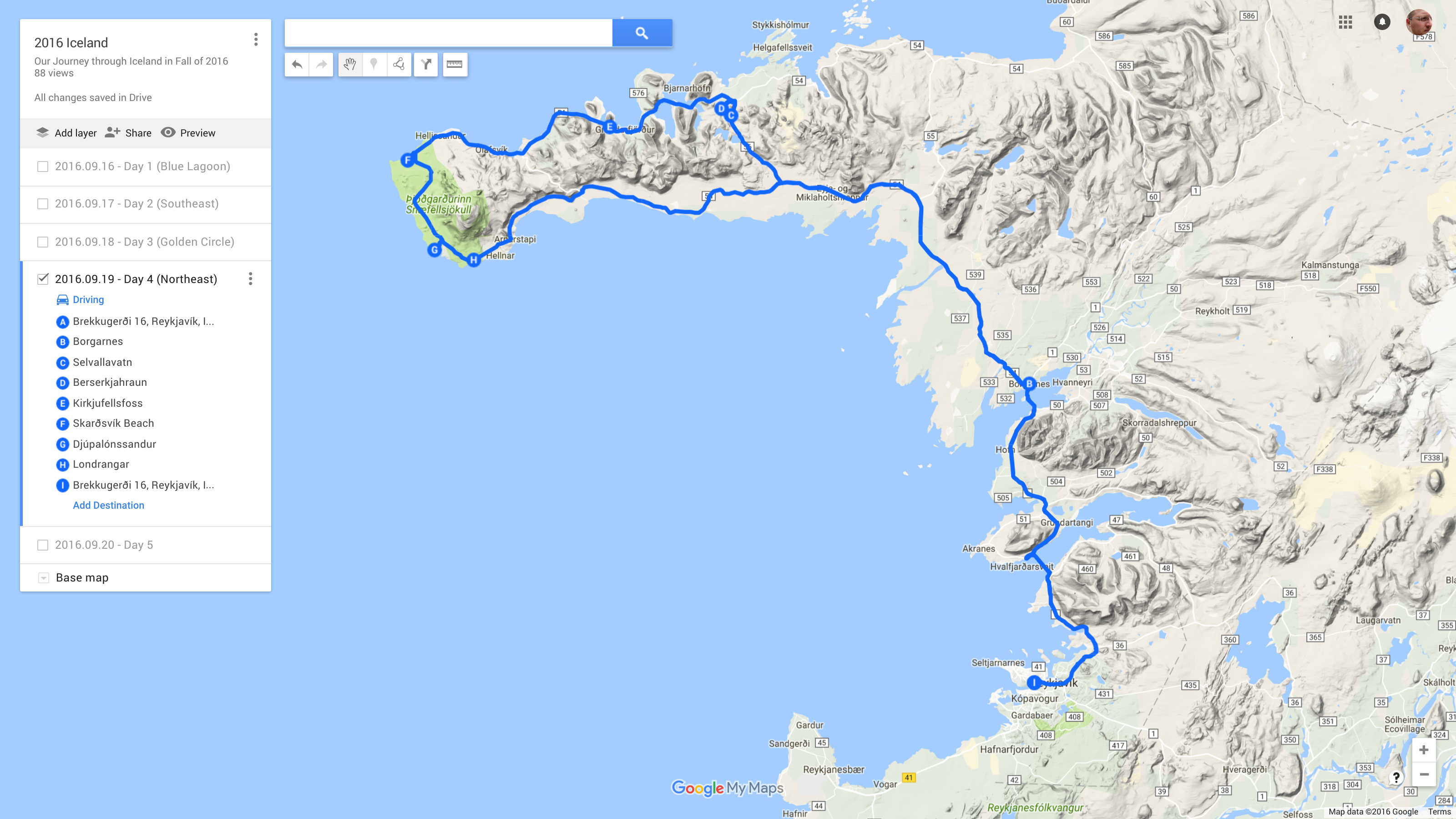 We set out quite early knowing that we'd be on quite a long circuit. We went through many roundabouts again, then to Icelands only toll road. Hvalfjörður tunnel cost 1000 Króna, and cuts down time immensely rather than navigating around (seven minutes instead of an hour). It's quite an experience as well, dropping 165 meters. The tunnel eventually changes over to being interesting shaped rock when you descend to depth.
Open emerging we took the slightly longer route of 51 on our way back to 1, worth it to see the coastline at sunrise. We worked our way along the coastline eventually spotting Borgarbyggð at the southern end of Borgarnes. This was such a picturesque drive at sunrise, would highly recommend getting and early start to traverse the same route.
Borgarnes #
We stopped for breakfast at the Geirabakari Kaffihus, which had a wide variety of sandwiches and baked goods. We sat and looked south as the sun crawled up the elevation back towards Hofn. Ljómalind Farmers Market is right in town and has all kinds of handmade goods from women in the local community. We didn't take many pictures there, however you absolutely should visit if you're passing through.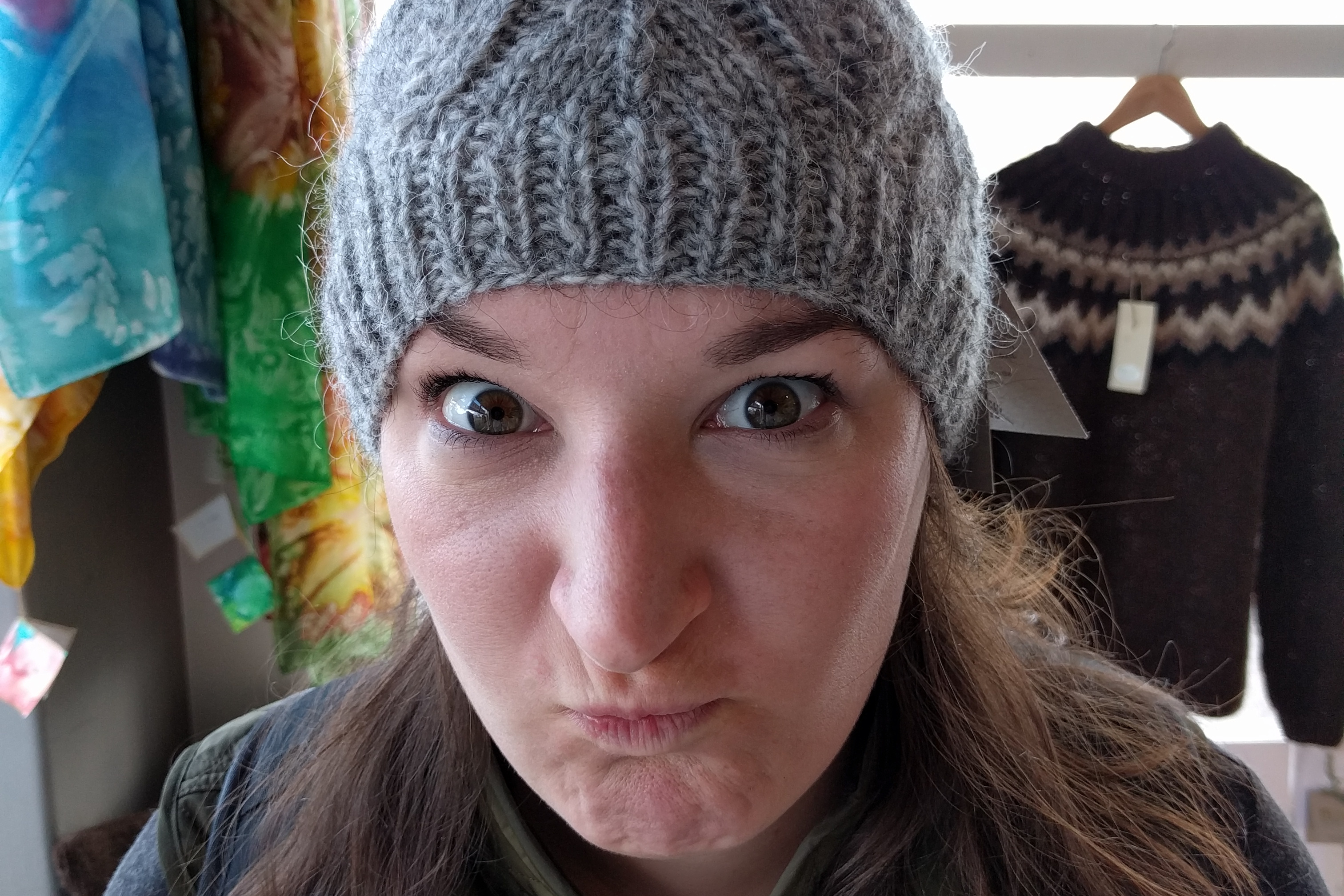 After hitting the local Bónus for a refill of Appelsín we were on our way. The drive from Borgarnes up 54 was incredible. We were lucky to have smatterings of rain that were resulting in double and triple rainbows every couple minutes. We stopped several times to see things, along the way. Simple things like small water flows we're catching out attention enough to pull off the road and take a short walk around them.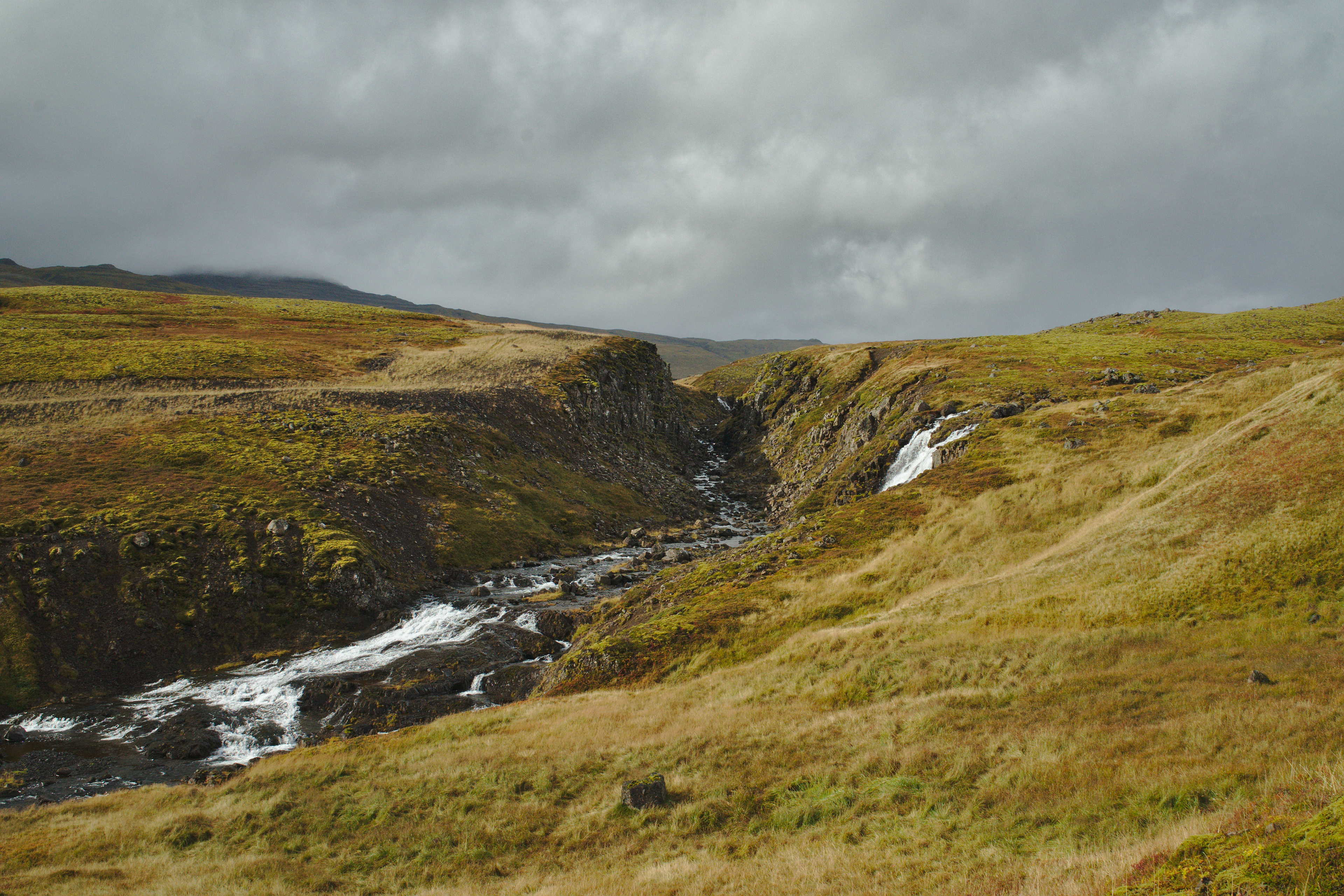 We continued on passed the Gerðuberg Cliffs and turned up the 56.
Selvallavatn #
Nobody had mentioned Selvallavatn in any of the logs we'd read of people heading this route, however it requires a mention. It's very difficult to display the texture and depth of the lava flow, something you'd need to just stand and soak up in person. If you're heading Kirkjufell you need to take this route and really soak in the formations.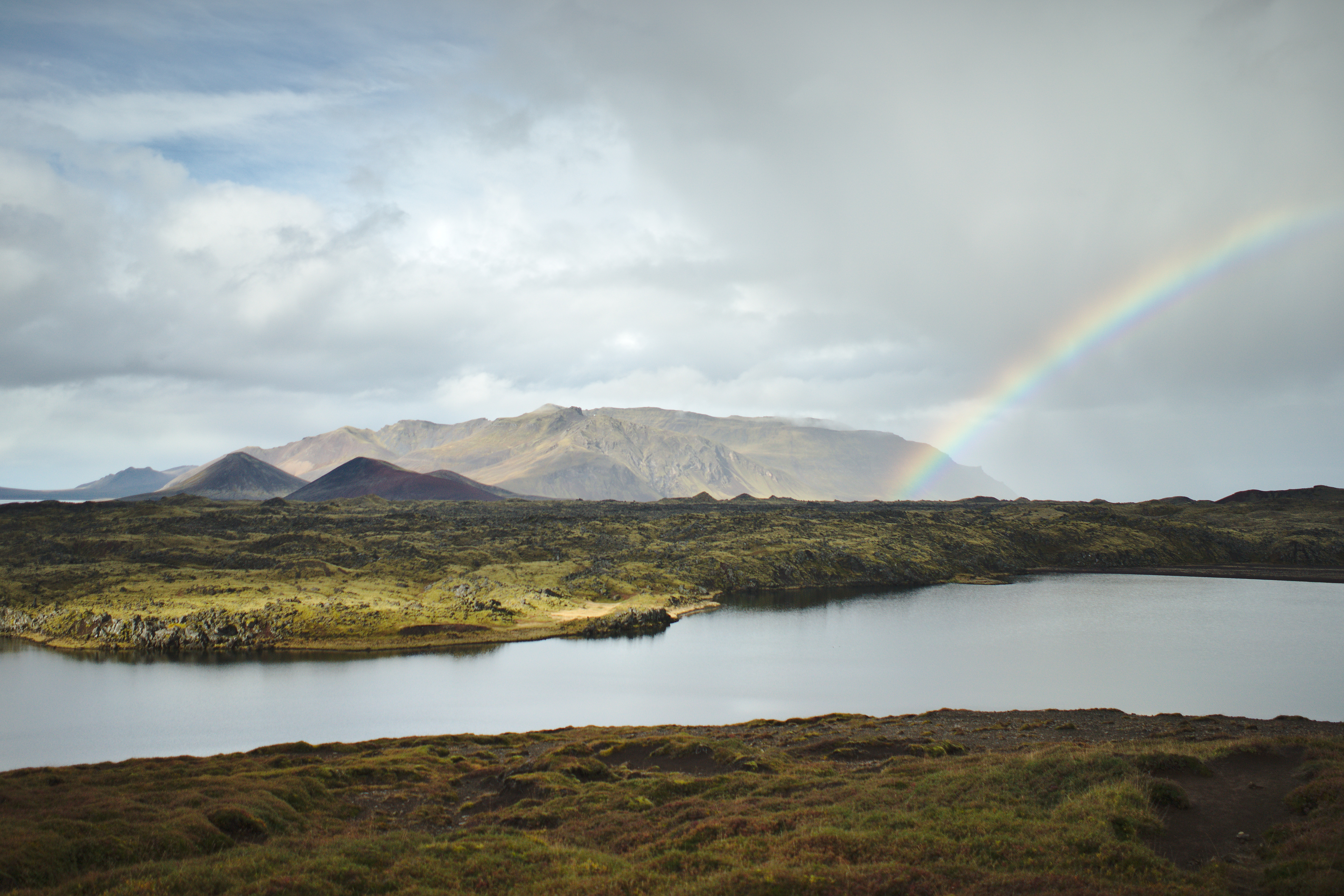 There are some tables and chairs made from basalt stacks here, so if you've timed your day properly you could have a nice meal outside while looking over the landscape.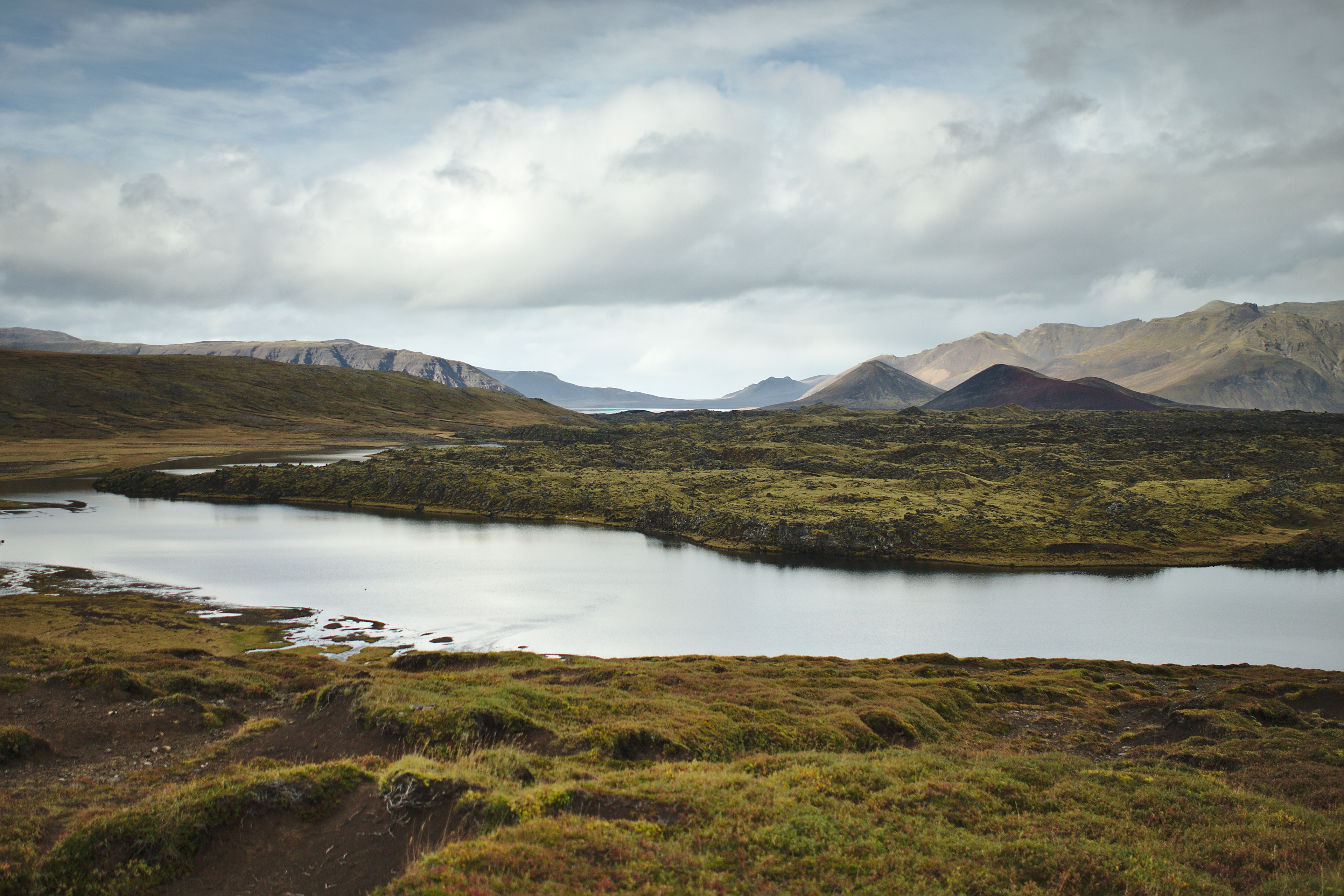 We were full of pastries still, so we moved on wards. There was an entrance into the lava fields just west of the junction between 56 and 54, however as we ventured south on this treacherous road we decided that our 308 could not handle the journey. These lava fields are written about quite often as people explore this area, so it'd be worth taking a more capable vehicle deeper into southward trail. Typically you'll see them written about as Berserkjahraun.
We ventured west again towards one of Iceland's most picturesque standalone mountains. The winding road and short bridges you cross are absolutely incredible, and with the low traffic (we saw only a single truck) we took our time to meander along the route. We were very close to the Bjarnarhöfn Shark Museum but opted to continue on for fear of the smells.
Kirkjufell & Kirkjufellfoss #
As we entered into Grundarfjörður we were distracted with more rainbows over the bay. Passing through town we got our first look at Kirkjufell and immediately pulled over to shoot up at it from the north western coast of Grundarfjörður. It began raining quite hard before we could get the photos we wanted, so we took refuge at Kaffi Emil, which had good food and drink, as well as a visitors center where we watched some interesting videos on Icelandic history.
Grundarfjörður on the coastline is surrounded by elevation. As it rained, waterfalls that we hadn't noticed before became more prominent.
Despite Kirkjufell and Kirkjufellfoss being so close, we were enamored with all of the smaller falls and changes in elevation. We felt that if we came back to this area of Iceland we would spend an evening or two in Grundarfjörður or Ólafsvík and hike around the area. When the rain cut out enough for us to use optics we headed back to the north western coast of Grundarfjörður for some shots.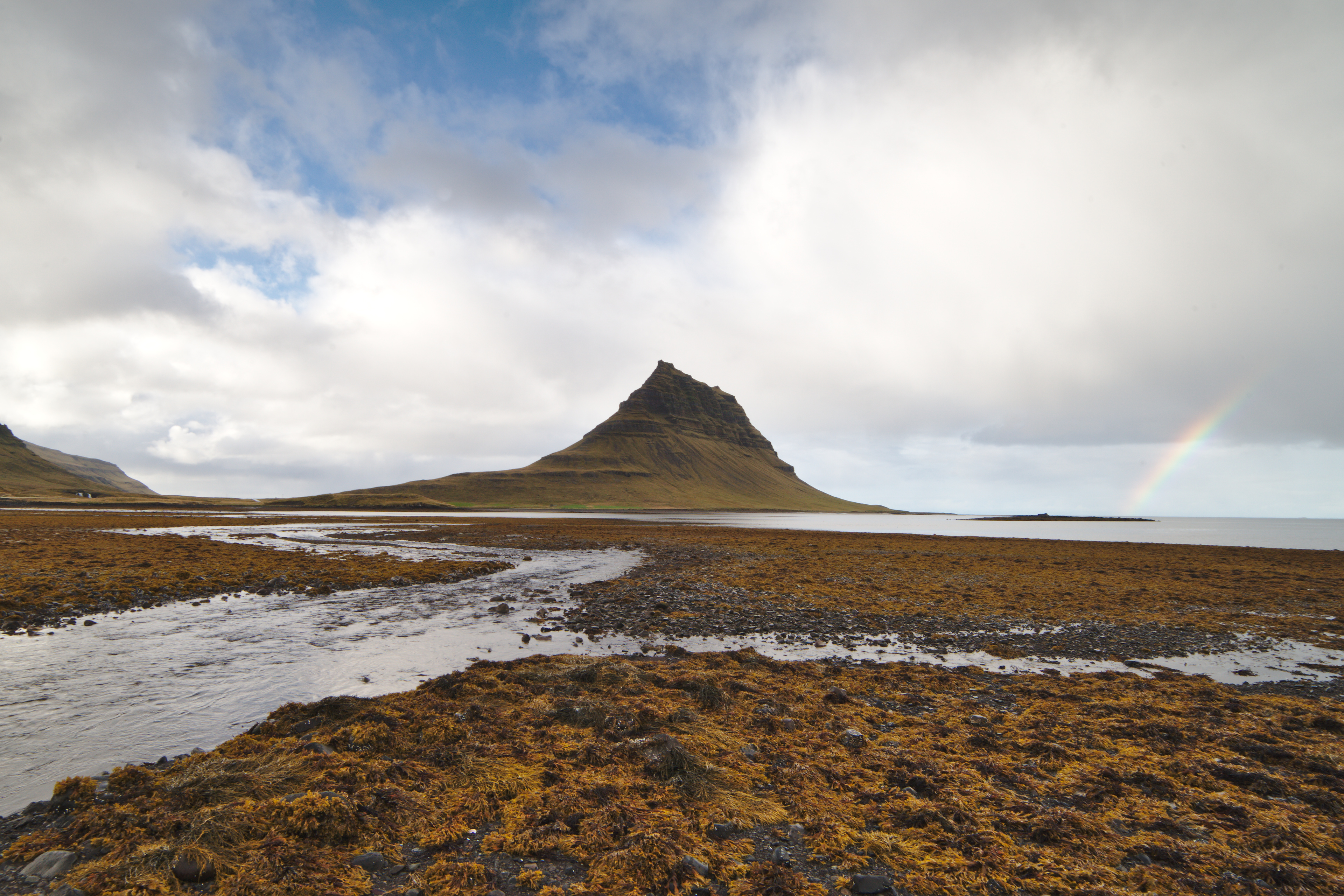 Then moved on to Kirkjufellfoss, which is somewhat challenging to frame the mountain in the background but is a lot of fun to try: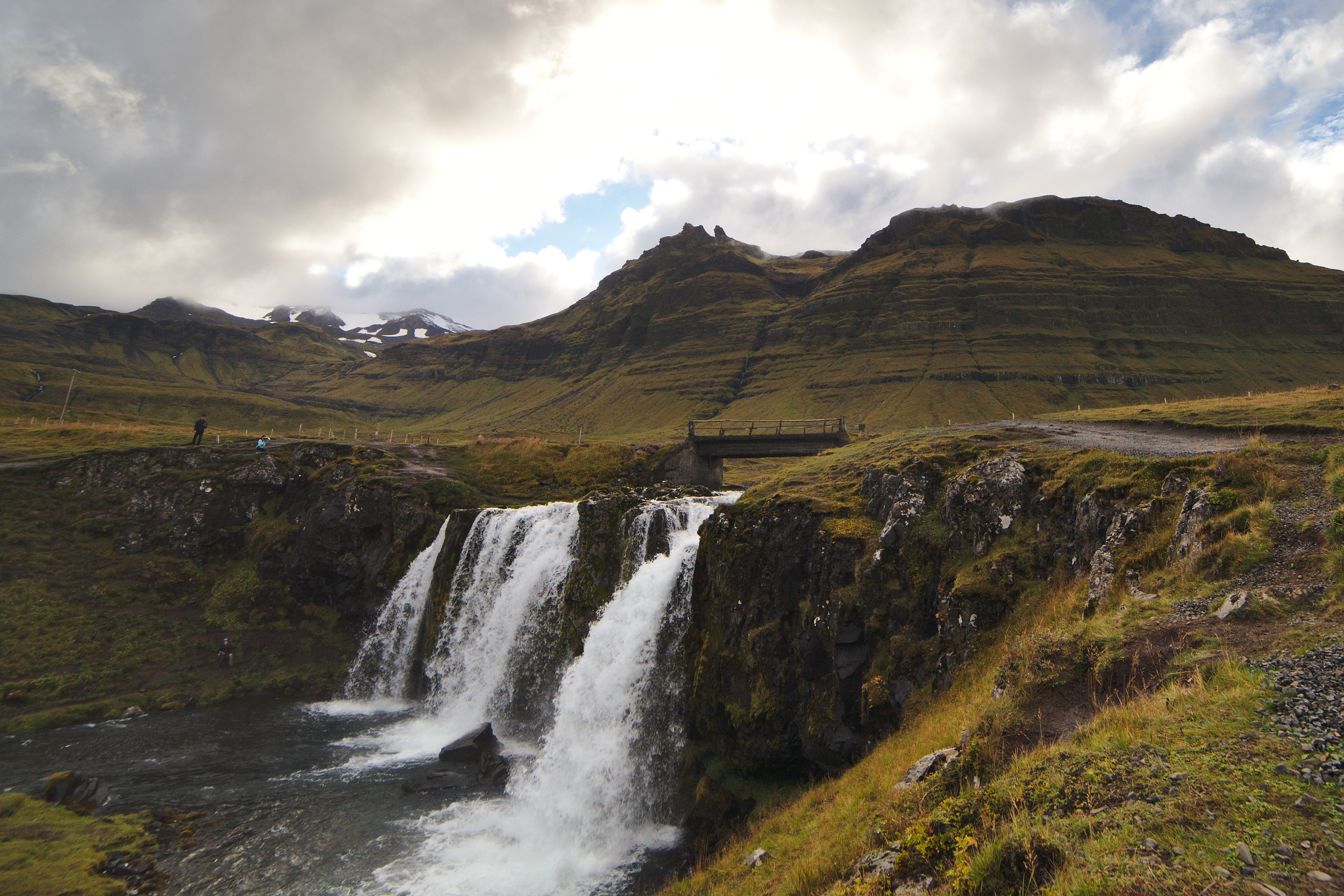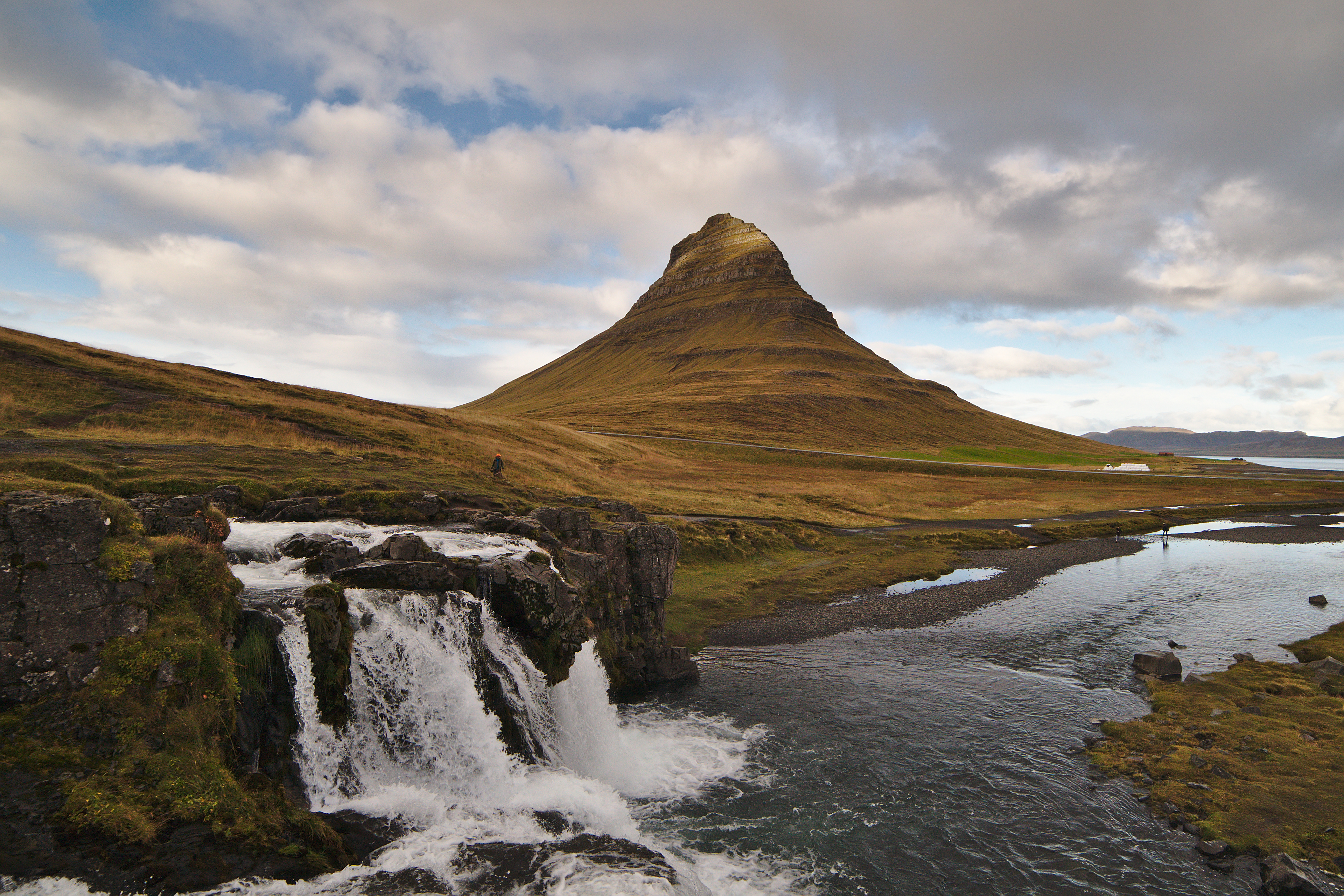 We explored behind Kirkjufellfoss for a little while and felt again that this area would be a wonderful place to hike around more intimately. We then ventured off west into Þjóðgarðurinn Snæfellsjökull and this part of the drive was the most enjoyable section of road during our journey. There is some pretty extreme elevation, and you're in the outside lane as you venture westwards. With the heavy rains the rock faces had heavy streams of water tumbling down them, with a sheer cliff on our other side.
Aside from the amazing beauty we saw an incredibly tall man made structure which turned out to be one of the tallest structures in Western Europe. I didn't see any cellular implements on the tower itself, however we had excellent service the entire time we were in the national park. There is an unmarked western road that you take into lava fields heading towards the ocean, the texture of the earth in that area was incredible.
Skarðsvík Beach #
Eventually you begin to see white splashes in the distance. Once you get close you realize just how high those splashes are to be visible to your vehicle. We stopped right before Skarðsvík Beach and stood on the ocean cliffs while watching the waves smack against them with great force.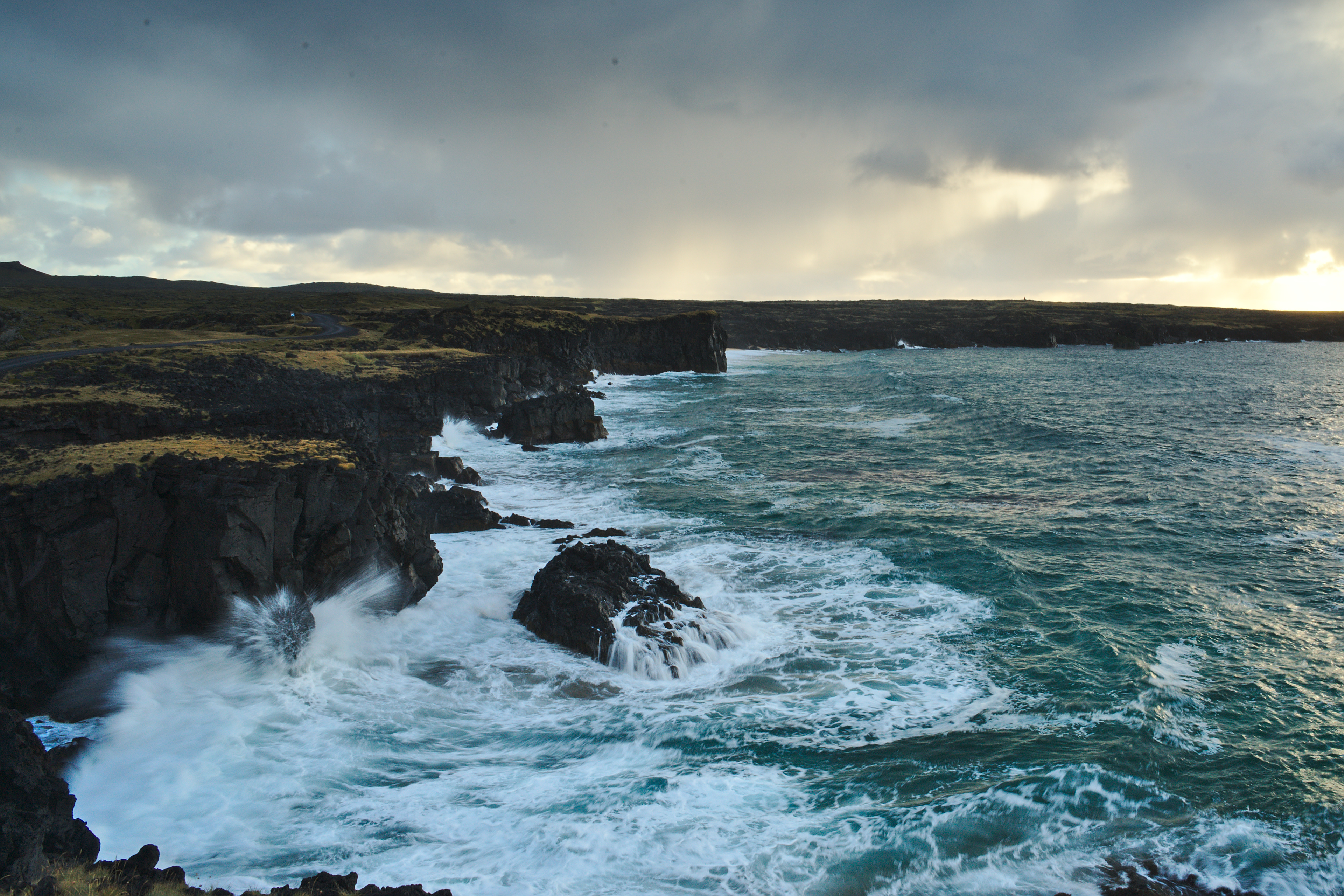 We spent some time on the cliffs, literally on the edge of Iceland, video chatting with family and co-workers who had been messaging us over the previous hours. Again, the infrastructure for digital communications in Iceland is incredible.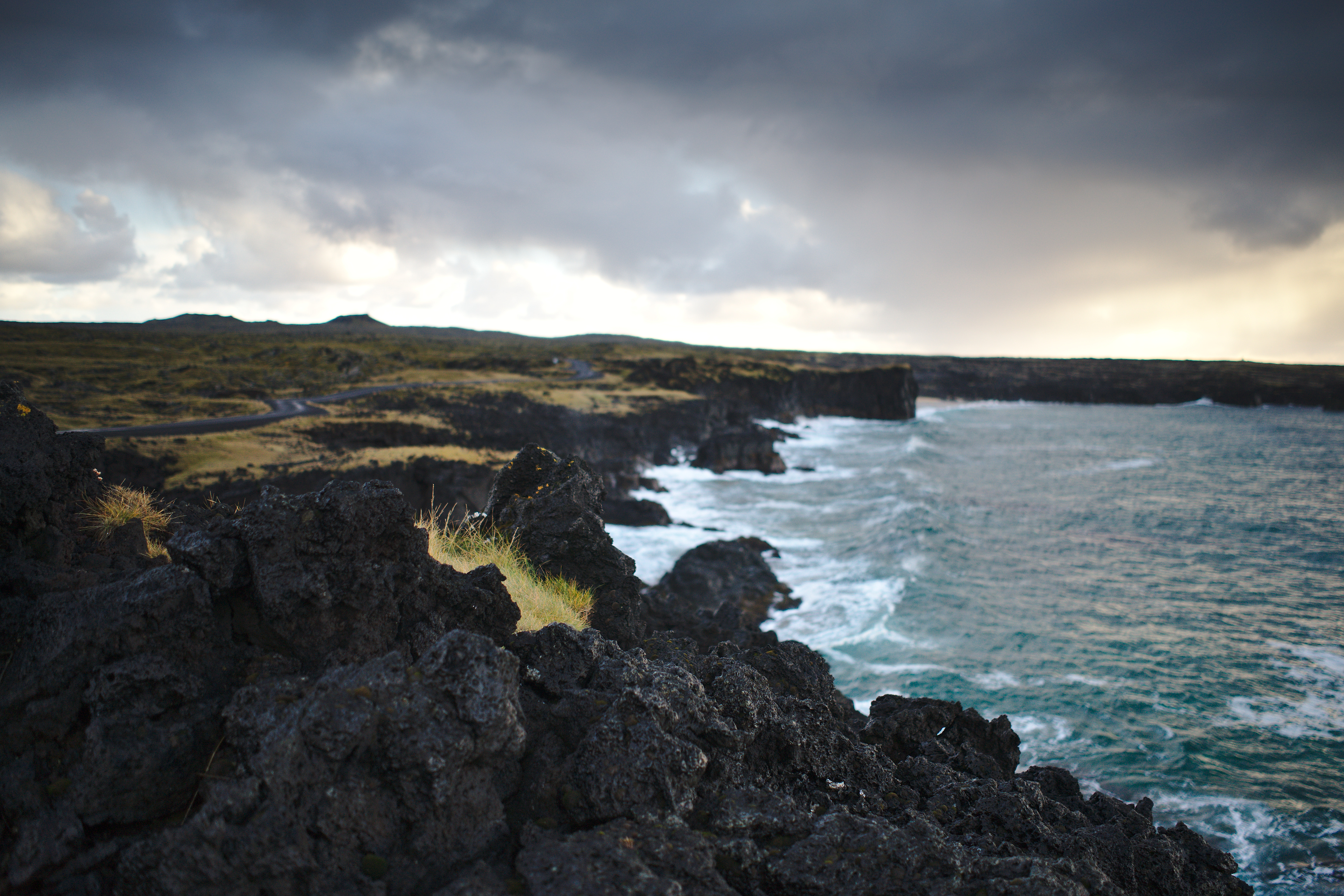 We then ventured to the beach, where instead of black sand it had a mix of deep reds and orange with blacks underneath: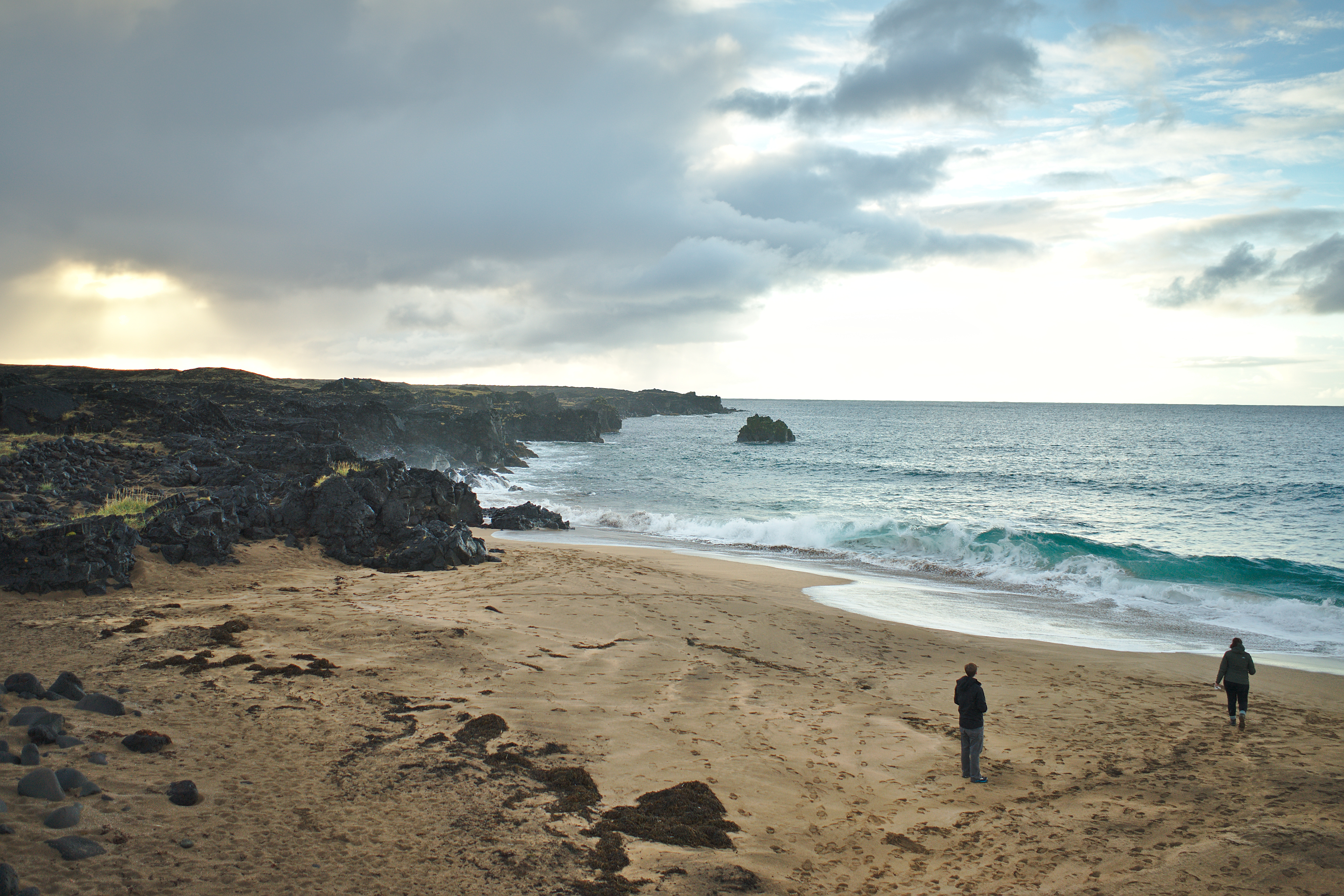 Beruvíkurbæir #
We then made our way down the coastline farther, but noticed a strange structure in the distance with a drive-able pathway (even for the little 308). So we headed in for a little ways, parked, then walked the distance to the structure and watched the sun set for a while. Turns out this is a well known spot called Beruvíkurbæir, which has several strange ponds as well as some ruins.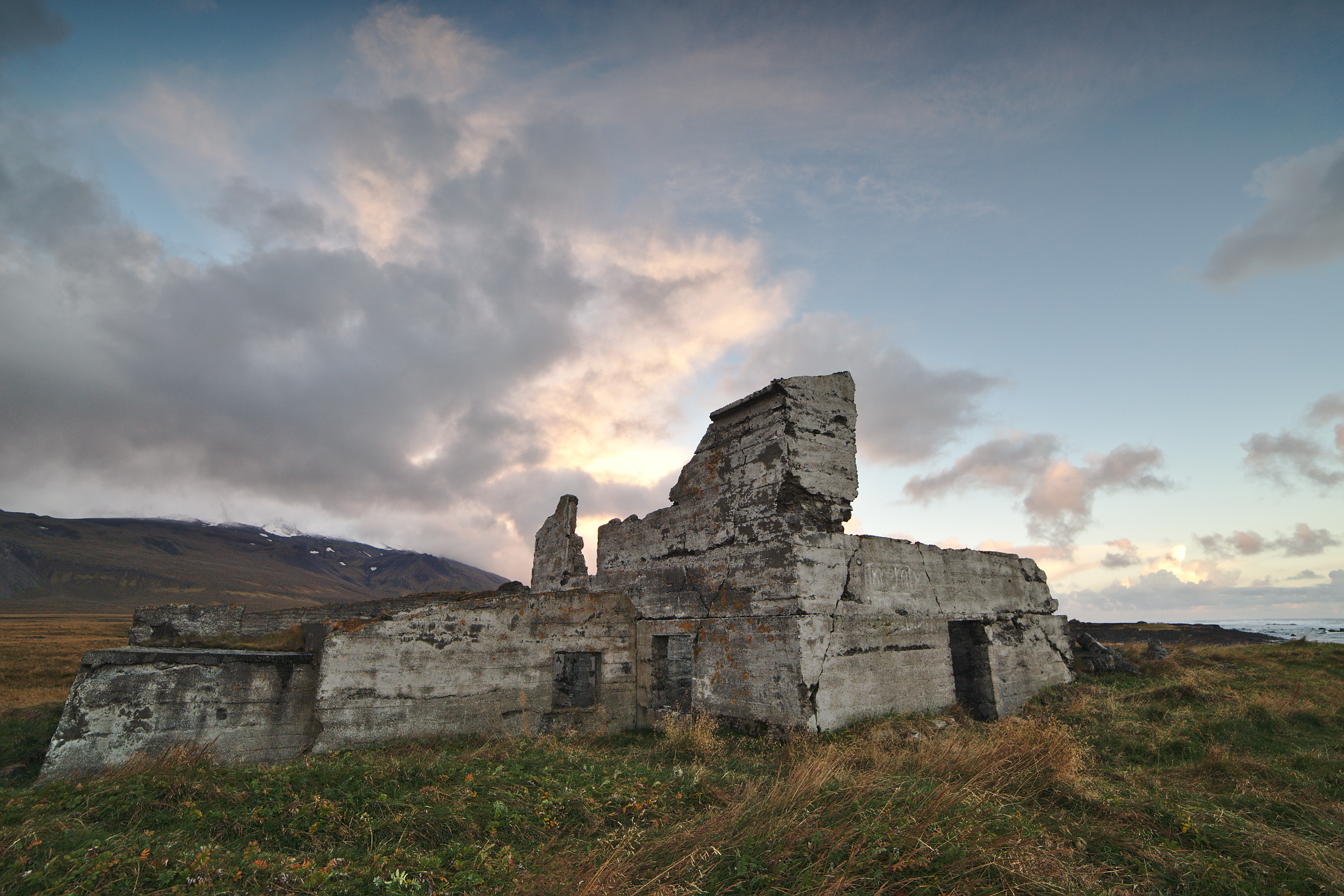 We watched the sun set for a while at the point, thinking we'd found the best vantage. After a bit though, remembering that Iceland delivers every time your blink, we decided to venture southeast to catch the last rays of light.
Londrangar #
We saw a lighthouse and some massive jutting rocks in the distance, but didn't know how best to see them. Accidentally driving passed we lazyd we would be off to something more exciting until we came up to a parking area. There is a cliff walk east of Londrangar that looks back towards the unique formations from a breathtaking height.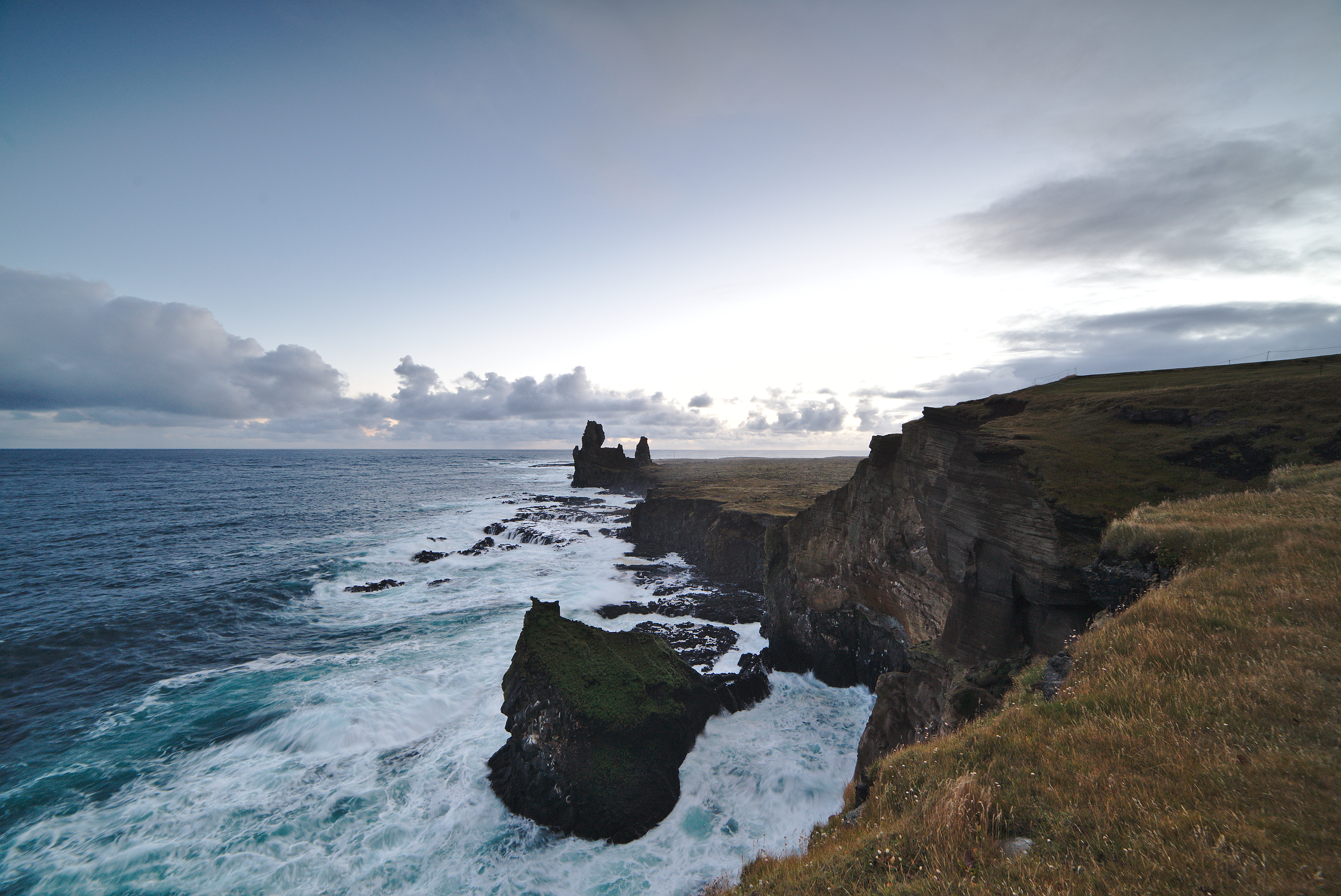 However I was not prepared for just how close you're able to get. This was the only time we'd seen warning signs on our trip. The cliff that the lookout point was built on had been aggressively dropping into the sea. Despite shaky legs and a weak bladder, we got close enough to watch the churn of the water far below as the sun slipped behind the clouds.
As darkness fell we got back into the car to slog through the 140 minute drive back to the capitol. We had wanted to stay out as late as we could manage in Þjóðgarðurinn Snæfellsjökull so that on the way back we would have some opportunity to see the aurora. We'd been been watching the aurora forecast since before our trip and we knew that this night was going to the clearest around Hofn.
The drive was absolutely treacherous due to sheep running along the road and darting out in front of the vehicle at the last moment. We eventually arrived on a small convoy of vehicles with their hazard lights on, flipped on our hazards, and accepted that they would plow the wool away for us on our trek home.
Unfortunately we didn't see any of the aurora that evening, and only days later were some absolutely insane pictures from Hofn in particular of the lights. Reykjavík turned off the lights in the capitol a couple times during late September 2016. We watched the images spilling in to Instagram from Scotland with deep jealousy.
Bæjarins Beztu Pylsur (The Town's Best Hot Dogs) #
That night we came in late enough that dinner didn't seem to make sense, so we explored the night life of Reykjavík near the hot dog stands. In asking around we were directed to Bæjarins Beztu Pylsur and one of our acquaintances looked me dead in the face and said "you need to order two or three or you will be very unhappy with yourself". I ate an embarrassing amount of hot dogs and slept soundly.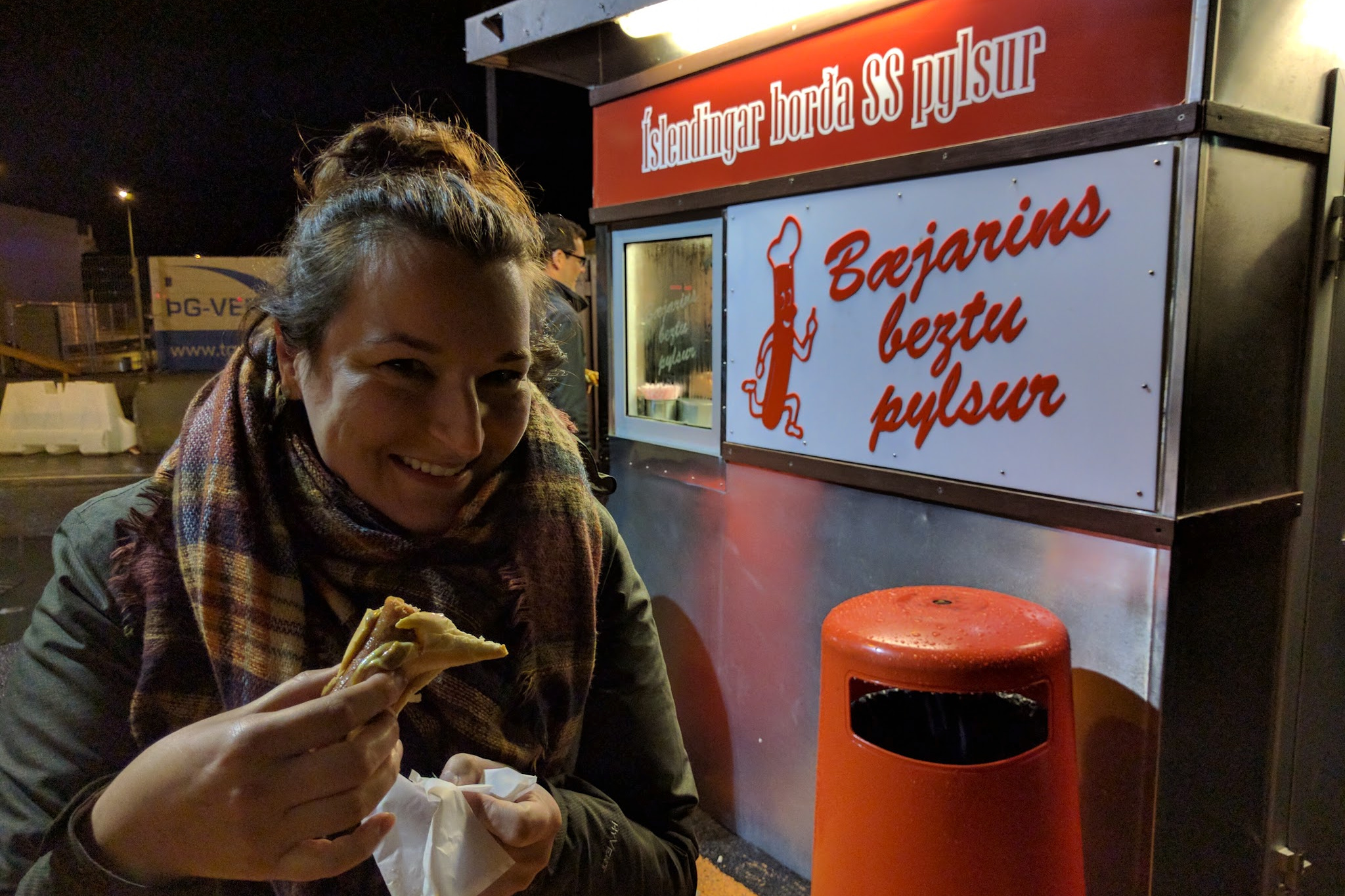 Day Five: Reykjavík #
We spent our last day as low key as we could. We'd covered a lot of ground on our previous days and we wanted to get a taste for the city that so much of Iceland's population resided within. We saw a bunch of things in short succession that are all worth seeing:
As well as many more interesting locations. We'd left Baltimore, a city with a metropolitan population more than three times greater than Reykjavík. When we took stock of how many things we'd seen just by walking a couple miles, we were incredibly surprised to see we'd covered much of the "downtown". It is well worth spending at-least a half day in the city, however if your fast you don't need much more time than that (unless you're doing tours of things like museums).
We shopped a bit for licorice in particular, but decided to abstain from purchasing until we'd gotten an idea about shipping back to the states. We visited the Íslandspóstur and found out quite quickly that shipping was a non-trivial exercise. From there we looked to see what was going to be in the departing shops of the airport and saw that Licorice could wait until we came back through on our final leg from England.
Financial transactions in Iceland were as modern as the rest of the infrastructure, meaning almost all of the króna we'd arrived with was still in the backpack. So we visited the bank across from the post office and converted everything into our next countries currency while keeping a coin of each denomination for mementos.
We had fantastic middle afternoon dinner Sjávargrillið, would recommend that as an absolute must. Then we took a final walk down the posh Laugavegur, which ironically translates to "wash road", but is now covered in extremely high end shopping. Turned in for bed early, anticipating an exciting early flight to Scotland the next day.
Iceland in Review #
Stop thinking about whatever other vacation you're planning and get Iceland on the books immediately. What we read before going didn't do it justice, this write up doesn't even hold a torch to the actual experience. Iceland was a non-stop display of wonderment, to an almost obnoxious level. We ran out of words to describe what we saw within hours of hitting the ground, by the third day you're just making noises at each-other trying to ensure that you've both swiveled your head towards the same insane new thing. As you can see we only covered a small portion of the overall country. There is so much left to explore!
Anecdotes #
Iceland is a travel destination that is very nature focused. They do a great job of making things accessible, but don't go to the lengths you'd see in the states. This is beneficial because you can find some stairs that let you be more intimate with a particular artifact, but don't expect to have railings or barriers from preventing you from hurting yourself. Iceland will not protect you from yourself at the cost of making others experiences worse.
Being nature focused means you'll see more healthy/active travelers. These people tended to be enamored with the exploration of the country, so everyone was happy to share notes and pointers. It was one of the few places we've been where the travelers themselves are interesting and valuable resources complimentary to the natives.
The more accessible the attraction, the more people to expect. Use Google's histogram of predicted popular times to get an estimate for when you should be trying to arrive. Iceland isn't a sleep in vacation destination. Early morning movement is rewarded with significant natural beauty, as well as reverent quiet at points of interest.
Iceland's roads are incredible. Most accidents are caused by tourists, so be that person. We saw a lot of near hits particularly at the entry/exit points for popular attractions. Most of your time will be spent away from others, when you get near a crowded area you need to remain alert.
Get an off-road focused vehicle, get something efficient so that you can travel long distances between fill stations. Suzuki Jimny are everywhere, Dacia Duster is a bit larger with more ground clearance. If you want to combine transportation with sleeping, a lot of companies offer older Toyota and Land Rover vehicles for around $250 to $350 per day. Many of these can be slept inside as they come with cots. We met several groups of four that were sleeping inside older Land Rover Defender
Welcome the rain, it adds more contrast/depth/texture to an already overwhelming visual landscape. Dress appropriately to enjoy being in the rain for the entire day.
Don't try to sleep in Reykjavík the entire time, it necessitates a significant logistical burden to return every evening.
Buy wool while you're there, its hard to decide what you like over the internet when you return. There is ok shopping in the airport, but it would be much better to buy it from the place that hand wove everything (e.g. Vik Wool)
Try every type of licorice you can find, drink all the Appelsín you can manage.
Five days is not enough, spend seven to fourteen days at a minimum.
We did find out that the earth apparently took the time to distill the insanity of Iceland into a more potent form. However, we will most certainly be back, and soon. Something got into our heads while we were there and it cannot be shaken.