As mentioned in a previous post we visited Iceland, Scotland, and England in September of 2016. I wanted to make larger, more media focused posts for each country, so here goes Scotland! This was partially written just after returning in 2016, but I dragged my feet for literally years. I'm happy to review this trip a little while later and finally commit the adventure to a medium. This is likely best accompanied by Fiona Ritchie curating a playlist for you while enjoying a whiskey from the Speyside.
Day One & Two: Edinburgh #
We woke up quite early in morning to depart from Keflavík. We rode on an absurdly wide bus and entered our plan by walking across the tarmac. The flight between Keflavík and Edinburgh arrived at 1200 Edinburgh time. Upon arrival the movement through customs quite straightforward, but took about a half hour compared to the absurdly efficient Iceland. Again, Google's Project Fi kicked in service almost immediately upon exiting the plane. We worked our way through the airport to find pickup for the airlink 100, excited to ride our first double-decker bus in the United Kingdom (you can see the ceiling running lights in the reflection).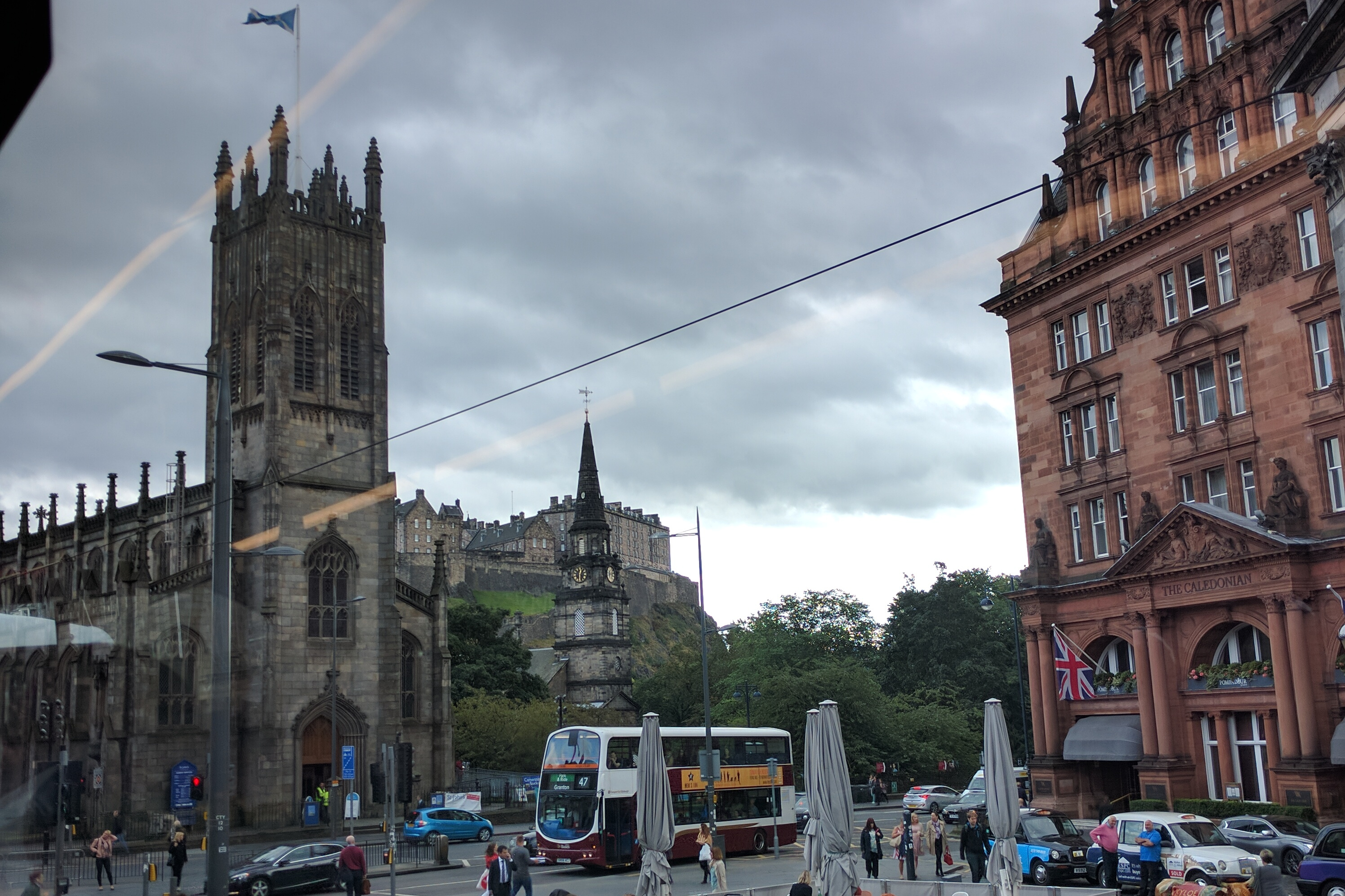 The route from the airport to city center is a visual onslaught of people, vehicles, and stone structures. We'd probably seen more people in our first bus ride in Scotland than what we saw in all of Iceland. We walked our way along the busy streets to find or Edinburgh host, getting primarily distracted by a fine clothier and firearms shop that had a four bore rifle in a glass centerpiece. We were staying on the popular Rose street, which is lined with many places to have a drink or buy some fine goods.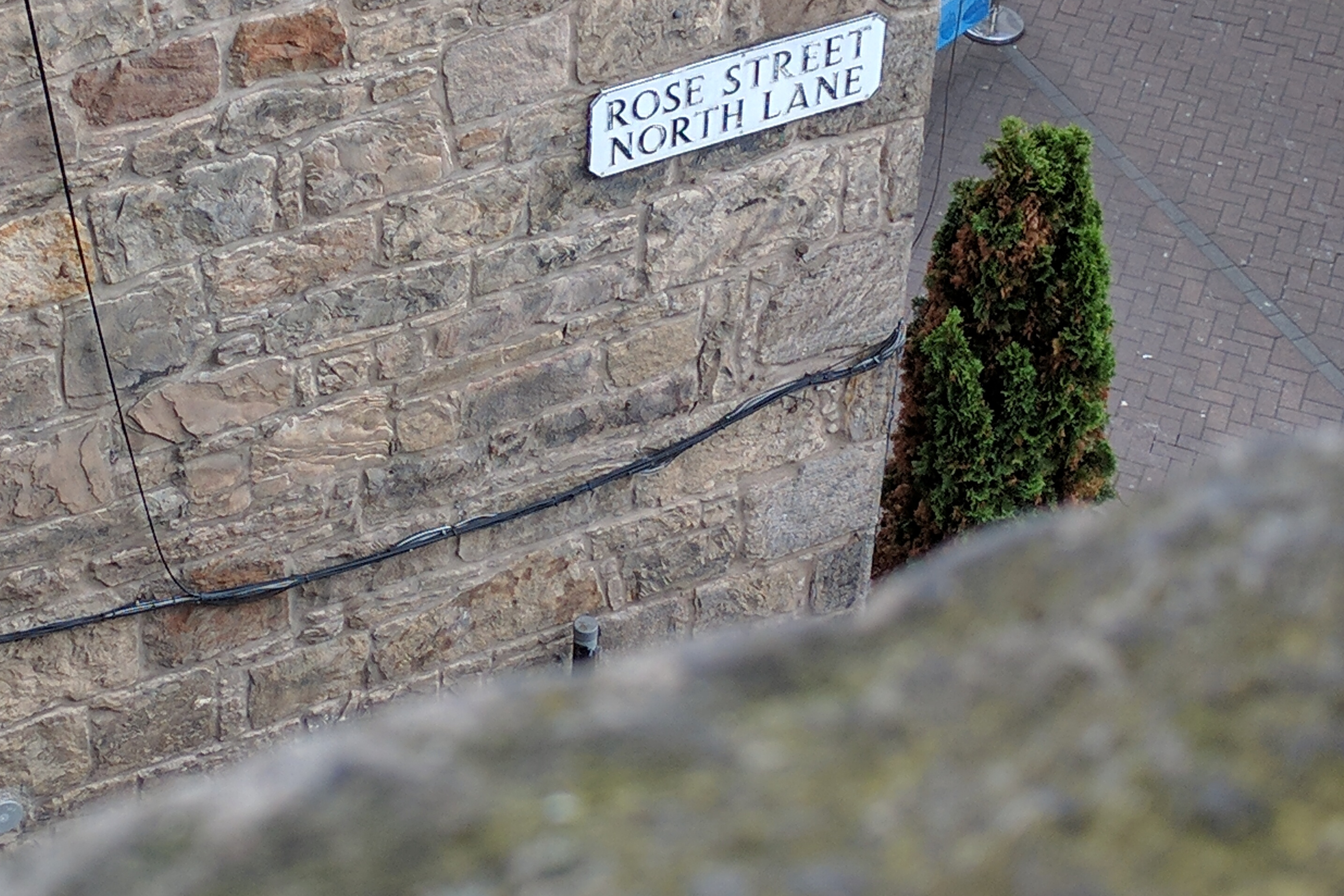 After getting our packs into the flat we set out to find something to eat that would fuel at-least a half day of exploration. We'd not planned much for food this day and decided to walk until we smelled or saw something good. Eventually we found an Edwardian era pub with beautiful central bar and ceiling named The Abbotsford. After this we made our way upwards to the Castle, passing the Scott Monument, the Scottish National Gallery, New College and a ton of things on the Royal Mile. There are wonderful little alleys that traverse the elevation change, with all kinds of places to stop and get a drink of anything ranging from tea to beer and whiskey. You'll have to pardon the wild fisheye nature of the Rokinon 14mm: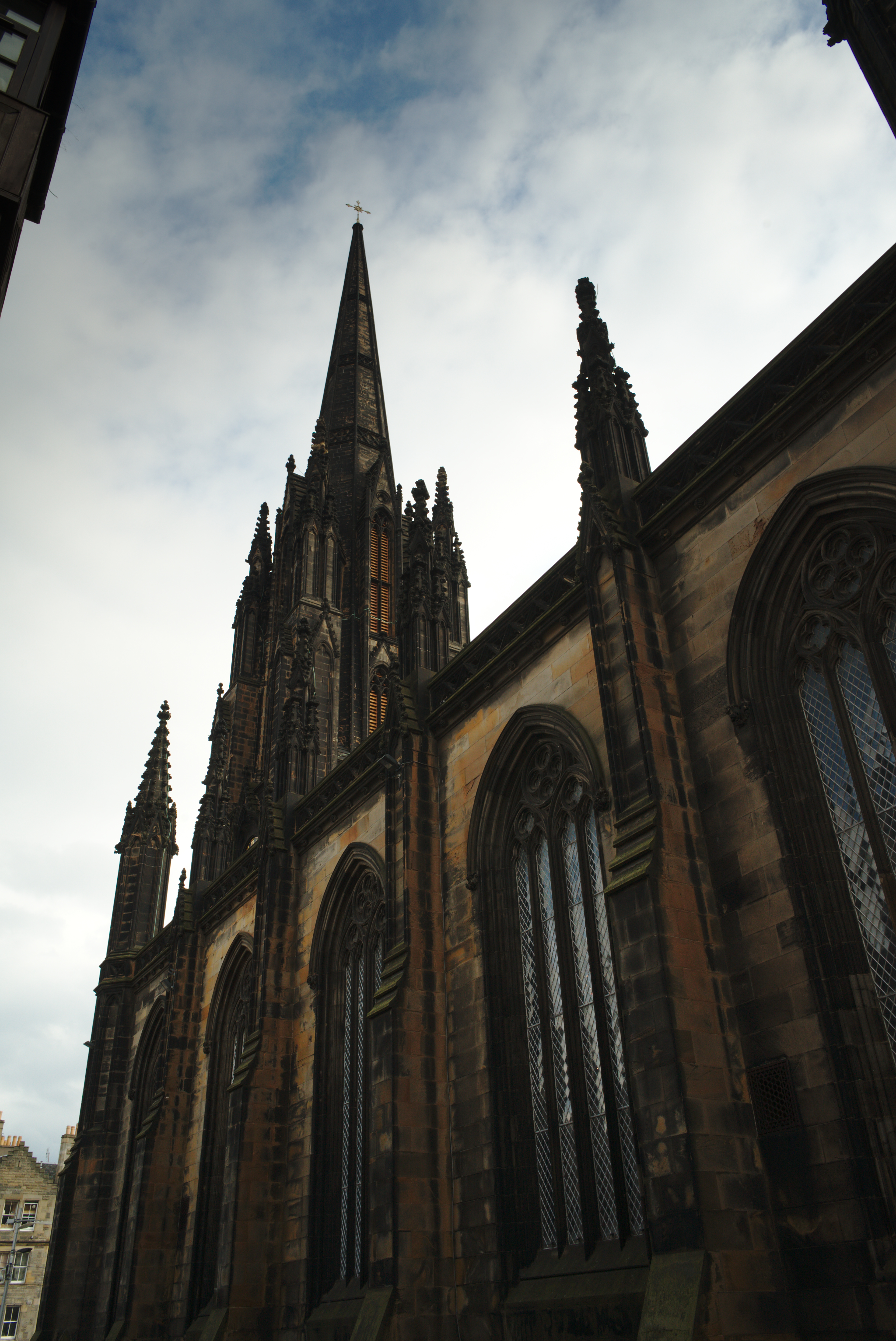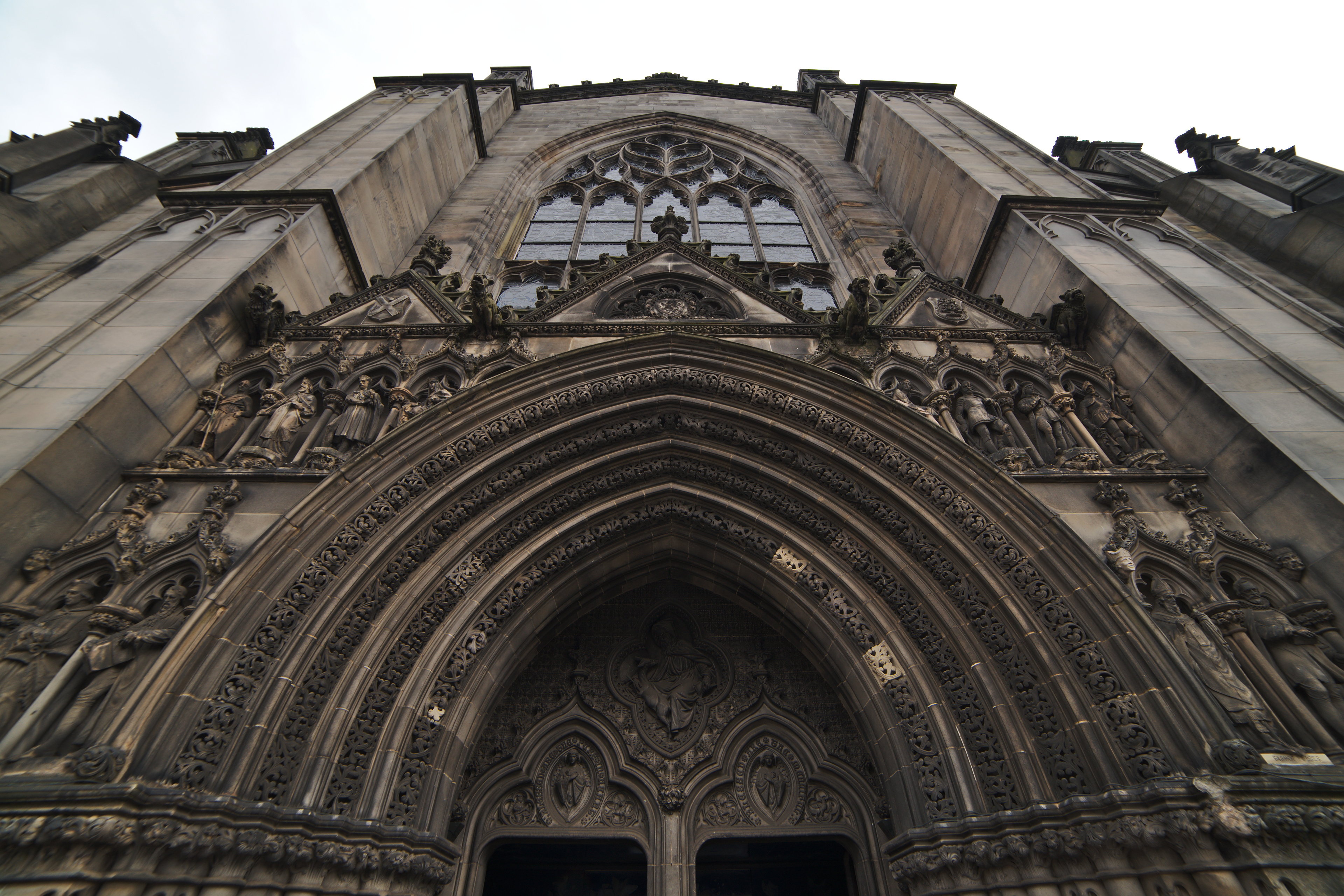 We then began climbing our way up to the Castle, which is no small feat if you start in the park below. Edinburgh Castle has many interesting things at many different elevations. We explored the One O'Clock Gun deck, St Margaret's Chapel, meandered the grounds, then ended up at the National War Museum.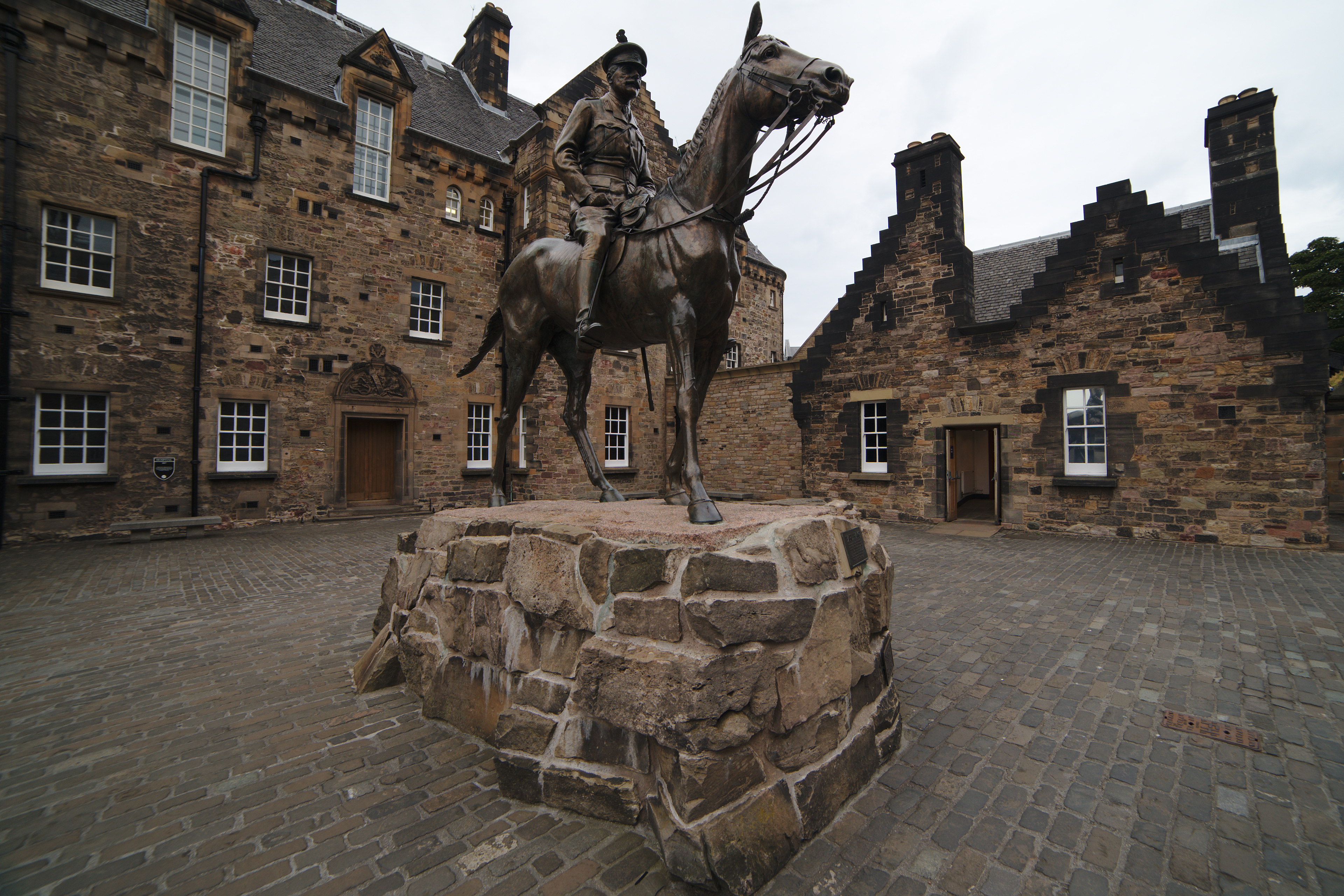 Clocking in nearly 14 Kilometers for the day up and down the slopes near the Edinburgh Castle, we ended with an incredibly surprising meal at Dusit. We fancy ourselves a bit spoiled by the food diversity between Detroit, Grand Rapids, and Chicago… but this preparation and experience was the best Thai food any of us ever experienced. Exhausted and spiced out we all turned in for the evening.
One thing to note about sleeping on Rose street is that, even with governmental planning for "noise action plans" there is going to be a cacophony of glass knocking around as the recycling of bottles from the evening before begins around 0600.
Up early and able to explore the city without an international flight eating up the morning we tore out to find a proper breakfast that would have all the challenging inside parts available. We legged it through what appears to be a bit of financial/legal district and ended up at Indigo Yard: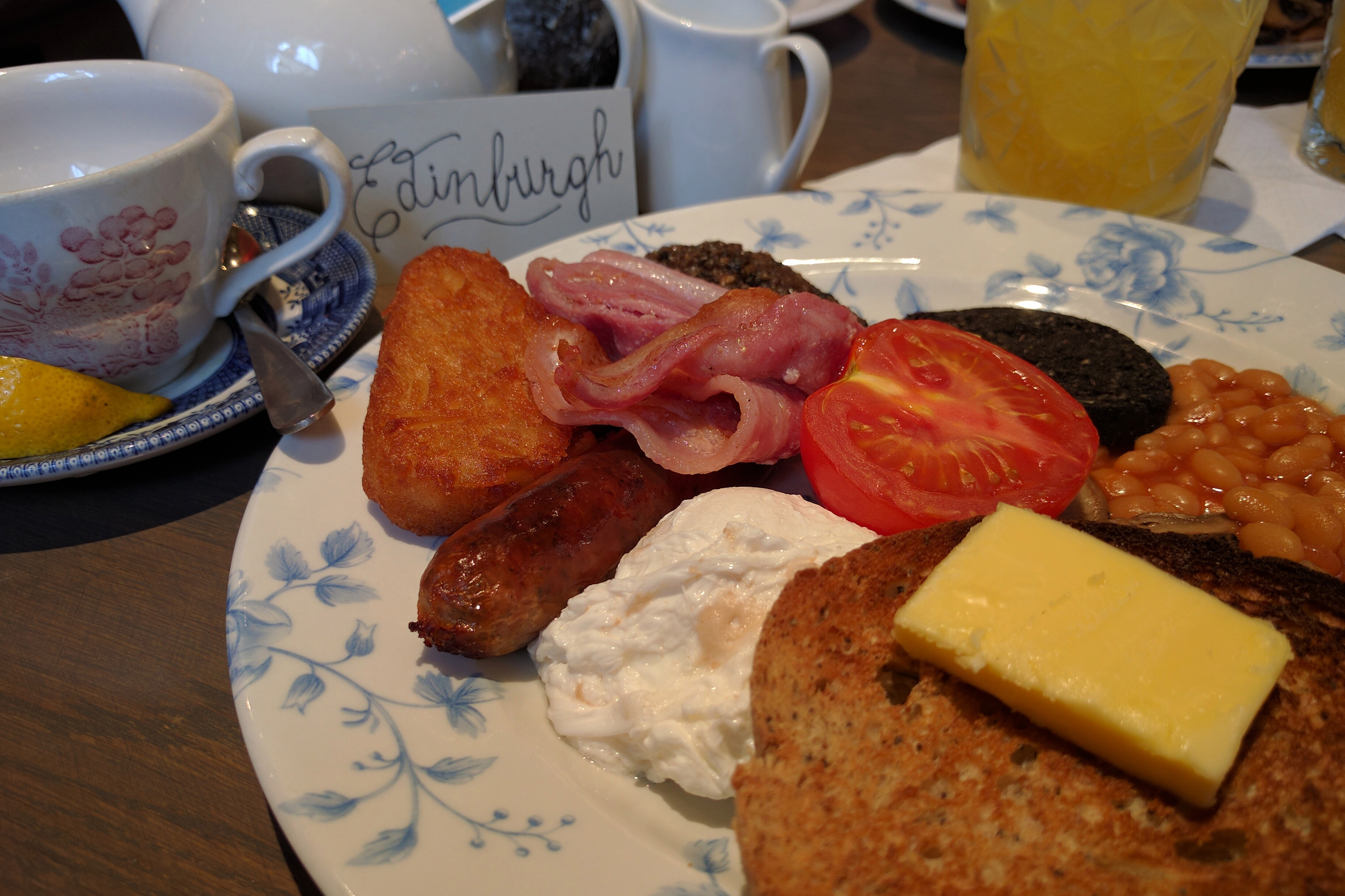 Afterwards we made our way to The Parish Church of St Cuthbert which was staffed by wonderful volunteer parishioners who would accompany and explain anything you were interested in.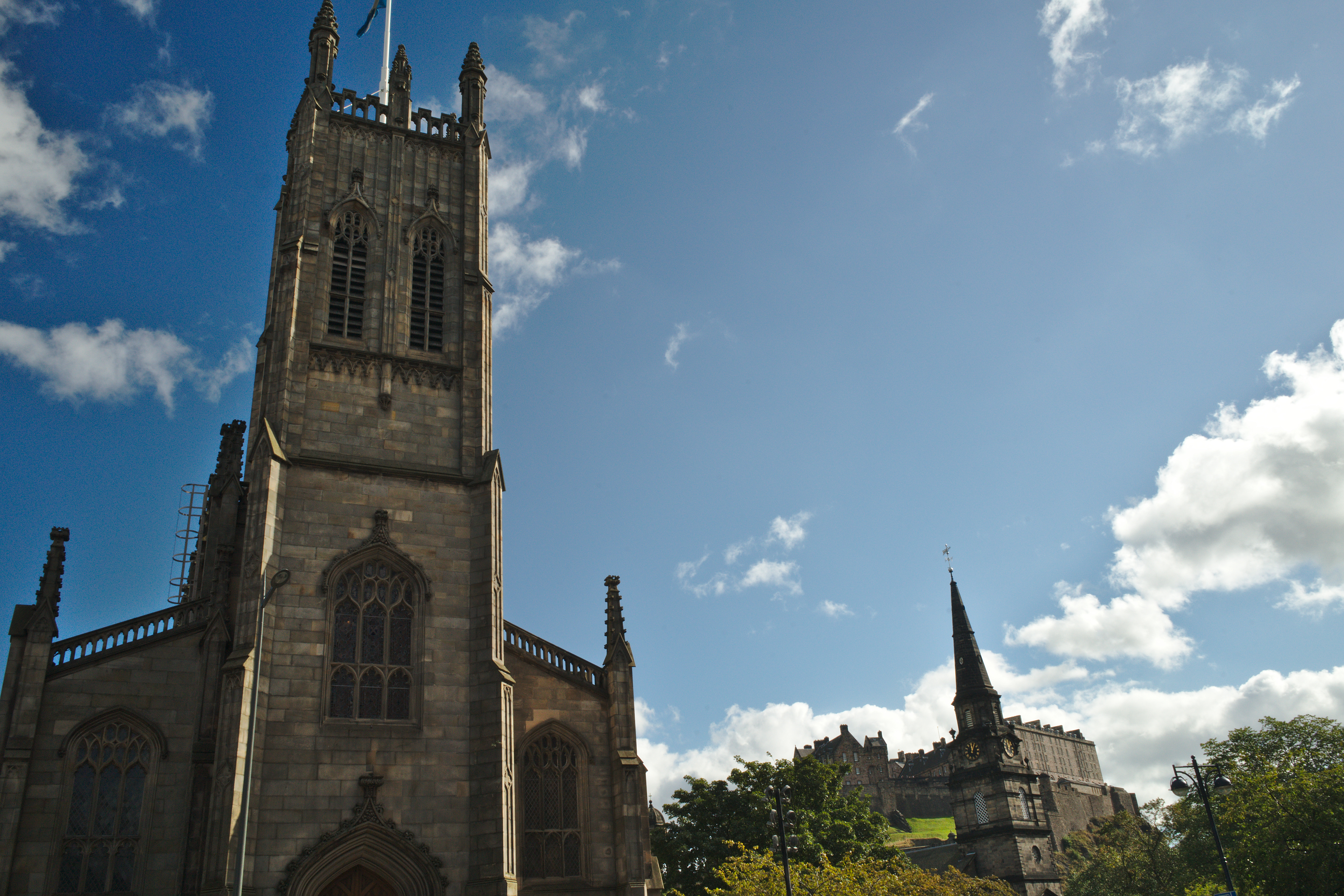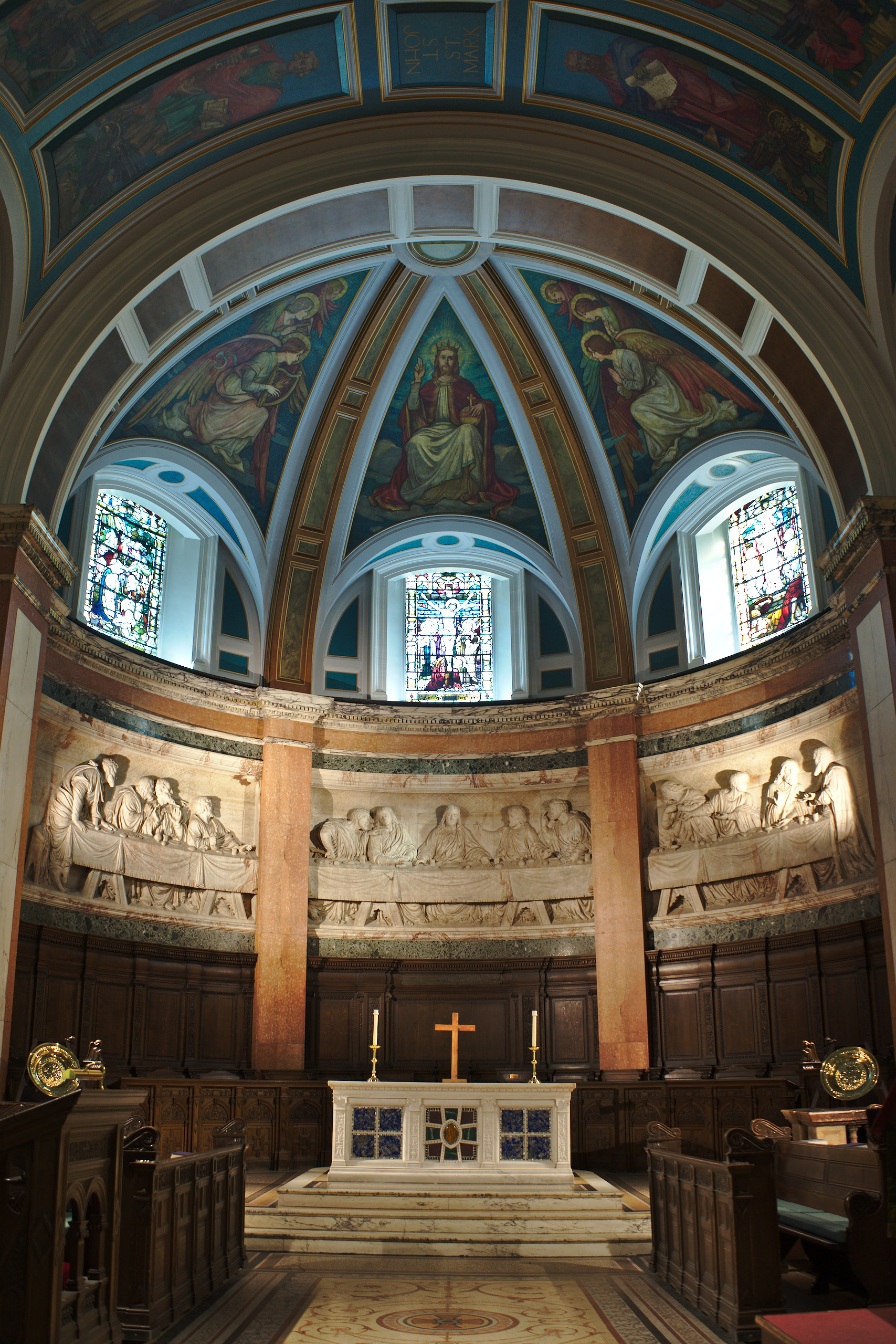 We then walked through the Princes Street Gardens where there is a picturesque little house near the floral clock. Then through the Scottish National Gallery, taking a short break at Zebra Coffee. We then hustled to the National Library of Scotland and examined many hand gilded manuscripts, inquiring about the protocol for requesting artifacts for review from their archives. There were many impressive displays, but most impressive was the focus on maps. The stairwell provides a clue as to how serious it's going to get as you proceed within: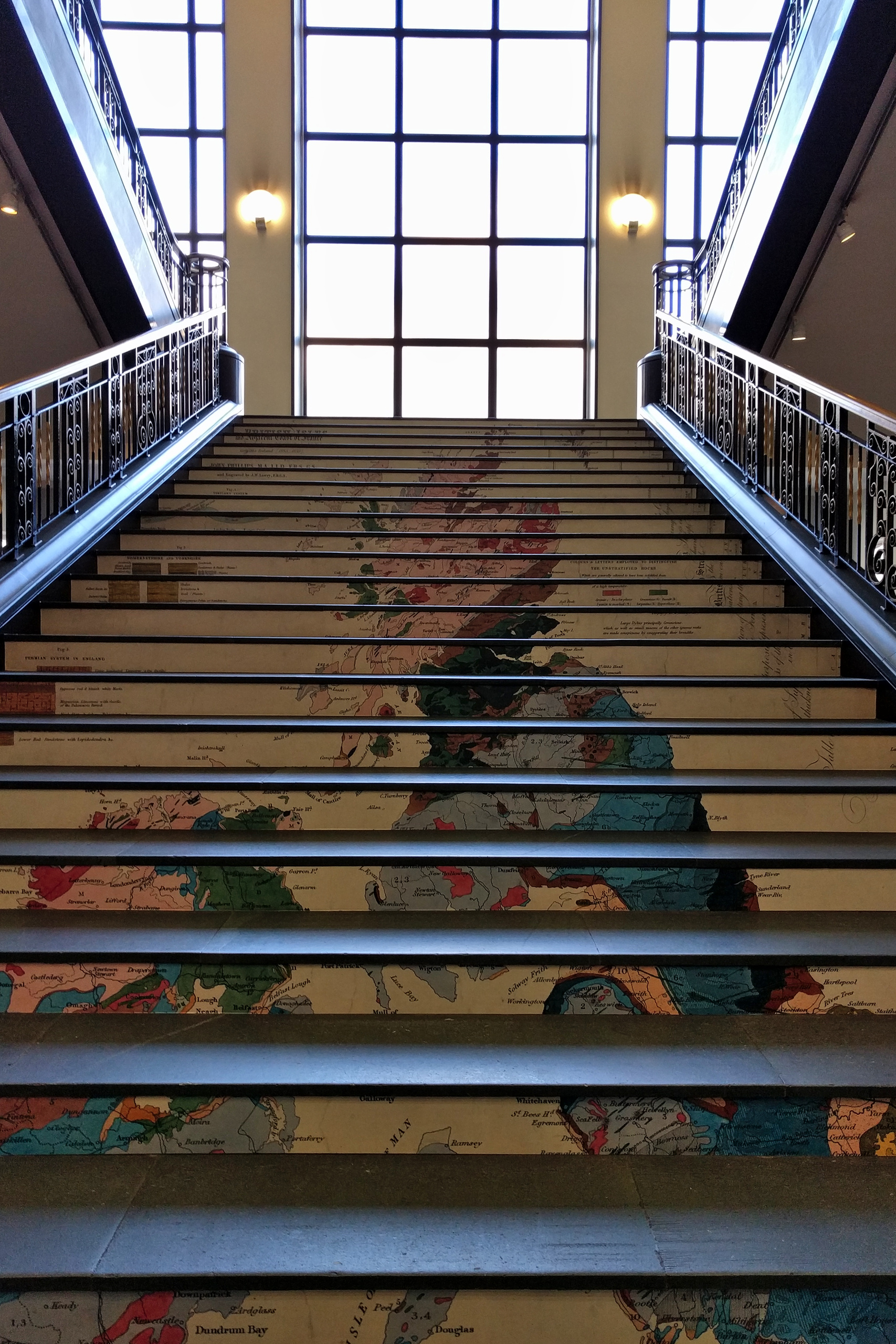 The most impressive piece on display in my opinion was a hand drawn distribution of population for the British Isles based on the 1841 census by Augustus Petermann: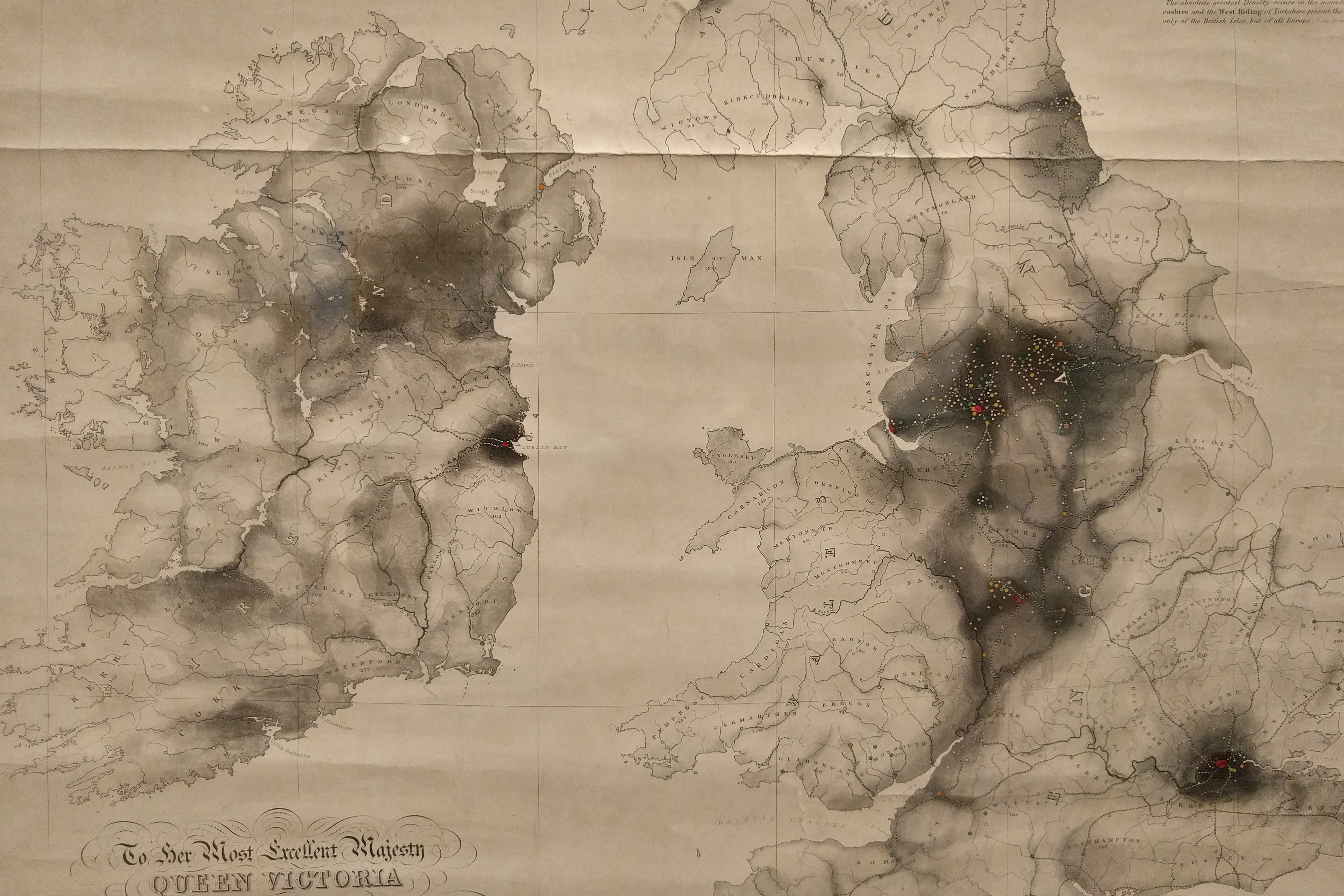 It was breathtaking to think of the level of effort and artisanal discipline required, where now with computer graphics/processing being what they are we could create a simulacrum in hours instead of likely months or years.
We then hustled on to the National Museum of Scotland which is just a spot you'll have to go see. The architecture alone is incredible, then the juxtaposition of that with the actual exhibits is breathtaking.
The walk from Zebra Coffee to the National Museum of Scotland was delightful in the sense that you are enveloped in architecture and style that appears so timeless once your eyes get above the streets where there are modern things like automobiles.
We then set our sights on Royal Botanic Garden Edinburgh but took a bit of a pit stop at I.J. Mellis Cheesemongers due to piles of Scotch Eggs in their front windows.
We then walked the expansive gardens and explored all of their buildings: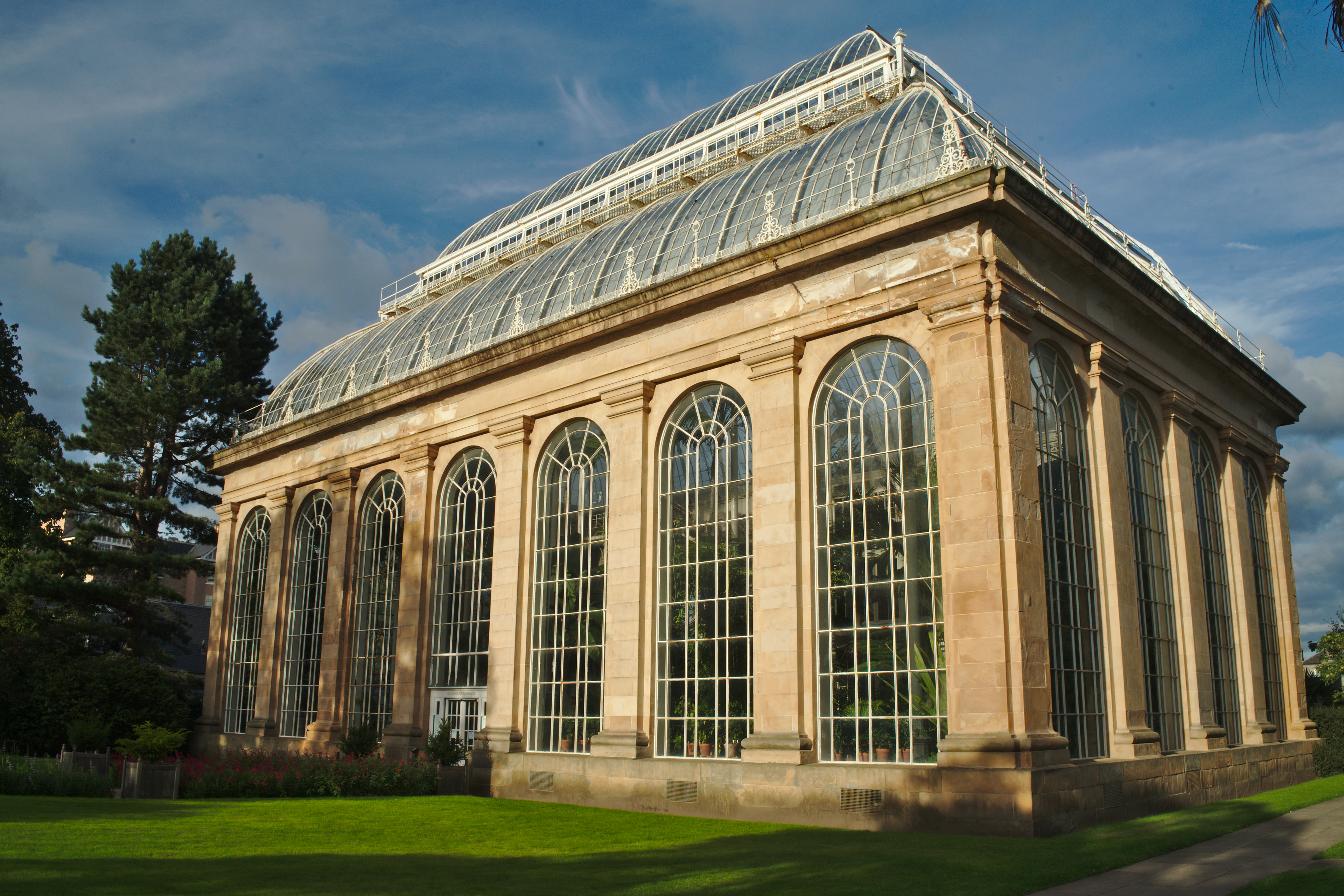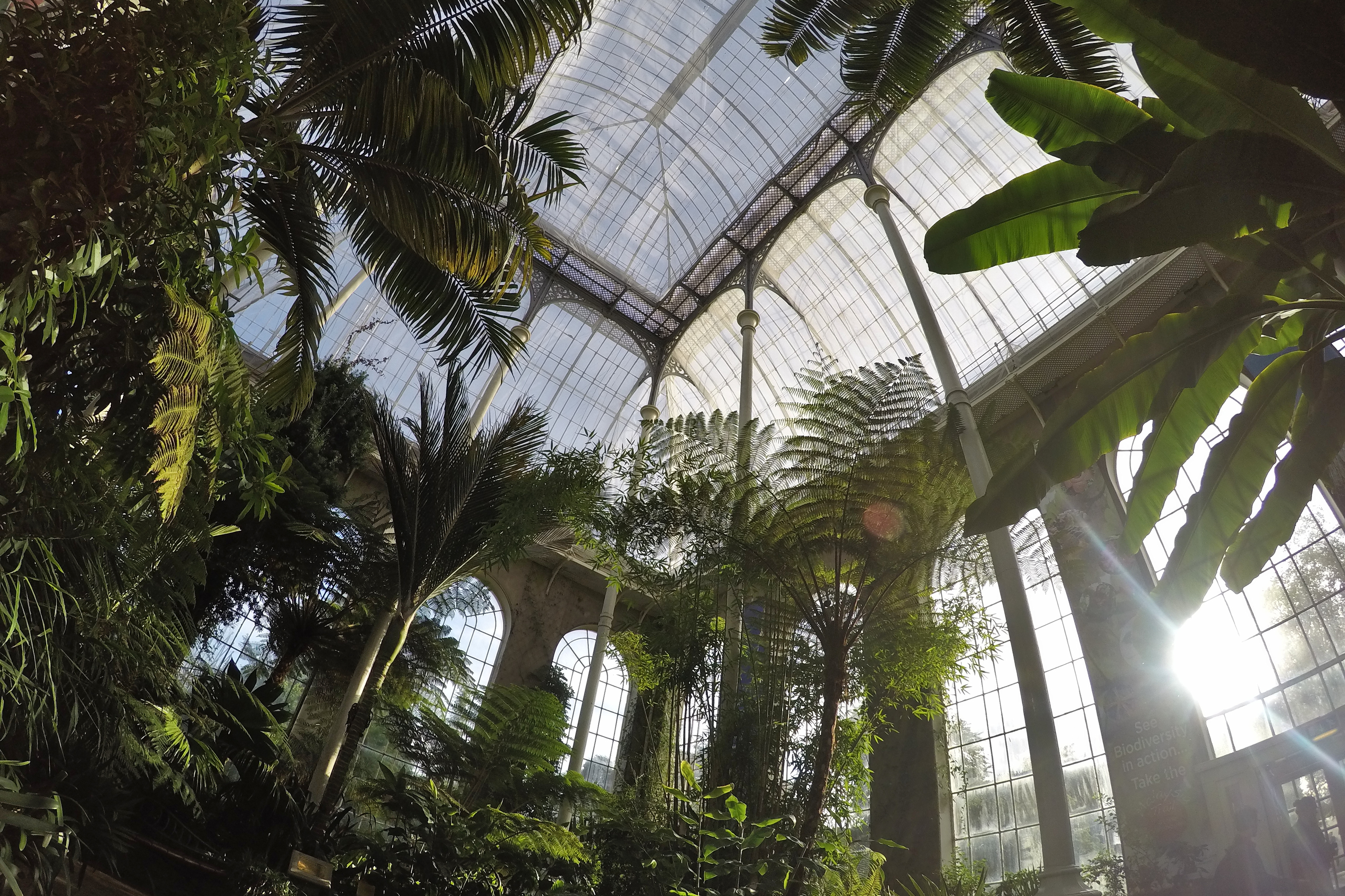 Eventually stopping to have our snack. This may be the first and last picture of almost exclusively myself on this site… but the anticipation for trying these had been growing for years, and the last several kilometers of walking while holding a slightly weighted bag had eroded my self control: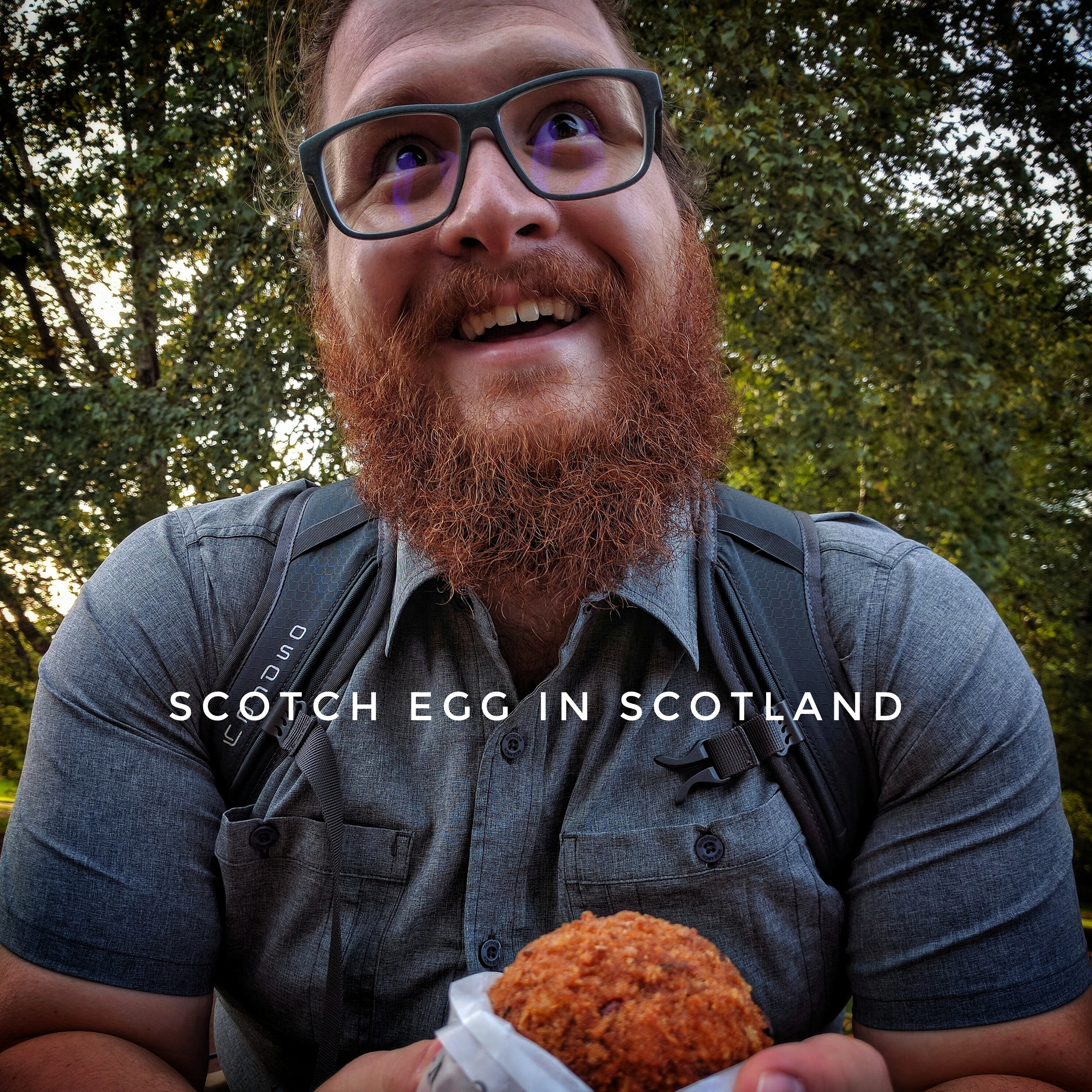 We then made our way back to city center for dinner at The Printing Press, drinks at The Bramble Bar… then drinks again nestled under Edinburgh Castle at The Devil's Advocate.
Ending our Edinburgh journey, all on foot… something like 30 Kilometers in two days on all kinds of strangely hewn stone and elevation changes. We made our way back to Rose street for the last time on this journey: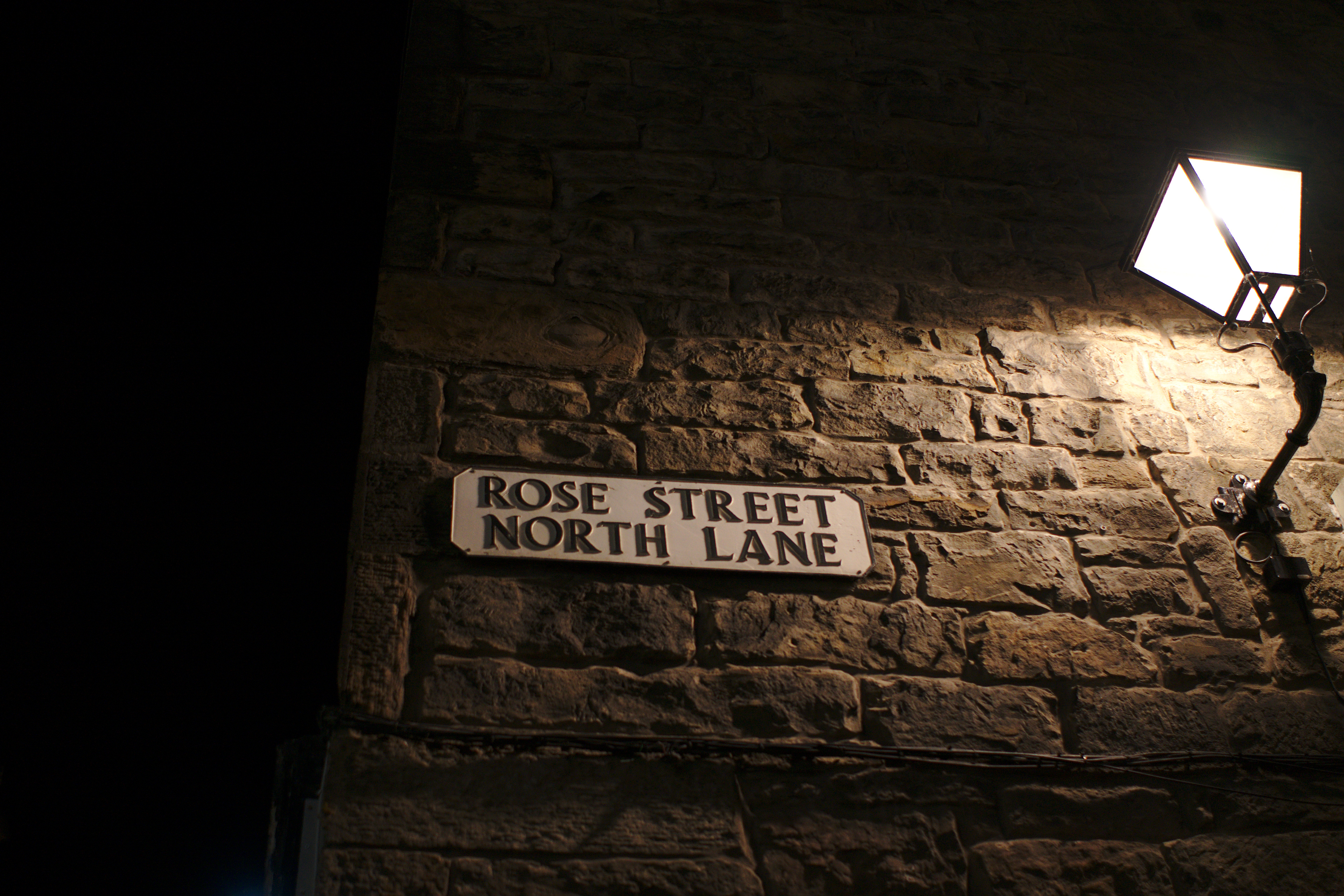 Day Three: Edradour, Cairngorms, Ancoc, Huntly Castle and Bridge #
We woke up with excitement to pursue the true intent of getting to Scotland, the culture of whisky in the Highlands and the Speyside. Our intent was to equip ourselves with a vehicle, practice driving on the strange side of the road in Edinburgh for a little bit, then hustle up through Cairngorms National Park on our way to the Glenlivet Estate.
We stopped just before getting into Cairngorms at Pitlochry to get a bit to eat at the delightful Port-na-Craig before visiting our first distillery.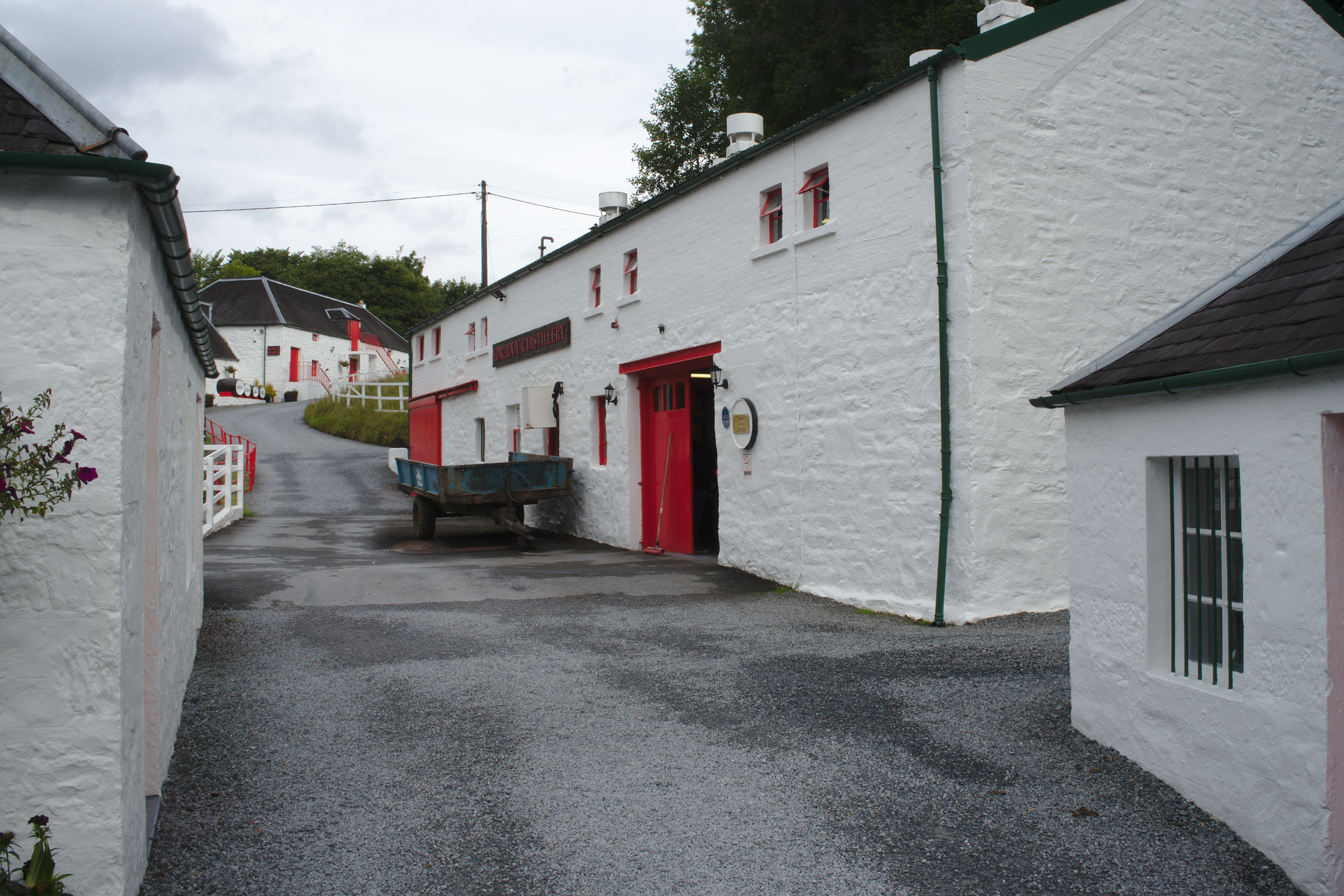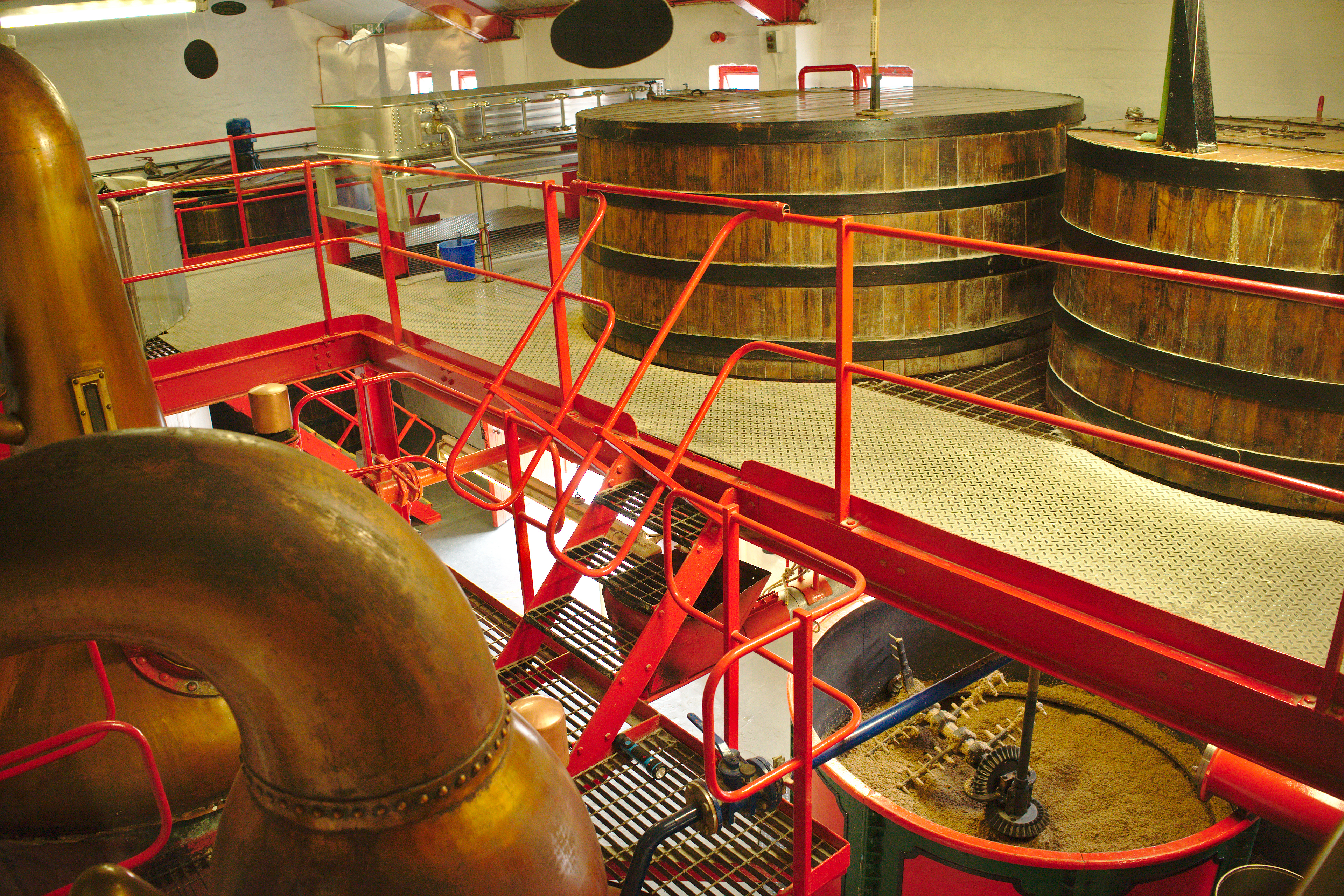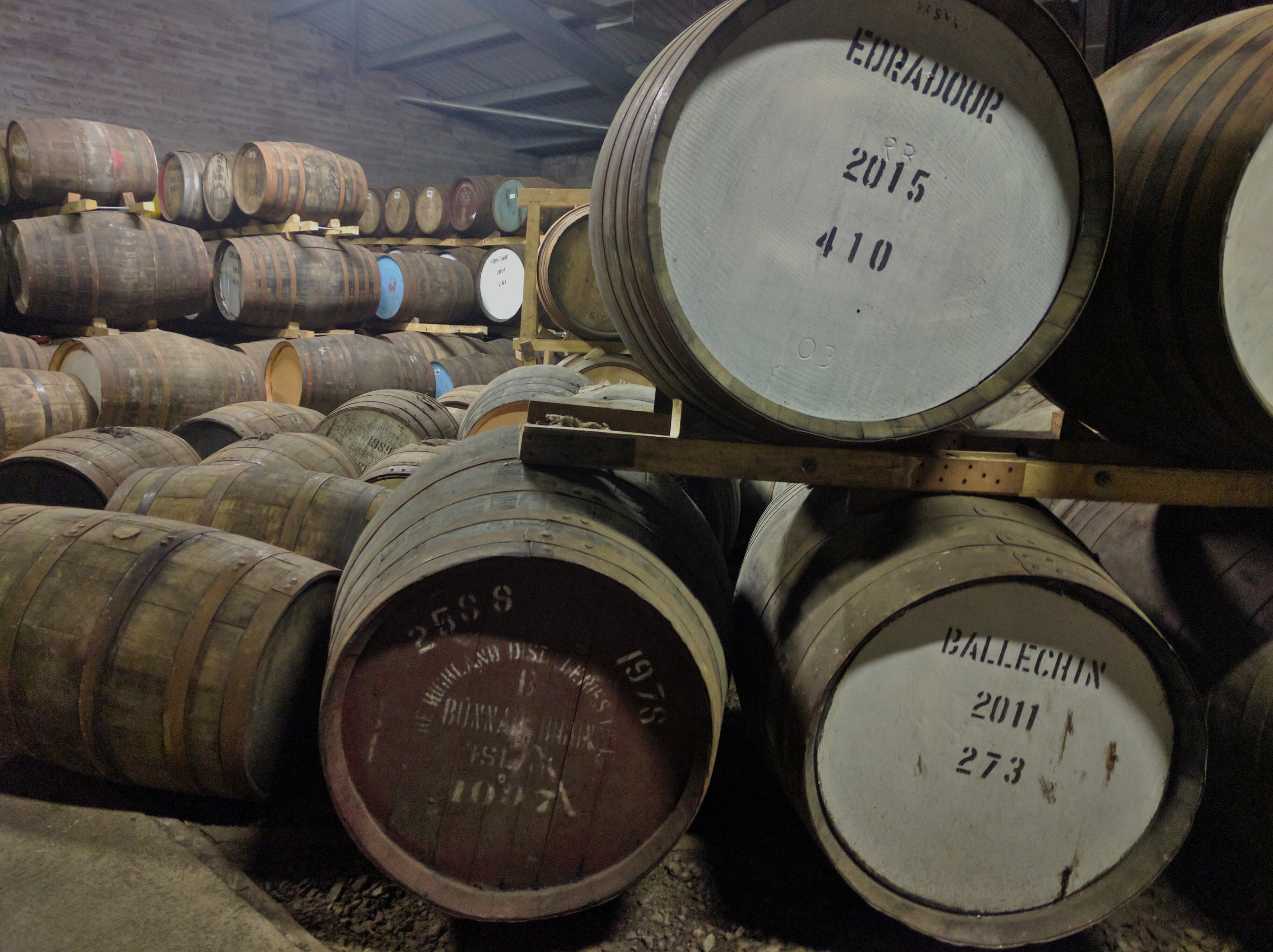 Edradour Distillery was formerly the smallest distillery in Scotland.
Established in 1825, the distillery was traditionally run by three men, but now there are just two. Only eighteen casks are produced each week. They have a tour which costs £10 and currently includes two drams and a nosing glass.
The tour has a small time feel to it, and is notably one of the only tours where you're going to see such a rich heritage of casks from different distilleries around the island. Signatory, which is often found in the states doing limited runs of specific vintages, is their approach to buying up stock from other distilleries and offering them under their own independent bottling. You're able to spend a good deal of time nosing the Angels' Share, far more than many of the other distilleries we found in the region. They also allowed photography in the storehouses, which is prevented on many other tours.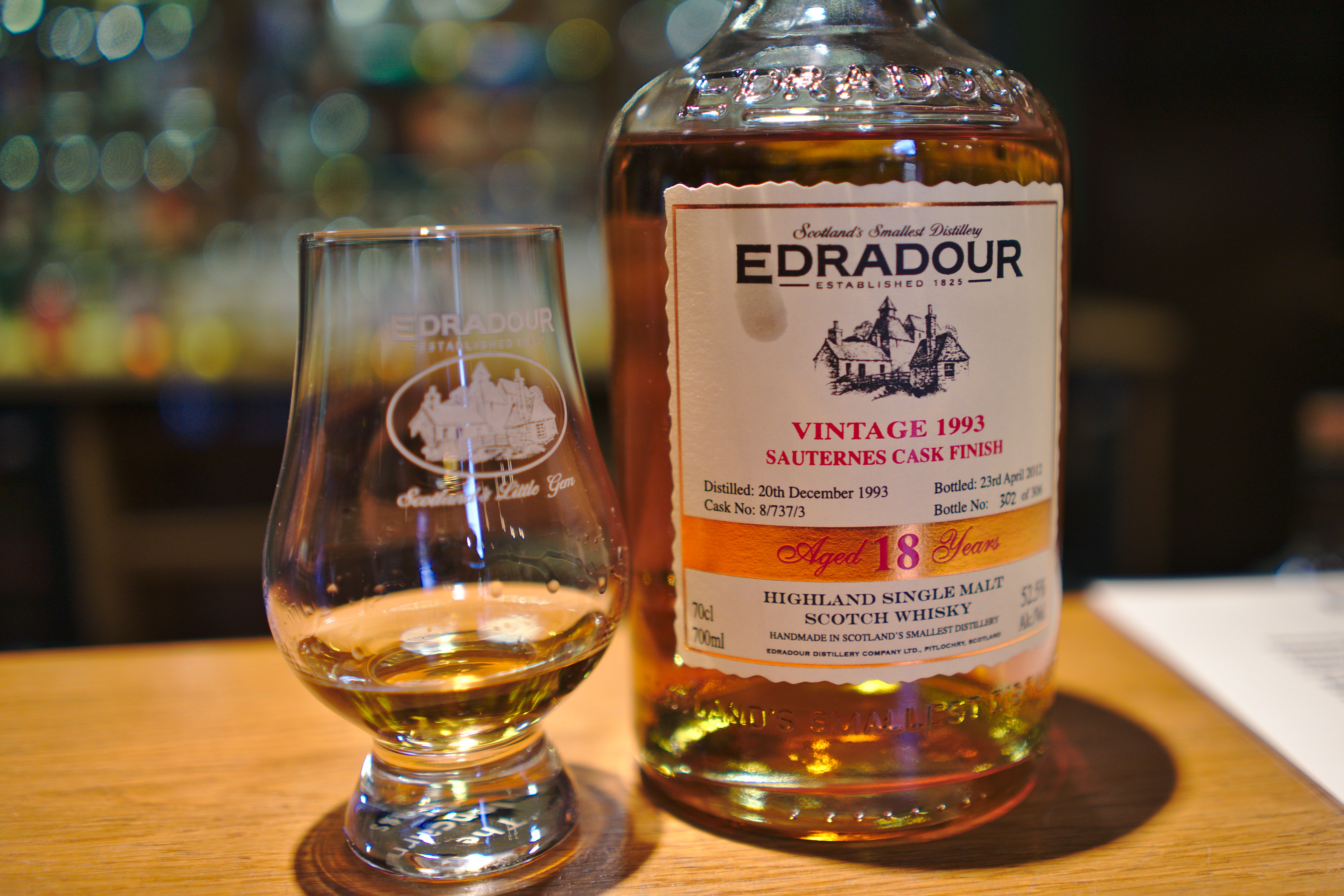 We then worked our way towards Knockdhu Distillery for a quick visit: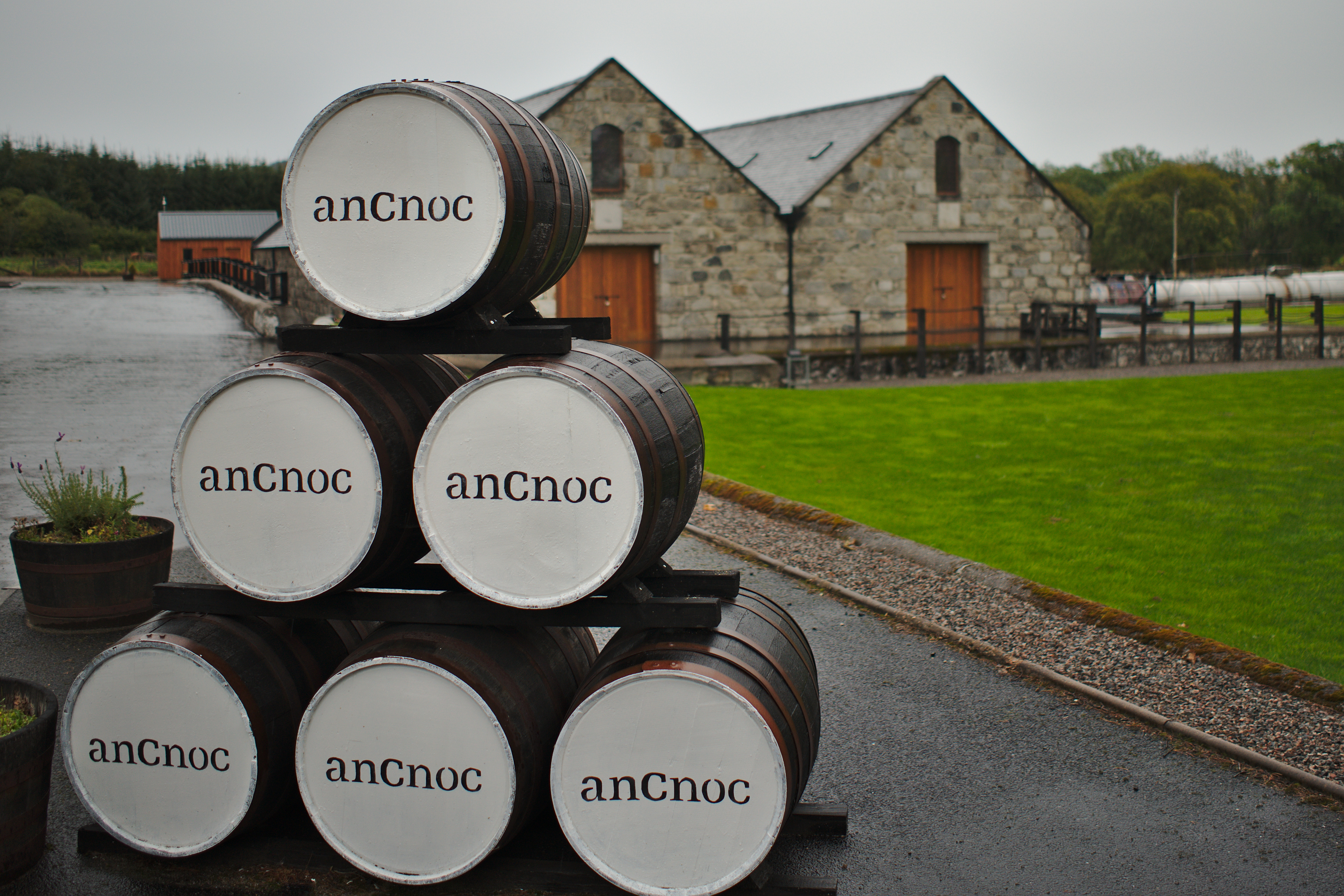 Hustling onward to Huntly Castle we noticed the grounds had a wall/fence around them and there was a sort of ticket-booth attendant area that didn't have anyone inside of it. We searched for a little while before a delightful old man came around a corner and told us that he was packing up for the day and didn't want to take any fees for a visit, furthermore the gate is locked but if we drove around the the backside we could easily jump the fence and walk the grounds at our leisure. We were tickled by this interaction, promptly found the rear gate, but before we jumped the fence we became infatuated with this bridge over the River Deveron: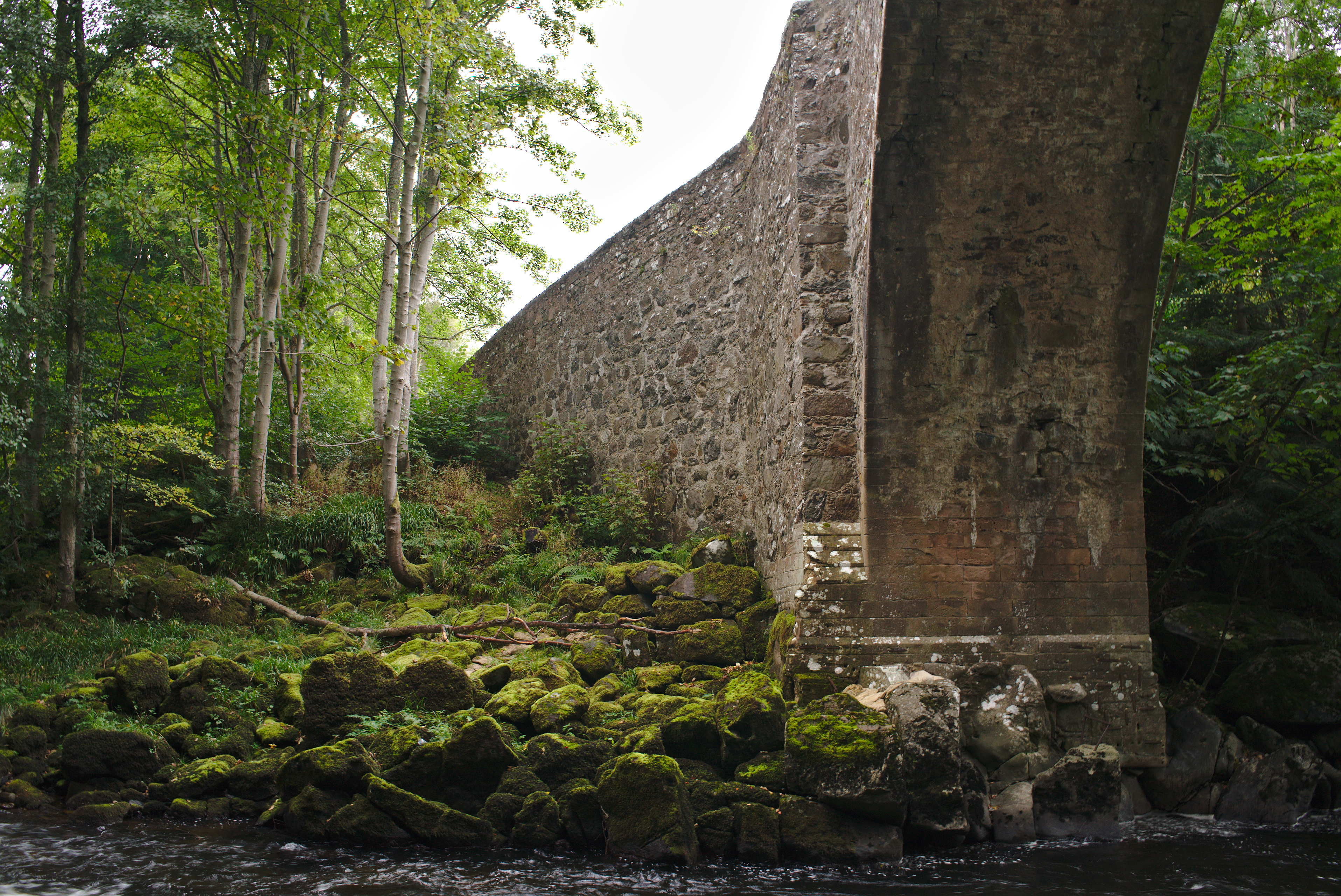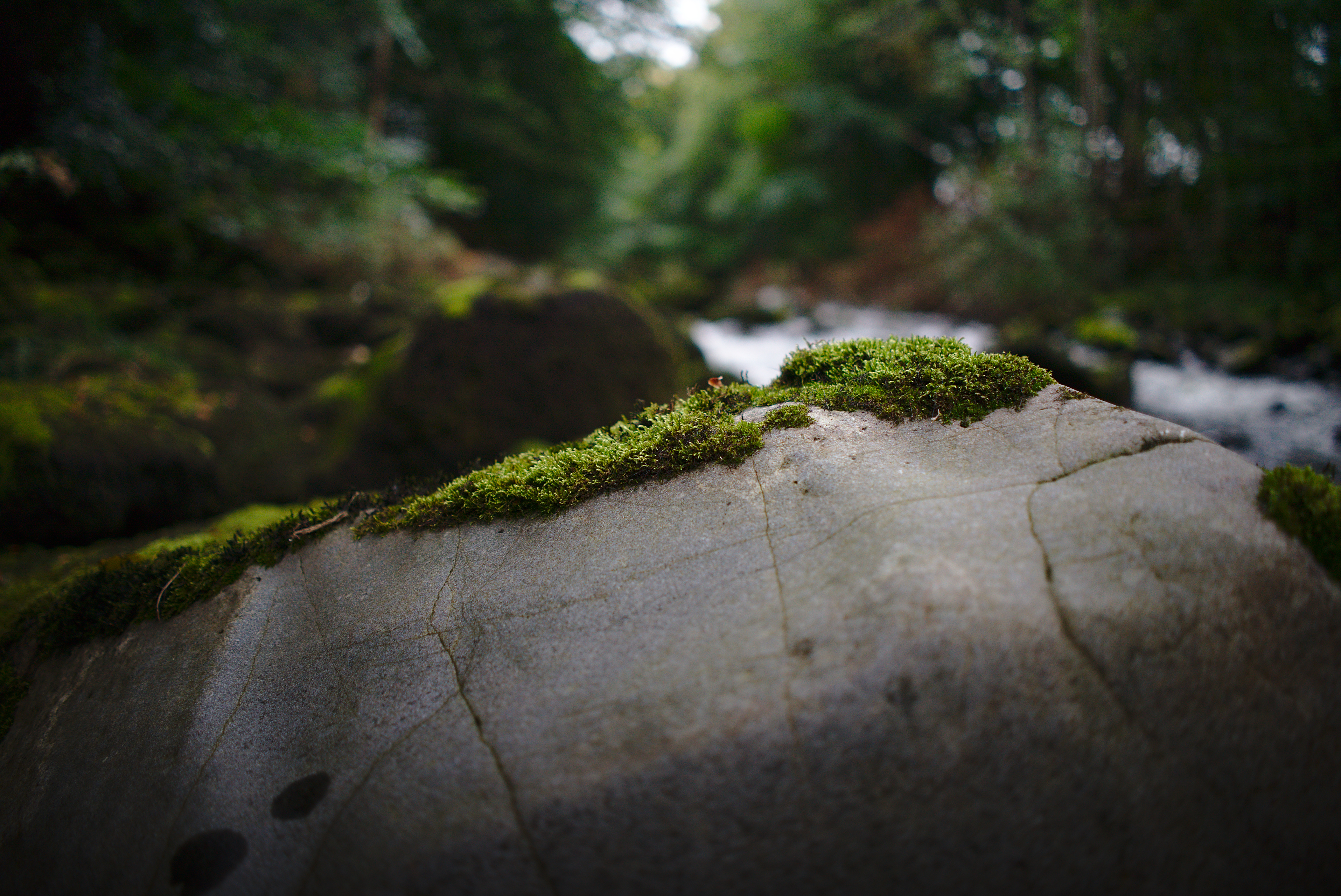 Eventually we made our way on the grounds and it was breathtaking to be there almost alone as nature was re-taking over these structures.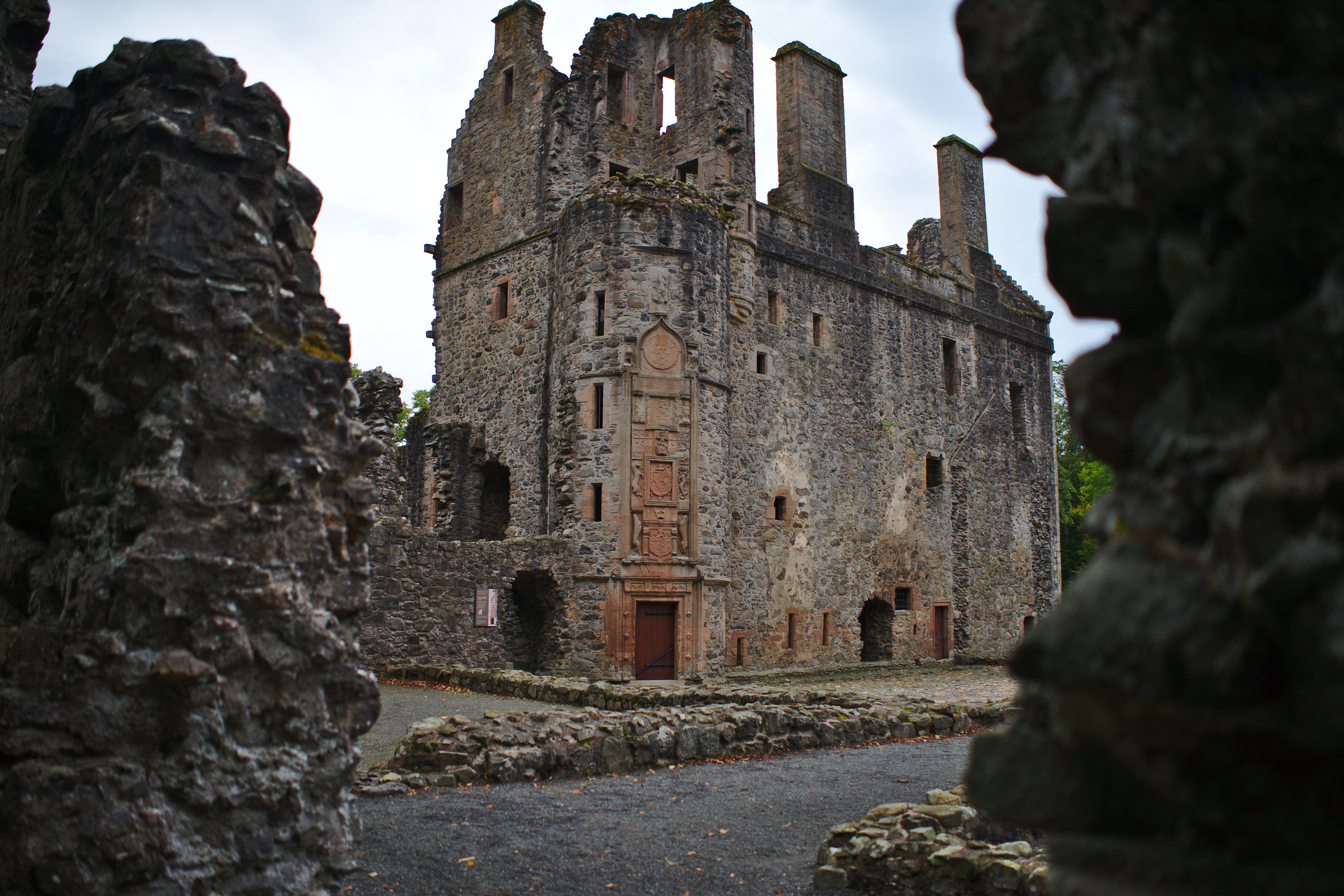 We then made our way back onto the Glenlivet Estate to the ClockHouse for a dinner where we sampled some typical game of the region. Ending our night at at "The croft", which can be found on airbnb and was featured on BBC Escape to the Countryside S15E08.
Day Four: Glenlevit, Dufftown Walking Tour, Gala at Tennochbrae #
We woke up and head deeper into the Glenlevit estate, with the goal of finding the icon bridge from their recent branding redesign (brige interpretation was done by Chris Wormwell).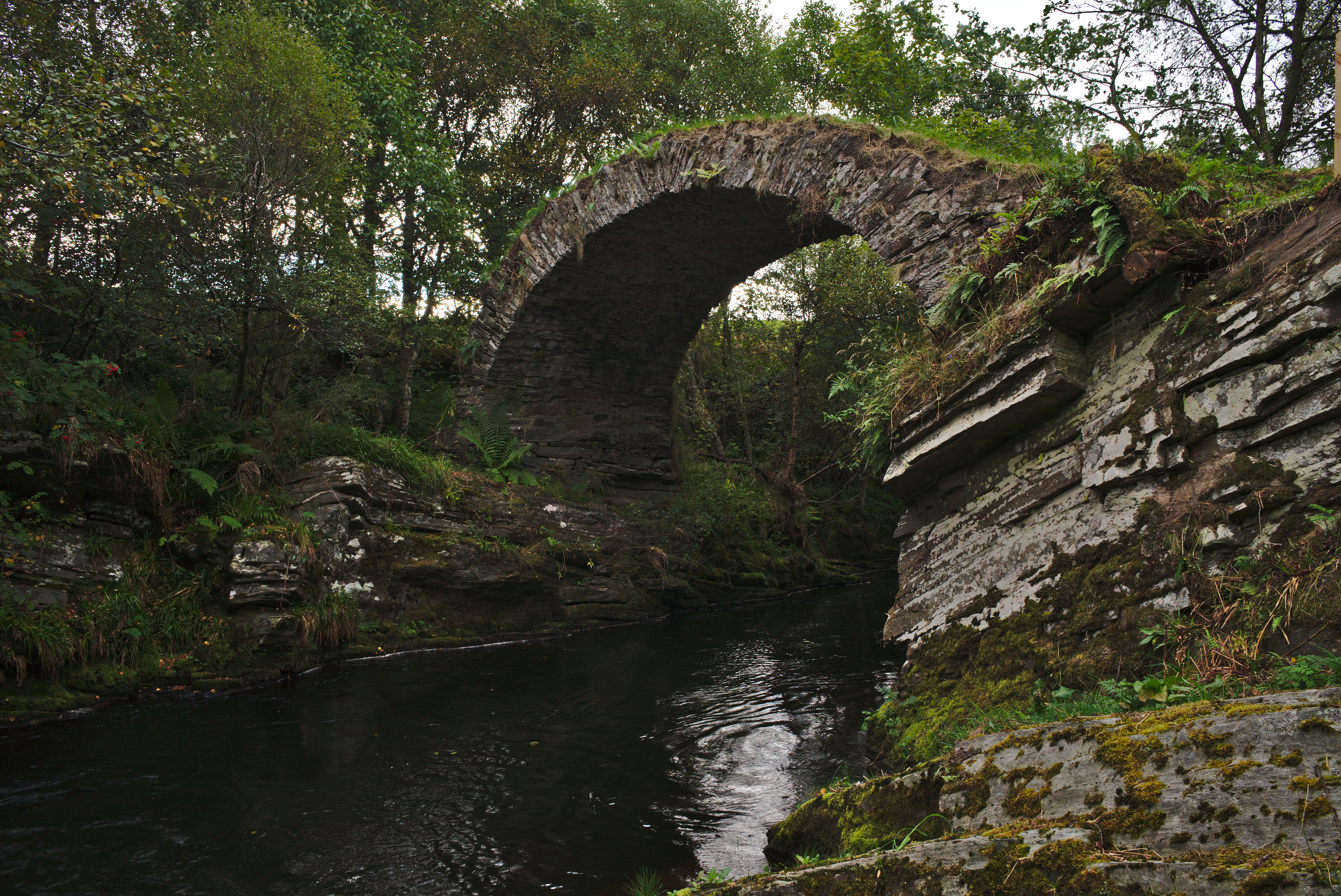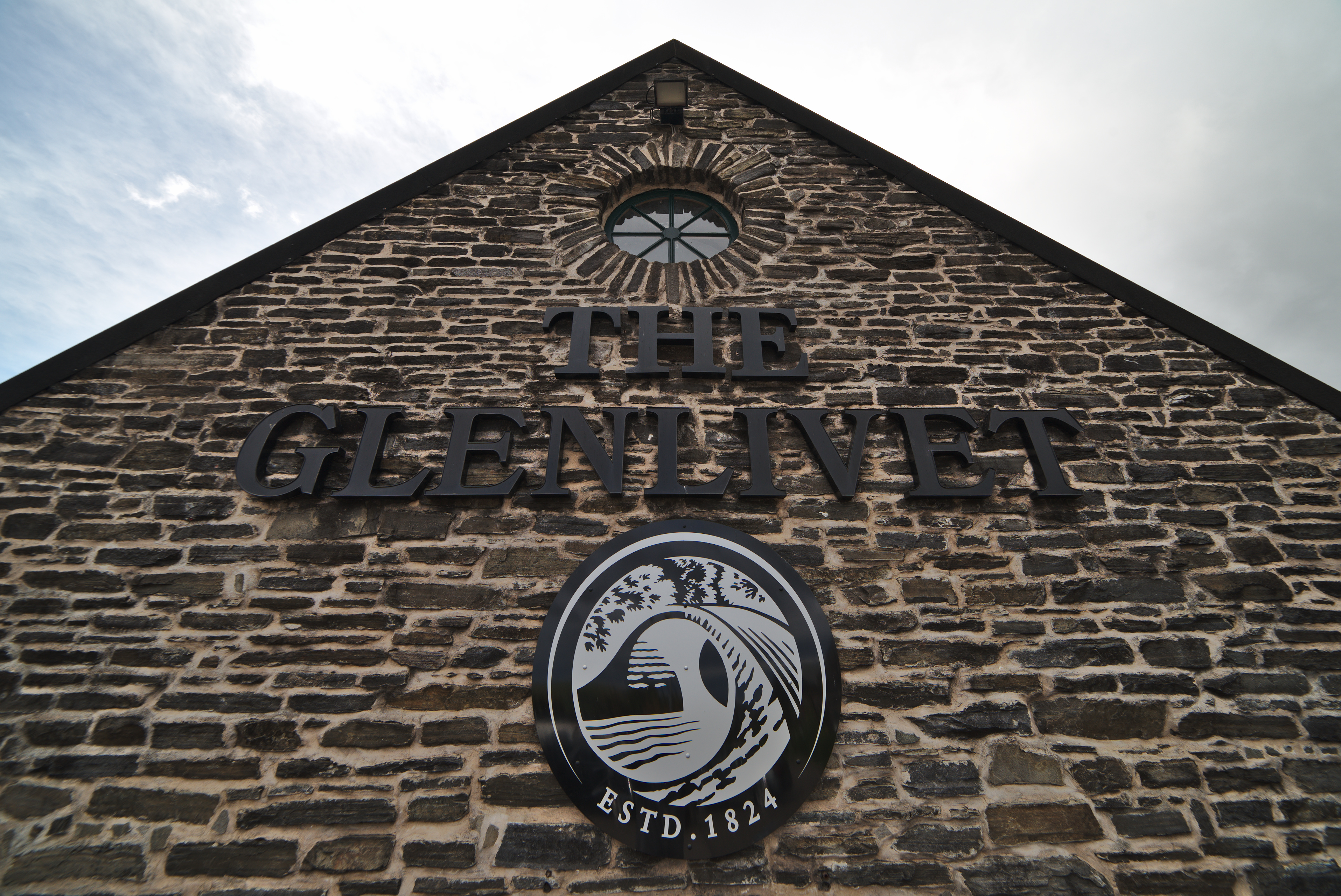 The Glenlivet Distillery has a wonderful tour in the sense of appreciating scale. It was a stark contrast to Edradour, both in size but also in constraints (e.g. we were not able to photograph within their storage houses). Within their welcoming center is a nice place to have a coffee and some short bread to start your day. My first real purchase of scotch was the Glenlivet 15 year French Oak Reserve, so it was exciting to see the origination of what'd gotten me interested in this history/culture.
From there we made our way to Dufftown to meet at the city clocktower and go on a walking tour with Michelle Myron, which was the thing that I've recommended most highly to anyone who is traveling to the area. We walked all around Dufftown sampling ~17 whiskies and seeing almost as many unique locations. We began at Michelle's garage, donning high visibility jackets and nosing glasses fashioned with necklaces.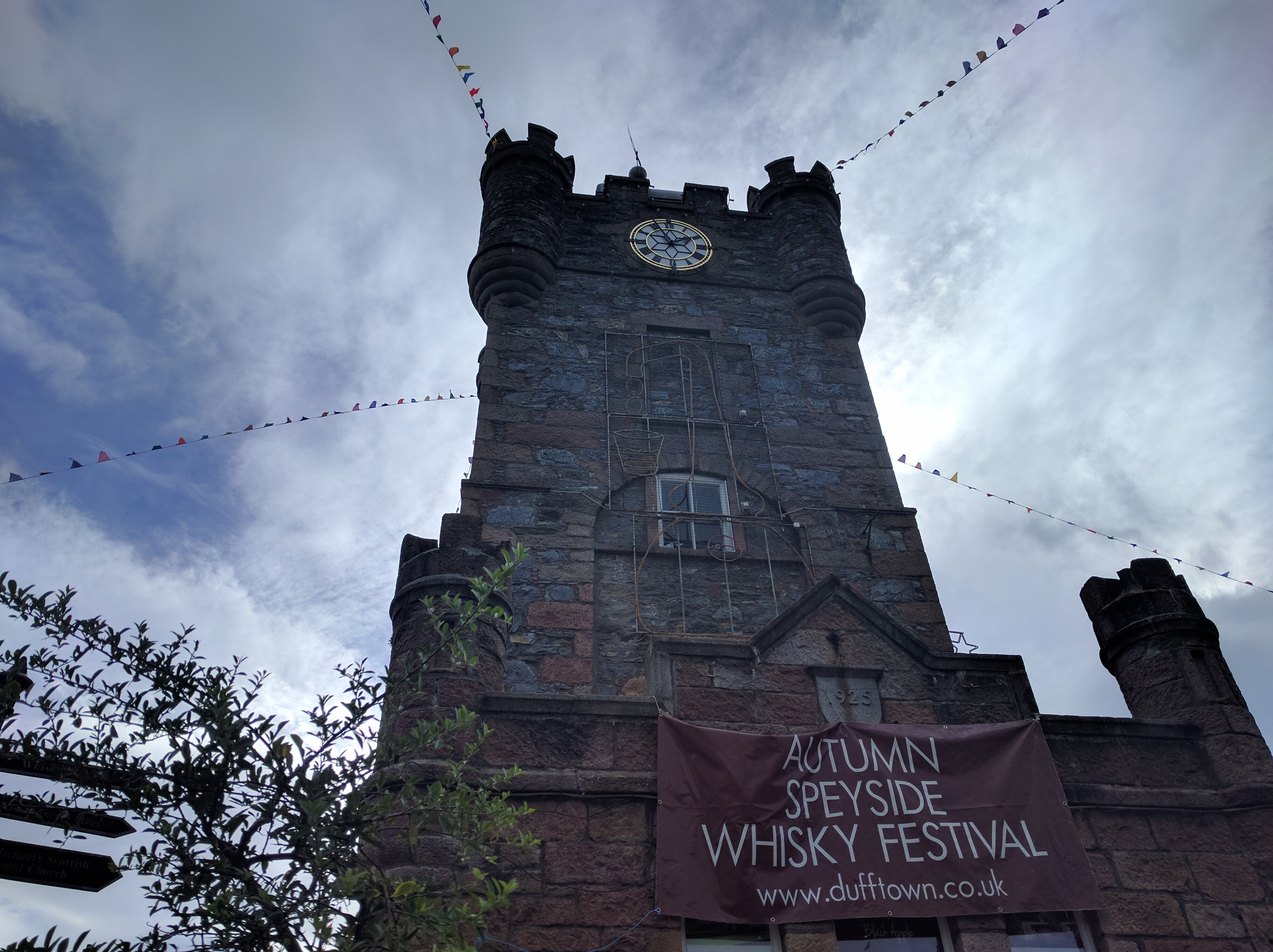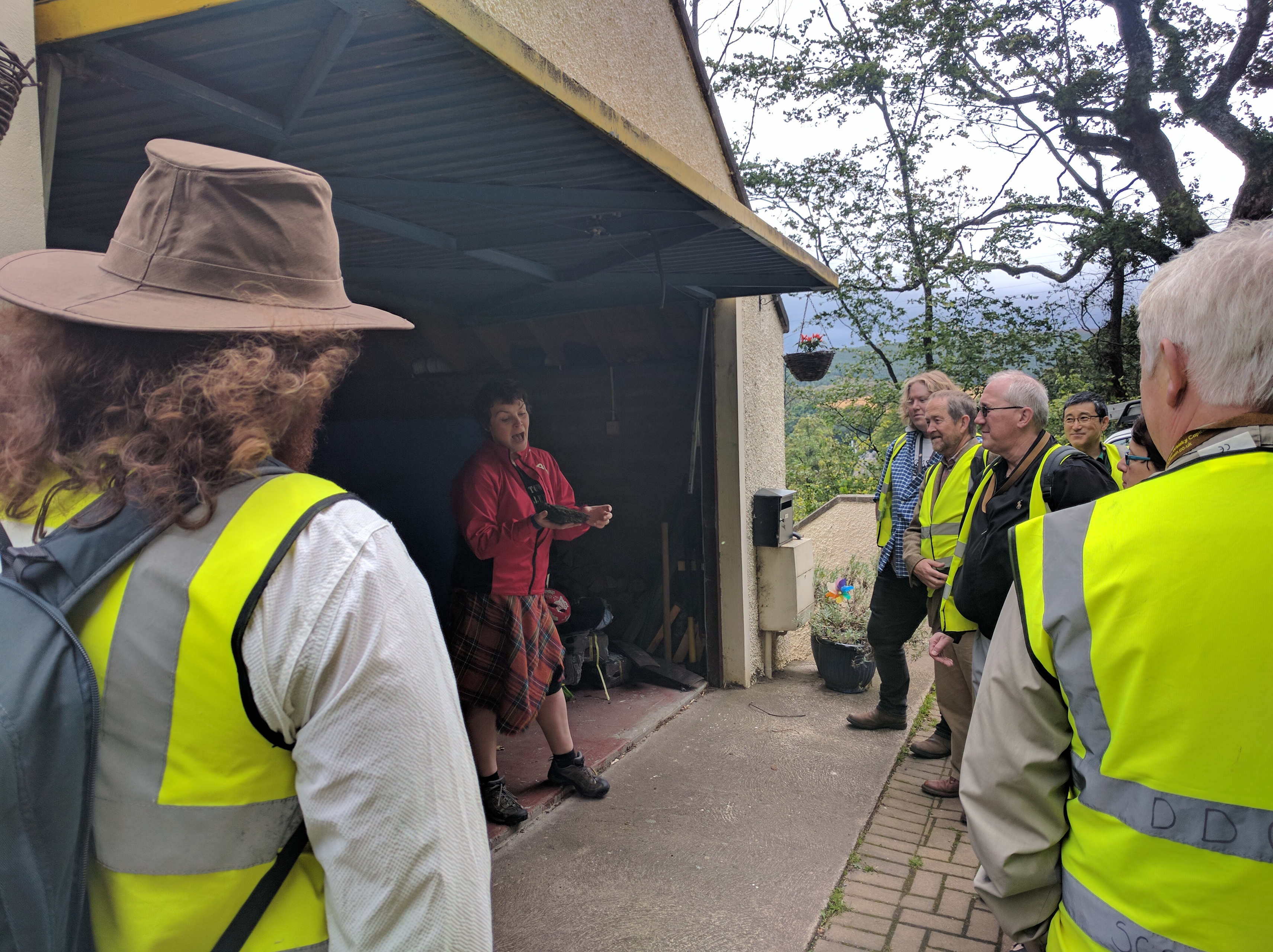 Michelle had backpacks and rubberized totes hidden throughout the city in friends yards, every couple minutes we were stopping to sample another spirit and have an accompanying snack. We were able to sample some out of production and rare vintages at contextually relevant locales, like having some Pittyvaich at this site of the demolished distillery. We were able to see some maintenance procedures on the stills at Dufftown Distillery.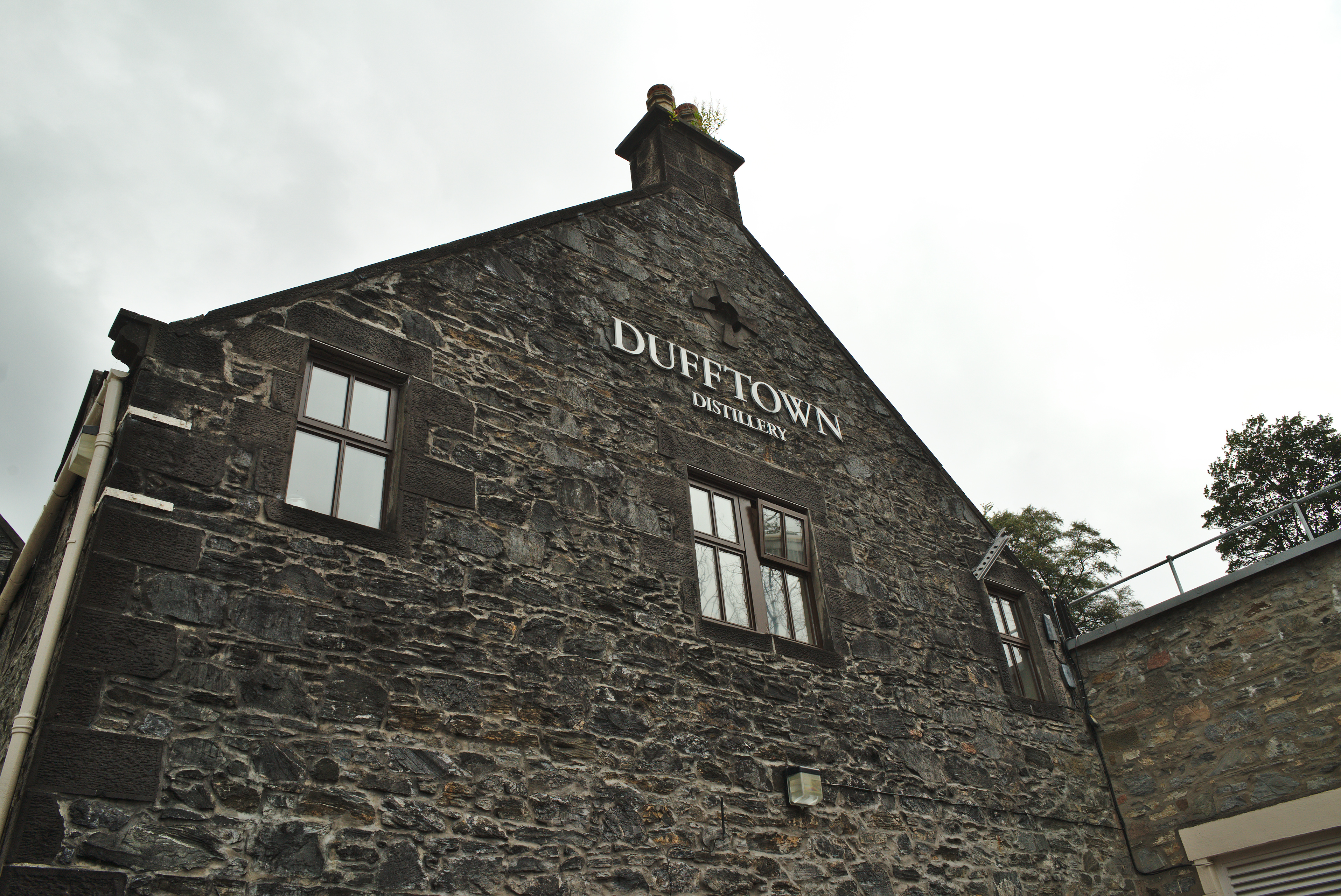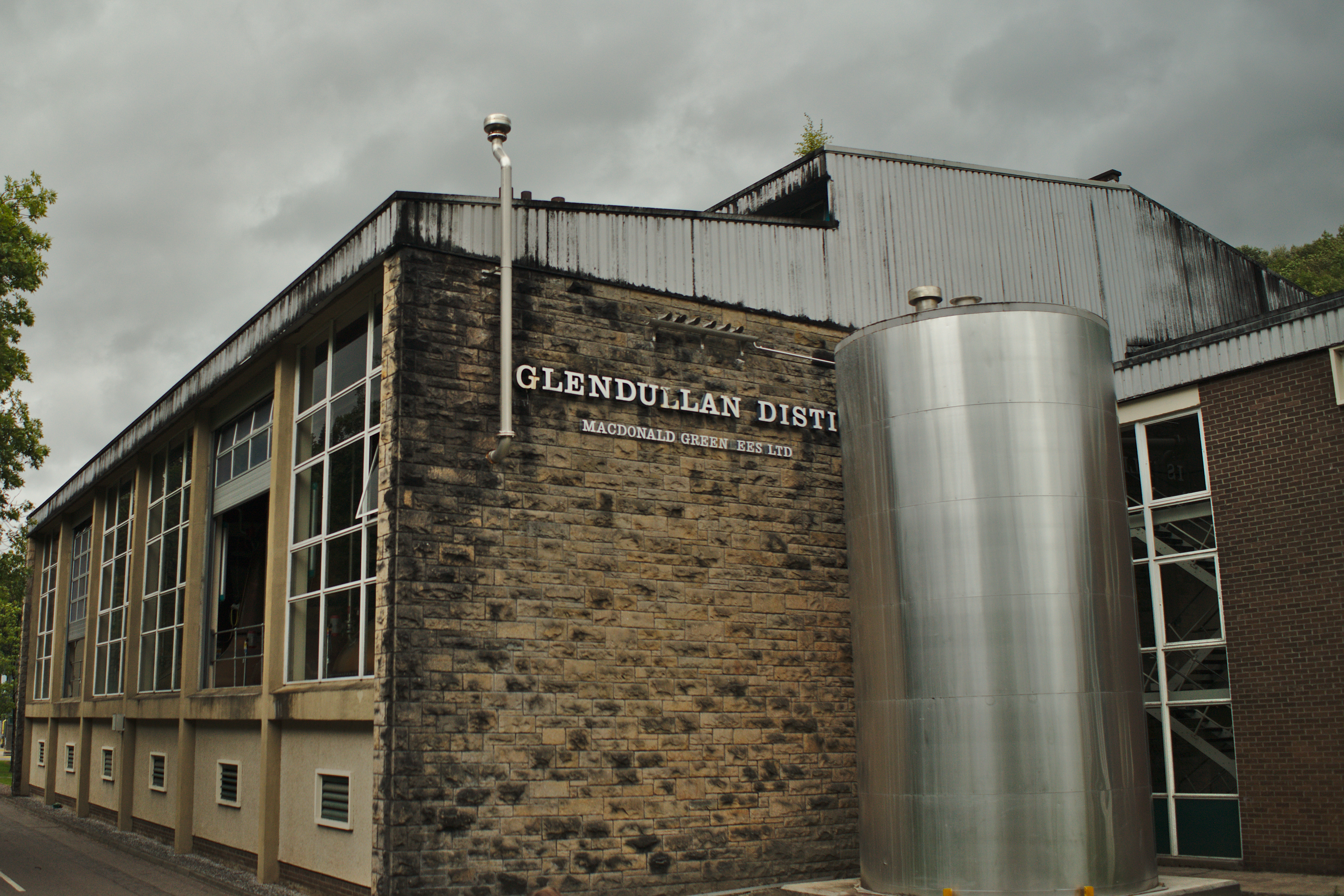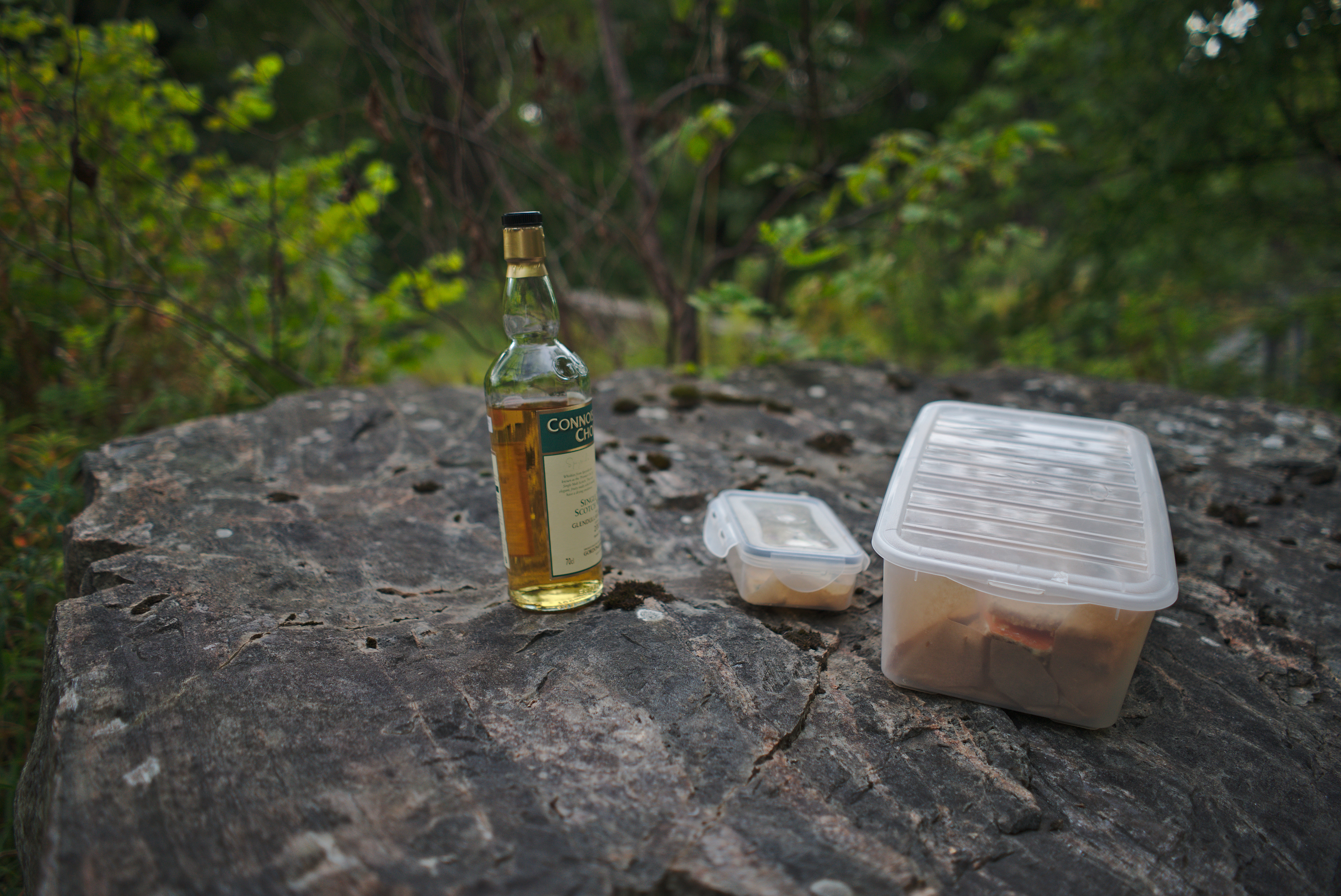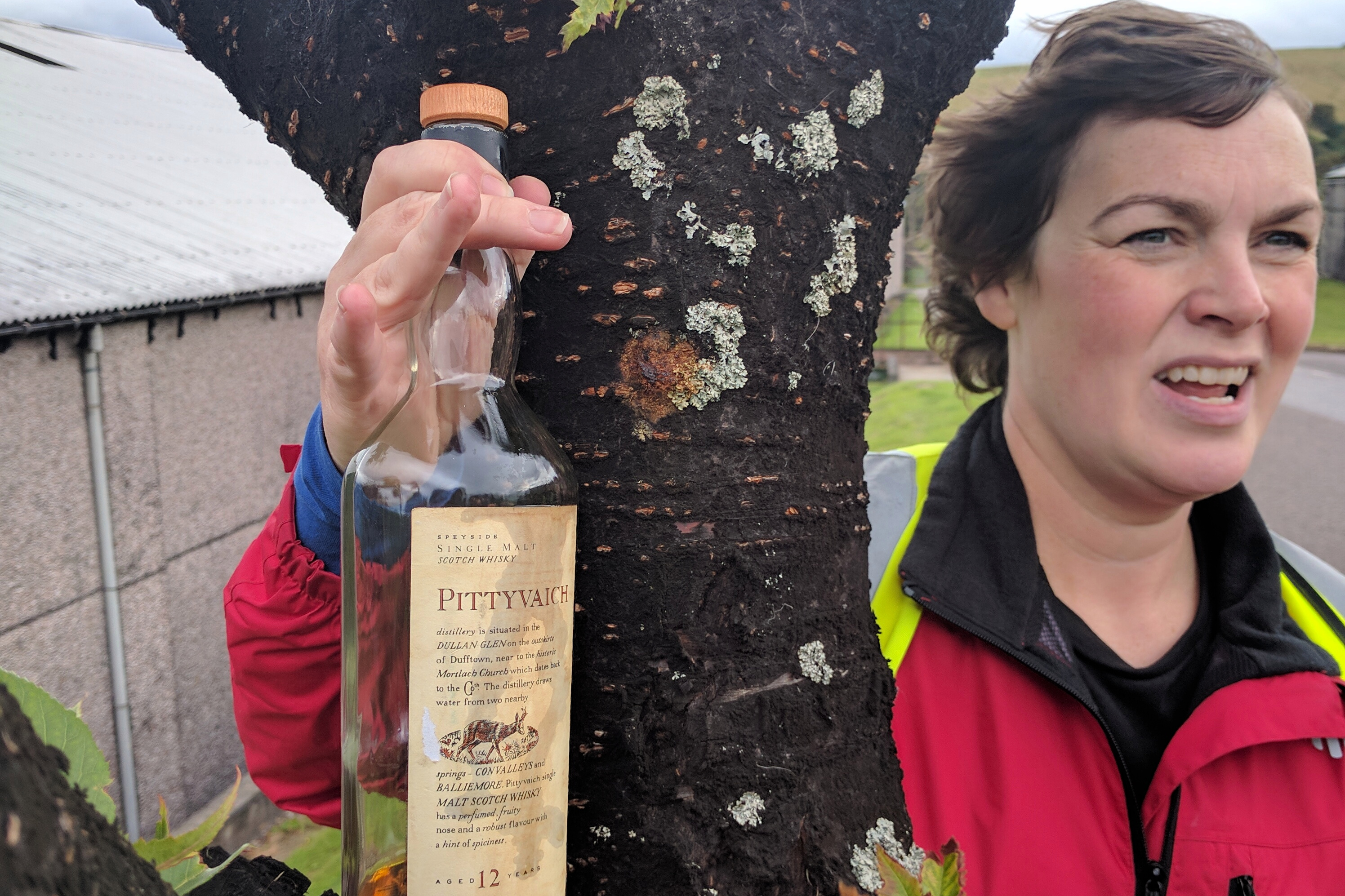 We ended our walking tour on the northside of Dufftown where the William Grand & Sons distilleries of Glenfiddich, Balvenie and others operate, getting to peek in after touring hours: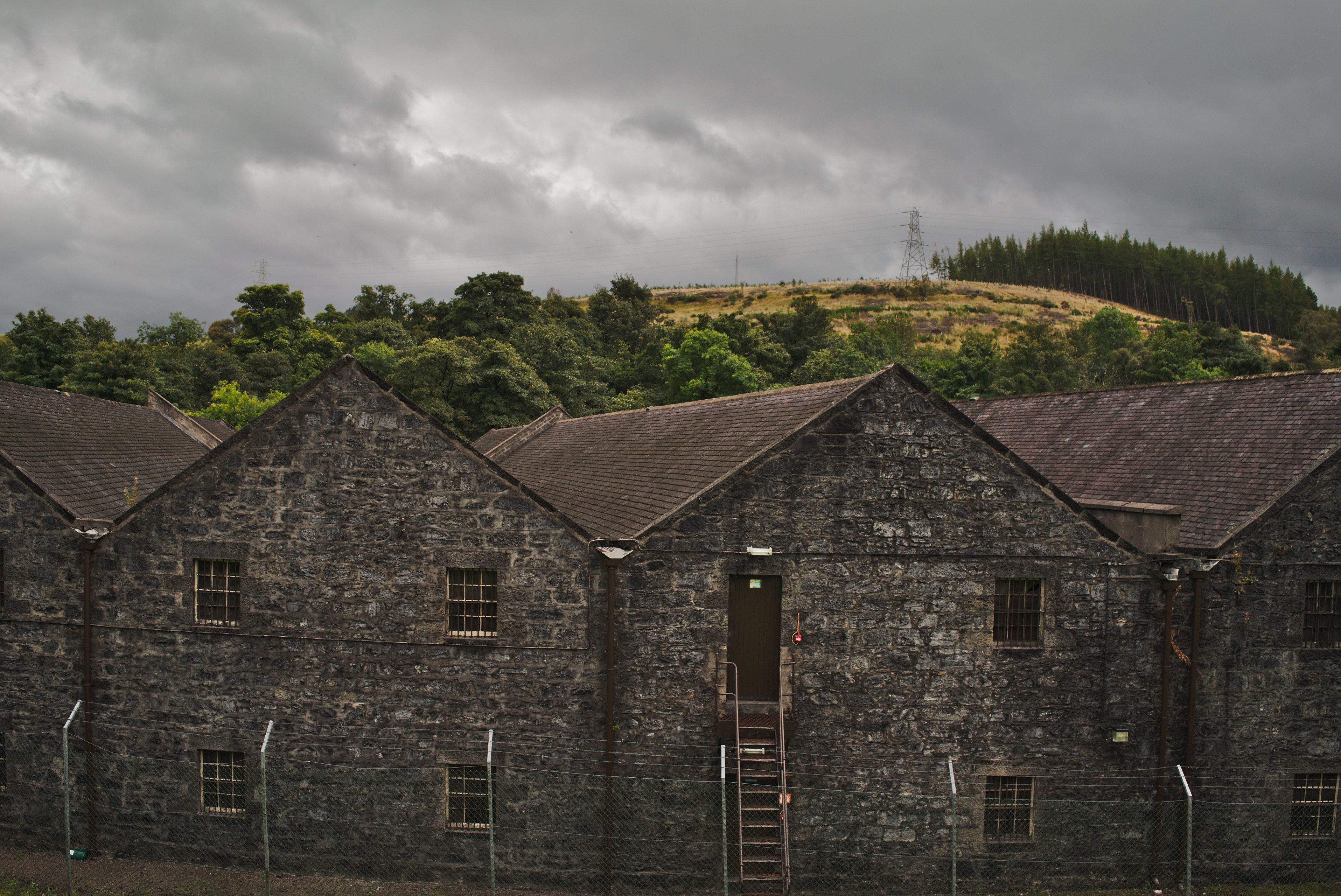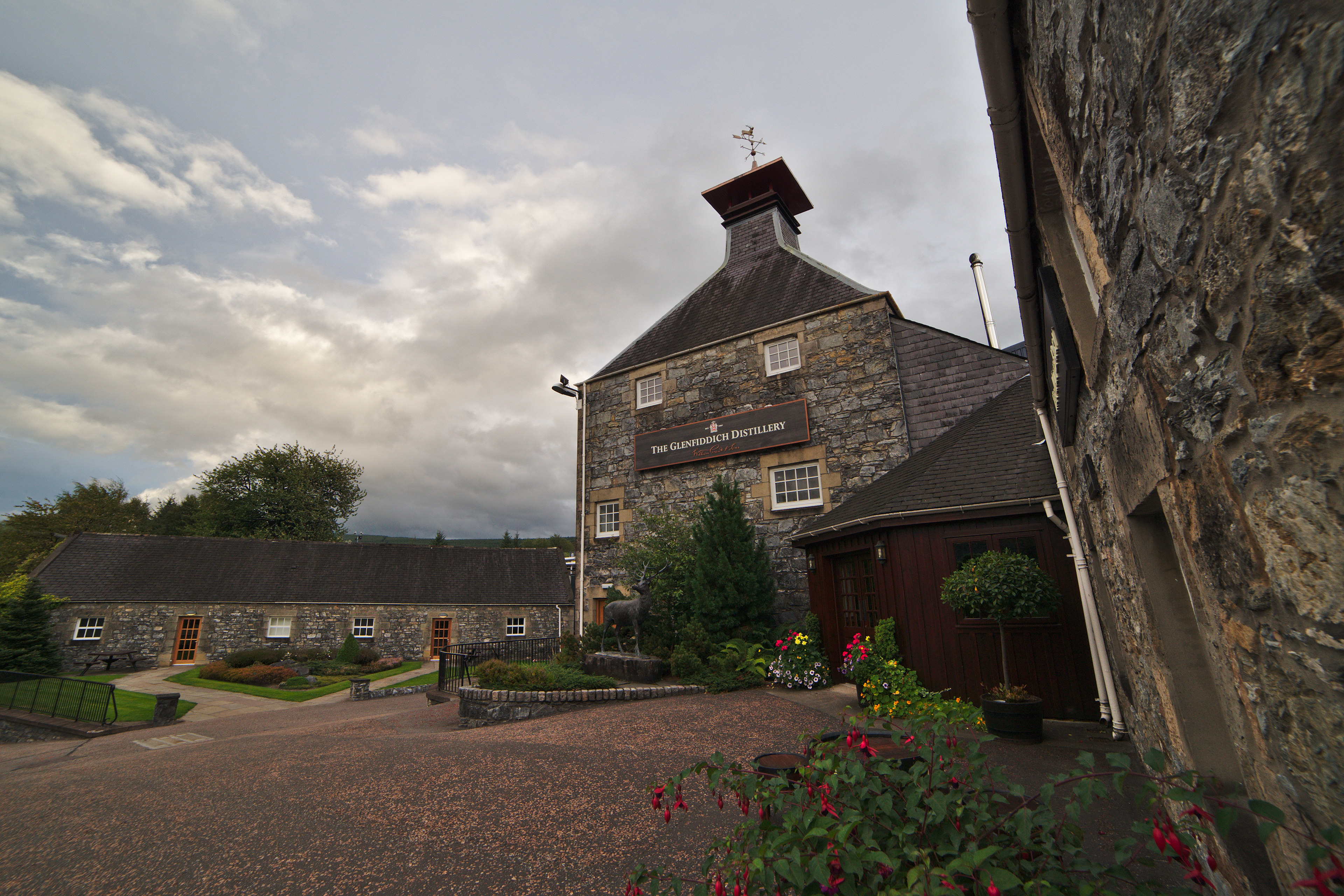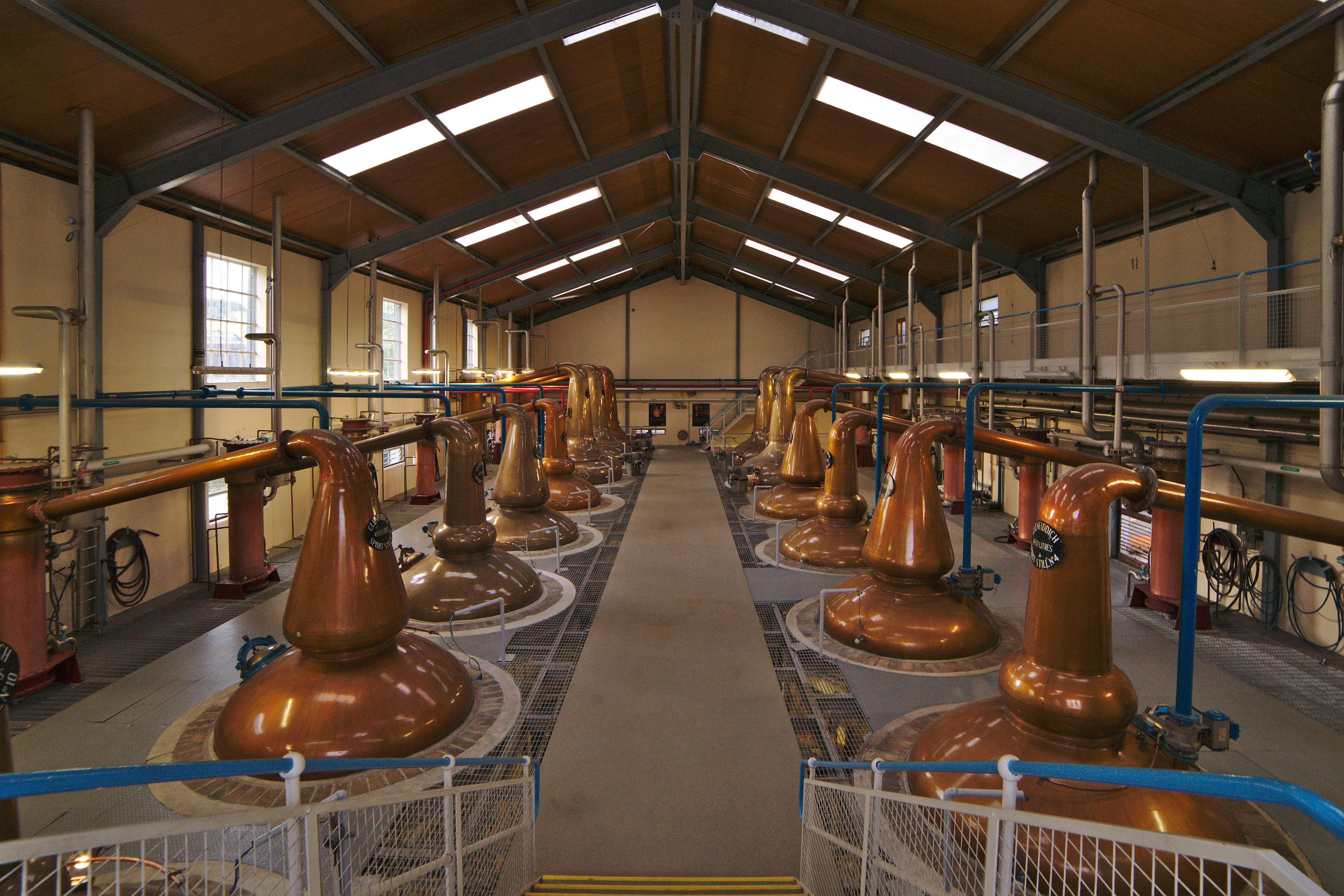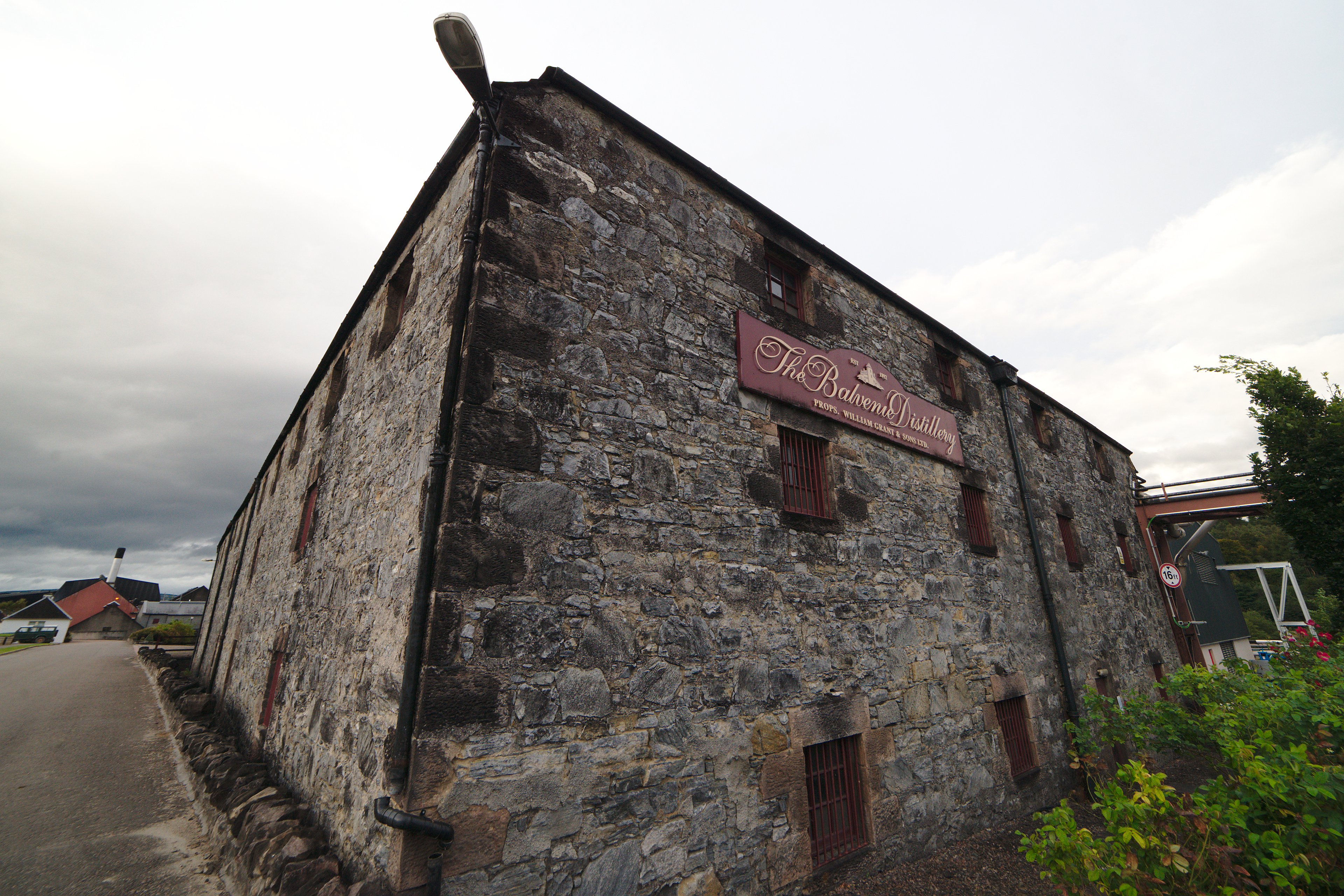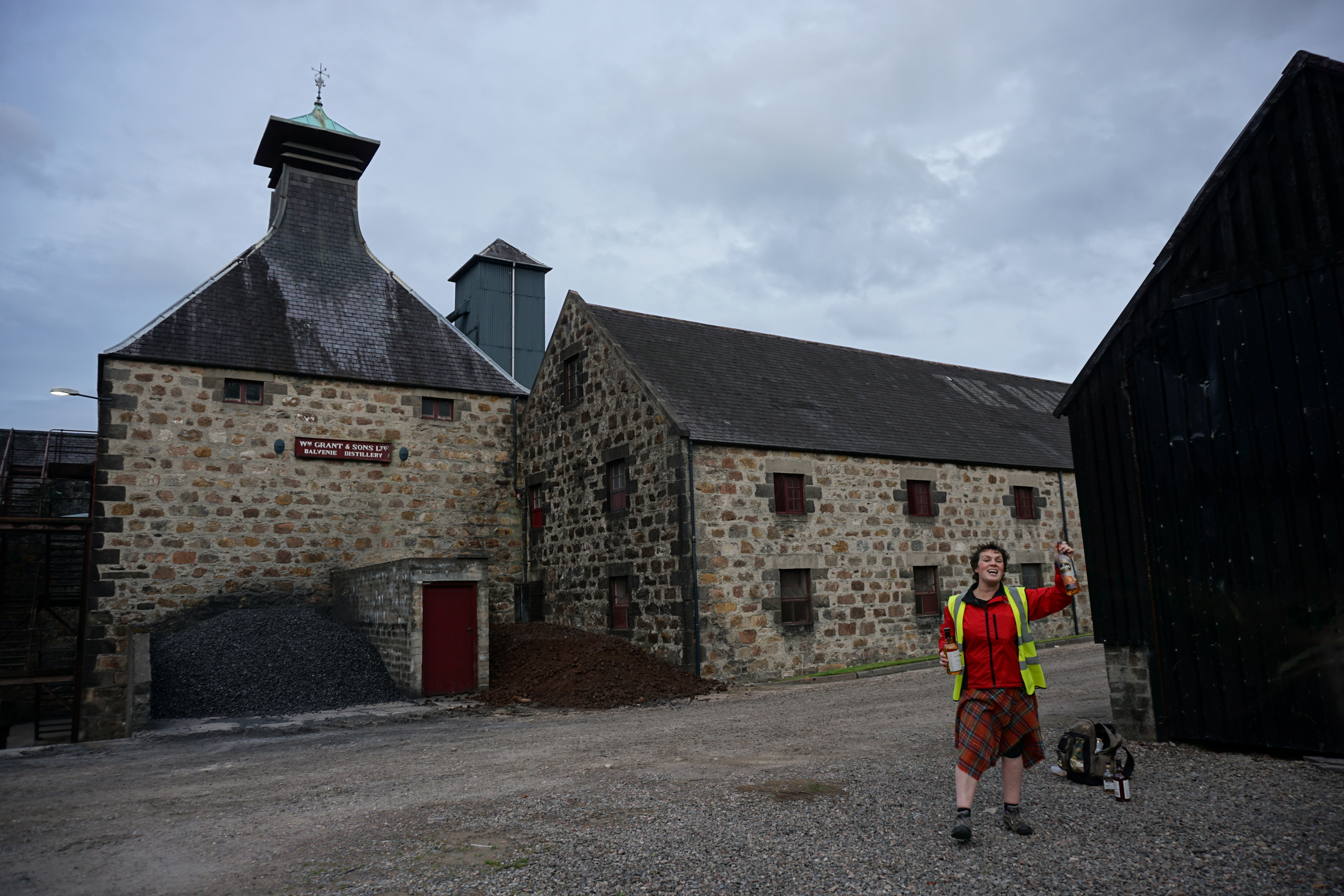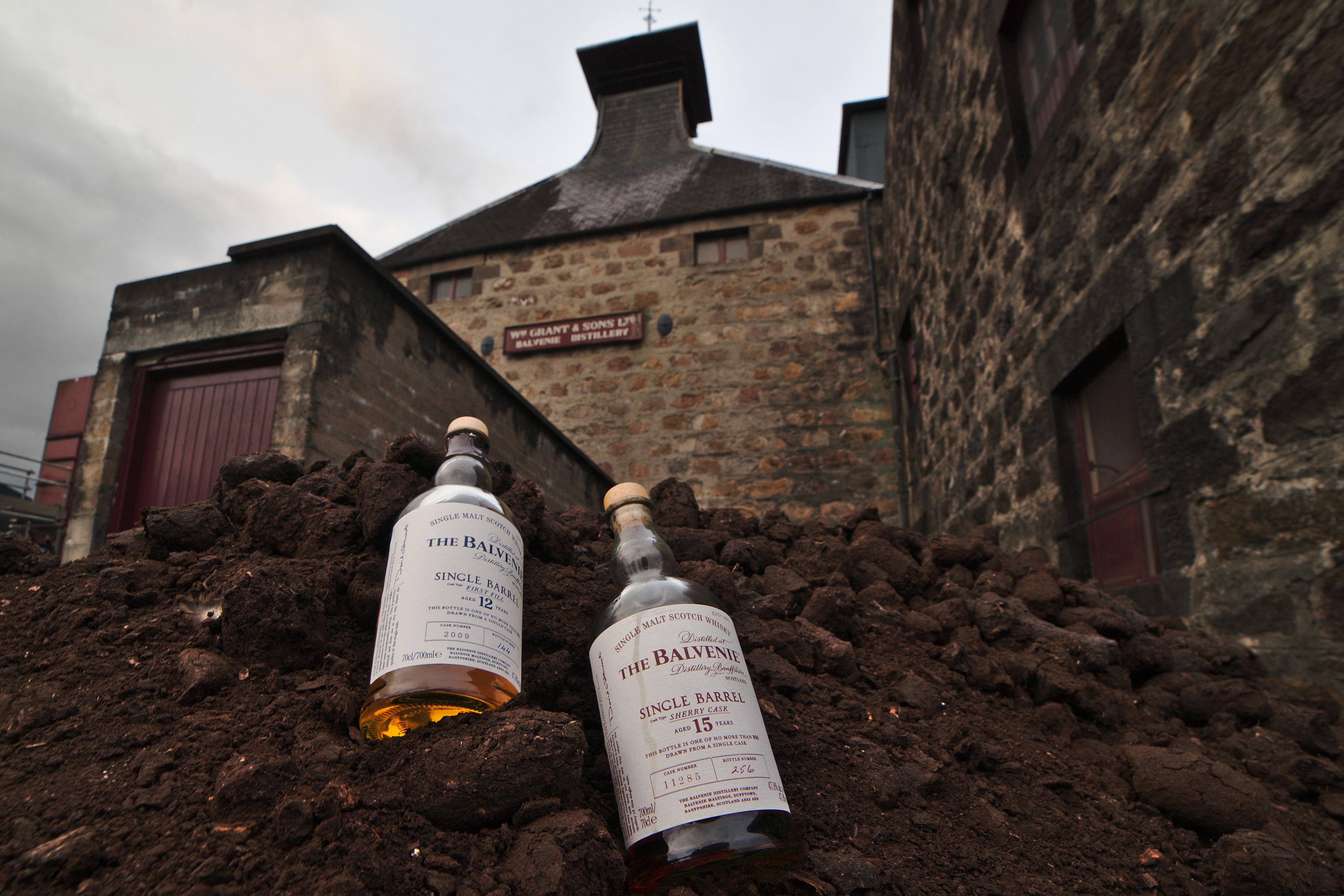 Along the way we'd seen and learned a lot, discussed a passion with many other people who'd made the pilgrimage to this wonderful town. Finishing it off sitting on the grounds of Balvenie while enjoying some of their Single Barrel vintages was sublime.
We made our way to the Tannochbrae for what we thought would just be a special dinner, not realizing that due to the festival we'd be attending a Gala dinner with Robin Laing as a musical guest to accompany each of our courses with relevant songs about whisky.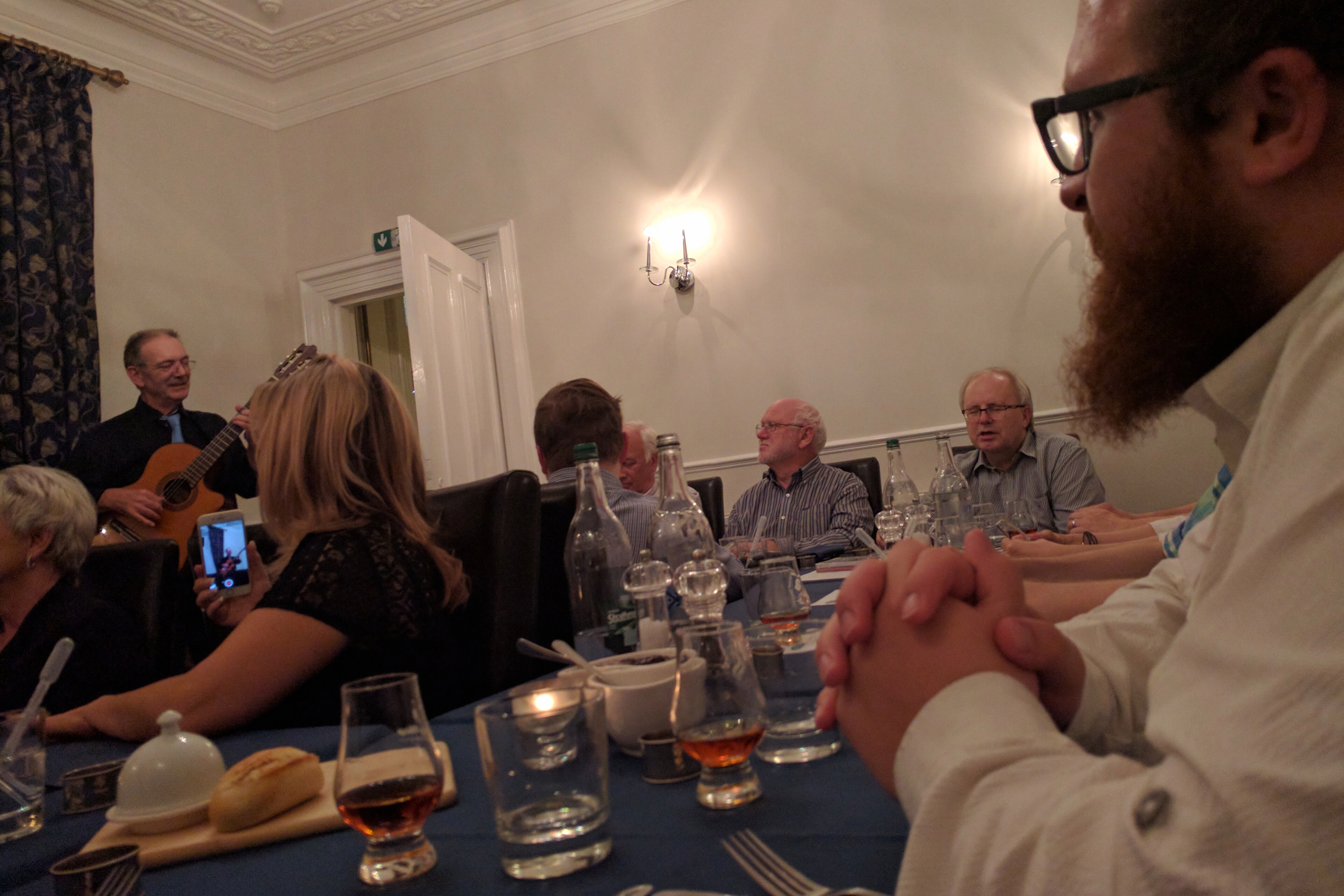 We were also accompanied by a representative from Tomintoul Distillery who brought a variety of vintages, but most specially a 48 year old vintage that was distilled in 1967. We were afforded insight into working in the industry, as well as some special stories about the care that goes into watching the special vintages over twenty years old. There was also a utterly delightful group from Scandinavia who'd been coming to the whisky festival, staying in Tannochbrae, and attending the Gala dinner for over 25 years. Listening and watching to one of them close his eyes and sing "whisky for breakfast" was a reminder that many others feel just as taken by these spirits and this culture.
Day Five: Aberlour, Strathisla, Glen Moray, Cardhu, Copper Dog #
We woke the next day with the goal of seeing several of the distilleries in the region. We began at Aberlour Distillery: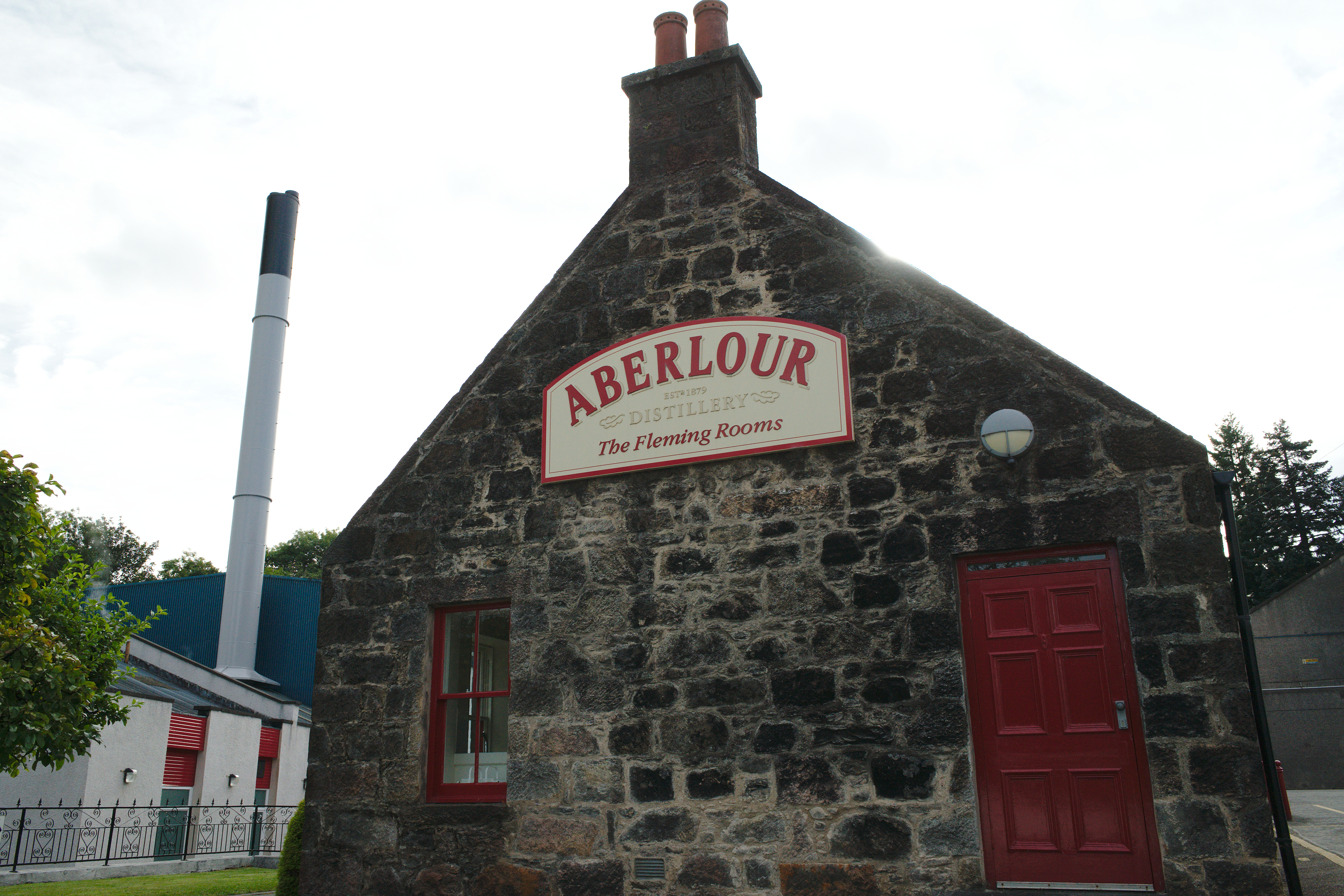 Then on our way back through Dufftown we stopped to see the Balvenie Castle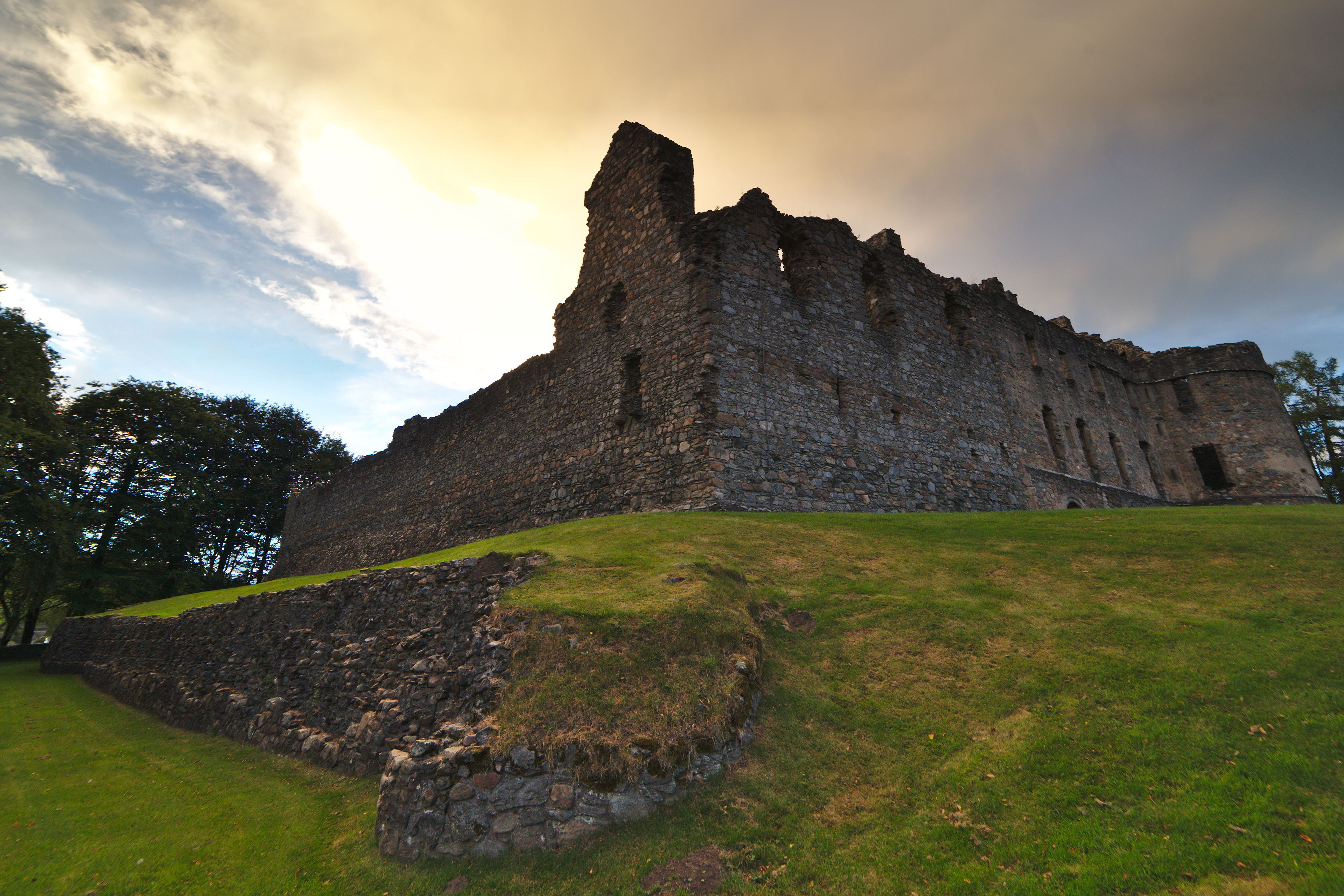 Then on to the most visually beautiful establishments, Strathisla Distillery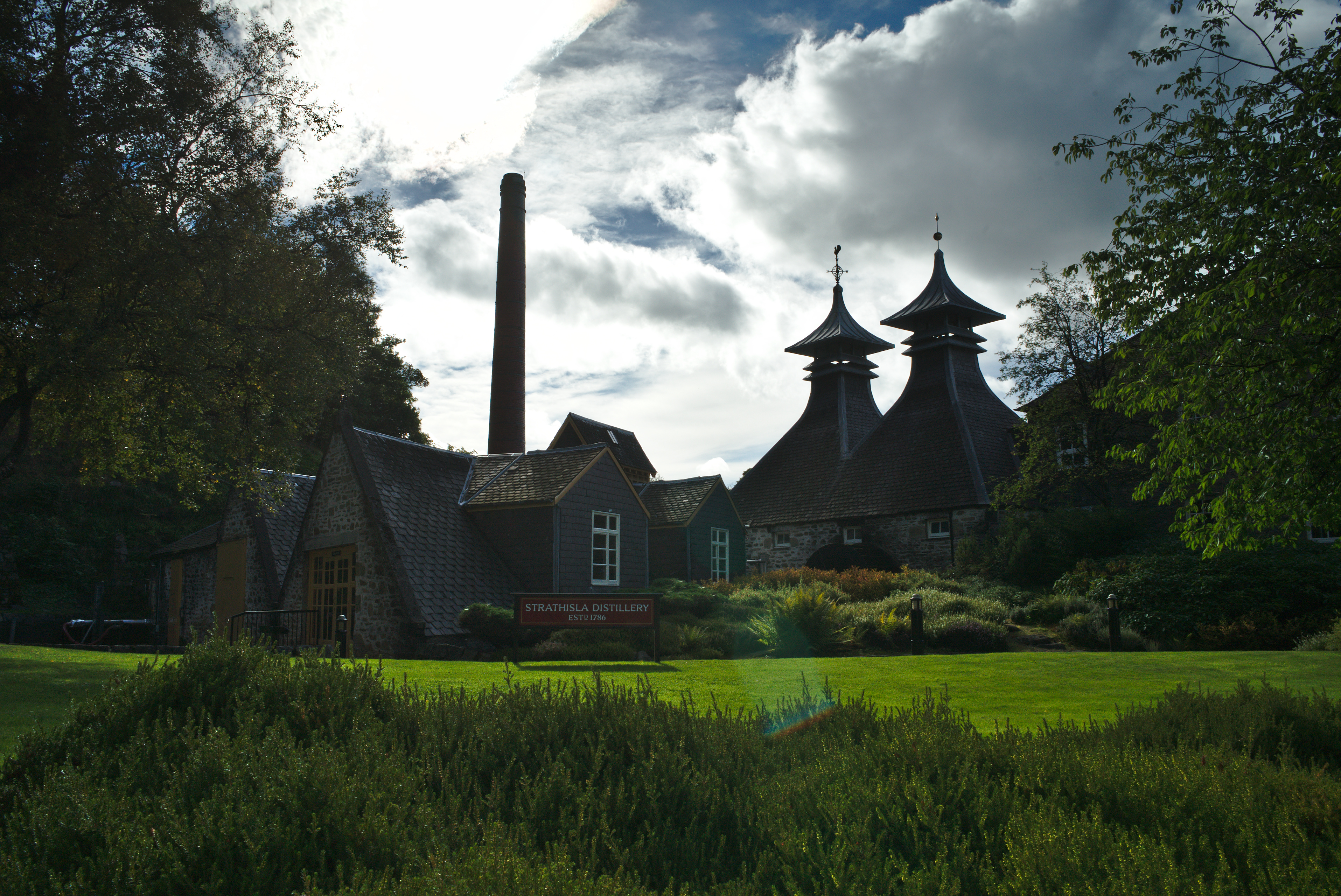 Where Ashley was so taken aback that she stopped to soak in some of their old wood and leather: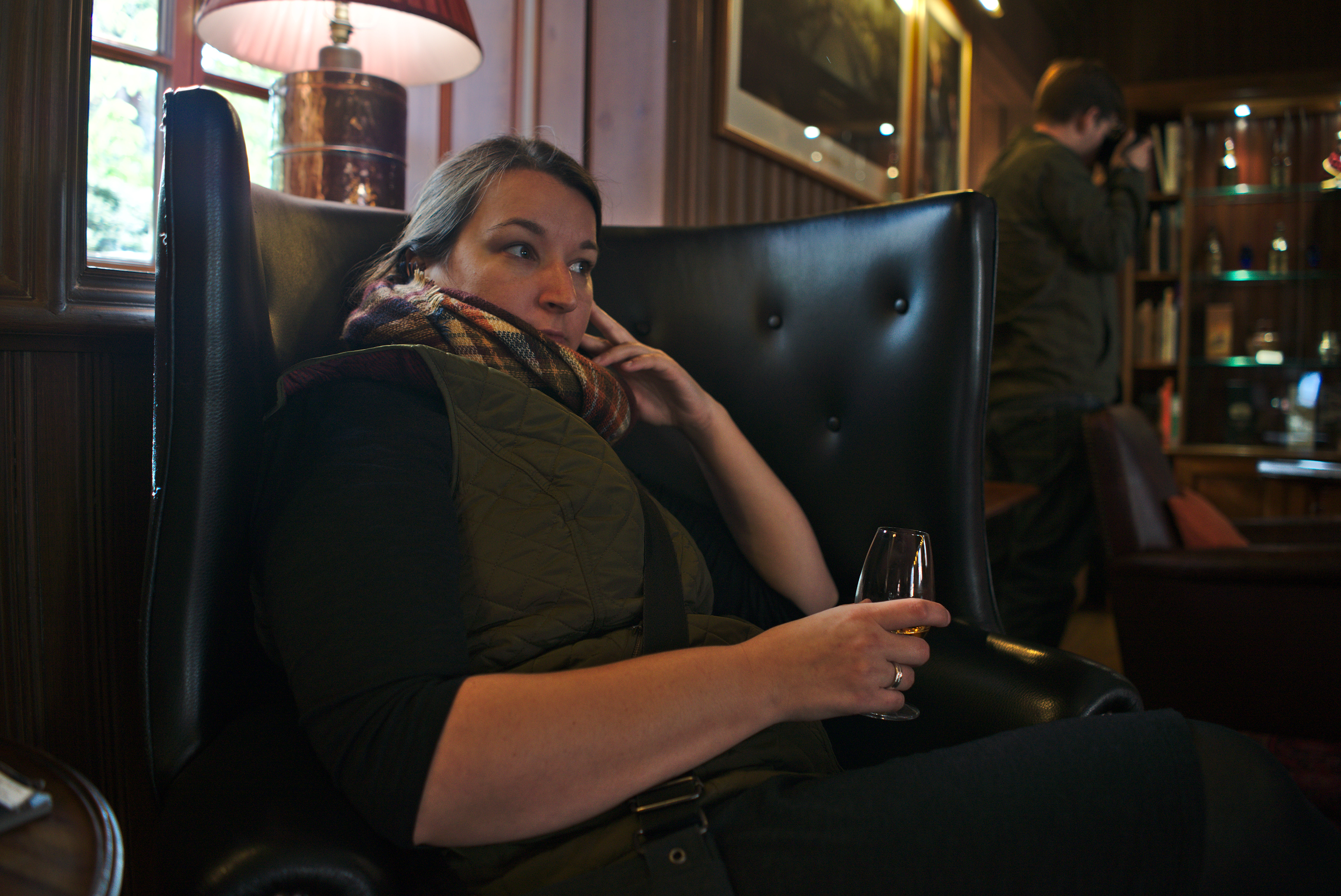 We then stopped at Glen Moray, Cardhu, rushed to figure out how to ship a bunch of whisky, then made our way to the famous Craigellachie to eat at the Copper Dog: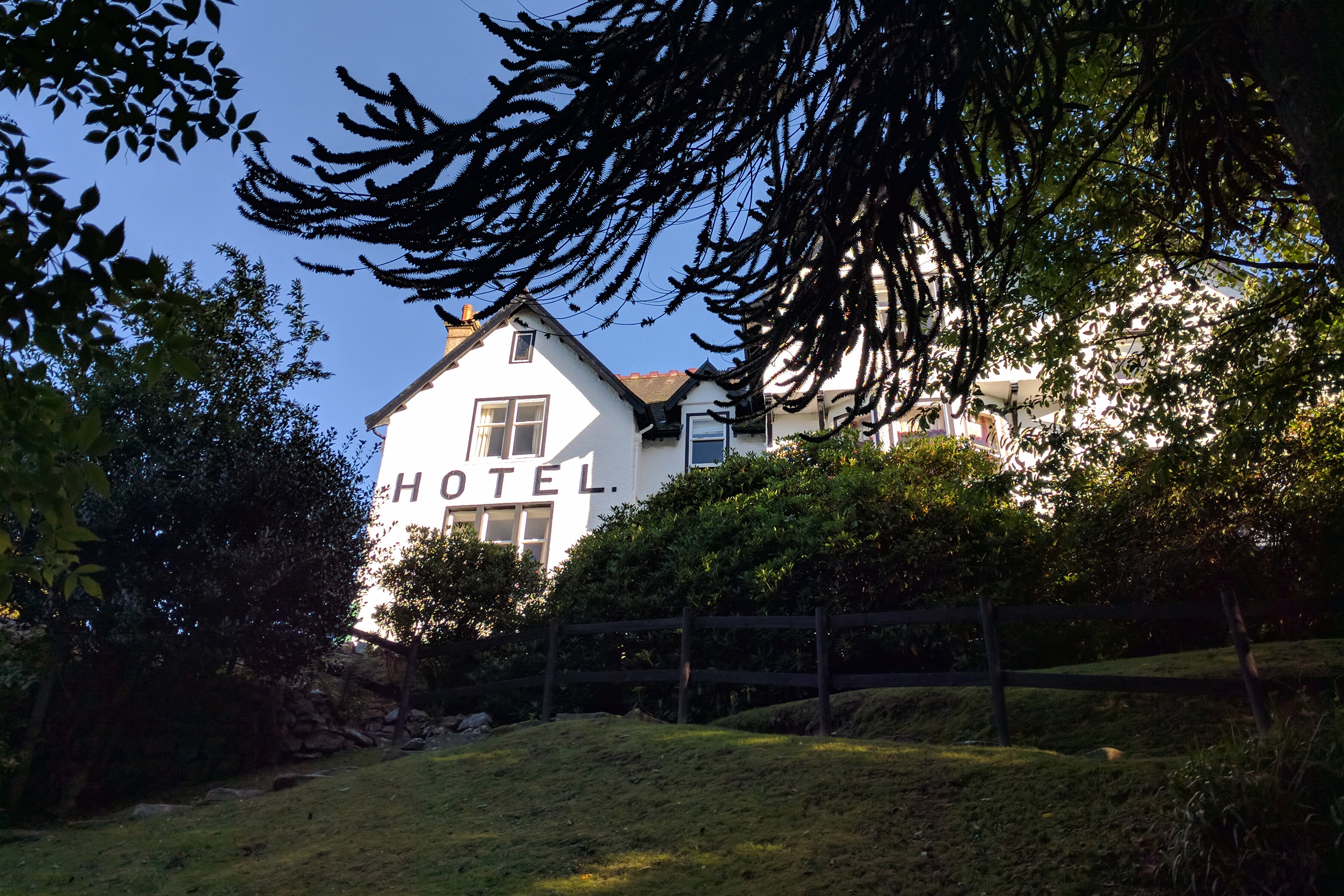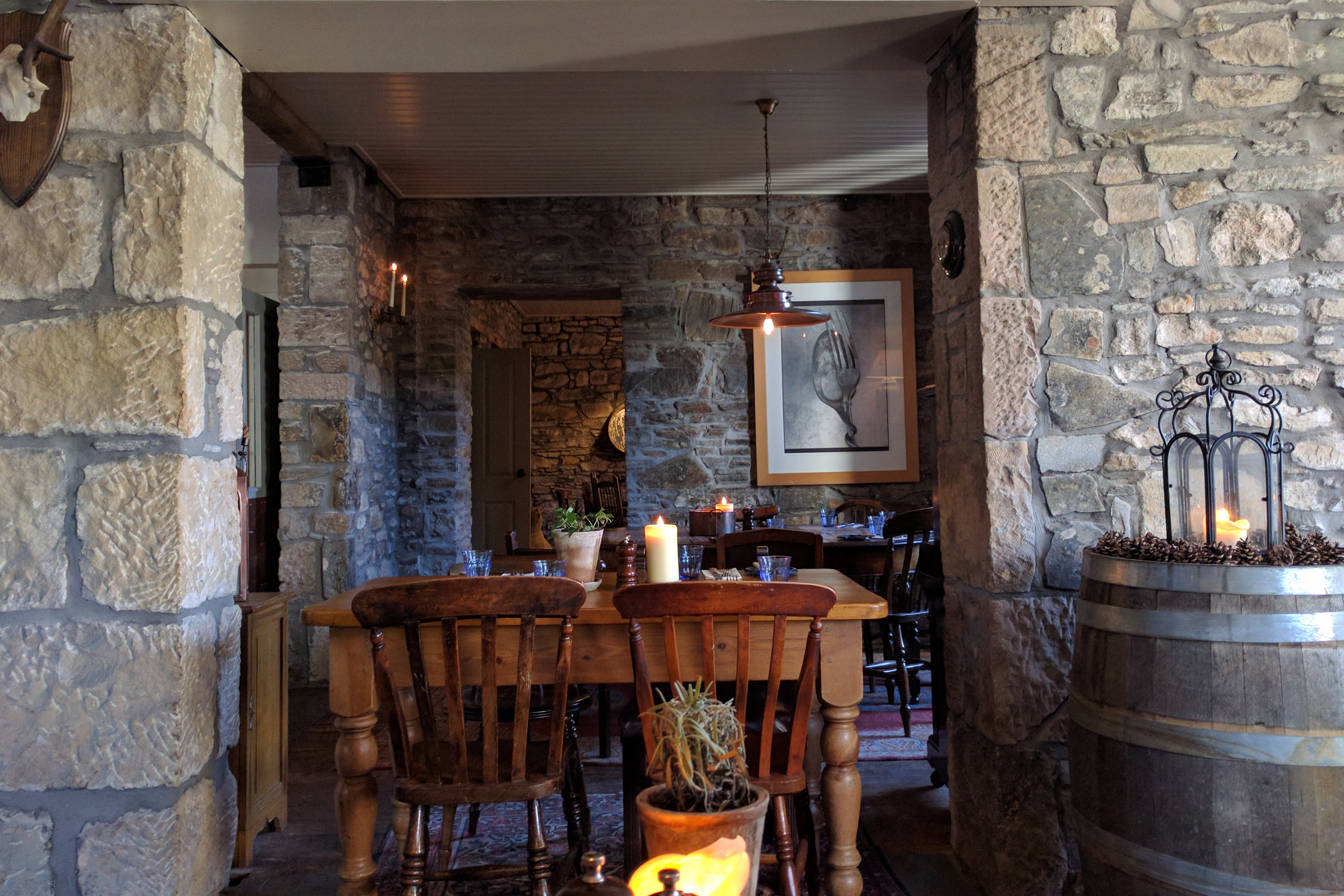 Having a wonderful Sunday Roast then retiring back to "The croft" for some whisky (or tea), fire, and travel journaling: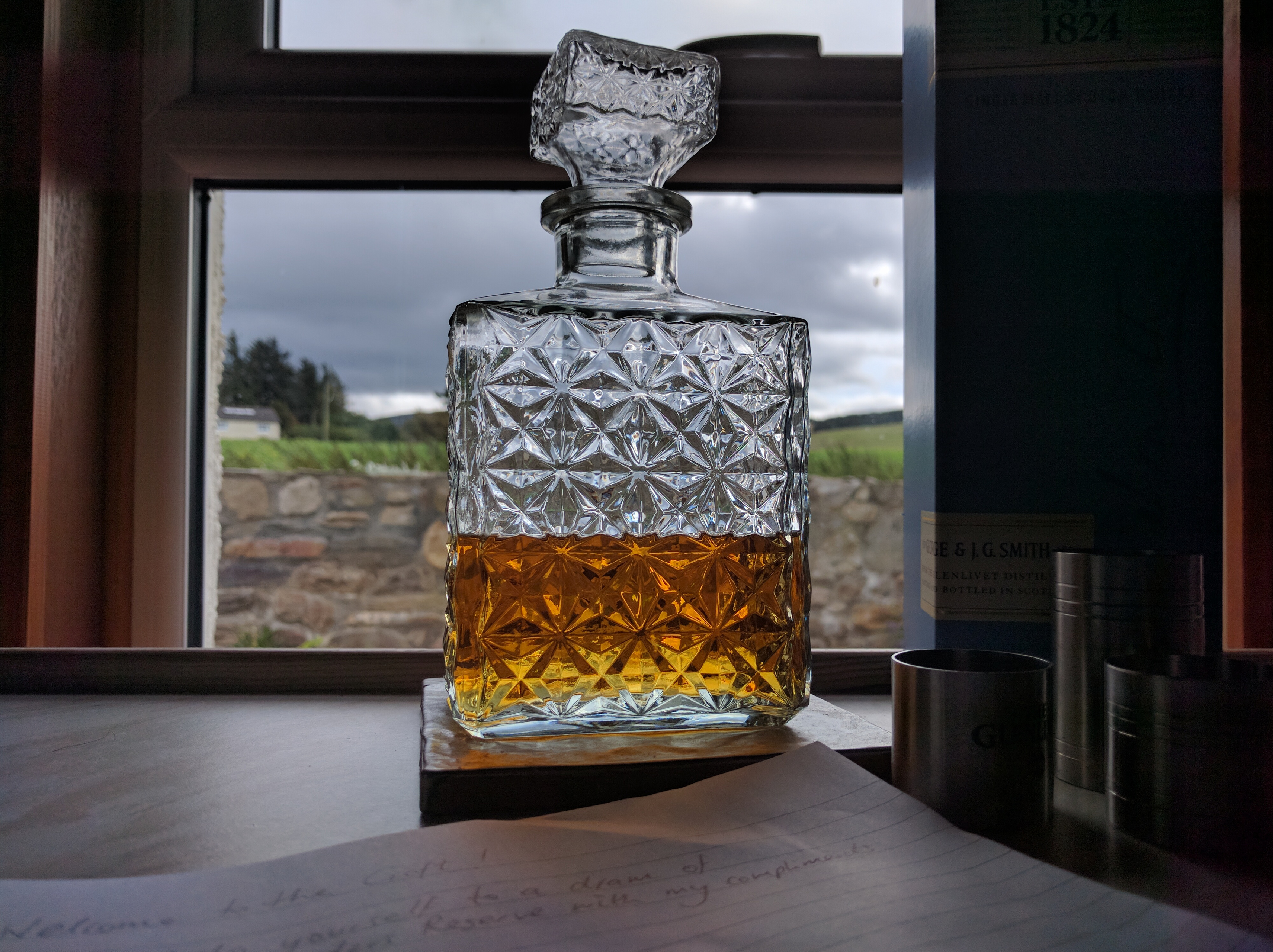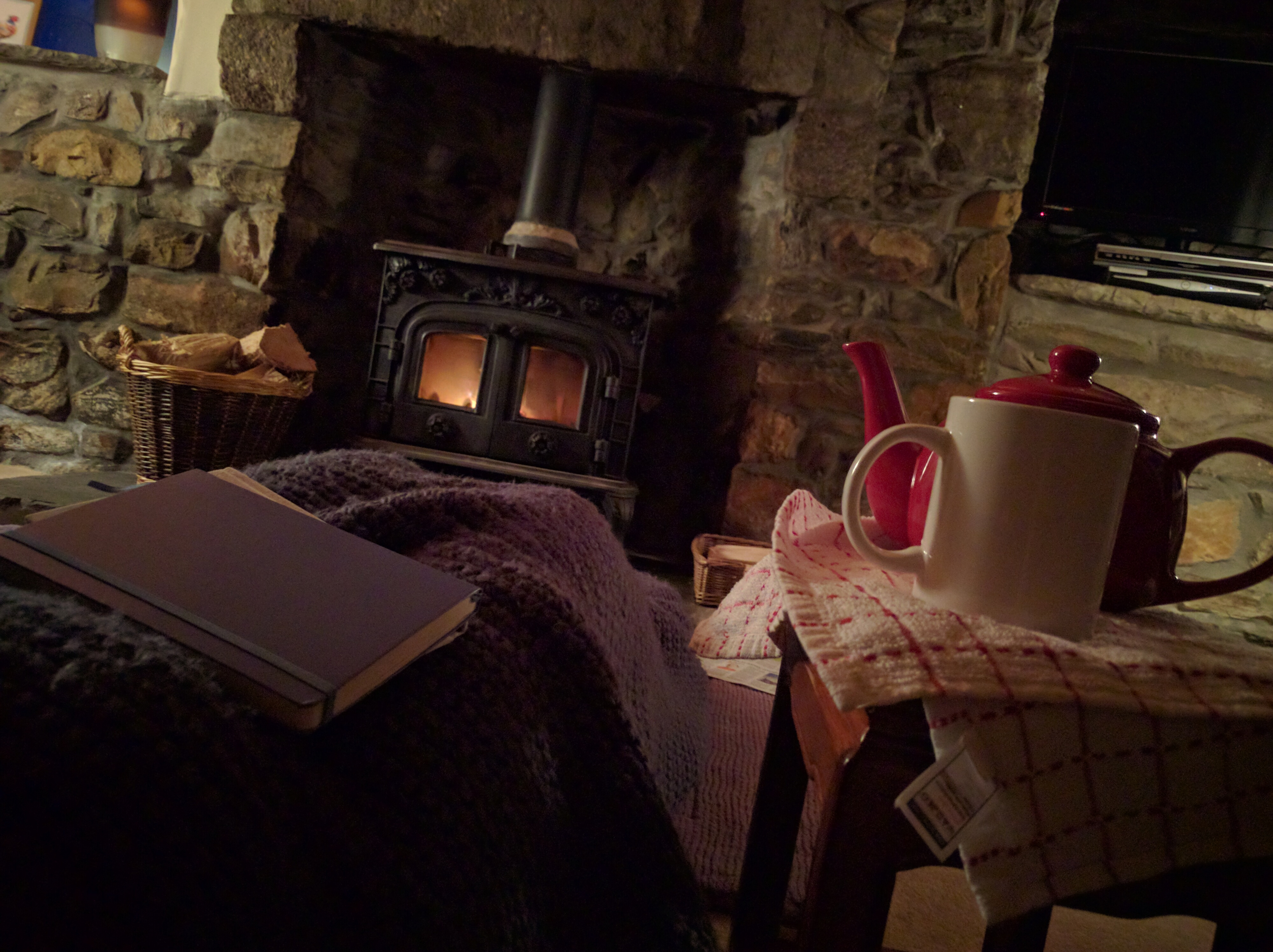 Day Six: Speyside Cooperidge, Glenfiddich #
We'd passed the cooperage a couple times on our journeys around Dufftown. Michelle had been adamant that we make sure to stop and see it. Other than Michelle's walking tour this was the most impressive tour we went on: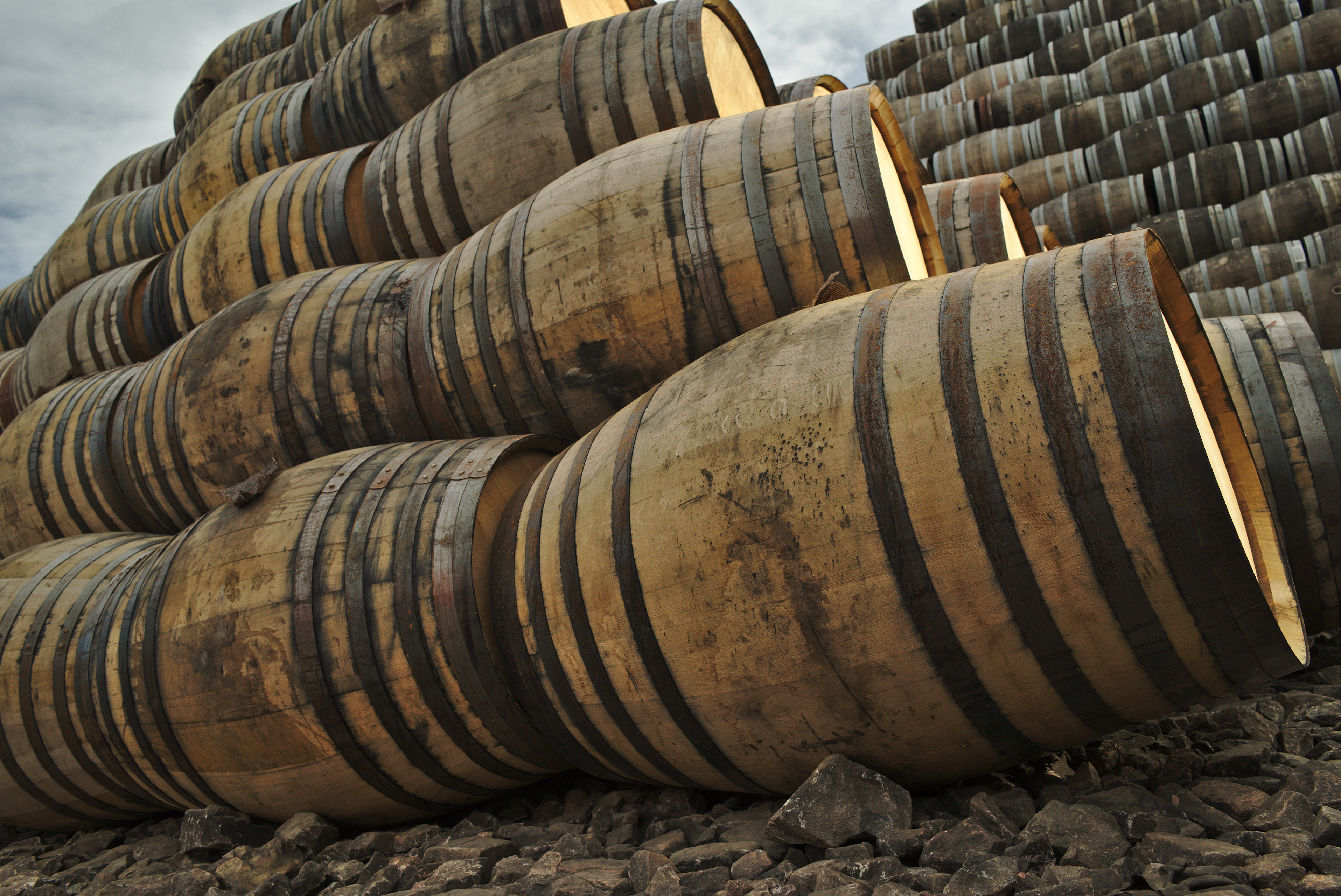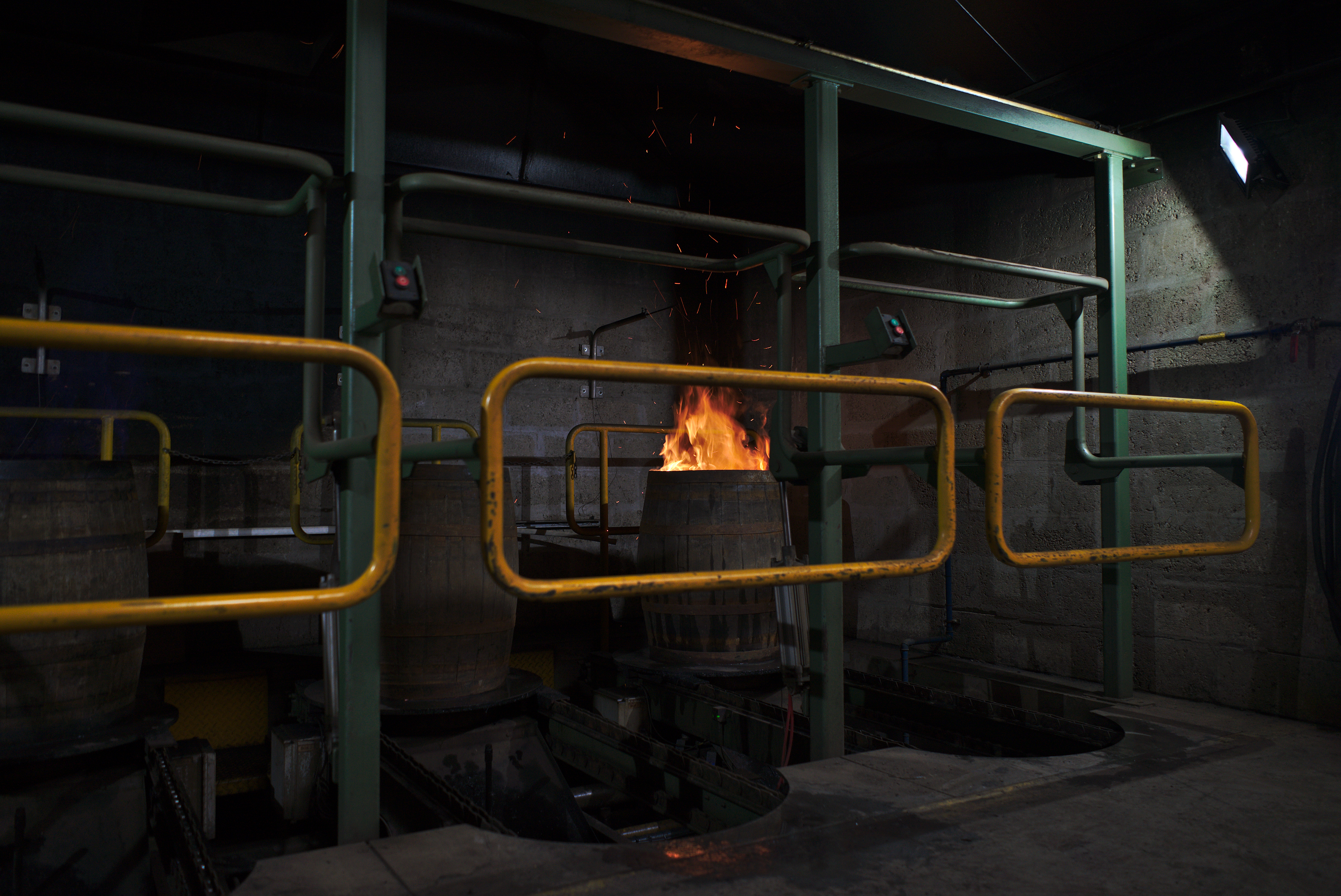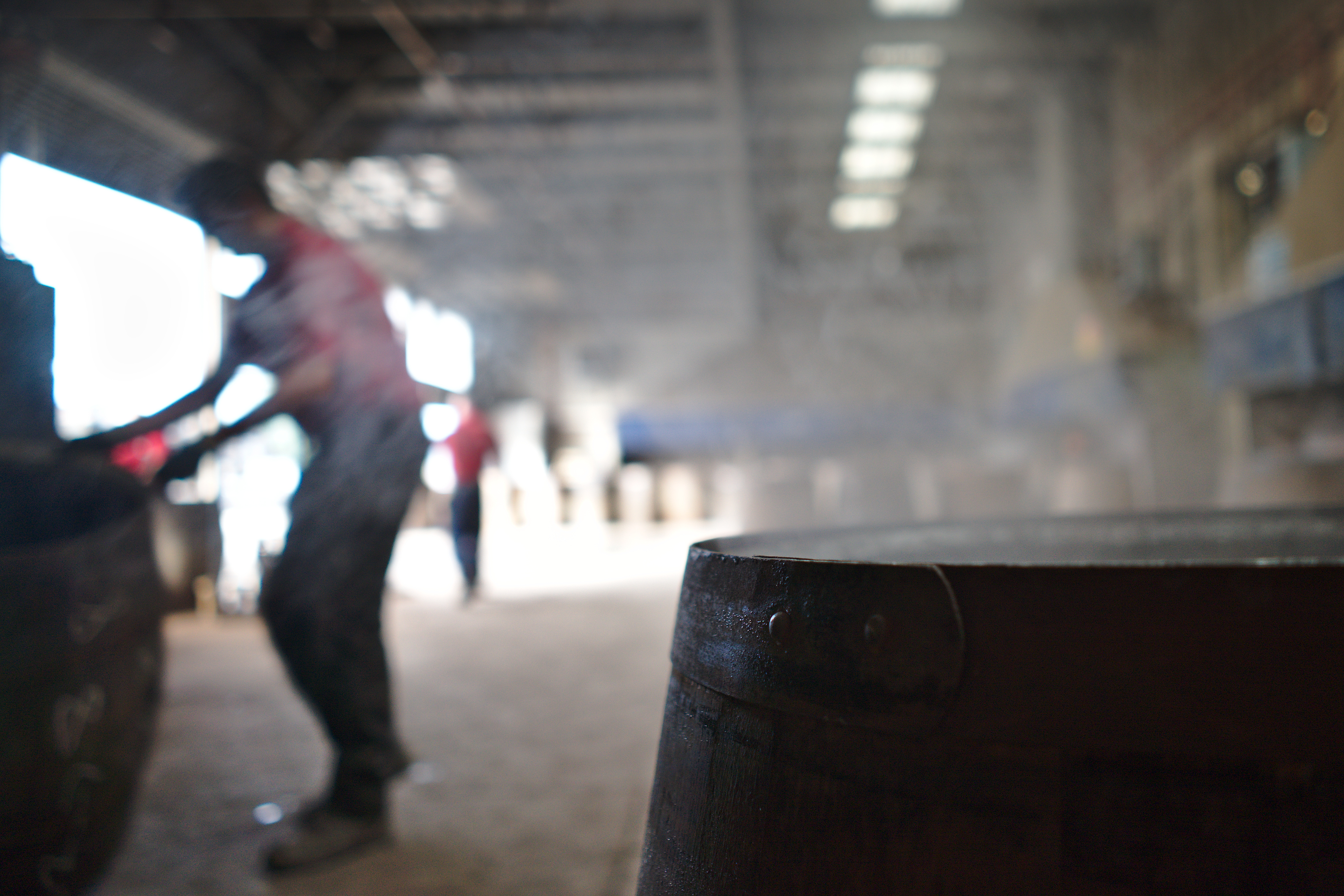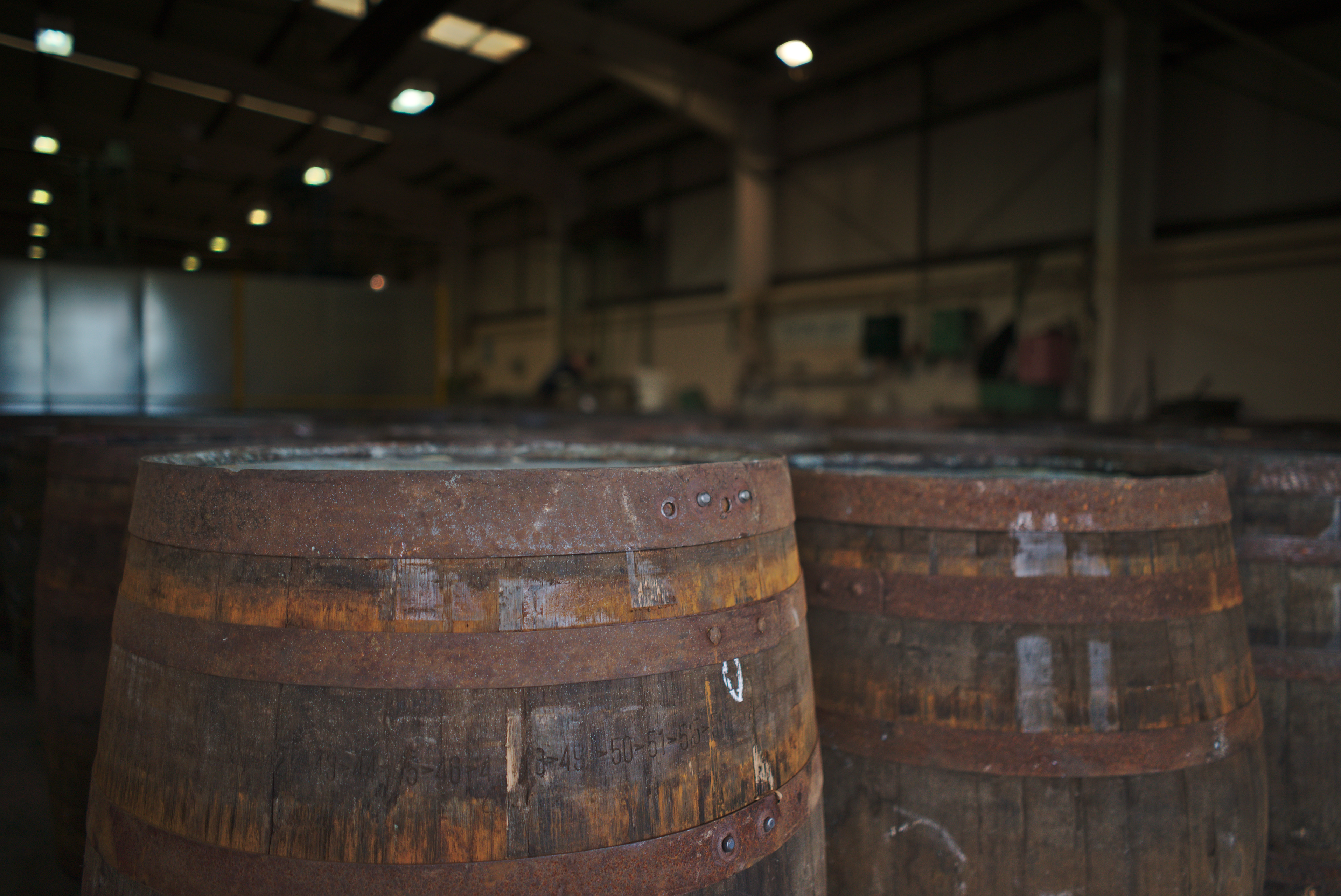 We then visited Glenfiddich Distillery as we had sadly not booked the Balvenie tour the many months in advance required. There is a "deconstruction tour" that affords you the ability to combine different cask samples into a tiny souvenir bottle: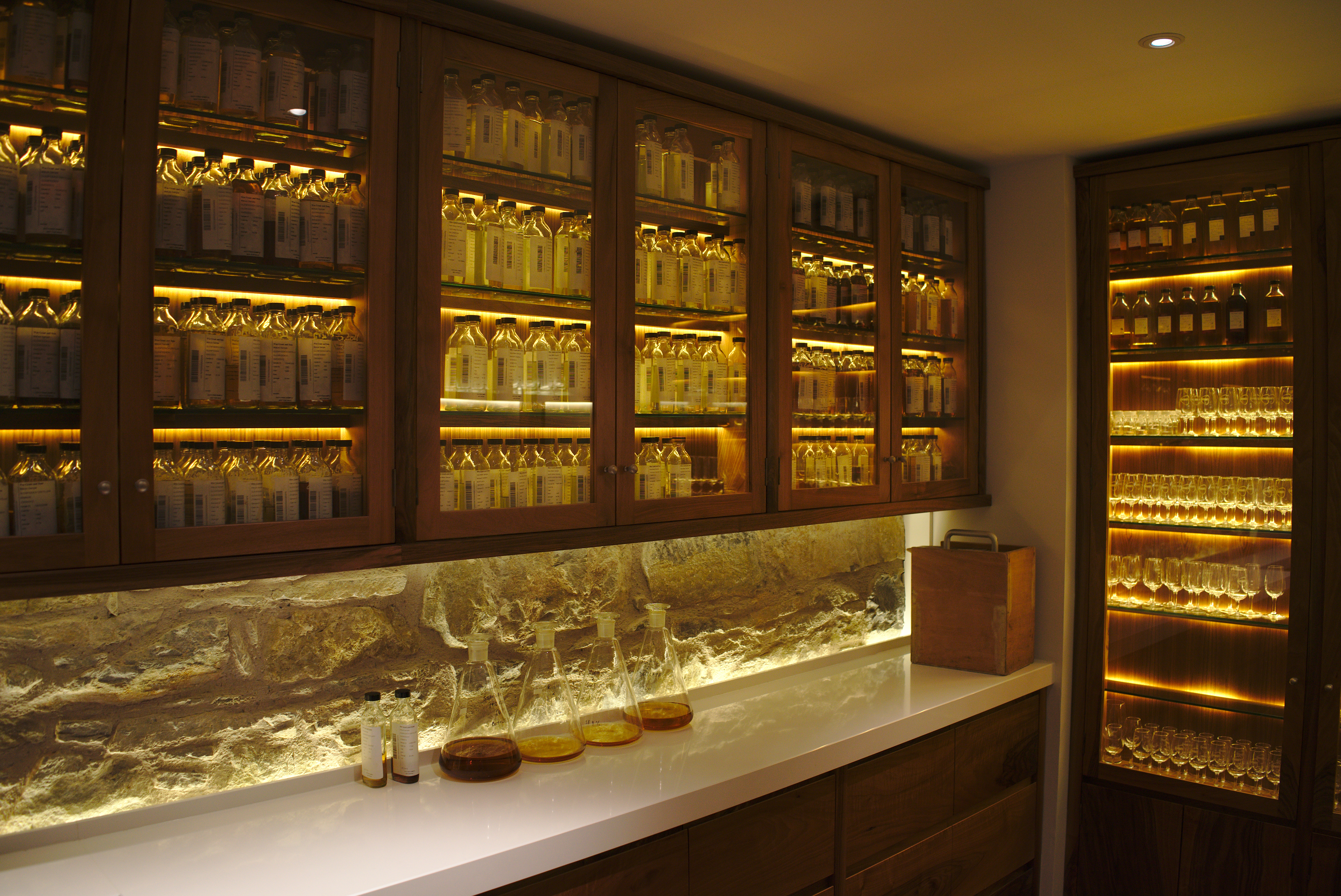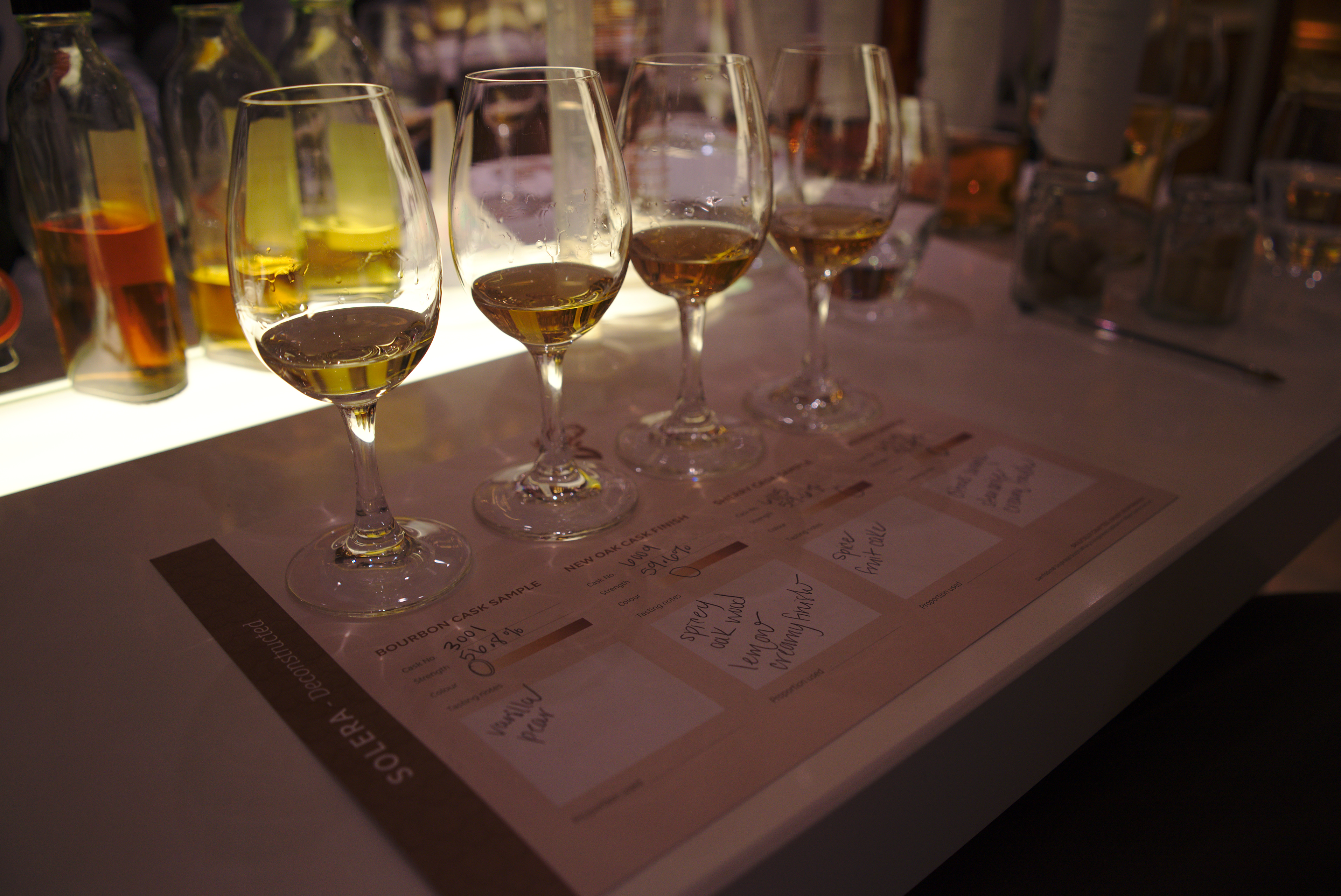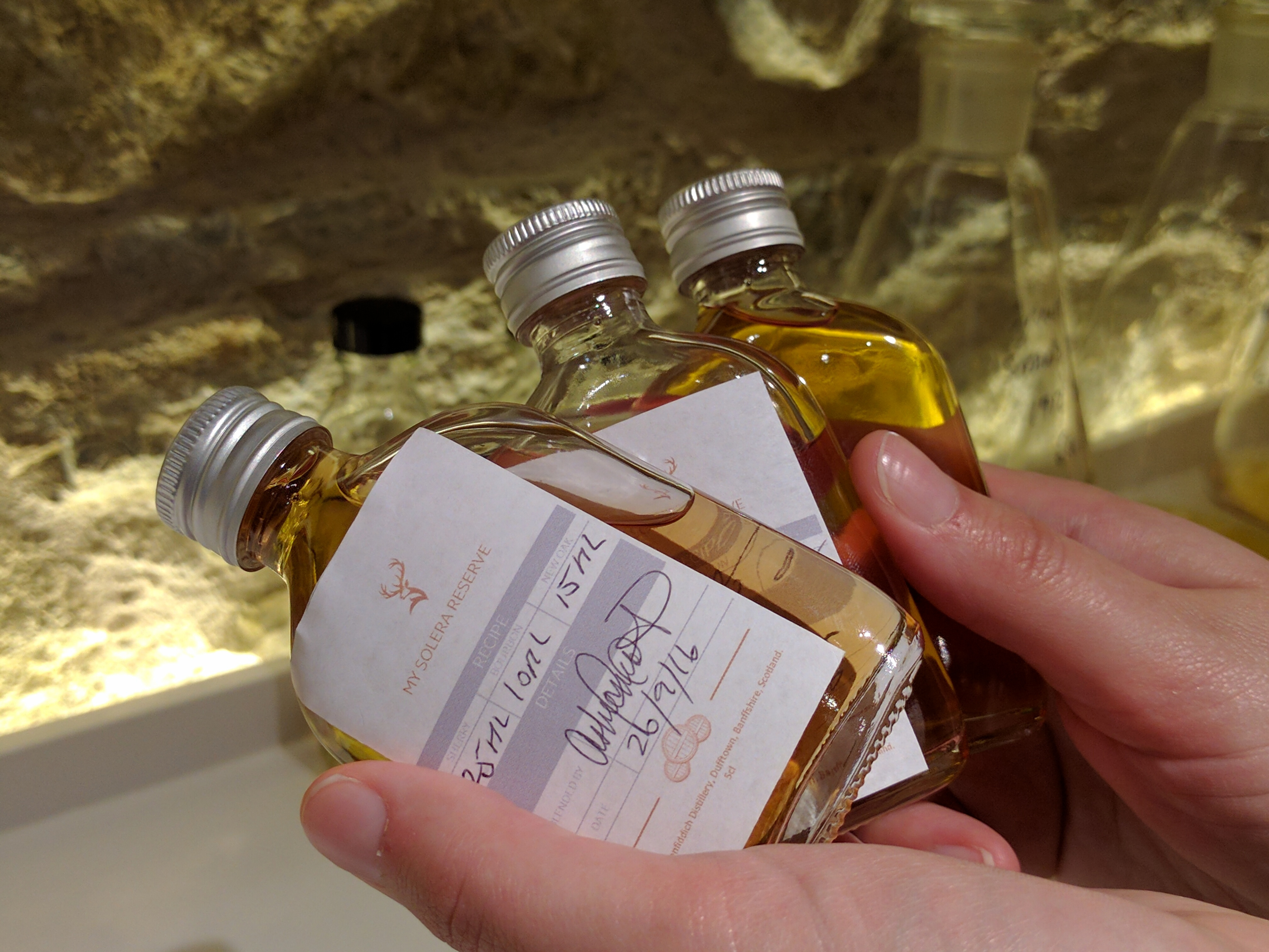 We then had dinner at The Stuart Arms where someone delightfully let me sample the Balvenie Tun 1401 and Tun 1509… a dream come true. Back once more for an early evening in "The croft" as we were trying to catch an early morning train in Aberdeen. Our final day was actually a travel day starting with a several hour train ride before flying to London, the train along the coast was absolutely delightful.
Scotland in Review #
We'd come to Scotland after Iceland. Iceland is, hands down, an absolutely insane place to see as a first trip outside of the United States. Scotland somehow kept pace with Iceland in a way that has been extremely lasting. I'm writing this two years after our trip, we've been back to Iceland once since then… and Scotland is what we talk about most often when we want to plan another trip. The people of this country and their customs of hospitality are beyond delightful.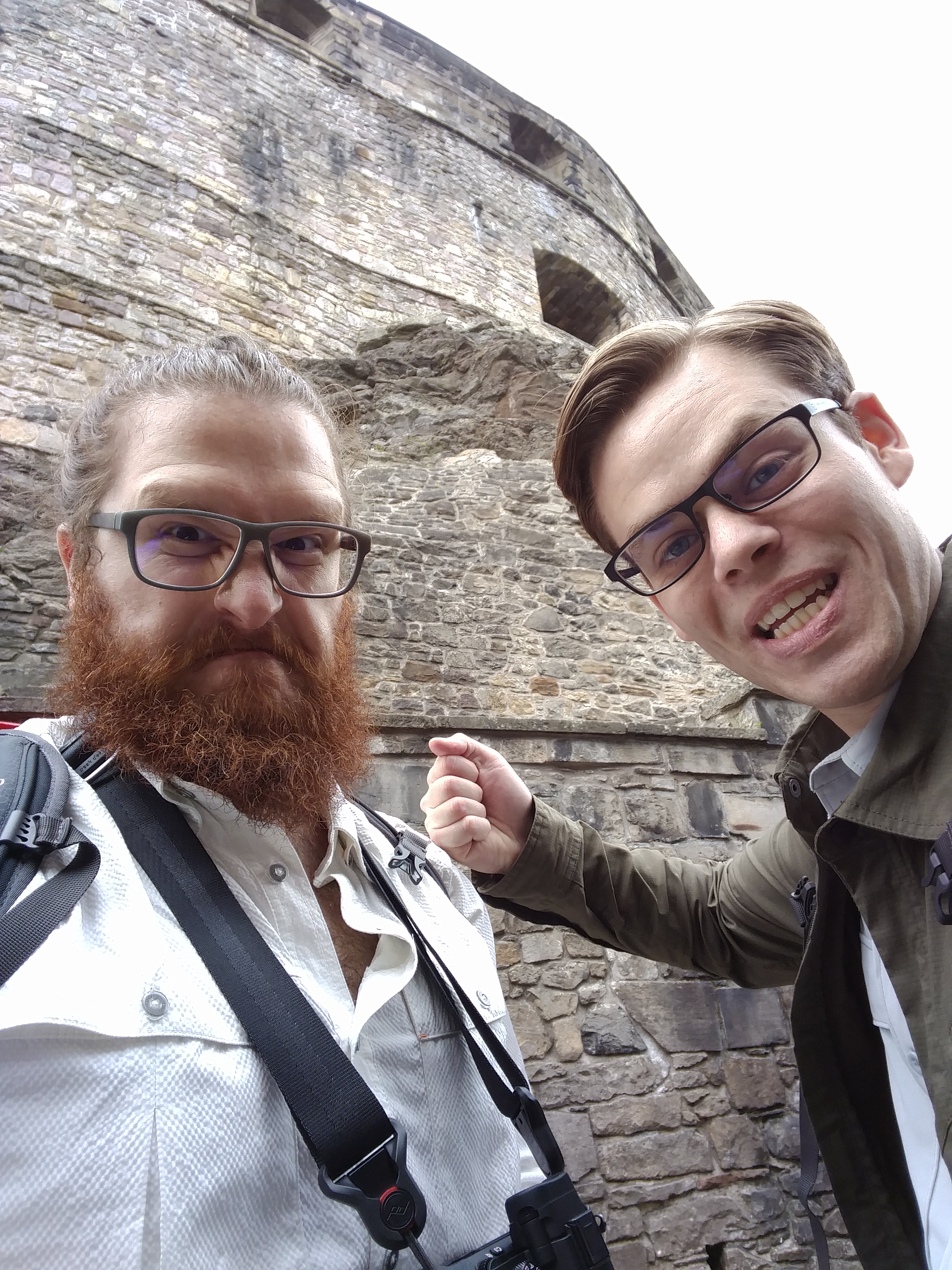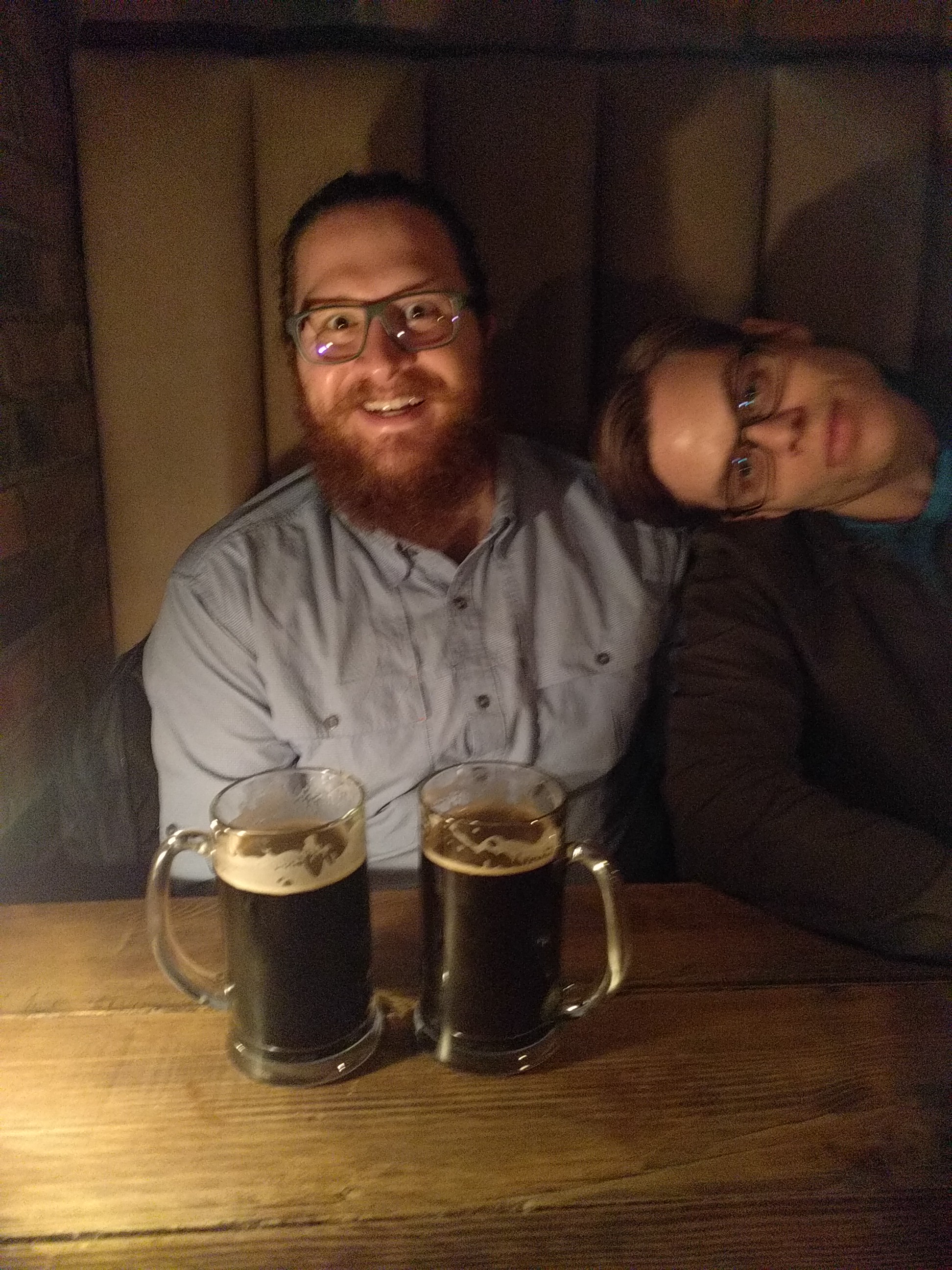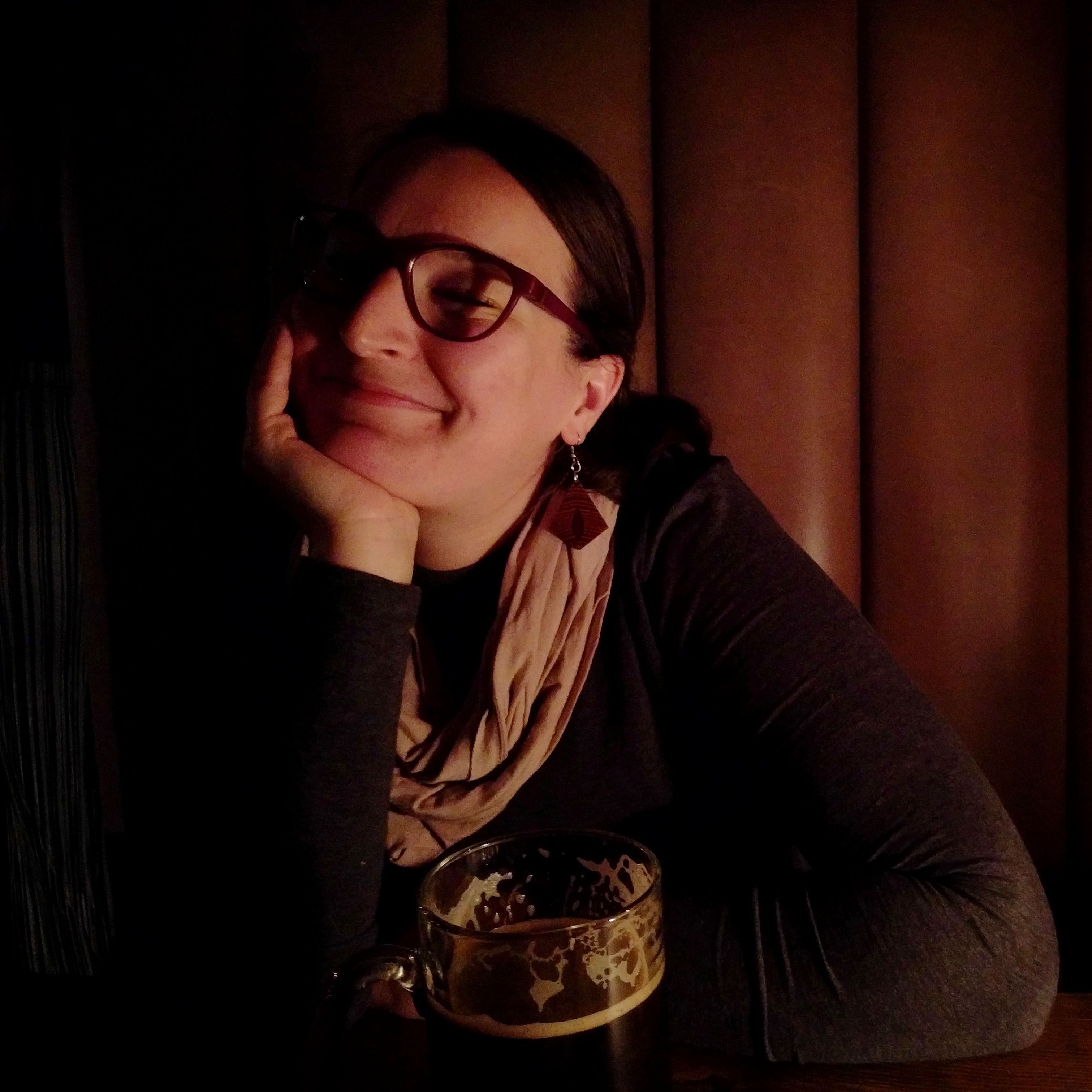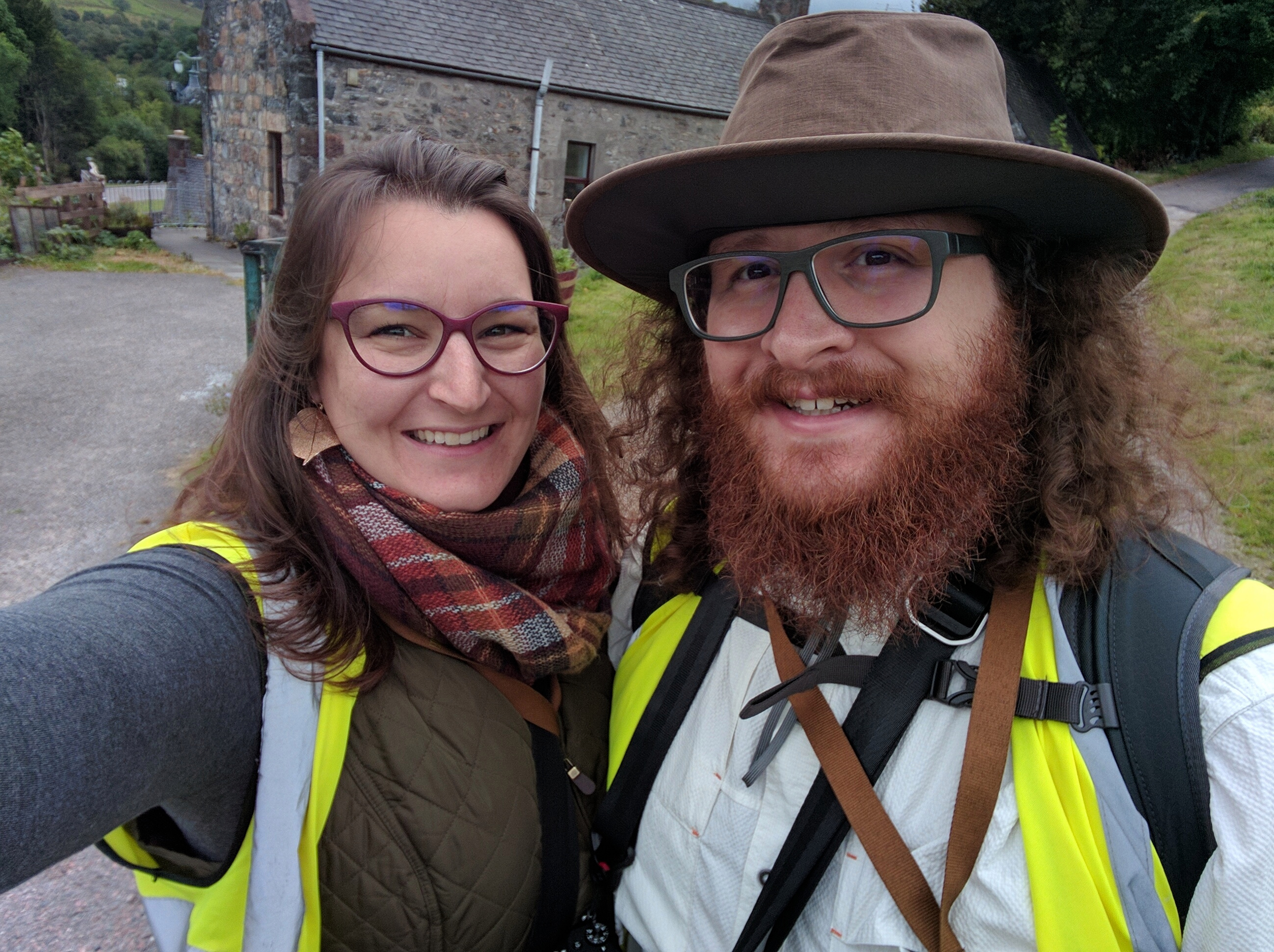 Anecdotes #
If you can plan for it, August/September is ideal to avoid both the tourists and the midgies.
Book everything in advance as far our as you can plan for. Specifically the Balvenie tour is extremely exclusive and private, often booked nearly a year in advance.
Prioritize seeing cooperages over distilleries.
Absolutely purchase distillery exclusive whisky, but don't get anything that is "common" as you're better off visiting the duty free shop within the airport (Edinburgh has a huge whisky section). For those that you do purchase, you'll need to likely arrange shipping on your own. We went to a DHL self service facility and packed as many things together as we could, insured shipping was almost as costly as one of the exclusive bottlings.
Try to avoid driving early in the morning on travel days, the trucking going in and out of the Speyside area is quite extreme and you won't have a ton of space on the dual carriageway when they are coming through.